Vettel: Mercedes didn't steal pole in Baku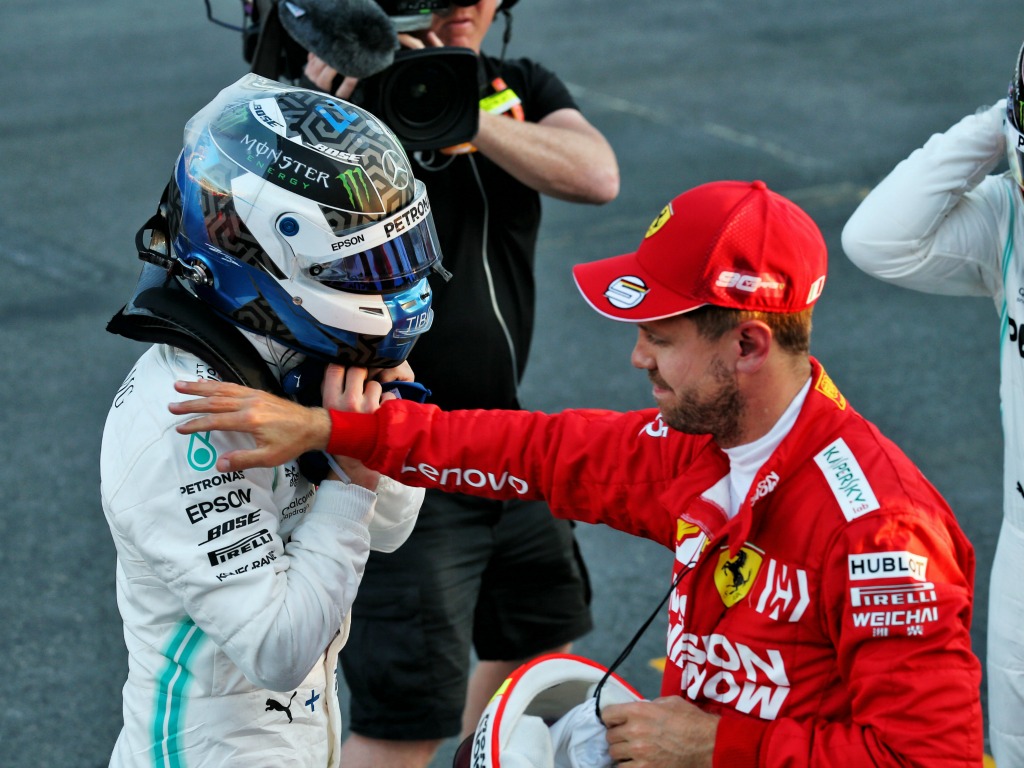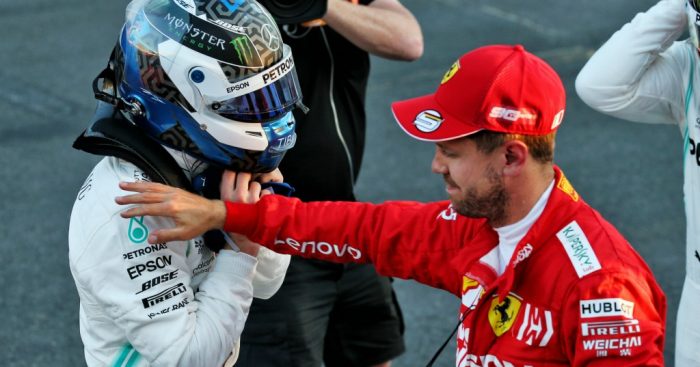 Sebastian Vettel feels Mercedes bagged a front row lock-out for the Azerbaijan Grand Prix on merit, despite Mercedes playing down their own chances.
Silver Arrows boss Toto Wolff said Ferrari were "almost untouchable" heading into qualifying but, lo and behold, Valtteri Bottas  clinched pole position ahead of Lewis Hamilton with Sebastian Vettel having to settle for P3.
Vettel almost suffered the same fate as team-mate Charles Leclerc in qualifying, narrowly escaping a coming together with the barrier after clipping the apex at Turn 8.
But, while Leclerc had to watch on from the sidelines, Vettel was in the battle for pole position before finishing three tenths behind Bottas.
"I don't know if they [Mercedes] stole it [pole position]," Vettel said on the track after qualifying.
"I think they were a bit quicker than us today. For me it started a bit slow, towards the end it was getting better but it was quite tricky, the session was very long, the sun was going down."
Lewis Hamilton on Friday: "It's unlikely that we will find seven tenths overnight."

Toto Wolff pre-qualy: "Ferrari are almost untouchable."

Mercedes lock-out the front row. #F1 pic.twitter.com/xIMnvJmMGh

— Planet F1 (@Planet_F1) April 27, 2019
Vettel said that he could have done with a tow on his final Q3 laps to help him topple the two Mercedes, but none came his way.
"I had a good lap but I had no tow to close the lap so that cost a bit," he added.
"I am happy that we got sort of the maximum out, but not happy overall from the team point of view as we were expecting to have a better session with Charles and myself. I think we thought we would be closer to the front."
Then asked what a good tow was worth in terms of lap time, he said: "It depends, up to half a second. Then it is always a compromise because if you are too close in the middle sector you lose out.
"But I would say going with the other people, probably around three tenths. It could have been a bit closer with someone in front."
Vettel said he had a little bit of "regret" that he did not purposely put himself in traffic to pick up a tow, but it was probably on the safe side not to do it.
"The track was getting cooler, the car was more difficult to drive and I prioritised to push on the out lap to have the tyres in the window when I started the lap," he said.
"Now I sort of regret I didn't take the gamble on but I think it was still probably the right call."
Follow all the action from the Azerbaijan Grand Prix with the PlanetF1 live centre