Johnny Herbert on Ferrari radio messages: 'This doesn't happen anywhere else on the grid'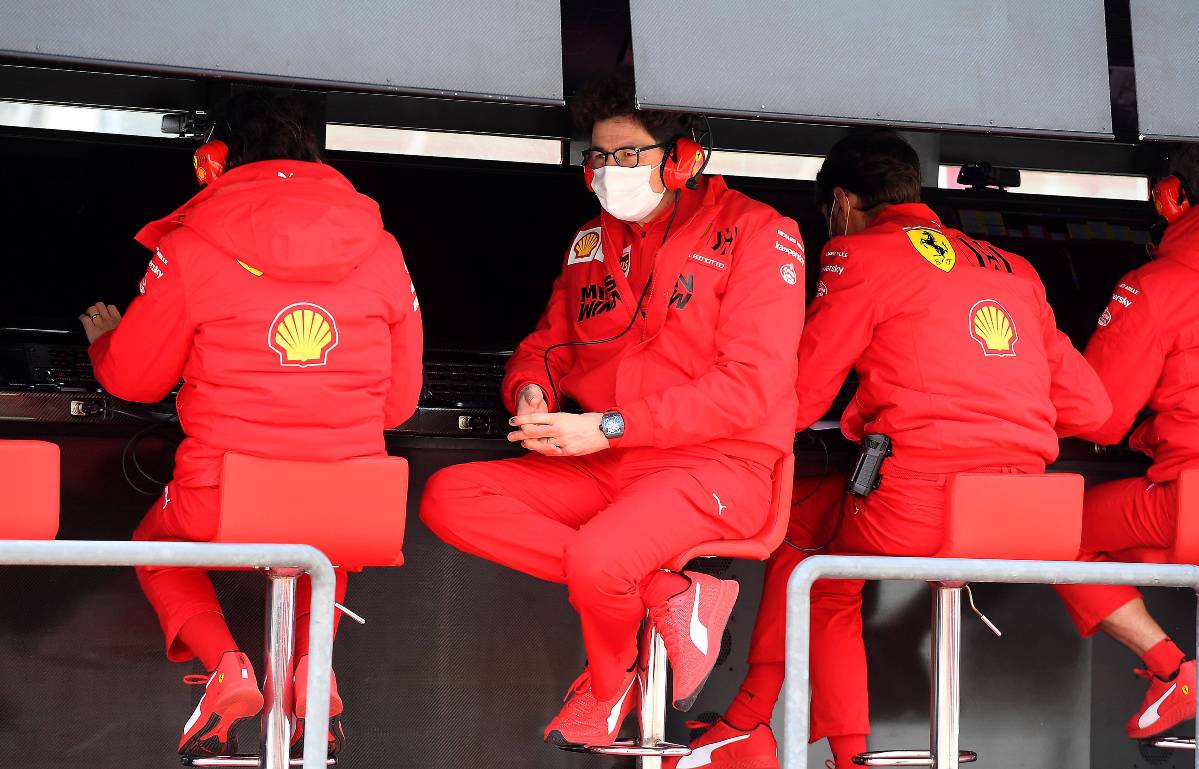 Ferrari have been criticised for their radio messages during the Belgian Grand Prix which saw both the team and driver Charles Leclerc lose more ground in the title race.
Having started just one place behind eventual race winner Max Verstappen, Leclerc was unable to produce the same kind of speed as he finished P5, only to be knocked down a spot due to speeding in the pit lane.
The race was yet another poor performance from the Ferrari pit wall with Leclerc frequently being asked long questions about what tyres he would prefer, as if the team were delegating strategy decisions to the man travelling at 200mph.
Given the team's recent run of shooting themselves in the foot, is no surprise to see Leclerc wanting more of a say but some of the radio messages broadcasted made for farcical listening.
The Ferrari man was forced to pit under the early Safety Car after spotting smoke coming from his front right tyre and when he returned to the track he began the difficult task of agreeing with his team what the strategy choice would be.
"We agree one stop from now no?" Leclerc asked over the radio.
"We'll come back to you" was the initial response before "I confirm you, yes."
Later on Leclerc was informed the team were switching to Plan D as degradation was higher than anticipated before his race engineer Xavier Marcos Padros mooted the idea of stopping but the driver seemed unaware.
"If we have to stop now we'll be right in front of [Pierre] Gasly which is P12, Marcos Padros said.
"Why would we stop now?" a bemused Leclerc asked.
"So we are looking at P5 finish at the end of the race," replied his race engineer. "Question is would you like to have a new medium to go through the traffic or prefer a new hard, question?
Leclerc then asked for the speed difference in the hard and medium before reiterating he felt okay on his current set of tyres.
One of the final exchanges came when he was asked if he could do five more laps on his current tyres to which he replied with a single "yes."
How Charles Leclerc's radio messages played out over the course of the Belgian Grand Prix 📻 pic.twitter.com/KgYuyXlPiT

— Sky Sports F1 (@SkySportsF1) August 28, 2022
Leclerc then pitted late on in an attempt to go for the fastest lap only then to find himself coming out of the pit narrowly ahead of Fernando Alonso. He was overtaken by the Alpine driver but managed to win the place back only to be penalised for speeding in the pit lane.
The incidents at Spa where not the first time the Ferrari pit wall has not covered themselves in glory and it was in stark contrast to Red Bull who produced the perfect strategy for Verstappen to win the race, a point not lost on former driver Herbert.
"You listen to that sort of conversation with Charles," the 58-year-old told Sky Sports F1. "They're almost asking Charles who's sort of their strategist, what they want to do and how he wants to do it.
"That doesn't happen anywhere else down the pit lane. They don't need to ask the driver what he wants to do. I think that's just where there's a little bit of…obviously trust has been hurt with all the issues and I think it's something that I think maybe Charles has sort of said, 'Okay, I want to take control of this at the moment.'
"That's a strength, to be perfectly honest, and he knew what the car was doing and he was able to stretch out that tyre as well. But you do need that team support at the same time. It can't be just one way and he's got a lot of weight on his shoulders trying to get their car back to winning ways again."
With Leclerc's P6 finish, he lost further ground to Verstappen and trails him by 98 points in the Drivers' Championship.