Check out which drivers finished the season in style with Late Braking's Abu Dhabi Grand Prix driver ratings.
Lewis Hamilton:There was an air of uncertainty after Lewis Hamilton was the only front-runner to pit under the Virtual Safety Car on lap 7 – but he needn't have worried as he rode the strategy to a routine victory.
Hamilton and Mercedes have fond memories of the circuit and they can add 2018 to that list. An 11th win of the season matches his best-ever total from 2014 and he becomes the first driver to accumulate over 400 points in a season.
The five-time World Champion said he wanted to send an early statement for 2019 with his performance  in Abu Dhabi. Consider that message sent. 9
The icing on the cake on an extra special season! 👌@F1 2018, you were mega! 👏👏👏pic.twitter.com/Nax8QOfqJU

— Mercedes-AMG F1 (@MercedesAMGF1) November 25, 2018
Sebastian Vettel:A solid race from Vettel as he finished a comfortable second behind Hamilton, but the role of bridesmaid has become all too familiar in the second half of the season.
A critical overtake on Bottas gave him clean air to catch Hamilton, but progress did not happen quick enough for the German as he now turns his attention to 2019. 8
Watch: Hamilton, Vettel, Alonso see out 2018 with donuts
Max Verstappen:Talk about an in-season transformation. Third place at the Abu Dhabi Grand Prix gives him his fifth consecutive podium and fourth place overall in the Championship.
Memories of the countless errors he made at the beginning of the season have faded fast after a number of consistent results.
He overcame troubles with an engine setting early on and had to recover from P9 at one point. There was also the issue of a fast Aussie team-mate behind him, but he staved off the threat to finish third and dreams of throwing himself into the title mix next season. 8.5
Very happy to finish the last race of 2018 on the podium 💪 What an incredible year it has been! Thank you @redbullracing, friends, family, partners and of course all fans for the great support 👍 #KeepPushing #AbuDhabiGP 🇦🇪 pic.twitter.com/M3fWf5ILlx

— Max Verstappen (@Max33Verstappen) November 25, 2018
Daniel Ricciardo: It was a last chance for Ricciardo to finish off his Red Bull career in style, but a good drive ultimately could not yield a podium finish.
Extending his first stint much longer than those around him, Ricciardo was banking on being much quicker at the end of the race – yet the supersoft tyre proved to be too durable to make up enough ground.
A frustrating result to cap a frustrating season. Now we wait and see what Renault can provide him with. 7.5
Valtteri Bottas: A race that started well, but ended rather poorly. That could accurately summarise the Finn's season as well as just this race.
He went from leading the race in the early stages to P5 at the end. The disappointing result also means he loses out to Raikkonen and Verstappen in the final World Championship standings.
Being overtaken by Vettel and both Red Bulls is hardly a good way to end the season. Will this bad form carry on into next year? Or will he come back rejuvenated for 2019? 5.5
Very happy! This 6th feels a bit like payback for 🇫🇷 and 🇲🇽 . We deserve it! A very strong pace all the way, a great stint with the ultra and a good pitstop payed off nicely. Happy to finish on a high at Renault, thank you! Looking forward to my papaya flavoured future 😅😂!! pic.twitter.com/eFCN6wvgfv

— Carlos Sainz (@Carlossainz55) November 25, 2018
Carlos Sainz: A great end to the season for Sainz who finished P6 and thus earned the accolade of 'best of the rest'.
It was his second best result of the year and allowed him to jump both Esteban Ocon and Fernando Alonso in the Championship standings.
It will take a brave person to back the Spaniard to reach similar lofty heights with McLaren next season. 9
Charles Leclerc: A third consecutive seventh place finish and a tenth points finish for the year for the Ferrari-bound driver.
As high as P4 at one stage, Leclerc decided to pit under the VSC early on. But, he got caught in traffic which held him up and may have just cost him P6. 8
Sergio Perez: Starting in 14th, it was uncertain whether Perez would score points in Abu Dhabi for a sixth consecutive time. However, a strong first stint and a perfectly timed pit-stop allowed him to get up amongst the points scorers. P7 place was agonisingly close at the end. 7.5
Double points finish on the last one of 2018. Great work again by the whole @HaasF1Team
Glad to see that @HulkHulkenberg is ok after our contact. Saw him after the race, no hard feelings. He thought I had cut the chicane, I thought he was going to leave some room on the inside.

— Romain Grosjean (@RGrosjean) November 25, 2018
Romain Grosjean: Qualifying P7, Grosjean has the right to be slightly disappointed with a P9 finish.
An early pit-stop demoted him towards the back of the grid and whilst the fight back led to two points, you can't help but think it should have been more. 7.5
Kevin Magnussen: Through the entire weekend it appeared as if his team-mate had the edge over him and that remained unchanged in the race as he finished behind Grosjean in P10.
He showed impressive tyre management as he had the longest first stint of anyone and capped off his year with one point. 7
Fernando Alonso: He gave it everything he had but a fairytale ending to an incredible career just wasn't to be.
A couple of impressive overtakes gave him a sniff of a point but that was prematurely ended with a five second penalty for cutting the Turn 8 chicane.
He did receive a nice send-off as he, Vettel and Hamilton treated the crowd to synchronized doughnuts. A tough year in all but he leaves fans around the world with many brilliant memories. 8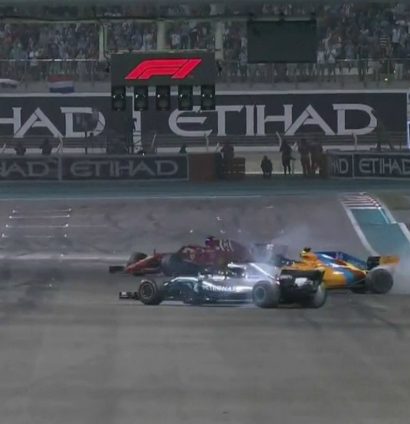 Brendon Hartley:It's still an unknown as to whether this will be his final Grand Prix race. If this was a final chance to impress, he did little to convince bosses that he is the man for 2019. 12th place means he adds no points to his season total of just four. 6
Lance Stroll:A tough year for Williams as they limp to last place in the Championship, but the misery is over for Stroll as he joins his father at Force India.
The race itself was a decent one for Stroll as he drastically out-performed his team-mate and nearly got Hartley for 12th, he was once again helped by a trademark fast start. 7
One final video from @svandoorne as he thanks you all for some incredible support this season. 👏#SV2 🤝🏁 pic.twitter.com/heKz4hrBby

— McLaren (@McLarenF1) November 25, 2018
Stoffel Vandoorne: With the qualifying teammate whitewash completed on Saturday, Vandoorne turned his attention to the race but failed to make much of an impression.
He did leave F1 with a nice highlight as he won out in a three-driver battle with Grosjean and Ocon. 6
Sergey Sirotkin:Only a few days removed from the news that he will not be racing for Williams next season, Sirotkin delivered an underwhelming race as he finished P15 and last. He can take some solace from the fact that he beat Stroll in qualifying over the year. 5
Did not finish
Pierre Gasly:The Frenchman's last race for Toro Rosso ended on a sour note when forced to retire from a points finish at the Yas Marina circuit. An oil leak was to blame on this occasion. Let's hope he doesn't carry those reliability woes to Red Bull next season. N/A
It was great race until the car decided different but hey I met @WillSmithNews ✌🏻!!
C'était une super course jusqu'à que ma voiture en décide autrement mais hey, j'ai rencontré @WillSmithNews ✌🏻!! #Legend #EO31 pic.twitter.com/PRx6CNfwuY

— Esteban Ocon (@OconEsteban) November 25, 2018
Esteban Ocon: Frenchman? Check. Oil leak? Check. Ocon's last race went the same way as his fellow compatriot, but at least he was able to be a nuisance to Max Verstappen again with their early-lap squabbles. N/A
Marcus Ericsson:Ericsson was intent on showing Sauber what they were going to be missing next season after being demoted to third driver in 2019. But, like in Brazil, the Swede was forced to retire early, this time with power issues. Not the way he would have wanted to ride off into the sunset. N/A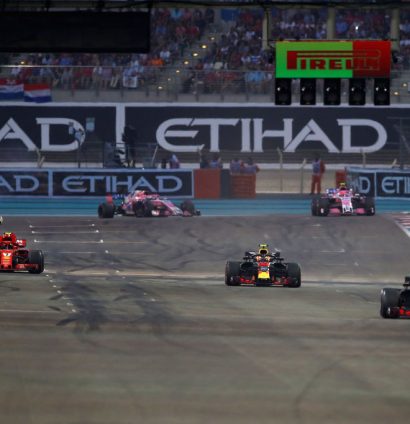 Kimi Raikkonen:'The Iceman' deserved a much better Ferrari send-off than a retirement after just seven laps. He probably thought he had got away with having to attend the FIA gala, but Bottas' slide down the field and Verstappen's P3 finish were enough to see the Finn keep hold of third in the World Championship standings. Sorry, Kimi. N/A
Nico Hulkenberg: Jaws were wide open all over the world when Hulkenberg was tipped up and flipped over on the opening lap after a racing incident with Grosjean. It was certainly a spectacular way to exit the 2018 season.We're just glad he has all of his bones in the right places.
But, even with back-to-back DNFs, Hulkenberg has done enough to clinch the Formula 1.5 World Championship with 69 points. N/A
Watch: Hulkenberg flipped upside down in horror crash
The Abu Dhabi Grand Prix driver ratings are courtesy of the good folks at Late Braking. You can check them out in the following places:
Subscribe to Late Braking on YouTube
Follow Late Braking on Twitter