Another lead change, if Mercedes don't bungle it
The championship lead has changed hands thrice in three races and there's every indication that it will do so again at Silverstone, unless of course Mercedes botch another one.
Last time out in Austria, Sebastian Vettel was gifted a one-point advantage in the championship race as he came from sixth on the grid to finish third at the chequered flag.
The Ferrari driver's afternoon was boosted by a double retirement from Mercedes with first Valtteri Bottas going out and then Lewis Hamilton. A frustrated Brit leave the circuit on the back of a public apology from Mercedes' strategist James Vowles, who had made a costly error when the Virtual Safety Car came out for Bottas, costing Hamilton the victory.
It should have been an easy Mercedes 1-2, instead it was an afternoon in which the cracks, both in reliability, on the pit wall and one could say in the cockpit, showed. It was also an afternoon in which Vettel and Ferrari grabbed the lead in both championships.
It may not last long.
Part three of Formula 1's triple header sees the sport head to Silverstone for round 10 of the championship. It is a race that has belonged to Mercedes in recent years with the Brackley squad chasing their sixth successive British Grand Prix win and Hamilton his sixth at home – fifth in a row having triumphed last season, comfortably ahead of Valtteri Bottas and Kimi Raikkonen.
And should the Brit take the win it would tie him with his racing hero Ayrton Senna as only the second driver in F1 history to have won five consecutive editions of the same grand prix. Senna did it in Monaco from 1989-1993.
But where have we said before this season that Mercedes will be dominant? They were meant to win in Canada, so said the history books, and they were scripted to win in Austria. They didn't in either.
The turnaround in this year's form book has both Ferrari and Red Bull feeling hopeful about their chances, but at the same downplaying it. Ferrari team boss Maurizio Arrivabene has predicted a "difficult" grand prix for the Scuderia as everything about the Northamptonshire track, from its power straights to fast corners to aerodynamic requirements, suits Mercedes.
But with Mercedes proving at the Red Bull Ring that they are not bulletproof, there is a lot to play for at the front on Sunday. Revenge for Mercedes, championship lead for Ferrari and pride for Red Bull as they look to follow up Max Verstappen's Austrian GP victory with their first British GP triumph since 2012. For Ferrari you have to go back a further year, 2011, for the last time they won in enemy territory.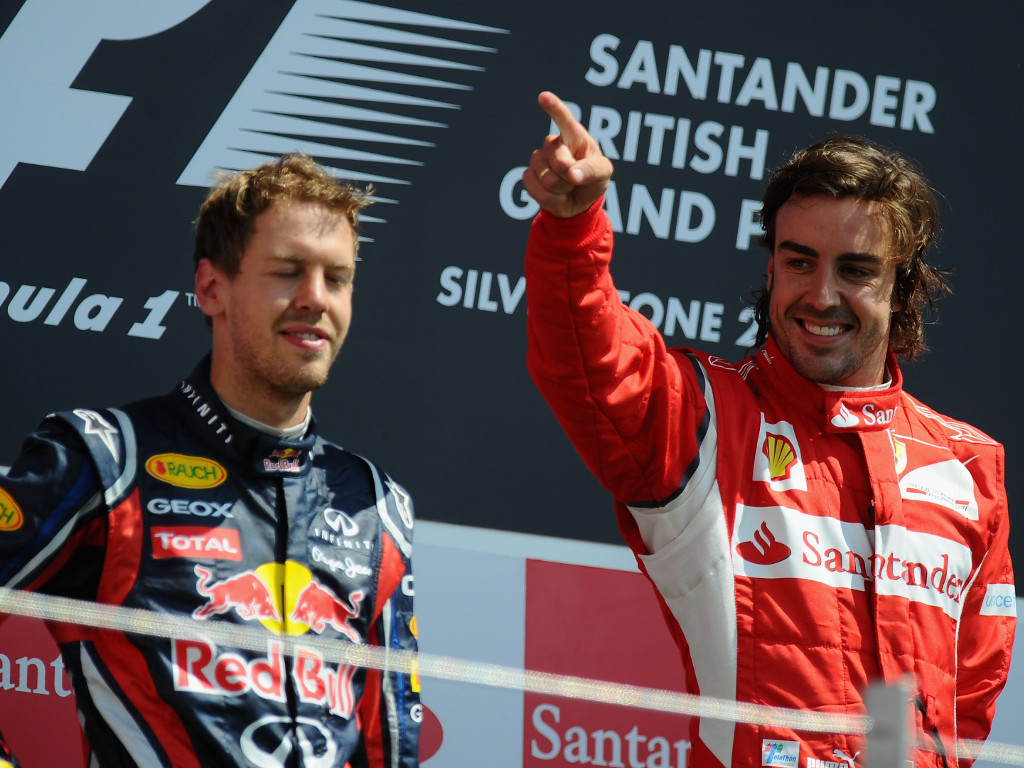 As always, though, it is the midfield battle that is likely to yield the best racing with Renault, Haas, McLaren and Force India all looking for maximum points and to pick up any pieces should the big three get it wrong.
Tyres – this year Pirelli are bringing the hard, mediums and soft compounds to the race – could also play a role as many remember tyre-gate in 2013 when there were four identical Pirelli left-rear tyre failures. More recently, last year in fact, Vettel suffered a tyre failure with two laps to go, finishing seventh.
As for the British weather, it will be summer this weekend with temperatures reaching 28'C, stark contrast to the last three years where it has been either overcast or raining. The heat could yet cause havoc and blistering on those Pirelli tyres.