Good performances are not without pain for the likes of Charles Leclerc and Carlos Sainz, while Sebastian Vettel flops on the big stage again. Check out the Bahrain Grand Prix driver ratings from Late Braking.
Lewis Hamilton: Mercedes have proved in Bahrain why they are consecutive five-time double World Champions. You won't always have the best car on the grid, but consistency and reliability are key in this sport.
Some might say this is one of Lewis Hamilton's luckiest wins and you can understand the argument, but, in a car that was clearly not as fast as the Ferrari he kept pace with Vettel and then deployed some classic Hamilton wheel to wheel race craft, swooping around his long-time rival to seize P2.
Then, like a gift from the racing gods, he was given the race win after Leclerc's engine issues. But no doubt about it, Mercedes have a real challenge on their hands.  8
P1 🏆🙏🏾 pic.twitter.com/Wki7y3LLja

— Lewis Hamilton (@LewisHamilton) March 31, 2019
Valtteri Bottas: In Melbourne, Bottas was the unbeatable man, finishing 20.8 seconds clear of his team-mate.
Two weeks after and Bottas seems to have returned to his former self. He was duelling with Verstappen for more of the race and was unable to keep up the pace with the top three.
He looked more likely to finish in P5 rather than this almost unfathomable P2 he ended with, but that's a perk of the Mercedes drive. The most encouraging part of Valtteri's race was his start, like a lightning bolt out of the blue he jumped Lewis and had an incredible run at the Ferrari cars, but he just seemed to drop off after this, Bottas needs to work on his consistency if he is to win a title. 6
Charles Leclerc: My heart breaks for Charles, but, Leclerc demonstrated in style that age is merely just a number.
Having had a near perfect start to the race weekend, securing the fastest time in two of the three practice sessions, and then demonstrating his raw talent in the form of an awesome qualifying lap which secured him pole, he then had a slightly shaky start to the first night race of the season.
Beaten into Turn 1 by a four-time World Champion for many could be confidence destroying, but Charles kept his cool and came out on top of a scrap with Hamilton then, after pushing hard, delivered a ruthless move on his Tifosi team-mate and snatched back the lead.
When everyone watching thought all was said and done, Leclerc screamed down his radio that something was wrong with the engine.
Hamilton was able to move pass Charles who was a sitting duck, causing him to finish P3 after bad turned into much, much worse as Bottas snuck past for P2. A devastatingly unlucky race for the youngster but the first of no doubt many wins will come his way.  10
Max Verstappen: An encouraging drive for Max; flying the flag solo for Red Bull at the start of the race, he did well to keep in touch with the front runners.
A slow puncture after contact with Carlos Sainz saw Red Bull pit Max a lot earlier than the teams had expected, this turned out to be a crafty move as it started a flurry of pit stops from the drivers around him.
Almost undercutting Bottas and eventually scrapping away with him, Max did well to put up a good fight and almost sneak onto the podium. He should feel encouraged going into the 1000th race in Shanghai. 7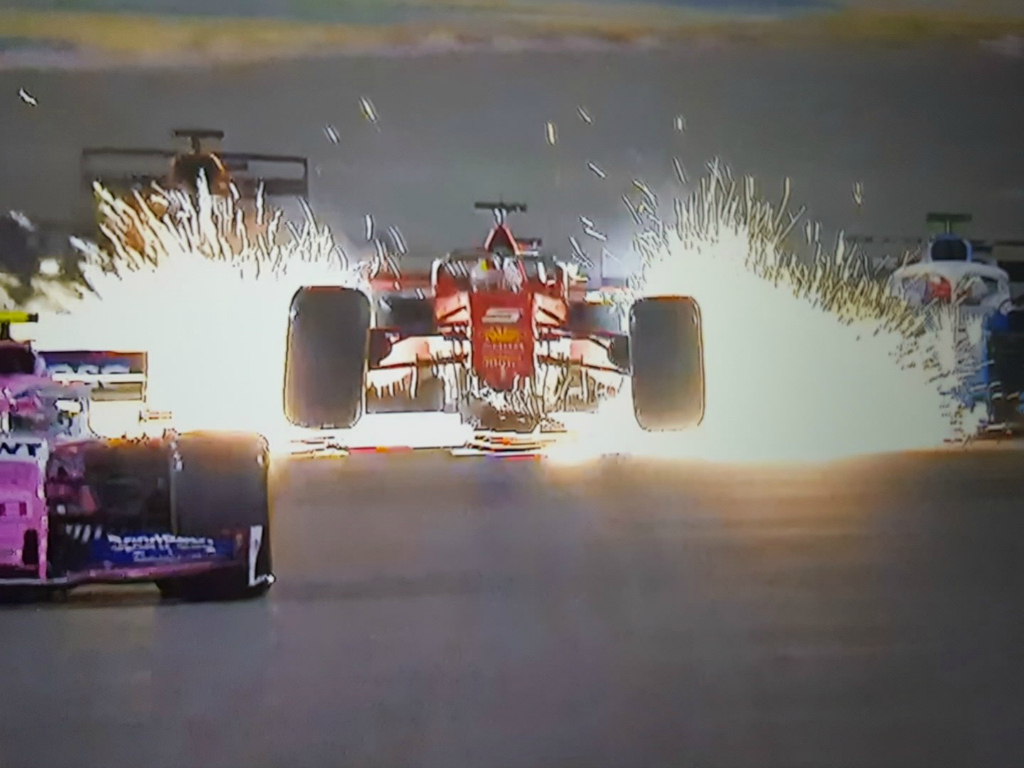 Sebastian Vettel: After being beaten to pole by his significantly younger and massively inexperienced team-mate, Vettel would be hoping for the perfect start to launch him into first place and kick start his 2019 title hunt.
Well, ask and you shall receive. Vettel demonstrated another expert start to a race and quickly secured the number one spot on the first lap.
As the race aged, it became clear that Vettel didn't have the pace to withstand the pressure from his team-mate and quickly fell behind. Settling it in, it looked as though Vettel's consistency would carry him through to Ferrari's first 1-2 since Hungary 2017, but it was not to be.
Coming under heavy attack from the Silver Arrow of Hamilton, defending the inside, Vettel slammed the throttle down while watching Lewis go around his outside and got caught out by cross winds. He then spins the car and rips his tyres down to the carcass. A rookie mistake from a master of the modern race and don't be fooled, this cost Ferrari a win. 5
Lando Norris: The last time a McLaren finished in P6 or better was when Alonso managed a P5 place right at the start of the 2018 season in Australia. There is no denying that Norris drove like a future champion.
Scrapping brilliantly with the rest of the midfield and being ruthlessly concise with his overtaking manoeuvres he demonstrated that the Papaya car really does have pace.
The second half of the race kicked off the battle for the ages, literally. Kimi Raikkonen, the oldest man on track and twice Lando's age was desperate to get past the rookie, but to no avail. Norris drove brilliantly, demonstrating that he is a talent to look out for. 9
Kimi Raikkonen: The midfield was competitive last year, but this year it is anyone's game. One mistake could send you back to 14th place but mistakes were not in the veteran's vocabulary. Showing what experience can do, Kimi delivered a brilliant result for the Alfa Romeo team.
One of the most brilliant parts of Kimi's racecraft is not his overtaking or defending, but his patience.
Like a wily old fox, you watch him waiting and waiting for the fights in front to fall apart and time after time you see the Finn leap in, taking advantage of the stragglers around him. A class drive from the Kimster.  8
Pierre Gasly: Another race weekend for Gasly and another race starting outside the top 10. This is already becoming a trend that the youngster is going to want to buck.
With the new aerodynamics in the 2019 season, it should be even easier for the Red Bull to follow, attack and pass its midfield counterparts, but this is posing more of an issue for the Frenchman than one might have thought.
While his team-mate is comfortably racing around with Mercedes and Ferrari, Gasly is struggling to make a pass on his sister team. The DNF of both Renaults makes Gasly's result look a lot more favourable than it could have been. 5
🗣️"That was a busy race – I felt like I was always fighting with someone at some point, there was always something to do! I didn't have the best start, but after that, I put my head down and got on with it." – @alex_albon

Alex's full quote 📲 https://t.co/iH0U3ZKNGv pic.twitter.com/BBqNZmw5jT

— Toro Rosso (@ToroRosso) March 31, 2019
Alexander Albon: It was good to see Albon emerge from his shell in Bahrain and take it to the big names in Formula One.
Having been drafted in late to the sport from Formula E, many expected Albon to be one of the biggest flops of the year, but a strong, consistent race this weekend saw him score two points and jump his team-mate in the standings. 7
Sergio Perez: A quiet race for the Mexican. Checo was fortunate to score a single point this weekend, being another benefactor of the yellow and blacks having serious issues at the end of the race. He'll go away knowing his team and himself need to do more if they want to challenge those around them and end up best of the rest. 6
Antonio Giovinazzi: Gio adds another race to his tally where he's made contact with either another driver or the wall.
Getting tangled with the Toro Rosso of Daniil Kvyat, some will consider him lucky he wasn't slapped with a penalty. A lot to learn from his heavily experienced team-mate if he is going to start earning consistent points. 6 
LAP 13/57: 💥 Contact between Giovinazzi and Kvyat sends the Toro Rosso man into a spin #BahrainGP 🇧🇭 #F1 pic.twitter.com/kkgKe6jAic

— Formula 1 (@F1) March 31, 2019
Daniil Kvyat: Not a bad run for the Russian, he can go away from the second race of the season and not feel too shabby about his performance.
Although he knows he can improve, out-driven by his rookie team-mate and getting too wrapped up in battles and incidents that he doesn't need when every point matters. Onto the next for Dani. 6
Kevin Magnussen: The Haas was clearly one of the f-haas-test cars on track this weekend but something about their qualifying pace just couldn't translate into a strong Sunday performance.
Losing out when it came to the strategy game, Kevin was unable to move back up the field and finished a lap down on the leader. I think Guenther Steiner might have more reason to swear come season two of "Drive to Survive". 5
Lance Stroll: A first lap incident saw Stroll barely able to improve on his qualifying result and after the chequered flag was waved, he was closer to the Williams of George Russell than he was his own team-mate. Stroll may have been given a seat at a great team but he has to earn his right to stay there in the eyes of the critics and the fans. 5
That was pretty close! 😬#F1 #BahrainGP 🇧🇭 @WilliamsRacing pic.twitter.com/pCbeXwL5TB

— George Russell (@GeorgeRussell63) March 31, 2019
George Russell: Once again George manages to bring the Williams home in one piece and finish in front of his seasoned team-mate.   This has to be the objective of the F2 champ every race weekend to prove to the teams around him that he deserves to be more than a back marker.
Also, top marks for Russell surviving the explosion of Vettel's front wing, that's enough to make anyone need to change their underwear. 7
Robert Kubica: A better performance this weekend then what we saw in Australia but the only man to drop down to two laps behind the leader.
It's such a fairytale seeing Robert back on the Formula 1 grid, but is he what Williams need in this time? I think for one season, he's the tough whip that they need to get back into shape, but the long-term future is already starting to become doubtful. 6
Did not finish
Romain Grosjean: Tough to analyse any driver when they tumble out of the race in the first few laps. Romain took a grid penalty for blocking Norris in qualifying and started in P11, by the end of the first sector, he was last.
Running over the sand had damaged his floor and unfortunately that was race down and out. Romain and Haas will be begging for a better run next time out in China. 5
Carlos Sainz: McLaren genuinely brought pace to Bahrain and it was so refreshing to see, unfortunately for Carlos Sainz, he was unfortunate to be fighting against one of the most ruthless men in the sport – Max Verstappen.
Sainz had supreme pace over the Red Bull and was ballsy enough to stick it to his old racing family, and when attempting to go around the outside of Max, they collided and his suspension snapped. He did well to try and keep the car alive but it was not meant to be as gearbox issues took over. A tough start to the season for Carlos. 8
Daniel Ricciardo: The saying goes "when it rains, it pours", and this was most definitely the case for Renault this weekend.
Both cars out in one corner with completely unrelated issues is always a tough one to take. Ricciardo on the other hand drove well, but that's all he did.
Maybe the Hulk has the pace due his years with the team but Daniel just couldn't match his team mate. They attempted the one stop and just didn't have the pace.
Regardless of pace or fight, any chance of points was snatched away at the last gasp due to an electronics failure. 6.5
🎙 "These problems are increasingly frustrating and unacceptable as both cars have shown very good competitiveness both over one-lap and race runs." 

And now a word from the boss on the #BahrainGP.
Full report 👉 https://t.co/96YO5XDUG8 #RSspirit pic.twitter.com/No5nCAhBoH

— Renault F1 Team (@RenaultF1Team) March 31, 2019
Nico Hulkenberg: A feisty driver from the Renault driver. The strategy calls seemed to go his way and any midfield team driver that is able to come from P17  to fighting for a P6 place is worth praising and praising highly. Devastation then struck with only a few laps remaining as the Hulk's engine gave up on him. 8
The Bahrain Grand Prix driver ratings are courtesy of the good folks at Late Braking. You can check them out in the following places:
Subscribe to Late Braking on YouTube
Follow Late Braking on Twitter