The Belgian Grand Prix driver ratings are in. Who impressed on the first race back following the summer break?
Sebastian Vettel:We were getting into 'must-win' territory for Sebastian Vettel and Ferrari if their title ambitions are to be realised this year and the four-time World Champion duly obliged by seizing his opportunity to overtake his title rival Lewis Hamilton at the end of the long Kemmel Straight just before the Safety Car was deployed.
The rain proved problematic for Vettel once again during qualifying on Saturday, but the heavens thankfully didn't open on him on this occasion and he recorded a pretty straightforward fifth victory of the season to narrow Hamilton's gap at the top to 17 points.
Vettel repelled one serious attack from Hamilton after the Safety Car disappeared and just about covered off an attempted undercut from the Brit who tore a big chunk out of his race lead.
That proved to be the last nervy moment for Vettel as he set off into the sunset with the perfect response after the summer break – a clinical overtake followed by a commanding victory.  He has now moved clear of Alain Prost on the podium (107) and wins list (52), further cementing his place as one of the all-time greats. 9.5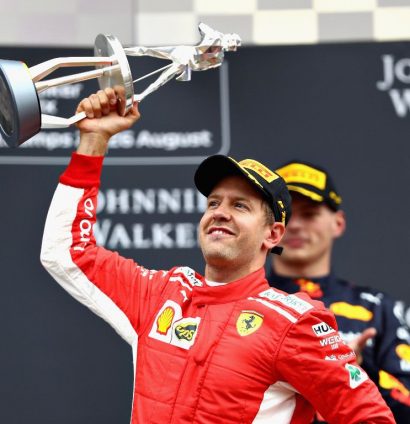 Lewis Hamilton: The World Championship leader was very wary of the threat posed by Vettel and Ferrari on race day in Spa – and those fears were quickly realised.
Hamilton was once again masterful in the wet to clinch a record fifth pole position in Belgium,  but he was simply powerless as Vettel picked his spot at the end of the long Kemmel Straight on the first lap to take the race lead. "He went past me like I wasn't even there," he bemoaned.
The Safety Car did provide Hamilton with a glimmer of hope of overtaking Vettel again once it peeled away, but there is a nagging feeling that he picked the wrong spot to launch his attack at the Bus Stop chicane as opposed to the Kemmel Straight.
The gap was too big by the time the two four-time World Champions reached there and then the Mercedes pit wall could only give him one more small opportunity with an attempted undercut midway through the race which didn't pay off.
It was essentially game over from that point as Hamilton settled for second place which, if Vettel and Ferrari can keep their cool, is where he could find himself in the World Championship by the end of the season. 8.5
Watch: Vettel overtakes Hamilton on opening lap
Max Verstappen:After never finishing higher than P8 in three starts at Spa and never completing a lap in the top four, there was finally some good news for Max and his huge army of support in Belgium as he bagged his first podium finish in four races.
With Raikkonen and Ricciardo quickly out of the equation, Verstappen had his sights firmly set on the likes of Grosjean, Perez and Ocon in front him.
His stunning dummy overtake on Ocon at Le Combes was the absolute pick of the bunch and a move that team-mate and overtaking extraordinaire Ricciardo would have been very proud of himself.
Once Grosjean and the Force India duo were successfully negotiated, it was a rather lonely afternoon for Verstappen with Vettel and Hamilton in a racing class of their own. But, as lonely afternoons go, Verstappen will take it every time considering he started from P7 after Red Bull cocked up qualifying by under-fuelling both cars. 9
Valtteri Bottas: Taking on a brand new Spec-3 engine at Spa meant that Bottas could not play as much as a wingman  role from a starting spot of P17 on the grid. The Finn was soon back into the points, as you would expect in his superior Mercedes, and set about climbing all the way to P4 with the podium a little too out of sight from his lowly grid position.
There was a lovely move on Hartley through Raidillon before a late pit stop on the soft tyres left him needing to overtake two Force India cars with 14 laps to spare. The strategy was perfectly timed as he waltzed past both with ease and collected some valuable points in the wake of Raikkonen's DNF for Ferrari.
A five-second timed penalty for causing a collision with Sirotkin at the start only provided a minor blot on the copybook as it had no effect on his race result. 8
Sergio Perez: The Mexican said he "sh*t his pants" after almost crashing out in wet conditions through Raidillion during qualifying and it is just as well he rescued the situation as he went onto the equal his career-best qualy with a P4 start.
In the race, with some clean underwear we hope, he was always going to be vulnerable to the likes of Verstappen and Bottas behind, but he grabbed his opportunity to steal a place from Ocon, who found himself in the unfamiliar scenario of challenging for the race lead on the opening lap.
Perez was able to stay out in front of his team-mate, who would help ensure that the two Haas cars would not pose any real threat to the newly-formed Racing Point Force India.
On his 150th Grand Prix, Perez has surpassed 500 points in his career and will be heading to Monza safe in the knowledge that his 2019 future is close to be resolved. 8.5
Not a bad return to action after the summer break… #BelgianGP pic.twitter.com/4qxcThVvrl

— Racing Point Force India F1 (@ForceIndiaF1) August 26, 2018
Esteban Ocon: "You can't let someone who has more money leap in front of a better driver," said a sympathetic Lewis Hamilton about Esteban Ocon as he faces an extremely uncertain future. But that is the harsh reality in Formula 1: money talks.
The talented Frenchman secured an incredible P3 in qualifying to match his exploits in Monza last year, which was also achieved in wet conditions. He then had a crack at Vettel and Hamilton for the race lead just for good measure in what was an incredible start to the Belgian Grand Prix. He lost out to Perez in the process but who can blame him for having a go?
But, it doesn't matter what Ocon achieves results-wise at Force India as Stroll's money bags hold much more power than that. All he can hope for is that someone peers through the shop window and sees a very good driver available for 2019. 8.5
Romain Grosjean:This was another very strong showing from Grosjean who has got the message loud and clear that his Haas and Formula 1 future are on the line. Force India stole the headlines in qualifying by locking down the front row but the Frenchman deserves credit too for landing a P5 start.
Grosjean envisaged a battle with Force India up ahead and, although that did not materialise, he produced a solid drive to keep ahead of his team-mate and collect his fourth points finish in his last five races.
With plenty of talk about midfield driver movement and no mention of Grosjean, you cannot help but wonder if this sudden change in form is all in vain. 7.5
Kevin Magnussen:K-Mag had to settle for being slightly in Grosjean's shadow this weekend in Spa, but after collecting most of the points in the first half of the season it is a rarity for him to be in this kind of position. A mistake in Q3 stopped all chance of him reaching the lofty heights of Grosjean's P5 and, for the large part of Sunday afternoon, could only see the rear wing of his team-mate's car as he came home a rather lonely P8. 7
Pierre Gasly:In his first race since being announced as Ricciardo's replacement at Red Bull, Gasly recorded back-to-back points finishes for the first time in this excellent season he has been having. P9 was about as good to be expected at Spa with Haas proving to be a little too far out of reach and him having too much pace for the Sauber of Ericsson to be a threat. 7
👏 Another points finish for our super Swede @Ericsson_Marcus 👏

P10 for #ME9 with @Charles_Leclerc unfortunately having to retire after THAT crash

Great race from Marcus and now we all look forward to the #ItalianGP next weekend 💪#alfaromeosauberf1team #F1 #BelgianGP pic.twitter.com/cjPSAtbM3N

— Sauber F1 Team (@SauberF1Team) August 26, 2018
Marcus Ericsson:Ericsson thinks Sauber are capable of scoring points in every race between now and the end of the season and he played his part in keeping the prediction alive with team-mate Leclerc suffering yet another unlucky DNF.
It was quite an eventful race for the Swede as he tussled with the Williams of Sirotkin in the opening stages before trading blows with Hartley on several occasions through Eau Rouge, Raidillon and the Kemmel Straight.
He was always going to come out on top in that battle as Hartley was still to pit, but Ericsson still kept his head down to stay comfortably ahead of Sainz for the final point on offer. 7.5
Carlos Sainz: In his first race since being announced as Fernando Alonso's replacement, it seems some of the McLaren curse is already beginning to rub off on him. No rear grip in qualifying saw him exit Q1 for a second time this season and then confirmation of engine penalties on Sunday morning took him down three places to P19 on the starting grid.
He was the only driver on the grid to start on the medium compound tyre as Renault continue to avoid the softs as much as possible as they just don't agree with their car. But the hardest tyre did not prove to be a good one at all and when he did get rid of them it was far too late. He finished 12.5 seconds off Ericsson in P10. 5.5
Sergey Sirotkin:One of the better weekends in Sirotkin's very difficult first season in Formula 1 driving the FW41. After picking up damage in a brief tangle with Bottas at the start, the Russian still climbed from P15 to P9 before gradually falling back to a pretty respectable P12. He also out-qualified his Force India-bound team-mate Stroll by a couple of tenths which is another positive for the list. 6.5
Lance Stroll:All of the talk about Stroll is off the track as opposed to on it as he played second fiddle to Sirotkin in both qualifying and on race day in Spa. Guess we will see if there is some genuine racing ability when he re-joins his father at Force India some time in the near future as there will be no bad car there to paper over any cracks. 5.5
Brendon Hartley:The New Zealander has been given assurances that he will stay at Toro Rosso next season if he performs to a decent standard and collects more points along the way between now and Abu Dhabi.
That didn't transpire here as a spin at La Source in Q2 limited Hartley to P11 on the grid, but that did give a free choice of starting tyre and a split strategy to team-mate Gasly by starting on the softs. There was an enjoyable fight with Ericsson along the way, but a slow pit stop proved to be his undoing and his search for much-needed points will have to continue elsewhere. 6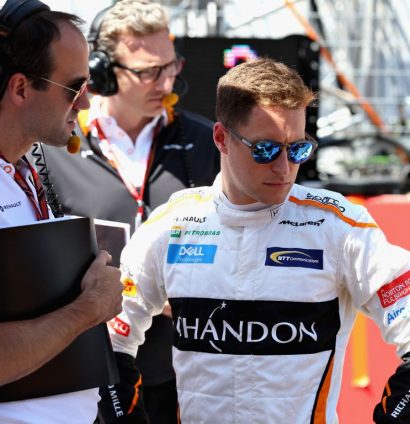 Stoffel Vandoorne: Returning from the summer break at his home grand prix was supposed to represent a fresh, positive start for the under-pressure Belgian after being on course for a points finish in the previous race in Hungary – but it was a horror weekend pretty much as soon as he hit the track.
His car continues to cause him all sorts of problems with brake and hydraulic issues ensuring he was slowest in all three practice sessions before notching up another unwanted P20 in qualifying. Penalties to Bottas and Hulkenberg were set to boost him up the order a little, but a late decision to change the entire power unit put him right back in last again.
He tried to get some momentum going by switching up his strategy by pitting under the Safety Car, but he would go on to complete a rather depressing full house by being last of the 15 finishers.
Vandoorne remains "100 per cent" confident he will stay in his McLaren seat until the end of the season at the very least. But, with so much talk of Stroll triggering several midfield driver movements, not many will share the same high level of confidence – especially with Lando Norris taking his seat in FP1 at the Italian Grand Prix next weekend. 4
Did not finish
Daniel Ricciardo:  The Aussie must be counting down the races before he can press the reset button at the end of the season. It has been pretty grim since Monaco and Spa only added to the misery. Both he and Verstappen were under-fuelled for qualifying, limiting him to P8, while his race was also effectively over at the first corner.
He picked up rear-wing damage after being tagged at the start and then punctured Raikkonen's right rear with his front left in the aftermath.
It looked like Red Bull were going to retire the car straightaway but, with a new rear wing fitted, he rejoined the action a couple of laps down on the rest of the remaining field. It was a thankless task from there and the decision was taken on Lap 31 to call it a day once and for all. 5
Kimi Raikkonen:Raikkonen was seeking a sixth consecutive podium finish and the 100th of his career this weekend but the Finn can consider himself incredibly hard done by at Spa.
A fuelling miscalculation on Ferrari's part took Raikkonen firmly out of contention for pole position after showing good pace prior to qualifying and his race was over by lap nine after picking up terminal damage in a collision involving Ricciardo.
One crumb of comfort for Kimi is that Ferrari are looking increasingly likely to keep him on board for another year and an announcement could be made at the Scuderia's home race in Monza. 6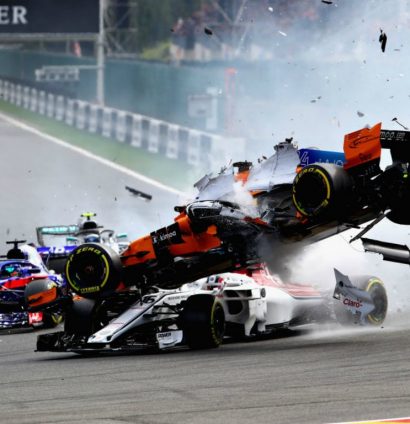 Charles Leclerc: After collecting five points finishes in six races earlier this season, it is now three DNFs in his last four for the unfortunate Leclerc who could have had an enjoyable battle with Toro Rosso on Sunday afternoon. He was a sitting duck in that crazy Turn 1 incident as Alonso flew over the top of him; we dread to think what could have happened if the Halo wasn't there to protect him. Brake problems in Q2 also prevented us from seeing him potentially reach the top-10 shootout again. A low score, but through no fault of his own. 5
Watch: Halo to the rescue in dramatic Spa crash
Nico Hulkenberg: It was always going to be a difficult afternoon for Hulkenberg after engine penalties left him out of position and starting from P18 on the grid. But, he went into the first corner far, far too deep and his huge lock-up sparked the dramatic scene of an airborne Alonso flying out of the Belgian Grand Prix. Hulk is no stranger to a DNF, that's his fourth this season and, on this occasion, only has himself to blame. He will continue to feel the effects of that crash as he has been slapped with a 10-place grid penalty at Monza for causing a collision. 3
Fernando Alonso: It's never quiet when Fernando Alonso is around, is it?  A slanging match with Red Bull followed by a huge crash at the start of the Belgian Grand Prix after being sent flying into the air by Nico Hulkenberg. His car was in absolute shreds, but thankfully he walked away unscathed.
As we all know, Alonso is saying "bye bye" to Formula 1 and Spa did provide some more damning evidence that he is absolutely doing the right thing after a woefully slow car contributed to a season-worst P17 in qualifying for the Spaniard. 5
Follow us on Twitter @Planet_F1 and like our Facebook page