Sebastian Vettel led a Ferrari 1-2 in FP1 for the Belgian GP, a session in which Lewis Hamilton's W10 suffered two different issues limiting his running.
Formula 1 arrived at the Spa-Francorchamps circuit to beautiful blue skies and a near-perfect summer day.
But for new Red Bull signing Alexander Albon, plus Daniil Kvyat, Nico Hulkenberg, Daniel Ricciardo, Carlos Sainz and Lance Stroll there was a dark cloud hanging over their heads with all six drivers facing grid penalties.
Proudly powering @alex_albon's first session in the RB15 👊 F1 is back! #PoweredByHonda pic.twitter.com/WmD8kAn9gr

— Honda Racing F1 (@HondaRacingF1) August 30, 2019
The drivers were quickly out onto the track for their installation laps, all but Mercedes. However, that was followed by a lull before 20 minutes into FP1 the W10s took to the circuit.
That didn't go well for Hamilton who slowed coasted around the track, reporting that he had "lost power". The Brit, and his team-mate Valtteri Bottas, were both running Mercedes' new Spec 3 engine.
While Bottas posted the morning's first lap time, a 2:04.174, Hamilton was able to reboot and told the team that "power came back". He headed back into the pits with Bottas lowering the benchmark to a 1:47.444.
Mercedes stated that it was a problem with Hamilton's throttle sensor that caused the problem, resulting in a change of pedal.
UPDATE: Lewis had a problem with the throttle pedal on his first run. It is now being changed 🛠 #BelgianGP pic.twitter.com/RcPE8lNWKn

— Mercedes-AMG F1 (@MercedesAMGF1) August 30, 2019
There were early spins for Kyvat and Robert Kubica as the drivers struggled with a lack of grip on the dirty grid. Kvyat put his spin down to a "torque spike".
There was also a bit of drama over at Racing Point as Lance Stroll's engine cover was loose and he lost the right side of the cover the Kemmel Straight. The VSC was shown as marshals cleared the debris.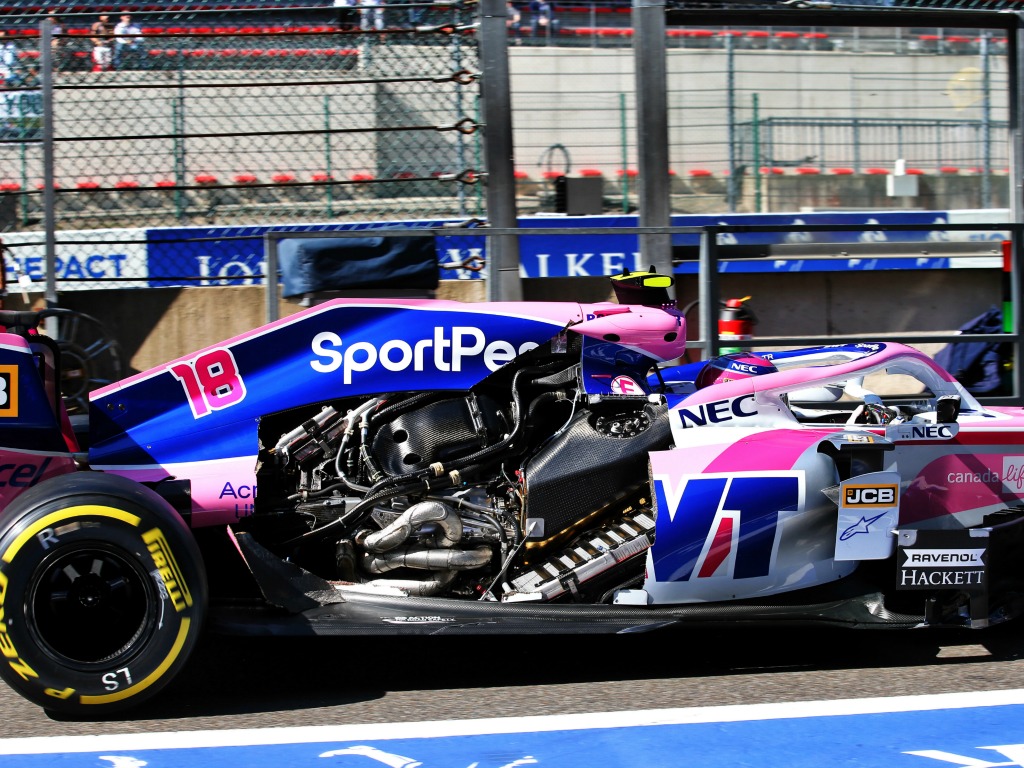 Hamilton returned to the track for a second lap just before the 40-minute mark at which point it was Max Verstappen holding down P1 with a 1:45.803.
Ricciardo, with his updated Renault engine, was second ahead of Albon and Bottas.
Having returned their first set of tyres to Pirelli, the drivers ventured back out onto the track with fresh rubber.
Carlos Sainz moved up to second on the soft tyres before he was dropped by Ricciardo and then Albon. The rookie closing the gap to Verstappen to 0.281s.
While they were laying down laps, Hamilton ran into more trouble as he was told to "box, we have lost telemetry".
Charles Leclerc, with his SF90 sporting the red Pirellis, went quickest with a 1:44.788 only to lose out seconds later to Vettel – a 1:44.574 for the Ferrari driver and defending Belgian GP champ.
And all of a sudden it's all change at the top

The Ferraris are now P1 and P2

Sebastian Vettel roars to the top of the timesheets with a 1:44.574 🔥#F1 #BelgianGP 🇧🇪 pic.twitter.com/Bb222qnpYd

— Formula 1 (@F1) August 30, 2019
That stood as the time to beat through to the chequered flag with the Ferrari's 1-2 ahead of Verstappen and Albon, the latter less than a tenth slower than his new team-mate.
Bottas was fifth while Hamilton was finally able to do some proper running in the first 30 minutes and worked his way up to eighth place. He was, however, 1.399s down on Vettel with Mercedes running the slower tyres.
Stroll, Ricciardo, Sergio Perez and Sainz completed the top ten.
Despite concerns about a leg injury, Kimi Raikkonen covered 20 laps in FP1, finishing the session 13th fastest.
He wasn't the only one to arrive at Spa sporting an injury with Lando Norris also having done himself mischief. He was P12 with 19 laps on the board.
Pierre Gasly was 18th on his Toro Rosso return, 0.33s down on new team-mate Kvyat.
Times
1 Sebastian Vettel Ferrari 1:44.574 20 laps
2 Charles Leclerc Ferrari 0.214s 20 laps
3 Max Verstappen Red Bull 0.933s 18 laps
4 Alex Albon Red Bull 1.010s 19 laps
5 Valtteri Bottas Mercedes 1.308s 25 laps
6 Lewis Hamilton Mercedes 1.399s 16 laps
7 Lance Stroll Racing Point 1.624s 16 laps
8 Daniel Ricciardo Renault 1.852s 23 laps
9 Sergio Perez Racing Point 1.859s 22 laps
10 Carlos Sainz McLaren 1.983s 20 laps
11 Nico Hulkenberg Renault 2.095s 23 laps
12 Lando Norris McLaren 2.096s 19 laps
13 Kimi Raikkonen Alfa Romeo Racing 2.450s 20 laps
14 Romain Grosjean Haas 2.602s 18 laps
15 Antonio Giovinazzi Alfa Romeo Racing 2.759s 22 laps
16 Kevin Magnussen Haas 2.914s 21 laps
17 Daniil Kvyat Toro Rosso 3.062s 20 laps
18 Pierre Gasly Toro Rosso 3.394s 26 laps
19 Nicholas Latifi Williams 4.210s 24 laps
20 Robert Kubica Williams 4.392s 24 laps
Follow all the action from the Belgian Grand Prix with the PlanetF1 live centre