Which drivers had a weekend to remember at Interlagos? And who needs to improve in the final race? Check out the Brazilian Grand Prix driver ratings, courtesy of Late Braking.
Lewis Hamilton: Perhaps not his most deserving victory ever, but you take what you can in Formula 1 and you cannot really fault Hamilton's opportunistic display in Brazil.
Whilst he may have been fortunate to avoid any investigation after qualifying, an excellent pole lap and a good start saw him build on his advantage early on.
But Verstappen's combination of clever strategy and sublime pace looked like Hamilton was going to have to settle for P2 at the very best.
However, he was then able to the initiative as Verstappen and Ocon tangled but had to manage both engine and tyre concerns to keep the recovering Dutchman at bay in what was an enthralling battle in Interlagos.
Hamilton's victory gives him a 50th win of the hybrid era, an impressive feat considering that represents nearly half of the era's races. 8
Max Verstappen: Not many gave Verstappen a chance going into the race starting from P5, himself included, but it was clear from the off that Verstappen had the pace to challenge for the lead and race victory.
That is exactly what he did as he stayed out much longer on the first stint, giving him the opportunity to overtake on his second stint with much fresher tyres
With Verstappen making light work of Hamilton, this race looked to be done and dusted, yet Ocon would ruin the Dutchman's weekend by colliding when going through the Senna esses as the latter was tried to unlap himself.
The ensuing spin saw Verstappen drop back to second and whilst he did his best to regain the lead with floor damage, it wasn't quite enough to land what would have back-to-back victories for the first time in his Formula 1 career.
A high score for his performance on the track, not so much for his performance off it. 9.5
Max Verstappen and Esteban Ocon clash off the track after colliding during the #BrazilGP…

Full story: https://t.co/9b05bHbazz pic.twitter.com/Qg4F9z3iyT

— Sky Sports F1 🏎 (@SkySportsF1) November 11, 2018
Kimi Raikkonen:After starting second and fourth on a harder compound tyre, the boys in Ferrari red must have fancied their chances going into the race, but it just didn't materialise.
Getting stuck behind Bottas massively compromised Raikkonen's race, but any higher than third might have been unachievable anyway.
What can come as consolation for Raikkonen is that he was clearly faster than Vettel on race day, so much so he was allowed to pass his team-mate via team orders, and was rewarded with a podium on his 150th start for Ferrari. 7.5
Daniel Ricciardo:  Starting P11 because of a five-place grid penalty for a new turbocharger put Ricciardo on the back foot in this race.
But, after clearing the midfield in quick fashion, Ricciardo was able to put together a great race where he can consider himself (once again) to be very unlucky not to find himself on the podium.
Perhaps that podium would have been achieved if his overtake on Bottas for P4 had happened a little sooner, as he was agonisingly close to reeling in Raikkonen. 8.5
Valtteri Bottas: In what is becoming far too common, Valtteri Bottas could not keep up with his team-mate and, if he fails to win the Abu Dhabi Grand Prix, he will become the first Mercedes driver since 2012 to complete a winless season.
It seemed to be 71 laps of defending from the Finn, who did make a good start to take P2 from the sluggish Sebastian Vettel on the first corner, but Raikkonen and both Red Bulls found their way past and Bottas limped home to an anonymous P5. 6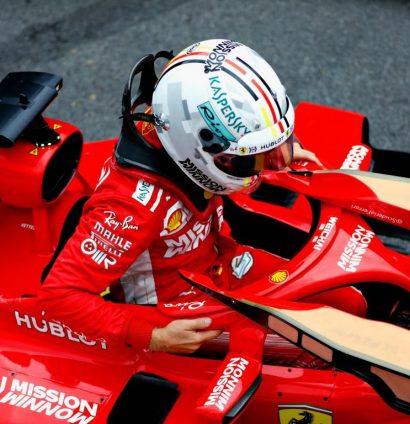 Sebastian Vettel:After avoiding on-track punishment for his weighbridge incident in qualifying, Vettel was in a strong position heading into the race on a seemingly more durable compound compared to his rivals.
Vettel won last year's race after starting P2 behind a Mercedes, but the 2018 race went completely other way as he struggled for pace throughout the entire afternoon.
He was forced to let his quicker teammate by and was consigned to 'worst of the best' after taking a second pit-stop. 
Vettel rated his own race a "one out of 10", and whilst we won't be that hard on him it was certainly one of his worst performances of the season and certainly one to forget. 5
Charles Leclerc: Seeing him in a Ferrari just cannot come quick enough. Leclerc's first moment of magic came in Q2 when defying the call to box and getting into Q3 on slick tyres in damp conditions.
Whilst he would go on to be out-qualified by his team-mate, Marcus Ericsson,  the race was an altogether different matter as he cruised to best of the rest in P7 and, at some stages, even found himself clinging on to the top six battle.
A very well-deserved six points puts him ahead of Pierre Gasly in the World Championship standings and puts him just two behind Romain Grosjean, so there is still something to fight for as the season comes to an end in Abu Dhabi. 9
YESSS, very happy with P8 and P9 today for the @HaasF1Team
Car felt amazing all weekend long.
Flying back home tonight to see @marionjolles and the little monkeys ❤️❤️❤️ pic.twitter.com/MYGMcMWorm

— Romain Grosjean (@RGrosjean) November 11, 2018
Romain Grosjean:A fairly quiet race for Romain Grosjean, but he can be happy with his afternoon's work after securing P8. His strong record in qualifying continued with another Q3 appearance and he followed it through by staying out ahead of  his team-mate in the race and score his first points since Japan. 8
Kevin Magnussen:After a strong start to the season, points have been hard to come by as of late for Kevin Magnussen. Before the Brazilian Grand Prix, he had scored just once in his last six races but P9 gets the ball rolling again with the end of the campaign firmly in sight. 7
Sergio Perez: Whilst all the drama came on the other side of the garage, Perez quietly added another point in the bag in Brazil.
It now seems likely he will win the intra-team battle against Esteban Ocon and, while he was able to make up a little ground on Nico Hulkenberg in the 'Formula 1.5' battle, an 11-point deficit is surely going to be too much to overturn in Abu Dhabi . 7
Brendon Hartley:There haven't been too many happy moments for Hartley this season, but his strategy of starting on the mediums worked a treat as he beat his team-mate and many of his midfield rivals. Unfortunately for him, there weren't any retirements ahead of him in the latter stages so his efforts go unrewarded. 7.5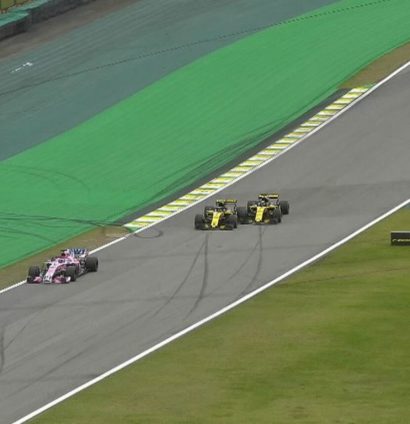 Carlos Sainz: Being eliminated in Q1 is never the best recipe for a prosperous race weekend and that proved to be the case for the Spaniard.
After an early squabble with his team-mate, he appeared to struggle with tyre wear throughout and his two-stopper failed to come to any fruition. Renault did not look like a midfield threat all weekend long. 6
Pierre Gasly:An impressive qualifying performance from Gasly must have given him hope heading into the race, but he couldn't get anything going as multiple drivers got past him, including his own team-mate. He'll be buoyed by the fact that he only has one more race in the Toro Rosso before heading to the big leagues. 5.5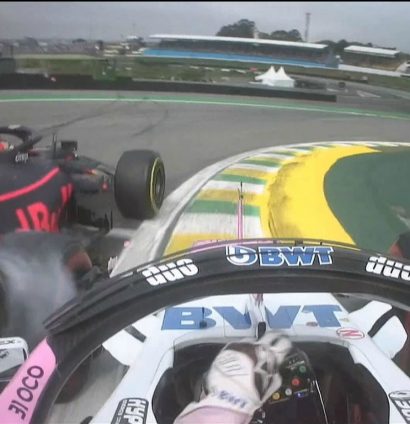 Esteban Ocon:It might have been a 71 lap race around Interlagos, but Esteban Ocon's race will be remembered for just one of them as he collided with leader Max Verstappen. Although he stands by his decision to try and unlap himself, he cannot have too many complaints about the 10-second penalty that came his way.
A gap year awaits Ocon at the end of the season, but he has very much got people talking about him a little while longer whilst still driving in Formula 1. 4
Stoffel Vandoorne: After ending a 14-race drought with points in Mexico, Vandoorne put in another decent performance here. A P14 finish might not have set the world alight, but he was able to show off some overtaking prowess, albeit on the Williams cars and his team-mate in the same, wretched MCL32.
A five-second timed penalty for ignoring blue flags saw him slip down to P15 in the official classification after the race. 6.5
Sergey Sirotkin:The expectations for Williams are so low now that a victory over his team-mate and the equally uncompetitive McLarens can be considered a success.
It has been incredibly tough to judge Sirotkin this season due to how poor the car has been but you can't fault his attitude to get on with it every weekend and at least try to impress. It may not be enough though with big rumours swirling around that Robert Kubica has been offered his seat for next season. 6
We're Back. #mclarenIndy pic.twitter.com/Y1XYKUp1Vb

— Fernando Alonso (@alo_oficial) November 10, 2018
Fernando Alonso: No doubt there are better years that Formula 1 fans will remember Alonso by, but it's hard seeing a double world champion go out in this manner.
At least he lasted the entire race distance this time out, but that's about the only positive as he lost out to his team-mate and pretty much everyone else.
A five-second timed penalty for ignoring blue flags basically translated to him continuing to give zero f***s about his miserable plight. At least he had some good news to share by confirming he is heading back to the Indy 500 with McLaren next year. 5
Lance Stroll:A Q1 exit followed by a last place finish. Not the weekend he would have been hoping for, but at this point it's not entirely surprising. Surely he is just counting down the seconds before he becomes a Pink Panther. 4.5
Did not finish
Nico Hulkenberg: A tasty duel with team-mate Carlos Sainz was the highlight of the afternoon for Hulkenberg but high engine temperatures soon after ended his race prematurely. As his race ended so did his run of scoring points in every Brazilian Grand Prix he had featured in, seven in total before Sunday's retirement. N/A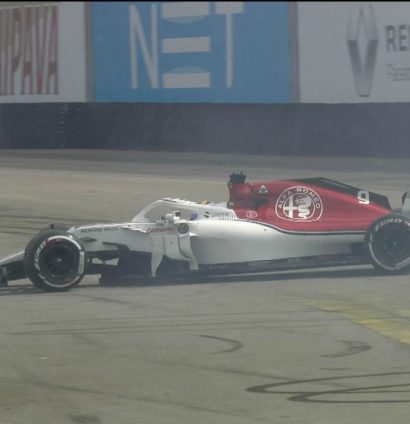 Marcus Ericsson:How should you follow up your best qualifying performance ever? Not in the way that Marcus Ericsson did.
In fairness, a lot of Ericsson's struggles on Sunday came down to the car. Mechanics were working hard just moments before the race to get the car somewhat ready after losing part of the diffuser on the way, but after one big spin it was decided that enough was enough. A real shame for the Swede. N/A
The Brazilian Grand Prix driver ratings are courtesy of the good folks at Late Braking. You can check them out in the following places:
Subscribe to Late Braking on YouTube
Follow Late Braking on Twitter