Who finished Formula 1's first-ever triple header with a flourish and who needs to improve heading into the second half of the season? Here are our driver ratings from the British Grand Prix…
Sebastian Vettel: Vettel said he want to kill Mercedes' "magic" at Silverstone and he did so with a spellbinding performance at the British Grand Prix.
Struggling with a neck injury throughout the weekend, Vettel initially brought out the very best of Hamilton in an epic qualifying battle and then got off to a superb start off the line to take the race lead away from the home favourite.
He controlled the race for large periods from then on, but had some work to do when conceding the lead to Valtteri Bottas after the first Safety Car. After some valiant defending from the Finn, Vettel got the job done after Bottas left the door open Brooklands – the race-deciding overtake to give him an eight-point lead in the World Championship heading back to his homeland for the German Grand Prix.
Whomever you support, that was an epic battle between Mercedes and Ferrari this weekend and Vettel more than played his part. Here's hoping for plenty more like between now and the end of the season. 10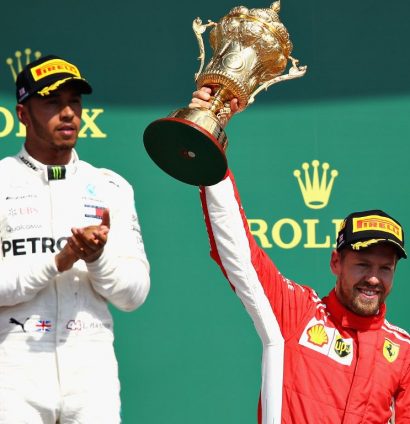 Lewis Hamilton: Football may be coming home, but Hamilton couldn't bring maximum points home to his adoring crowd and re-take the World Championship lead in the process.
We witnessed the return of 'Hammer Time' in qualifying as he dug incredibly deep to knock Vettel off top spot by 0.044 seconds. It seemed written in the stars for Hamilton to clinch a record sixth British Grand Prix, yet it all quickly unravelled after getting bogged down at the start.
He slipped from top spot to P3, and then did the equivalent of falling off a cliff as a collision caused by Kimi Raikkonen put him to the very back of the grid. Hamilton was clearly down in the dumps after the incident, but his recovery drive was an incredible one with ridiculously quick pace throughout the rest of the afternoon.
WATCH: Hamilton refuses post-race interview
May be Mercedes should have pitted at least one of their two cars during the Safety Car periods but it is also easy to be wiser after the event.
While he will be incredibly frustrated not to get back to winning ways at his beloved Silverstone, he can take a lot of heart from his performance – the end result could have been a lot worse than P2. We have seen the very best of both title rivals this weekend. 10
Kimi Raikkonen: If Raikkonen is to leave Ferrari at the end of the season then he is certainly not going quietly. After the trademark mistake in Q3 denied him pole position by 0.098 seconds, Raikkonen pitched Hamilton into a race-losing spin – which he took full responsibility for and accepted his 10-second penalty punishment.
WATCH: Lewis Hamilton spins out after crash with Kimi Raikkonen
The collision saw Raikkonen have problems with his front wing, but he managed them well and had memorable battles with both Red Bull cars and extended his run of podium finishes to three races when producing one final overtake on the vulnerable Valtteri Bottas in that crazy, crazy finish to the British Grand Prix. 8
Valtteri Bottas: Still no race win in 2018 for Bottas, but it was bad strategy and not bad luck that probably sealed his fate this weekend and left him settling for a P4 finish.
Bottas got ahead of his team-mate at the start and it was the introduction of the Safety Cars that gave the Finn a sniff of a chance of breaking his duck at Silverstone as he was simply no match for Vettel in normal race conditions.
Bottas took the lead with just a handful of laps remaining, with Mercedes once again opting to keep their cars out on track under Safety Car conditions – just like they did with Hamilton under the VSC in Austria.
He held Vettel off the best he could, but he was seriously struggling toward the end with his tyres shot to pieces. He went from race leader, to rear-gunner for Hamilton, to holding off Ricciardo for P4 all in a matter of minutes.
If Vettel and Hamilton were the main acts, Bottas and Raikkonen played the support roles at the British Grand Prix. 8
Daniel Ricciardo: The Aussie was on top of the world after winning the Monaco Grand Prix, but it's not really happened for him since that victory back in May.
There wasn't really much for him to smile about at Silverstone this weekend. A DRS failure severely restricted him in qualifying and was fighting a losing battle with Mercedes and Ferrari on race day. He got unlucky with the timing of the first Safety Car after pitting just before it – but P5 was as good as it was ever going to get for Ricciardo, even if he was closing on Bottas.
He said after the race that he is happy to be getting a weekend off. Somewhat resigned to staying at Red Bull as no opportunities  open up at Mercedes or Ferrari, who can blame him? 7
Nico Hulkenberg: Hulkenberg has not been out-qualified by a team mate at Silverstone since his rookie season in 2010, and that run was extended despite missing out on Q3 – the first time Renault have not had at least one car in Q3 this season.
But Hulkenberg was another to benefit from the first-lap chaos, just like his team-mate Carlos Sainz initially did, and kept a firm hold of the 'best of the rest' tag with a third P6 finish of the season. That job became easier when Charles Leclerc's attempted under-cut when quickly south. 8
Esteban Ocon: The Frenchman did not get much air time on Sunday afternoon but he finishes the triple-header on a high after keeping a late-surging Alonso at bay for P7. Ocon, who now leads his qualifying battle with Perez 8-2, was ultimately rewarded for taking track positions as opposed to pitting under the Safety Car. 7.5
Fernando Alonso: Blimey, there was no love lost between Alonso and Magnussen! These two were at each other's throats all weekend. It started in practice and finished in the race, with the two drivers not giving up an inch in their late battle for a P8 finish. It was, of course, Alonso who had the final word to make it back-to-back P8s for the Spaniard in a typically solid performance.
What will be more concerning is the fact that Alonso has now edged even closer to grid penalties after taking his final penalty-free ICE and MGU-H over the course of the weekend. Never too far away from some bad news at McLaren. 8
Another milestone reached for @alo_oficial 💯💯

He's now just 21 shy of Michael Schumacher's all-time record#F1 pic.twitter.com/ui49cZqTva

— Formula 1 (@F1) July 8, 2018
Kevin Magnussen: Magnussen qualified best of the rest with a great lap but was unable to stay there after getting tangled up with his accident-prone team-mate at the start. He was able to recover and was his usual aggressive self throughout, as seen in the aforementioned battle with Alonso, before having to settle for P9. 7.5
Sergio Perez: Perez has failed to get into Q3 now on six out of 10 occasions this season and has more the half the number points as he did at this stage last campaign. It continues to not really be his year, podium in Baku aside, as he was sent spinning out by Marcus Ericsson at the start and had to battle from a long way back.
He was back in the top 10 in the dying stages, but it looked as if Gasly had stolen that away from him. However, the stewards took a closer look at Gasly's questionable move and slapped him with a five second-penalty which promoted Perez up to P10. 7.5
Stoffel Vandoorne: Any signs of life in Vandoorne yet? You have to say no, not really. He labelled the MCL33 "undriveable" after he exited Q1 for a fourth time this season and saw Alonso extend his lead in the qualifying head-to-head to 10-0. We all know McLaren's car is not the best, but someone is showing what can be wrung out from it. Those complaints are falling on deaf ears.
Pitting under the Safety Car saw Vandoorne creep his way into possible contention for what would have been his first point since Baku. Instead it's a P11 finish to add to the ever-lengthening list of underwhelming results. 5.5
Lance Stroll: Almost a carbon-copy of a weekend between Stroll and Sirotkin. The only difference being that the aerodynamic stall forced Stroll into a crash. Whether you rate Stroll's abilities to drive in Formula 1 or not, the car is certainly doing him no favours. 5
Pierre Gasly: Gasly is continuing to fly the flag for Toro Rosso whilst his team-mate Brendon Hartley goes from one trouble to next. His STR13 behaved well enough for him to clinch P10 at the death, but that was taken away from him by the stewards after deeming his overtake on Perez an illegal one. A five-second penalty meant he dropped to P13. 6
Sergey Sirotkin: Williams are finding new ways to lower their standards as both drivers suffered from aerodynamic stalls in qualifying and ensured that they started the race from the pit-lane.
Sirotkin and Stroll were close to not even making out from there as they almost collided with the spinning Perez. But, once that was avoided, it was the usual non-event in an uncompetitive car for the Russian rookie. 5
Did not finish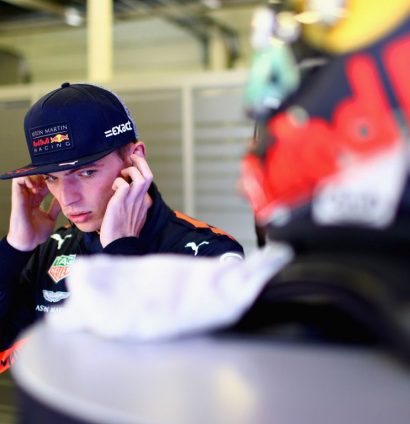 Max Verstappen: We have been treated to a solid run of performances from Verstappen and we looked on course for another before he became the last driver to see his race end early. The Hamilton/Raikkonen incident saw him up into the podium positions again and he was involved in a fantastic ding-dong battle with Kimi as the epic race slowly developed.
The initial thought was that Verstappen's DNF was involved in another coming together with his team-mate, but he put himself into a spin after his car suffered a brake-by-wire failure. An unfortunate end for the Dutchman who has definitely upped his game in recent races. 7.5
Romain Grosjean: Austria was supposed to represent the turning point in Grosjean's season after his first, and long-awaited, points finish of 2018 – but it was a return to the norm with yet more in-race incidents and a fourth DNF of the season.
He was involved in another first-lap collision, this time with his team-mate which put a huge dent into Haas' race strategy and left both cars quickly outside the top 10 despite both drivers reaching Q3.
Then a snap of oversteer at Copse left him going sideways and collected Sainz to end both their races. Another wasteful performance from Grosjean and he has to take the majority of the blame in the Sainz accident. 5
SAFETY CAR (LAP 39/52)

Grosjean and Sainz make contact at the super fast Copse corner

Both spin out into the gravel 😬#BritishGP 🇬🇧 #F1 pic.twitter.com/2E1yKeeaX9

— Formula 1 (@F1) July 8, 2018
Carlos Sainz: The British Grand Prix has not been particularly kind to Carlos Sainz over the years and this year's race was not different. The Spaniard had been in Q3 all season up until this weekend, where he was a surprise victim of Q1. He complained of traffic, but it was not too bad when looking back over the replays. It was just a poor lap.
That would have been all been forgotten about as he rose from P6 on the grid to P9 by lap 2 and looked poised to make a quick return to the points after missing out in Austria.
But he now has three DNFS in four races at Silverstone after a collision with Romain Grosjean at Copse following the second Safety Car. The Spaniard ultimately paying the price for putting a little squeeze on the Haas driver, who was not completely blameless himself. 6
Marcus Ericsson: Sweden crash out of a major sporting event for the second time this weekend. The third DRS zone has caused a few incidents over the weekend and none were bigger than Ericsson's big 190mph accident at Turn 1 on lap 33.
He did not look like he was going to threaten the points positions, though, and his retirement means it is Sauber's first double DNF since Monaco 2017. He did, however, manage to reach Q2 for a second consecutive weekend, which is good by his standards. 5.5
Charles Leclerc: A great shame for the rising Ferrari star, who now has his first DNF to his name in Formula 1. After another fantastic performance in qualifying with consecutive Q3 appearances, Leclerc was holding his own once again in the top 10 in the early stages of the race.
The plan was to try and perform the undercut on Hulkenberg, but that was torn to shreds within seconds as Sauber didn't fit the medium tyres properly, forcing Leclerc to retire on Lap 20 and denying him what looked nailed on to be another points finish. 8
Brendon Hartley: Another troublesome weekend for the New Zealander and he is not going to get into much deeper trouble than what happened to him in FP3. The front suspension snapped under braking and sent him flying into barrier in one of the nastier crashes we have seen in recent times.
He started from the pit lane as a result, but there were more problems with his car, which was still up on the stands with 10 minutes to go before lights out, and only one lap was possible before calling it a day.
That is three DNFS in his last four races now, but he will probably just be thankful to be leaving Silverstone in one piece. N/A