A five-second time penalty for Sebastian Vettel for "forcing" Lewis Hamilton off the track handed his rival victory in Montreal.
Here is how race day unfolded in Canada…
There was some pre-race drama for Mercedes after they discovered a hydraulic leak on Lewis Hamilton's car.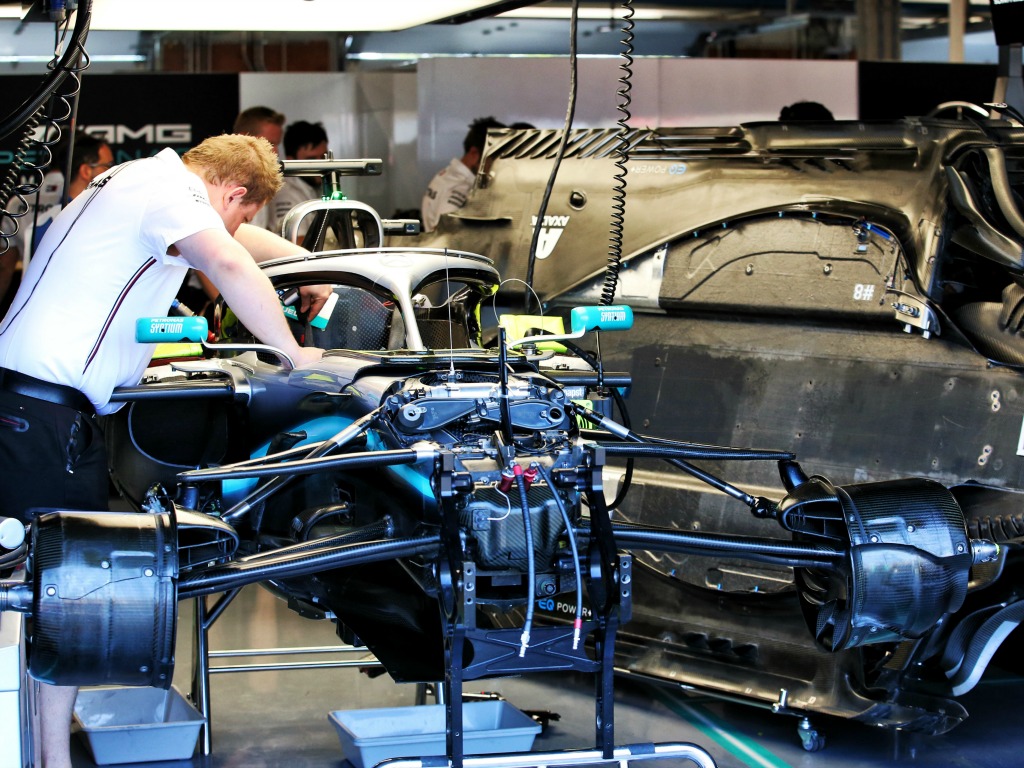 Meanwhile, there was yet another bloody drivers' parade for Kimi Raikkonen to get through…
One of our drivers is very excited about the drivers' Parade.

The other driver is Kimi. #CanadianGP pic.twitter.com/OxLufkA2Kc

— Alfa Romeo Racing (@alfaromeoracing) June 9, 2019
Hamilton made the start after a speedy bleeding of the brakes…but he was very slow away on the formation lap. "The anti-stall kicked in" he told his team.
You ready, Team? 👏 This. Is. It! #CanadianGP #F1 pic.twitter.com/QCqnRnsTco

— Mercedes-AMG F1 (@MercedesAMGF1) June 9, 2019
Luckily no such issues at the start for Hamilton as the top four kept order. However, for Valtteri Bottas it was a disaster as he lost out to Nico Hulkenberg and slipped to P7.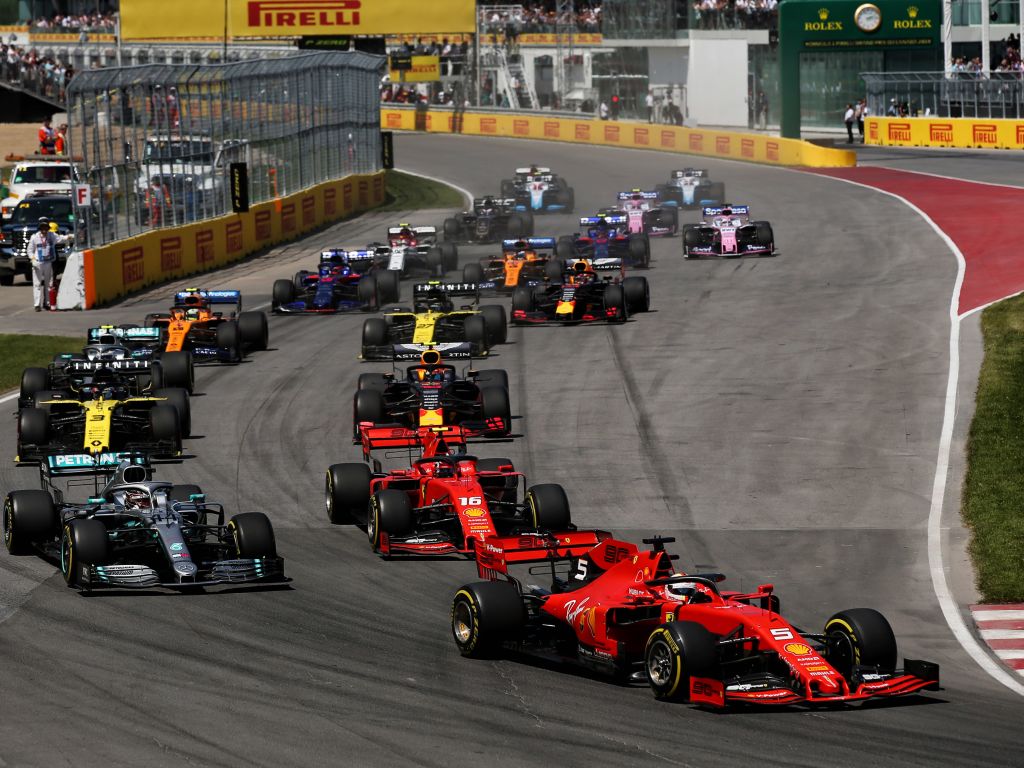 Meanwhile Romain Grosjean did a spot of spring cleaning as he chucked out the unwanted gift of Alex Albon's front wing.
No windescreen wipers? No problem #F1 #CanadianGP pic.twitter.com/nSXW2MdYvw

— Mattzel89 (@Mattzel89) June 9, 2019
Lap 9 and we had a stunning incident for McLaren's Lando Norris – it seemed like his overheating rear brakes had melted the suspension!
LAP 9/70

Lando Norris's race is over 😩

His McLaren develops some unwanted, fiery three-wheel steering 🔥
#CanadianGP 🇨🇦 #F1 pic.twitter.com/c4tX9v0Xmw

— Formula 1 (@F1) June 9, 2019
Out front Vettel built a nice buffer of 2s over Hamilton. Leclerc had been dropping back in P3, but after Ferrari told him they were moving to "plan b", he set the fastest lap of the race and started closing on the Mercedes man.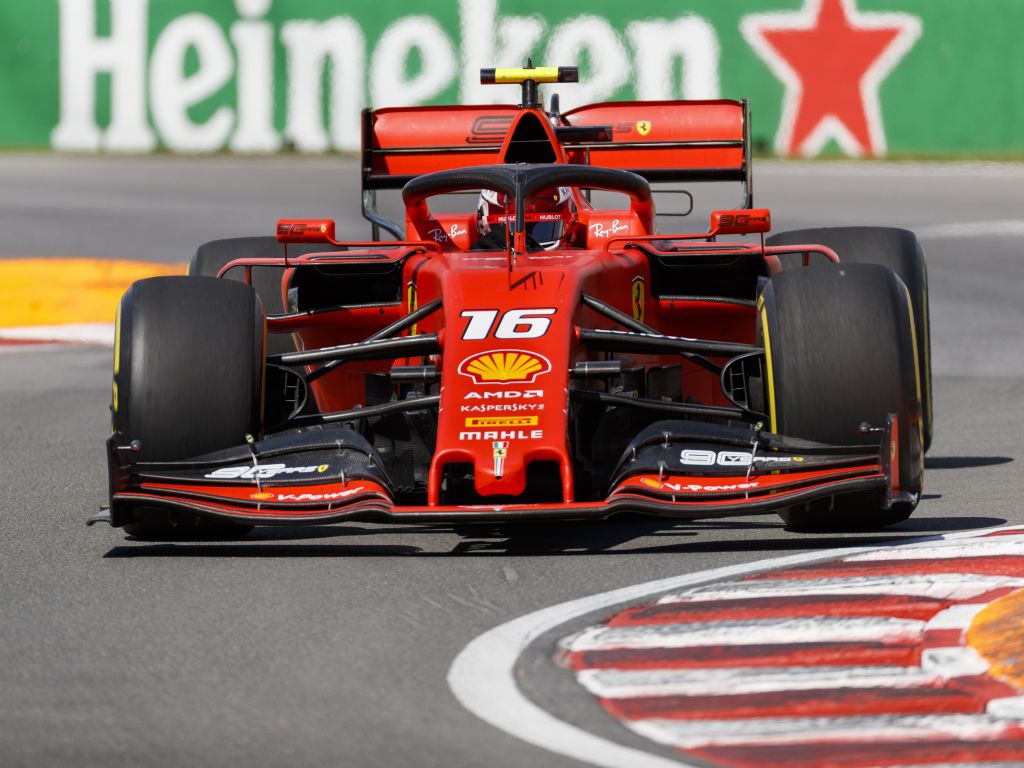 Lap 27 and Vettel blinked first to switch to the hards. "It's Hammertime" was the message to Hamilton, but with his softs screaming in came the Brit two laps later – he emerged just ahead of team-mate Bottas, but Seb was now 4.5s clear.
Hamilton is now 4.5s behind Vettel – the decision to stay out hurt him there.

Yet-to-stop Leclerc now leads.#F1 #CanadianGP 🇨🇦 #RaceDay

— Motorsport Week (@MotorsportWeek) June 9, 2019
Leclerc finally got the call on lap 34, and he came out behind Verstappen who wasn't pitting any time soon. There's that good old 2019 Ferrari strategy that we love so much. Thankfully it didn't take him long to re-pass the Dutchman.
Ferrari left Leclerc out again on aging tyres with no reason not to bring him in. #CanadianGP @pitlane_girl pic.twitter.com/0no8XBimLv

— ໓คงi໓ hคฯlēŞ 🇷🇺 (@dibhayles) June 9, 2019
You got the feeling that a battle for the win was coming, and by lap 40 Hamilton briefly had the deficit to Vettel under a second. A lock-up at the hairpin didn't do the five-time champ any favours as he lost DRS while Vettel set a new fastest lap of the race.
Hamilton's finally in touching distance of the lead. 7/7 for Mercedes? #CanadianGP

— Chain Bear F1 (@chainbearf1) June 9, 2019
Hamilton latched back on to his rival and it was shades of 2011 for Vettel, kind of, as the German slid onto the grass at Turn 4 – he clinged on to P1 by the skin of his teeth and Hamilton was less than happy with how his rival rejoined the track. The stewards announced they were taking a closer look.
I AM GOING TO EXPLODE pic.twitter.com/jD5aPQCgOs

— iGP Manager (@iGPManager) June 9, 2019
Haas principal Guenther Steiner gave Kevin Magnussen a grilling for his whinging…
Steiner: "It's not nice for us as well, enough means enough."#F1 #CanadianGP 🇨🇦 #RaceDay https://t.co/sOzeyHZkJO

— Motorsport Week (@MotorsportWeek) June 9, 2019
It was widely expected that Vettel would be cleared for the Hamilton incident, "hold my beer" said the stewards.
VET is awarded a five second penalty for the incident incoming Lewis ⏱

Different race now, LH needs to stay within five second of VET if he wants to win this GP!

VET 2.3s clear with 10 laps to go… 👀 #CanadianGP #F1 pic.twitter.com/fEHvlT85fg

— Mercedes-AMG F1 (@MercedesAMGF1) June 9, 2019
Vettel took the chequered flag, but the controversial win in Canada belonged to Hamilton as the Mercedes dominance of 2019 continues.
BREAKING: Lewis Hamilton wins in Montreal!

Sebastian Vettel crosses the line first but an earlier 5-second penalty sees him drop to second with his Ferrari team mate Charles Leclerc taking the final podium place #CanadianGP 🇨🇦 #F1 pic.twitter.com/VY018Tfzya

— Formula 1 (@F1) June 9, 2019
Follow us on Twitter @Planet_F1 and like our Facebook page.