Lewis Hamilton continues to set the standard at the top, whilst there were plenty of stars in the midfield battle. Check out the driver ratings from Chinese Grand Prix…
Lewis Hamilton: Hamilton won the 900th Championship race and now, 100 Grand Prix later the Brit in the Mercedes is still putting in hugely dominant displays.
The Silver Arrows may not have looked the absolute fastest throughout the weekend but come Sunday they had the front row locked down. Hamilton starting from second on the grid managed to get the jump on a wheel spinning Bottas and from that moment onwards looked very comfortable out front. Why didn't Lewis get a ten you ask? No pole position, no fastest lap… 9
This is what it means! 🙌#ChineseGP pic.twitter.com/Gi2H0CvAjL

— Mercedes-AMG F1 (@MercedesAMGF1) April 14, 2019
Valtteri Bottas:  Bottas looked to be having a very strong weekend and it seemed we had the porridge-guzzling Finn back on track, but snatching pole position on Saturday would turn out to be what caused his downfall.
Wheel-spinning off of the start/finish line caused Hamilton to get in front from Turn 1 and from then on, it seemed as though Bottas just couldn't close the gap. Nonetheless, he was closer to Lewis this weekend and managed to comfortably stave off the Ferrari cars without breaking a sweat. A good race from Valtteri. 7
Sebastian Vettel: Average, awkward mediocrity for Seb and his Ferrari bunch in China.
After initially looking like the fastest team on the grid they quickly fell back from their rivals and were unable to challenge for the front spots. Now this feels like the car is more to blame than its drivers but, nonetheless, it was an average drive from Vettel.
When caught behind Leclerc after losing P3 at the start he struggled to get back at him, instead asking for his team to swap them – team orders again and we are only three races in. When Vettel did get in front, it took a botched strategy from the Prancing Ponies to really separate the four-time world champion from the rookie. 6
Max Verstappen: A tough weekend for the Bulls in terms of pace but Verstappen will walk away happy with this weekend's performance. He took everything out of the car that he could and even went for an almighty lunge on Vettel into the hairpin whilst they both managed to keep it clean (kinda), fighting wheel to wheel trying to take advantage of Vettel's cold tyres.
He also finished over a minute in front of his team-mate. Is Max finally maturing into a team leader? Maybe not after his foul-mouthed rant in qualifying… 8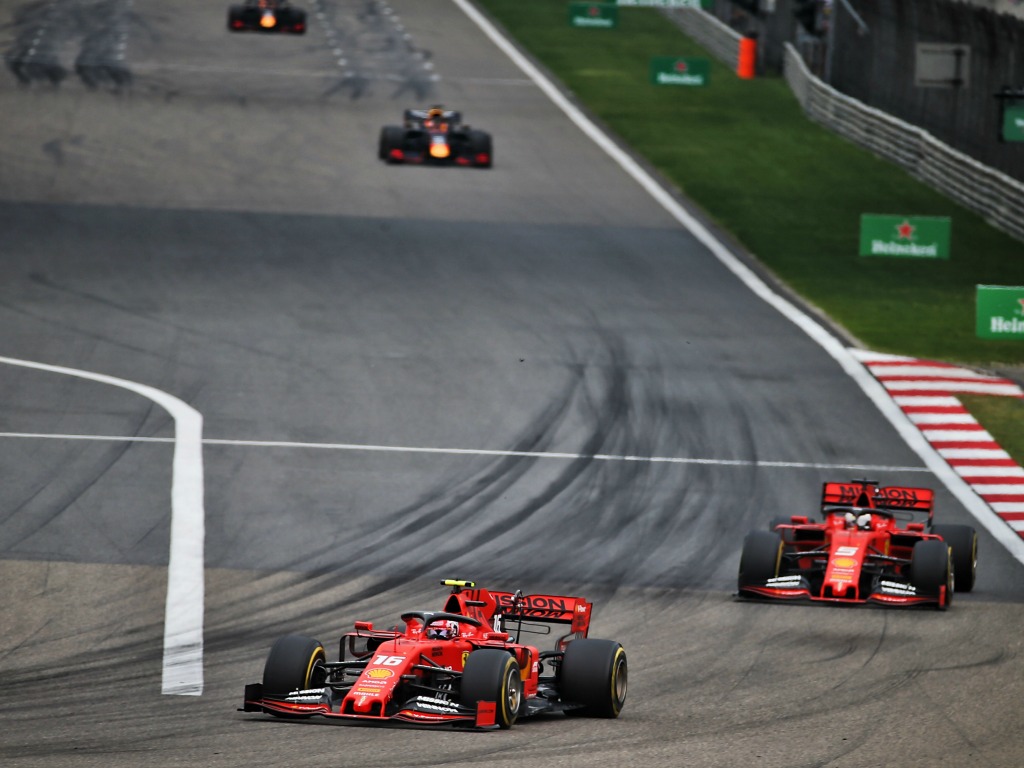 Charles Leclerc:  From being so close to a race win one weekend, to being sacrificed by your team to finish behind a Red Bull the next is a tough pill to swallow. Whether you agree with team orders or not, Leclerc knew the possibility of it happening was incredibly high when he joined Ferrari.
After being left out time and time again on older, worn tyres, the gap to his team mate and to the guys up front continued to stretch. Ferrari underestimated Verstappen and the Red Bull's strategy, that then paired with a late gear box issue closed the door on any chance of a top four result for Leclerc. 6
Pierre Gasly: Now, we think most people will expect him to be rated higher than we have because he managed to finish in the top six.
But he has achieved the bare minimum a Red Bull driver should be achieving. His race was fine, but was he competitive? No.
Was he close to his team mate? No. But should there be conversations about Albon taking his seat already? Don't be daft. Give the kid a chance, he's a little way off still but the improvements will come in time. 6
Daniel Ricciardo:  After the top 10 qualified in Noah's Ark  style, Renault looked set to take a great result home with them after this weekend, things didn't pan out that way for the Hulk but Danny Ric was able to hold onto the best of the rest slot and drove a smooth and consistent race.
Nothing spectacular, but he didn't need to be. He's learning about his new car and no doubt that, in time, this will become a very frequent occurrence for the Honey Badger. 8
🎙 "It's good to get on the board, finish the race and have my first points with the team. We'll take the positives from that."
Daniel happy with today's result 👊
Full report 👉 https://t.co/SwtJoSCMSB#RSspirit #ChineseGP #Race1000 pic.twitter.com/OcOHDUDrFX

— Renault F1 Team (@RenaultF1Team) April 14, 2019
Sergio Perez: Now that is why you keep Sergio Perez in your team! The move that Sergio pulled around the outside of Hulkenberg was incredible, especially for two midfield cars.
Perez drove a brilliant race, climbing from P12 to P8. Having managed to hold off an equally brilliant Kimi Raikkonen behind, the only reason Perez doesn't get a 10 is because he couldn't pass Ricciardo. 9
Kimi Raikkonen: Not many people would have enjoyed the Chinese Grand Prix, but Raikkonen may have been one of the select few that did (you never know with him). Involved in the thick of the midfield action, the Finn rose from P13 to P9 and could have even had a sniff at Ricciardo and Perez had he been able to keep his front tyres warm. 9
Alexander Albon: Voted  'Driver of the Day' by the viewers and for very good reason indeed. Having started from the pit lane, Albon navigated many of the dangers in front of him, including his team-mate 'The Torpedo' having a tussle with the McLarens, and ended the race in P10 place claiming a point.
Overtakes, strategy and consistent race pace were all there for the youngster and he is really showing that he can settle into the sport after being drafted in so late in the winter. He shouldn't have Gasly's seat, but if there was an open spot in Red Bull, it looks like they've got a great contender. 10
Your #F1DriverOfTheDay at the 1000th race…

From pit lane to points-scorer, it's @alex_albon! 👏👏👏#ChineseGP 🇨🇳 #Race1000 pic.twitter.com/WUuMxe3gGN

— Formula 1 (@F1) April 14, 2019
Romain Grosjean: Grosjean found himself battling hard with many different teams around him and it came down to a total of nil points. After starting in P10, it seems as though the Haas race pace just isn't what it was last year.
Struggling to fight against the Renaults and even losing out to Toro Rosso and Racing Point is a tough pill to swallow and we feel the team need to be doing that little bit more to win those smaller points here and there. In the words of Guenther Steiner… "we could have looked like rock stars". 6
Lance Stroll:  Stroll needs to up his game, he has been literally gifted a Formula One seat in a very promising team and is currently not delivering.
Once again continuing his run of being eliminated in Q1, he rapidly fell behind his team-mate who simply out-drove him. Stroll benefited from incidents happening in front of him and ended up finishing in a relatively ok spot, all things considered.
But had the Hulk, Kvyat, and Norris managed to stay in the race, P12 could easily have been P15. 5
Kevin Magnussen: Just like his team-mate, Magnussen seemed to really struggle with race pace. Unable to get himself alongside Grosjean, especially when the car is struggling, simply isn't good enough. Haas HQ will be wanting more than P11 and P13. 5
Another frustrating race. The Toro Rosso lost control and it was imposible to avoid him. Pity because the race was long and we had good pace to fight for points. Car feels good on Sundays so it's a matter of time…results will come! Team was great and we never gave up.Baku next! pic.twitter.com/FhkHPYcMGR

— Carlos Sainz (@Carlossainz55) April 14, 2019
Carlos Sainz: An incredibly tough and difficult race for Sainz. After being the filling to a rather carbon fibre filled sandwich, it was always going to be an uphill battle to get something out of the weekend. One thing that was interesting was that McLaren's pace from Bahrain seemed to simply vanish. Neither driver anywhere near the top ten on Saturday… 6
Antonio Giovinazzi: Essentially, Giovinazzi finished last in this race. He started last on track as Albon had to start from the pits and, apart from beating the two Williams cars, who we can't say are racing at this point, he was way off the pace.
A poor strategy meant Gio pitted much earlier than everyone else and then churned through his tyres, while the same machinery saw Kimi battle through for two points. Much to learn for the young Italian. 5
George Russell: Two laps down on the leaders again and there seems to be no light at the end of the tunnel for Williams. Russell is doing what he can, beating his team mate for the third time running and ensuring no damage is dealt to an already shaky car. The only way is up for the young Brit. 7
"The pace was slightly better than expected, we were battling in the opening couple of laps and we managed to stay with the pack."

Read our report from race day here 👇#ChineseGP 🇨🇳 #Race1000

— ROKiT WILLIAMS RACING (@WilliamsRacing) April 14, 2019
Robert Kubica: After a rather interesting spin on the warm up lap, showing that the tyres might take a while to bite into the track, Kubica had a fairly quiet race, he stuck close to his team-mate and at times challenged him for P16. The positive is that they were together on track and both cars finished. Williams need all the testing time they can buy, steal or borrow. 6
Did not finish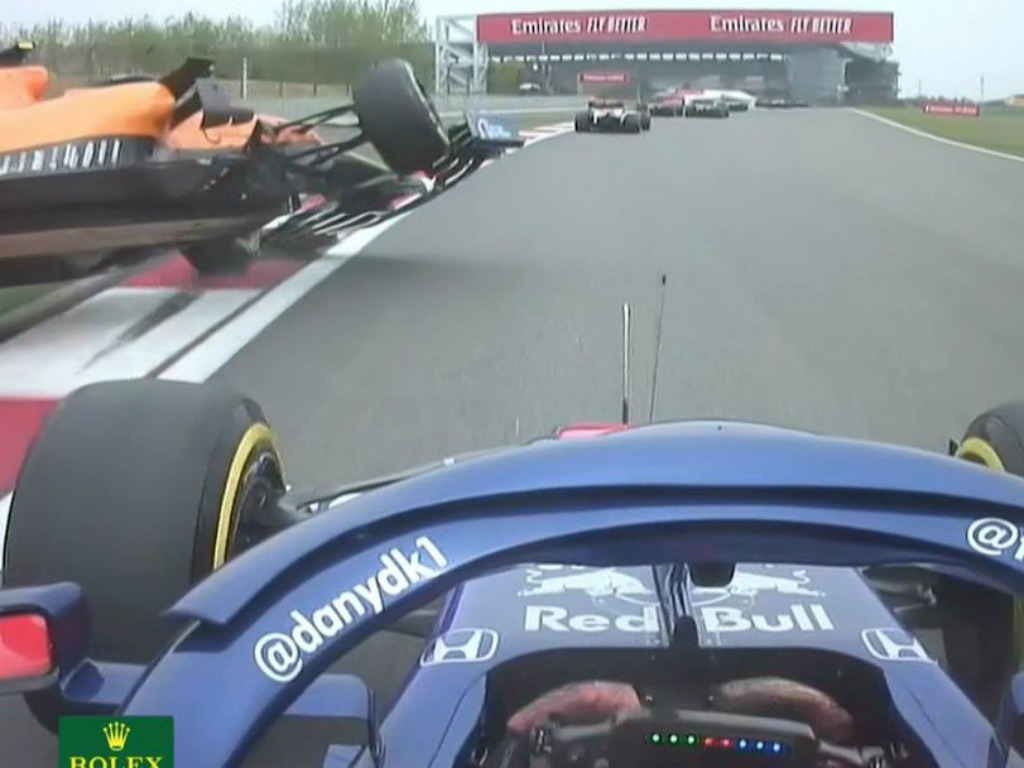 Lando Norris: Not the best Saturday for the youngest driver on track, qualifying a lot further down the field than expected.
After getting off to a competitive start to the race, Norris tried to be a little over ambitious, attempting to overtake off track which led to playing a key role in ruining both of the McLaren's races as he was one side of the Sainz sandwich. 5
Daniil Kvyat: Kvyat was by far the major cause of the biggest accident of the race, trying to catch oversteer only to then send the car in the other direction on a heavily crowded lap one was always going to cause trouble. It was a racing incident in our opinion, but it was an amateurish, clumsy move from a man who is now experienced. Welcome back Torpedo. 4
Nico Hulkenberg: Although looking to struggle for pace in comparison with his team-mate, Hulkenberg was delivering a feisty performance on track and points were definitely up for the taking. Unfortunately, an issue with the MGU-K caused the German to take an early bath, and there was nothing more he could do.  6
The Chinese Grand Prix driver ratings are courtesy of the good folks at Late Braking. You can check them out in the following places:
Subscribe to Late Braking on YouTube
Follow Late Braking on Twitter