Lewis Hamilton will start the German GP from pole position, taking advantage of not one but two issues that cost the Ferrari drivers.
Heading into qualifying on the back of a practice session in which several drivers, including Sebastian Vettel and Hamilton, had their lap times deleted, the drivers were very aware of needing to keep all four wheels on the track.
Vettel, though, didn't have to worry about having a time deleted as he never even set one. The German, competing in his home grand prix, ran into engine trouble in Q1 and returned to the pits without a time on the board.
"There's an issue – I lost power"

Vettel is told by @ScuderiaFerrari to slow on track, return to the garages 😱#F1 🇩🇪 #GermanGP pic.twitter.com/R4fMafWGsB

— Formula 1 (@F1) July 27, 2019
Back in the garage Vettel climbed from his SF70, his qualifying over. Ferrari confirmed that it was a turbo related problem with Vettel explaining: "I don't know what happened – something was broken with the turbo.
"Obviously I'm very bitter, as the car is great, and we've lost out on a big chance, but hopefully we'll have another one coming tomorrow."
With Vettel out of the action it was left to Charles Leclerc to fly the flag alone for Ferrari. He was quickest in Q1, second in Q2, and went into Q3 as the favourite to take pole position on the soft tyres.
However, instead of heading out onto the track at the start of Q3, Leclerc was stuck in the garage as the Ferrari mechanics worked furiously on his car.
Like Vettel, he was soon climbing out of his SF90, his session over. He'll start P10 unless something on the car needs to be changed and earns him a penalty.
OH NO PLEASE NOT CHARLES AS WELL pic.twitter.com/E4tvh4aLxK

— iGP Manager (@iGPManager) July 27, 2019
With Ferrari out of the running, Hamilton was handed a free ride to pole position.
The Mercedes driver clocked a 1:11.767 on his first flying lap to grab pole position by 0.346s ahead of Max Verstappen. Valtteri Bottas was third, 0.362s down.
Leclerc and the Mercedes drivers ran the mediums in Q2, a tyre on which Hamilton got the better of the Ferrari driver. Leclerc's first lap on the mediums was cancelled for exceeding track limits.
This is SUCH an intense shot oh my goodness pic.twitter.com/SkTQFou8cp

— iGP Manager (@iGPManager) July 27, 2019
Pierre Gasly bagged fourth place for Red Bull, elevated up the order by Ferrari's woes, while Kimi Raikkonen put his Alfa Romeo up into fifth place ahead of Romain Grosjean.
Carlos Sainz, Sergio Perez and Nico Hulkenberg completed the top nine.
Lance Stroll made it out of Q1 for the first time since last year's Japanese Grand Prix.
The SportPesa Racing Point driver was delighted with the team's Hockenheim upgrades on Friday and hoped it would pay off in qualifying. It did, although only as far as P15.
Rookie drivers Lando Norris and Alex Albon both failed to make it out of Q1 after an incident in which the McLaren seemed to block the Toro Rosso driver. "What a joke," said Albon.
Williams were once again slowest of all with George Russell reporting that his upgraded FW42's "front isn't biting at all."
He was P18, a tenth faster than his team-mate Robert Kubica.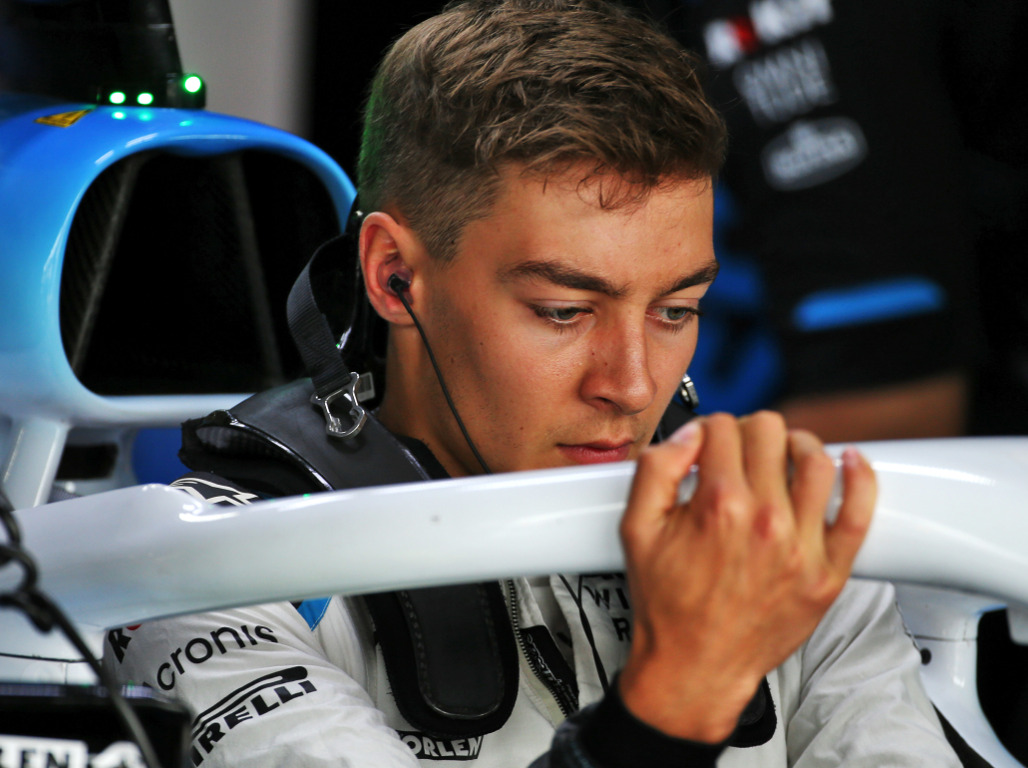 Times
1 Lewis Hamilton Mercedes 1:11.767
2 Max Verstappen Red Bull 0.346s
3 Valtteri Bottas Mercedes 0.362s
4 Pierre Gasly Red Bull 0.755s
5 Kimi Raikkonen Alfa Romeo Racing 0.771s
6 Romain Grosjean Haas 1.084s
7 Carlos Sainz McLaren 1.130s
8 Sergio Perez Racing Point 1.298s
9 Nico Hulkenberg Renault 1.359s
10 Charles Leclerc Ferrari no time
11 Antonio Giovinazzi Alfa Romeo Racing 1:12.786
12 Kevin Magnussen Haas 1:12.789
13 Daniel Ricciardo Renault 1:12.799
14 Daniil Kvyat Toro Rosso 1:13.135
15 Lance Stroll Racing Point 1:13.450
16 Lando Norris McLaren 1:13.333
17 Alex Albon Toro Rosso 1:13.461
18 George Russell Williams 1:14.721
19 Robert Kubica Williams 1:14.839
20 Sebastian Vettel Ferrari no time
Follow all the action from the German Grand Prix with the PlanetF1 live centre