Lewis Hamilton set the pace in closely-contested final practice, a session in which the drivers had to contend with "snow" thanks to cement dust at Turn 4.
There was a delayed start to final practice for the Hungarian Grand Prix after an engine failure in the earlier Formula 2 race left an oil slick at Turn 4, one of the fastest corners at the Hungaroring.
We have a delay of 10 minutes for the start of FP3, as the Marshalls continue to clean oil off the track #HungarianGP 🇭🇺 pic.twitter.com/hF8GDd9A04

— Toro Rosso (@ToroRosso) August 3, 2019
Although the session began 10 minutes after the hour, race control declared it would end at 1pm local time.
With the cement dust laid down, FP3 got underway with Romain Grosjean the first man out but it was Antonio Giovinazzi who was the first to truly test Turn 4, sending up plumes of dust in a blizzard. "Incredible" is how McLaren described it.
After Friday's rain the drivers were quickly into their programmes, dust be damned, with 13 drivers setting times in the first ten minutes and Lando Norris quickest with a 1:18.706.
Charles Leclerc was the next to lead the way before Sebastian Vettel put in his opening gambit, a 1:17.435 – six-tenths up on his team-mate.
Lewis Hamilton and Valtteri Bottas fell short of Ferrari's mark on their first effort, both two-tenths down, while Max Verstappen sparked his way to fifth place.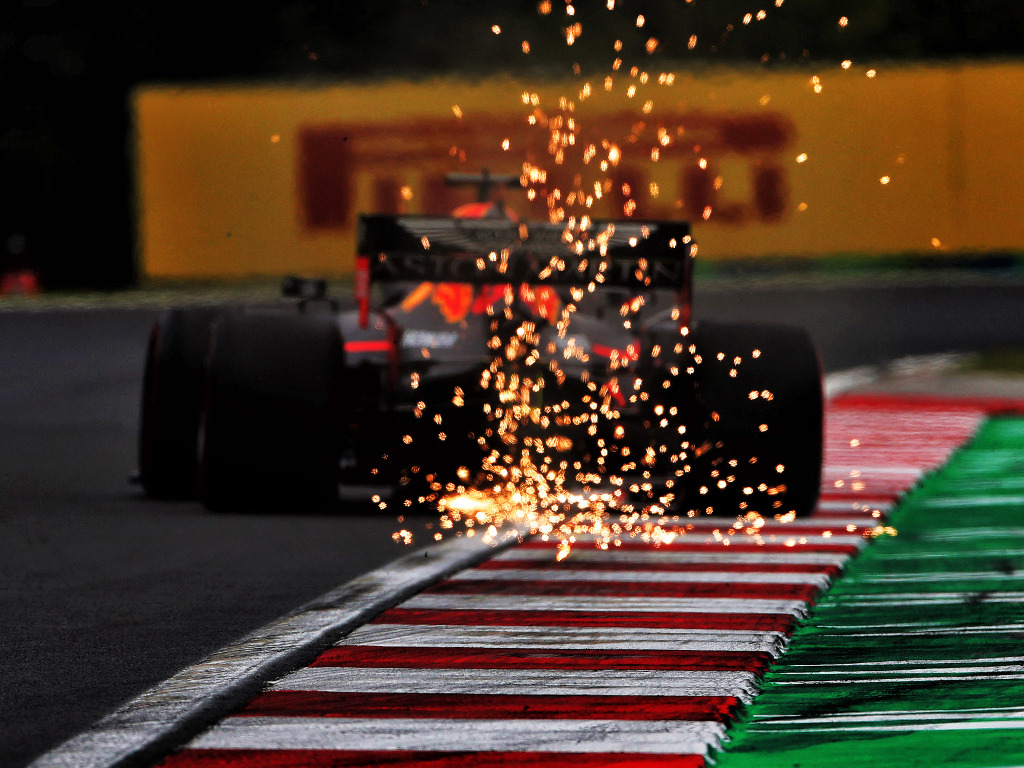 Verstappen's second hot lap saw him shoot to the top of the timesheet with a 1:17.035 with Hamilton going second, 0.016s down. Bottas moved up to third place as dark clouds gathered overhead.
While Red Bull, having set a new pit stop record last time out in Germany, practiced a stop with Verstappen before sending him back out, there were concerns over at Ferrari.
Vettel's mechanics surrounded the back of his SF90 working on the suspension, however, it wasn't long before the four-time World Champion was back out on track and laying down the laps.
Ready to rejoin #FP3! 20 minutes left. #HungarianGP🇭🇺 pic.twitter.com/sr7qwI8xCP

— Scuderia Ferrari (@ScuderiaFerrari) August 3, 2019
With fresh boots on board, Hamilton hit the front with a 1:16.339 while Leclerc went second, 0.053s down. Verstappen, who had fallen to sixth as others improved, bounced back to third. He was 0.135s down on the leading Mercedes and 0.015s up on the other.
Lando Norris jumped to fifth, edging Vettel, who declared his car felt "different" after the set-up changes, and Pierre Gasly.
But with the track evolving the drivers were by no means done…
Verstappen hit the front with a 1:16.097 while Vettel improved to second, 0.069s off the pace. However, Hamilton was the last of the front runners to set a time and it was as new lap record, a 1:16.084.
That put him 0.013s up on Verstappen and 0.082s ahead of Vettel.
Bottas was fourth ahead of Leclerc, Gasly, Norris, Kimi Raikkonen, Carlos Sainz and Kevin Magnussen.
Times
1 Lewis Hamilton Mercedes 1:16.084 21 laps
2 Max Verstappen Red Bull 0.013s 16 laps
3 Sebastian Vettel Ferrari 0.082s 18 laps
4 Valtteri Bottas Mercedes 0.271s 19 laps
5 Charles Leclerc Ferrari 0.308s 18 laps
6 Pierre Gasly Red Bull 0.600s 19 laps
7 Lando Norris McLaren 0.690s 20 laps
8 Kimi Raikkonen Alfa Romeo Racing 1.132s 22 laps
9 Carlos Sainz McLaren 1.133s 23 laps
10 Kevin Magnussen Haas 1.146s 17 laps
11 Romain Grosjean Haas 1.209s 21 laps
12 Daniil Kvyat Toro Rosso 1.348s 21 laps
13 Nico Hulkenberg Renault 1.583s 19 laps
14 Sergio Perez Racing Point 1.586s 17 laps
15 Antonio Giovinazzi Alfa Romeo Racing 1.845s 22 laps
16 Daniel Ricciardo Renault 1.878s 19 laps
17 Alex Albon Toro Rosso 1.940s 19 laps
18 George Russell Williams 1.988s 23 laps
19 Lance Stroll Racing Point 2.450s 20 laps
20 Robert Kubica Williams 2.625s 26 laps
Follow all the action from the Hungarian Grand Prix with the PlanetF1 live centre