Which drivers impressed at the 'Temple of Speed' and who flattered to deceive? Check out our Italian Grand Prix driver ratings…
Lewis Hamilton: With 14 of the last 18 pole sitters going on to win the Italian Grand Prix and finding himself behind both Ferraris on the starting blocks, Hamilton must have been thinking just how much of his World Championship lead would be left intact by the end of the afternoon.
But, with Vettel out of the equation on the first lap after contact between the pair twice by Turn 4, where Hamilton committed to a seriously brave move around the outside, a combination of blistering pace on his part and a masterful race strategy has seen that lead stretch to a whopping 30 points with seven races to go.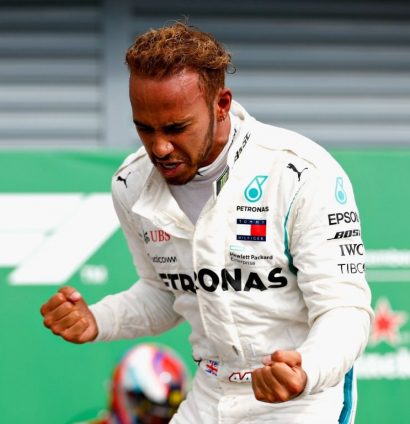 When race leader Kimi Raikkonen pitted for softs on Lap 21, it was "Hammer Time" for Lewis and he pumped in some seriously quick times in a small eight-lap window to keep right on the Finn's tail with some fresher tyres to attack with in the latter stages.
But, there is no denying that he needed some help from his team-mate Bottas, and his hard work holding his fellow Finn up allowed Hamilton to make his race-winning move on Kimi at Lap 45, leaving eight laps to savour the silence from the Tifosi as they witness yet another Italian Grand Prix without seeing their beloved Ferrari win on home soil.
That is one huge leap towards a fifth World Championship title and, in the process, has now equalled Michael Schumacher's record of five wins at Monza. 10
Kimi Raikkonen:Will Kimi ever get as close to winning a Formula 1 race again? It is hard to imagine so. After securing his first pole since Monaco 2017, Raikkonen covered off team-mate Vettel into Turn 1 and got the better of Hamilton in the early stages, but he would ultimately become the vulnerable victim of a superior Mercedes strategy.
With Vettel completely out of the picture, Raikkonen was outnumbered by the Silver Arrows duo and became the meat in a Mercedes sandwich. He couldn't find a way past Bottas and his tyres were absolutely cooked by the end, leaving him limping home in P2 which was incidentally his 100th podium of his career. He wouldn't have cared about that milestone at the best of times, never mind after what unfolded in Monza.
So, the five-year wait for a Raikkonen win continues but he gave it one helluva shot and played a memorable role in what was a fascinating Italian Grand Prix. 9.5
Valtteri Bottas: The Finn had been largely anonymous for much of the weekend and his bad run looked like continuing on race day when losing out to Max Verstappen at the start.
But, he had a huge role to play, staying out on track and ensuring Raikkonen was kept behind him until Hamilton had completed his pit stop. His pace on those seriously old supersoft tyres was impressive and created the platform for his team-mate to complete an incredible victory.
With his job done out in front, Bottas' attentions turned back to Verstappen and getting back on the podium. He had the pace to get all over the back of the Dutchman, who subsequently made it very easy for Bottas to take back P3 with a penalty for an overly-aggressive defence.
Team orders and clear No.2 drivers always leaves a sour taste, but you have to hand it to Valtteri for being the ultimate team player. A phenomenal job which should not go unnoticed. 10
Vettel 💥 Hamilton

Discuss… #ItalianGP 🇮🇹 #F1 pic.twitter.com/XFAMIaNyEh

— Formula 1 (@F1) September 2, 2018
Sebastian Vettel: The firm expectation heading into the race was for Ferrari to orchestrate a win for Sebastian Vettel, even despite confirmation that both he and Raikkonen were "free to race" each other from P1 and P2 on the grid. But, as we should know by now in Formula 1, nothing is agiven.
Already fuming that he towed Raikkonen to pole position on Saturday, Vettel's mood would not have got any better when losing part of his front wing at Turn 4 and spinning all the way to the back of the pack. The stewards deemed neither he nor Hamilton was predominantly at fault for the opening-lap collision – a touch of understeer on Vettel's part effectively ending all hope of a Ferrari win at Monza for him.
He recovered well enough, as you would expect with that beast of a Ferrari engine at his disposal, but even gaining a late P4 finish thanks to Verstappen's timed penalty would not the slightest hint of a smile back on his face. This was a huge opportunity that has gone flying out of the window. 7
Max Verstappen:There is Max showing his relatively young age again. He got off to a fine start off the line as he bombed past Bottas for P3 and was doing a great job in keeping him in his rear-view mirrors, too.
But, we have seen time and time again that Verstappen has a different definition of what defending means and moved from his line and squeezed Bottas pretty much off the track at Turn 1.
He accused the stewards of "killing racing" when he learned of his five-second timed penalty, but the only thing that was killed was his chances of what would have been a very hard-fought podium finish.
Some very good work from the Dutchman, all undone by another act of immaturity. 6
Esteban Ocon:It would be a crying shame if there wasn't a space on the 2019 grid for Ocon, who provided further evidence of his undoubted ability with another rock-solid display at Monza. Starting from a respectable P8, he powered past Carlos Sainz by Lap 7 and gained a further place after Grosjean's disqualification.
That is a seven points finish in nine races for Esteban who is living up to his 'Oconsistency' nickname once again. 8.5
Sergio Perez:  A 'miscalculation on the track evolution', which translates to 'we messed it up', left Perez with a bit of a mountain to climb after being knocked out in Q1 by a mere 0.001 seconds.
He received a little pre-race boost moving up from P16 to P14 because of penalties to others and went on to complete a fine recovery drive to help take the newly-named Racing Point Force India above Sauber to P8 in the Constructors' Championship in just two races.
It was far from straightforward, though, for the Mexican, who was running with some slight damage to his car after an early collision with Kevin Magnussen.
But, he was the more fortunate one of two coming out of that incident and finished comfortably in the points just behind his team-mate. P6 could have easily been up for grabs had the K-Mag incident and the qualifying error not worked against him. 8.5
Carlos Sainz: Not a great birthday weekend for Carlos Sainz, who started in P7 but came home in a rather lonely P9, which subsequently became P8 once news of Grosjean's disqualification for running an illegal floor became official. Those precious points earned keep Renault just ahead of Haas in the battle for P4 in the Constructors'. 6
"Feeling good is an understatement. I hoped we would score points, but I didn't really expect it."

Lance, Sergey and @paddylowe
reflect on a stronger performance in today's race 💪

👉 https://t.co/f9oU5hW1a9#ItalianGP #F1 pic.twitter.com/npUZeFr7oN

— WILLIAMS RACING (@WilliamsRacing) September 2, 2018
Lance Stroll:Monza has proven to be very kind to Lance Stroll, who became the youngest man to start a Grand Prix from the front row aged 18 years 309 days in last year's race. This year, it has brought him only his second points finish of the season with a P10 result.
That first point since round four in Baku became a realistic target after Stroll took Williams into Q3 for the first time this season and even gained a few places at the start in the uncompetitive FW41. But, in a race occurrence, Williams were actually racing this time around, even a slow pit stop not able to complete ruin Stroll's day. 8
Sergey Sirotkin:. Rejoice! A first point of the season at last for the Russian who had been heading in the right direction in recent race weekends. He battled to a P11 finish on race day and was later promoted up to P10 following Grosjean's disqualification. This coming a day after his equal-best qualifying of the year in P12 and this was a very good weekend for Sirotkin. Some much needed cheer in a season of gloom. 7.5
Charles Leclerc: No unfortunate DNF for Leclerc this weekend, but there are still no real positives to take from on the track at least. Due to Ericsson's DRS-related crash in FP2, Sauber were forced to change from their Monza wing on both cars and that massively compromised them in the race.
But, the strong rumours of a move to Ferrari next season have resurfaced over the weekend, with a contract reportedly signed before the sad passing of ex-Ferrari president Sergio Marchionne. At least he still has that dream to clutch on to. 5.5
Stoffel Vandoorne: The 2019 options are drying up for Vandoorne, with Sauber saying they are not interested in signing him next year despite previously working for team principal Frederic Vasseur.
He was the slowest qualifier for the third time in last four races and, although he did move from P17 to a P12 finish, it is not going to make his case for staying at McLaren next year any stronger. 5.5
Nico Hulkenberg: The Hulk made life difficult for himself at Monza after being slapped with a 10-place grid drop by the FIA for causing that huge crash involving Fernando Alonso and Charles Leclerc at Spa.
A tactical engine change, too, meant he was firmly rooted to dead last on the starting grid as he tried to atone for his error. He pitted for the soft tyres on Lap 1 and did find himself into the top 10 by Lap 41 but, he would have needed an absolute miracle to keep those intact until the end and his second stop saw him fall firmly out of points contention. 5.5
Pierre Gasly:A Red Bull seat fit on Thursday and a second Q3 appearance in three race weekends were the only highlights for the Frenchman, whose hopes of a third consecutive points finish were dashed by an early incident with Fernando Alonso which left him with a severe lack of downforce. He was also involved in ding-dong battle with the man he is replacing at Red Bull, Daniel Ricciardo, but that was the last of his camera time in Monza. 5.5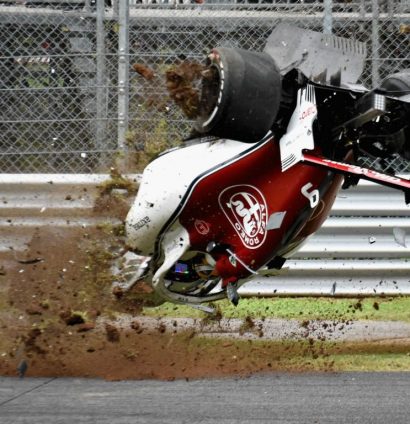 Marcus Ericsson:Ericsson was celebrating his 28th birthday on race day in Monza and the best present he would have received was having all his bones in the right place after his spectacular crash during FP2.
That almighty tumble unsurprisingly left the Swede needing a replacement chassis and a new engine which resulted in grid penalties. However, because of penalties to Ricciardo and Hulkenberg, he actually moved up one place on the starting grid to P18.
That was where the good news ended, though, as a puncture sustained on the first lap left him on the back foot and forced him onto a unwanted two-stop strategy. 5
Kevin Magnussen: K-Mag was in unfamiliar territory as last of the finishers at Monza, all because of his early accident with Sergio Perez and subsequent slow pit stop. He switched to the mediums and remained well adrift throughout the afternoon, but at least he can tick off one more race before Alonso retires. 5
Did not finish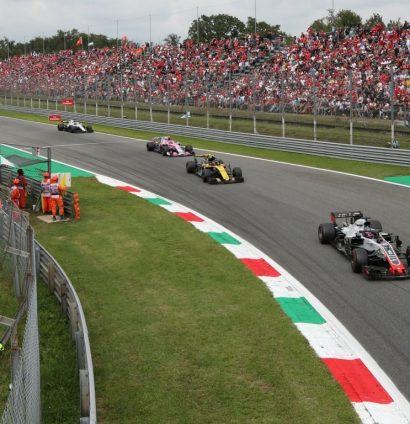 Romain Grosjean:The Romain renaissance continues with a fourth consecutive points finish and his fifth in his last six races. It has taken an awful long time for the Frenchman to get going this season but he is truly in full flow now. He was best of the rest in qualifying and kept the fast-finishing Force Indias at bay to keep hold of his very impressive P6 and take Haas level on points with Renault in battle for fourth in the World Constructors' Championship. A sterling job.
That was until, of course, the FIA found his car in breach of the regulations following a complaint from Renault. His P6 was wiped completely off the board due to being disqualified and his only hope now is that Haas' appeal is successful. N/A
Daniel Ricciardo:  The misery continues for Daniel Ricciardo with a fourth race retirement in six races. This guy simply cannot catch a break. He knew penalties were coming his way long before race day and it was all because he was taking Renault's new C-Spec engine which came with the big, fat warning of more power, but less reliability.
And Ricciardo found that out on lap 25 as his RB14 went up in smoke as he tried to carve his way through the field from a P19 start. However, quick to clarify the issue, Renault said it was a clutch issue, so maybe Ricciardo can start on a clean slate after all in Singapore where good times may lay ahead. 6
Fernando Alonso: Alonso's run of either finishing in the points or recording a DNF this season continues with a retirement on lap 10 due to a problem with the car. Heard that one before? Us too. His latest spat with Kevin Magnussen following their coming together in Q2 meant the retiring Spaniard was still one of the big talking points from this weekend. N/A
Brendon Hartley:Blink and you will miss him. Hartley's race was done at the very start after Stoffel Vandoorne cut across him and contact soon followed with Marcus Ericsson, forcing a race-ending puncture. N/A
Follow us on Twitter @Planet_F1 and like our Facebook page.