Chasing five, as is the case for Lewis Hamilton, or salvaging it for Sebastian Vettel – that's set to be the story of the Japanese Grand Prix, which could be an extremely wet race.
Championship battle aside, Formula 1's latest escapade to Asia could be decided by Mother Nature as Typhoon Kong-rey is strengthening.
The typhoon, which would be Japan's seventh this year, could make landfall later this week with the strength of a Category 3 major hurricane. That means a lot of wind, and a deluge of rain.
At present the forecast is for much milder conditions but that is expected to change in the build-up to the weekend.
One driver who will relish the rain is Hamilton.
He has proven several times this season that he masters the conditions better than Vettel and his Ferrari. He took pole position in unpredictable wet qualifying sessions in Hungary and Spa. Vettel crashed while leading the German GP in the rain.
#Vettel's teamradio after his crash. Some german swearing in it! #GermanGP #F1 pic.twitter.com/zGIay10ANY

— Schnixel (@_Schnixel) July 22, 2018
As such Hamilton heads to Suzuka for round 17 of the championship with absolutely zero pressure on his shoulders as he holds a 50-point advantage over Vettel thanks to a bit of team order controversy from Mercedes at the last race in Russia. That's two free DNFs in hand leaving many fans and pundits saying the game is over, time for Vettel and Ferrari to concede defeat.
The German, though, insists he is not out of the fight, adamant he "still believes" in his chances. He does, however, acknowledging that he is making life difficult for himself.
He said: "I'm clever enough, I wasn't a genius in maths but I was clever enough to pay attention to make out for myself that it's not getting easier if we lose points."
Vettel, though, cannot do it alone, he now needs Kimi Raikkonen's help. Good luck getting that.
Read more: Everything you need to know ahead of the Japanese GP
Mercedes proved last time out in Sochi that they are more than happy to play the team game, with Bottas told to hand the win over to Hamilton in order for the Brit to gain an extra four points in the title race.
Both championship hopefuls have won the Japanese Grand Prix on four occasions but while Hamilton's most recent was 12 months ago, Vettel's last visit to the top step of the podium was in 2013. He has never won at Suzuka as a Ferrari driver. Mercedes have four wins on the trot.
The only other current drivers who have won the race are Raikkonen, 2005, and Fernando Alonso, 2006 and 2008.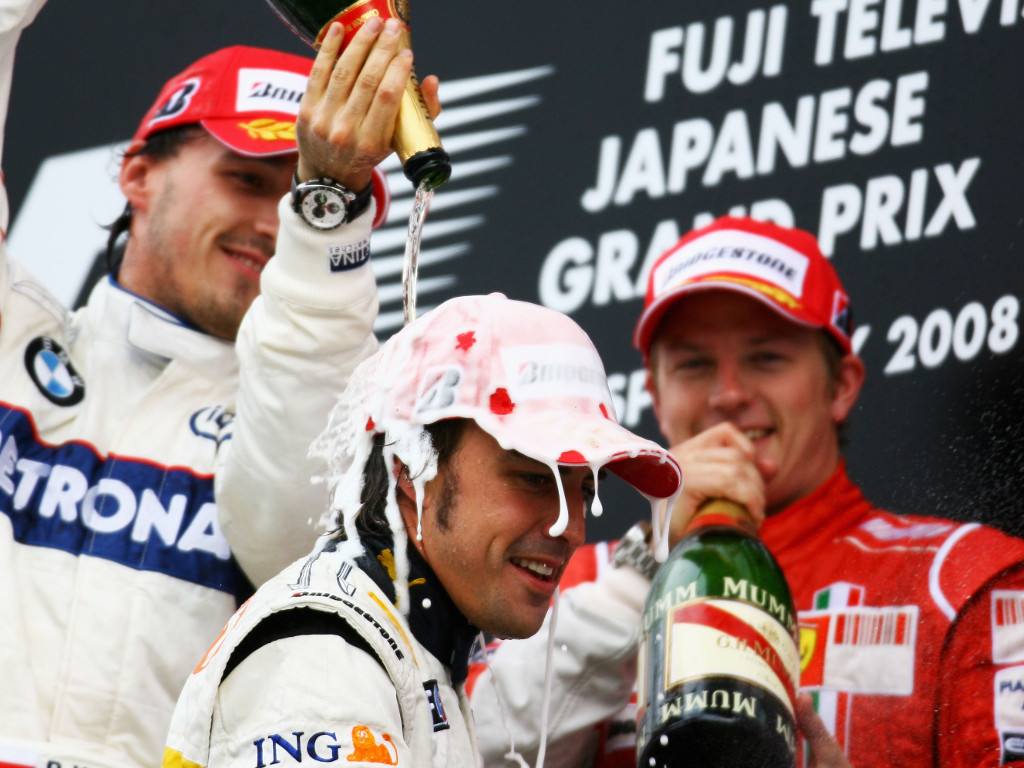 It is widely regarded as a favourite amongst the drivers as circuits don't get much better or more iconic than Suzuka, Formula 1's only figure-of-eight circuit.
From the Esses to the sixth-gear Degner 1, the double-apex Spoon and the flat-out, heart-in-the-mouth blast through 130R, the 18-corner track is known for producing good racing and great races.
Think Ayrton Senna passing Alain Prost for the title in 1988, squeezing up the inside into the first corner to take the lead and ultimately the title; Prost taking Senna out a year later; Senna returning the favour a year after that.
More recently Kim Raikkonen's last-lap pass on Giancarlo Fisichella in 2005 for the win or last year's nail-biting finish as Lewis Hamilton held off Max Verstappen to take the chequered flag by just over a second.
Formula 1 will be hoping for another Suzuka thriller as, with the title fight all but over, it is more important than ever that the racing delivers.
Michelle Foster