Which drivers had a race to remember? Who had a weekend to forget? Check out the Mexican Grand Prix driver ratings, courtesy of Late Braking.
Max Verstappen: We think it might be fair to call Max a Mexican Grand Prix specialist. For the second year in succession, Verstappen has beaten first place off the line before waltzing off into the distance and never looking back.
All that was missing for the perfect weekend was that historic pole position, which he missed out on by a mere 0.026 seconds to Daniel Ricciardo, but Verstappen put it quickly behind him to beat the Australian off the line on Sunday.
Keeping Hamilton at bay on the start was also crucial. From there, Verstappen nursed his tyres wonderfully and managed his pace magnificently.
There was also his maturity continuing to shine through as he immediately initiated conversations about turning the engine down to avoid suffering the same fate as his very unfortunate team-mate.
Verstappen still isn't the finished article by any means, but what an amazing, exciting talent he is. 9.5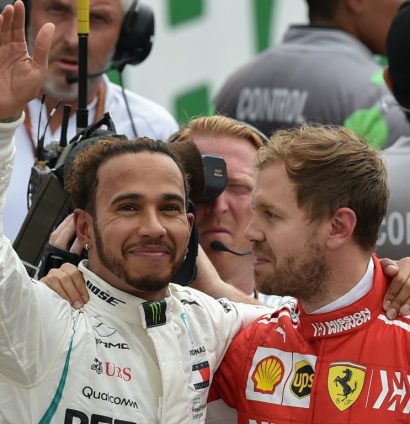 Sebastian Vettel: Vettel's aim for the weekend had to be all out victory, to try and keep his very slim championship hopes alive. The Ferrari was mightily quick in sector one of the lap during qualifying, but it was not enough for a front row start.
A conservative getaway saw Vettel remain in fourth but,  after lengthening his first stint, Vettel showed some great pace. He eventually sailed past Hamilton and Ricciardo, and was arguably quick enough to challenge Verstappen, but was too far back to do anything about it.
Vettel was setting himself up for round two with Ricciardo before the Aussie's car failed and, although this was Vettel's first podium in Mexico, it was not enough to deny Hamilton the title. A good performance but too little, too late. 8
Kimi Raikkonen: After his rare win in Austin, we saw a side of Kimi that we see on a more regular basis and that is somehow finding his way onto the podium in the quietest way possible.
Raikkonen was off the pace of team-mate Vettel pretty much all weekend. The Finn qualified last of the top six, and was comfortably adrift of Vettel throughout the race.
Whilst clearly quicker than both Mercedes cars, he was gifted a podium after Ricciardo's  untimely demise.
It must be noted, though, that Raikkonen raced well against Hamilton, but perhaps showed the Brit a little too much respect as they battled into Turn One. 6
We could be here for a while…

*Grabs yet another coffee and several pastries* 😉 #HiFive#F1 #MexicoGP #F1ESTA pic.twitter.com/Na2QTF06CQ

— Mercedes-AMG F1 (@MercedesAMGF1) October 29, 2018
Lewis Hamilton: "It wasn't won here, it was won through a lot of hard work through many races."
For the first time in a long time, the Mercedes was the third quickest car. Hamilton pulled out a great lap in qualifying to sit third on the grid and a mega start almost saw him take the lead during the long dash down to Turn One.
During the race, it did not matter what compound the Mercedes car was on, they all got completely butchered and Hamilton was a sitting duck for the likes of Vettel and Ricciardo.
However, despite the Mexican Grand Prix being a self-described "horrible" race, consistency and common sense was all that was needed.
Another underwhelming race result in Mexico for the Brit, but nonetheless all Hamilton needed to take a fifth World Championship was to finish P7 or higher. Job done. 7.5
Valtteri Bottas: Like his fellow Finn, Bottas seemed off the pace all weekend in comparison to team-mate Hamilton. He managed to get stuck in at the start of the race, and briefly overtook Vettel, before the German muscled his way back through.
He struggled even more than Hamilton on tyres, and had to make a third stop under the final VSC. A three-stopper in a Mercedes car? It's not very often we see that.
With the Drivers' Championship finally sewn up, Bottas' wingman duties should be finished now. He has just two races to stop himself becoming the first Mercedes driver in the turbo hybrid era to go through an entire season without winning race. 6
Nico Hulkenberg: The Renault car looked in great form all weekend and Hulkenberg came to Mexico on a high after his P6 in Austin.
The German qualified best of the rest for the second weekend running and, although his team-mate got the better of him after the start, 'The Hulk' eventually bagged another P6 finish to claim vital points over Haas in the Constructors' and strengthen his own hand in 'winning' the 'B' World Championship.
Hulkenberg has come good again at just the right time. 9
Yepaaa, P7 ! Very happy about today. Hopefully more points on the way in the last 2 races 😬
📸 : https://t.co/qQmKsadLZ5 pic.twitter.com/2hTiUNU5hD

— Charles Leclerc (@Charles_Leclerc) October 28, 2018
Charles Leclerc: After back-to-back retirements, Leclerc was looking for some better luck in Mexico and finally got some. Both Saubers qualified in the top ten but, with the hypersoft tyres being so fragile, it seemed to be the wrong strategy for Sunday.
However, Leclerc nursed his tyres beautifully, and with some great race craft, and luck, along the way, managed to claim seventh place and his eighth points-finish in a super impressive season. Roll on next year. 8
Stoffel Vandoorne: Finally! Points for Stoffel! It looked like being business as usual for the Belgian after being out-qualified by Fernando Alonso (albeit by just a tenth) and knocked out in Q1 again.
But Vandoorne managed to stay out of trouble in the race and made the most of a one-stop strategy to bring home some welcome points for McLaren and his first in 14 races. 8
Marcus Ericsson:Ericsson was in the same predicament as Leclerc, taking pain on Sunday for a gain on Saturday. The expectation was to see at least one Sauber (most likely Ericsson) slip out of the points.
Whilst Force India's incident-packed afternoon certainly helped Ericsson's race, it wasn't all handed to him. He too looked after his tyres well, and defended valiantly against the faster cars. Marcus came home in P9 and secured two more points for Sauber, defying those pre-race predictions. 7.5
From P20 to P10, a great drive from Pierre through the field!

Full quote >> https://t.co/He6ZsffgwD pic.twitter.com/B6knTTDJly

— Toro Rosso (@ToroRosso) October 28, 2018
Pierre Gasly: Considering that he started at the back of the grid, P10 for Gasly was a pretty mammoth result. The Frenchman swapped to a two-stop strategy under the first VSC, and made the most of the aggressive switch.
After a bit of argy-bargy with his fellow countryman, Esteban Ocon, Gasly secured P12, which became P11 after Ricciardo's retirement, and then P10 after Brendon Hartley was issued with a five second penalty. 8
Esteban Ocon:Ocon secured the best midfield spot on the grid with P11 in qualifying. The Frenchman could start on his choice of tyre and still be right in the mix.
However, a scruffy race saw him make contact with Nico Hulkenberg at the start of the race which required an early pit stop. He then got tangled up with Brendon Hartley, and although it was deemed to be Brendon's fault, it caused more damage to Ocon's car, and meant he finished outside the points. 6
Lance Stroll:Stroll was lucky to avoid a grid drop on Saturday after being investigated for not one, but two track infringements.
Starting P18, the Canadian made another mega start and held on from there. He did benefit from a few retirements ahead, but a good performance by his and Williams' standards, nonetheless. 6.5
Sergey Sirotkin: Although outpaced by his team-mate, Sirotkin found himself in the unusual position of being able to beat another team.
It's a small consolation, but at least the Williams driver could make the most of the Haas team's struggles at this circuit. 6
Brendon Hartley:The New Zealander really needed to perform well this weekend to try and keep his spot in Formula 1 next season…but ended up doing more harm than good.
Having qualified in P14, Hartley was having a decent race and looked set for points, but he undid all that good work when he turned in on Ocon going into Turn Two and earned himself a costly five-second penalty. 5
Kevin Magnussen:Haas really seem to struggle at this circuit and have lost vital ground to Renault in the Constructors' Championship. Magnussen endured his worst qualifying since Monaco earlier this year, lining up in eighteenth, and from there he couldn't do anything to help alleviate Haas' tyre woes. 4.5
Not the day we wanted. Focus now turns to Brazil. #R8G #F1 #MexicanGP pic.twitter.com/QnZxojI0c5

— Romain Grosjean (@RGrosjean) October 28, 2018
Romain Grosjean:The Frenchman out-qualified his team-mate by more than half a second on Saturday but a three-place grid drop for causing a collision in Austin ensured he would start behind K-Mag.
Romain's pace was even worse than Magnussen's on race day and eventually finishing stone-dead last. His only highlight of the race being he has avoided a one-race ban, which he would have incurred had he picked up two more penalty points in Mexico. 4.5
Did not finish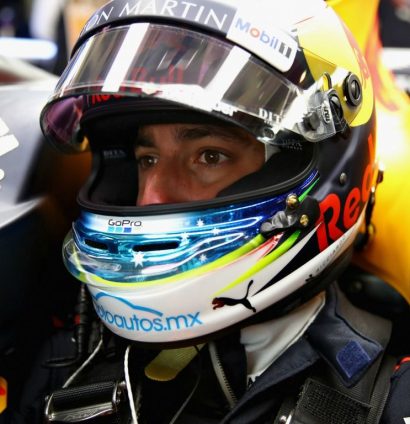 Daniel Ricciardo:   Once again, Ricciardo found himself parked up at the side of a race circuit for his eight retirement of the season. Can one driver really be this cursed or are there some darker forces at work before he heads off to Renault?
His qualifying lap on Saturday afternoon was blistering and certainly knocked the wind out of Verstappen's sails. Yes, his poor start cost him the lead, but Ricciardo was driving beautifully to keep Vettel at bay before his car broke again on lap 62 and in touching distance of a well deserved podium. We have seen enough evidence over the weekend for Ricciardo warrant a score, a high one too. 9
Carlos Sainz: Although Hulkenberg out-qualified him, Sainz made the most of his start to comfortably lead the midfield and momentarily get ahead of Raikkonen…then reliability issues struck his Renault whilst he was in the stadium section. A very promising afternoon came to a rather abrupt end. N/A
Sergio Perez:The home hero was making his alternate strategy work, fighting his way up to P8 from outside the top 10. It seemed that he would be able to challenge Hulkenberg for best of the rest, before a mechanical problem struck his car. You could hear a pin drop when he came to a grinding halt, ending his run of scoring points on every visit back to his home race. N/A
Fernando Alonso: Another non-finish for Alonso sums up his luck, especially in the second half of this year. He out-drove the McLaren to start P12, and was minding his own business at the start before collecting debris from Ocon's front wing and retiring on lap five. Just remember the good times, it doesn't hurt as much then. N/A
The Mexican Grand Prix driver ratings are courtesy of the good folks at Late Braking. You can check them out in the following places:
Subscribe to Late Braking on YouTube
Follow Late Braking on Twitter
Follow Late Braking on Instagram