Lewis Hamilton "saved" Mercedes with his driving in Monaco with Toto Wolff admitting they put him on the wrong tyre during his Safety Car pit stop.
Hamilton was leading Sunday's Monaco Grand Prix when the Safety Car was deployed for Charles Leclerc's puncture and the debris that the Ferrari spewed all over the track.
The top four, led by Hamilton, all pitted under the Safety Car with Mercedes double-stacking Hamilton and Valtteri Bottas.
While those behind all went onto the hard tyres, Mercedes opted to put Hamilton on the medium Pirellis.
That proved to be the wrong call.
The Brit struggled with graining after just a few laps and so his complaints began.
On lap 42 he told the team: "I think we are on the wrong tyre. I'm definitely in a bad way."
Lap 52: "I think I'm in big trouble. My left front is dead…"
Lap 58: "I don't know what you were thinking putting these tyres on, man. You need to hope for a miracle!"
That miracle, says Wolff, was Hamilton's driving as the Brit took the victory, his third in Monaco.
Look at these tyres that Hamilton won in Monaco on. Yoh 🙌🏿 pic.twitter.com/r4GvbECRPf

— LE INTERNATIONAAAAAL (@Black_LAURENT) May 27, 2019
"I've just had a chat with [strategist] James [Vowles] and obviously it was the wrong call," said Wolff.
"We thought the tyre would make it to the end but it didn't.
"He saved us – his driving saved us. It's something which we really need to analyse.
"What was calculated was that the medium would make it, if we were to change on lap 15 or 16, with the right management.
"Being in the lead that was a pretty straight strategy, it didn't even seem like a huge stretch.
"But we realised 20 laps into the race that on the left front some graining appeared and he started to complain about it, the understeer that resulted from the graining.
"It was clear that it would get very, very difficult to make it to the end.
"So we had quite some discussions about the tyre lasting another 40 laps, and I was reminded that it was only 20 laps of a normal circuit.
"I calmed down a bit but everybody knew that it's going to be a huge stretch.
"Probably 20 laps from the end he had 0% rubber left on the tyre.
"He had massive understeer in the low speeds, you could see it around Loews, the car wouldn't turn any more."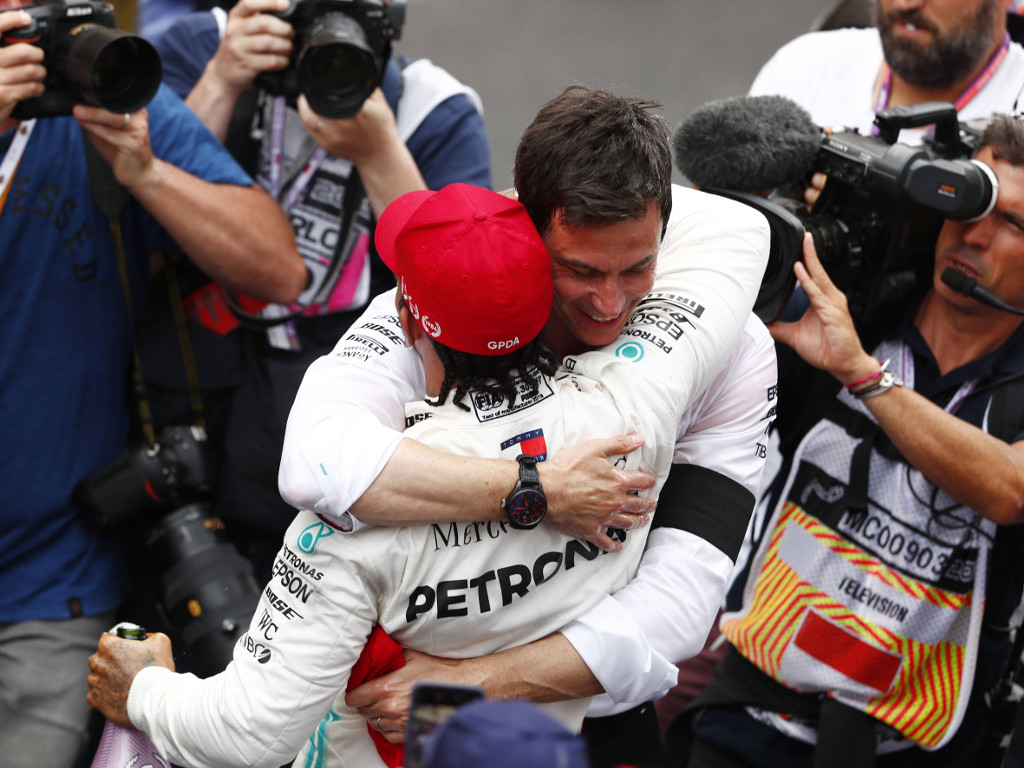 Hamilton's victory in the Principality was Mercedes' sixth successive P1 for this season.
Wolff, though, insists not only do Mercedes still have lessons to learn but they are not infallable.
"We were close to losing today," he said.
"Considering that it's a track where you can't overtake, it was still – he [Verstappen] still tried and could've made the pass.
"I think going back to normal race tracks we need to accept that we, in terms of tyre life, need to learn from Monaco and understand why that was because in this situation in Montreal you lose the race.
"I think from a mindset, we must never be carried away. We're just flying at the moment, but we were a bit lucky today to actually win that race."
Follow us on Twitter @Planet_F1 and like our Facebook page.