Lewis Hamilton challenged Valtteri Bottas off the line, setting up an emphatic fourth Spanish Grand Prix win while Ferrari shot themselves in the foot in the battle for third.
Starting 1-2 on the grid with Bottas ahead of Hamilton, the Mercedes driver lined up slightly ahead of his yellow pit lane line but not enough to warrant a penalty.
Maybe it was those extra millimetres, but it was the Brit who got the better start and took the lead off Bottas down to Turn 1.
The Finn in turn was attacked by Sebastian Vettel, who made a fantastic start but locked up through Turn 1 and went wide.
Hampered by Charles Leclerc, Vettel not only lost a position to Max Verstappen but had to contend with a flat-spotted tyre.
Huge lock-up from Vettel at Turn 1 and already complaining of a flat spot. He loses a place to Verstappen and is down in P4. #F1 pic.twitter.com/8QA55EDeU9

— Planet F1 (@Planet_F1) May 12, 2019
And that was that, at least for the top two.
Hamilton controlled the race, initially staying well enough ahead of Bottas to prevent a DRS attack before slowly but surely building up his lead. A spate of fastest laps in the opening stint saw him take a 10-second advantage over his team-mate.
Bottas was the first of the Mercedes drivers to pit, coming in on lap 27 while Hamilton pitted a lap later.
Hamilton pitted from the lead and re-emerged in the lead while their second stops played out the same way, first Bottas and then Hamilton. The latter was handed a free pit stop when the Safety Car came out on lap 46 for a collision between Lando Norris and Lance Stroll.
I think Lando was entitled to a bit more space, what do you guys think? pic.twitter.com/yT05YCMASg

— iGP Manager (@iGPManager) May 12, 2019
Once again pitting P1 to P1, Hamilton maintained his lead at the restart on lap 53 and raced his way to a fourth Spanish Grand Prix win – his third in succession.
His victory and his point for the fastest lap meant he retook the lead in the Drivers' standings, seven points ahead of Bottas, who was runner-up on Sunday.
Verstappen brought his RB15 home in third place, never involved in the Mercedes battle but always safely ahead of the Ferraris – at least until the Safety Car.
Opting for a two-stop strategy, Verstappen looked to be assured of a podium given Ferrari's issues but then found himself under attack from Vettel at the restart.
He held onto P3, his second podium of this season.
Meanwhile Vettel's flat spot led to an afternoon of team orders from Ferrari. First in Leclerc's favour, given that Vettel was lacking pace on his ruined tyres, and then in Vettel's favour as Ferrari opted to put the German onto the medium tyres in his first pit stop while Leclerc went onto the hards.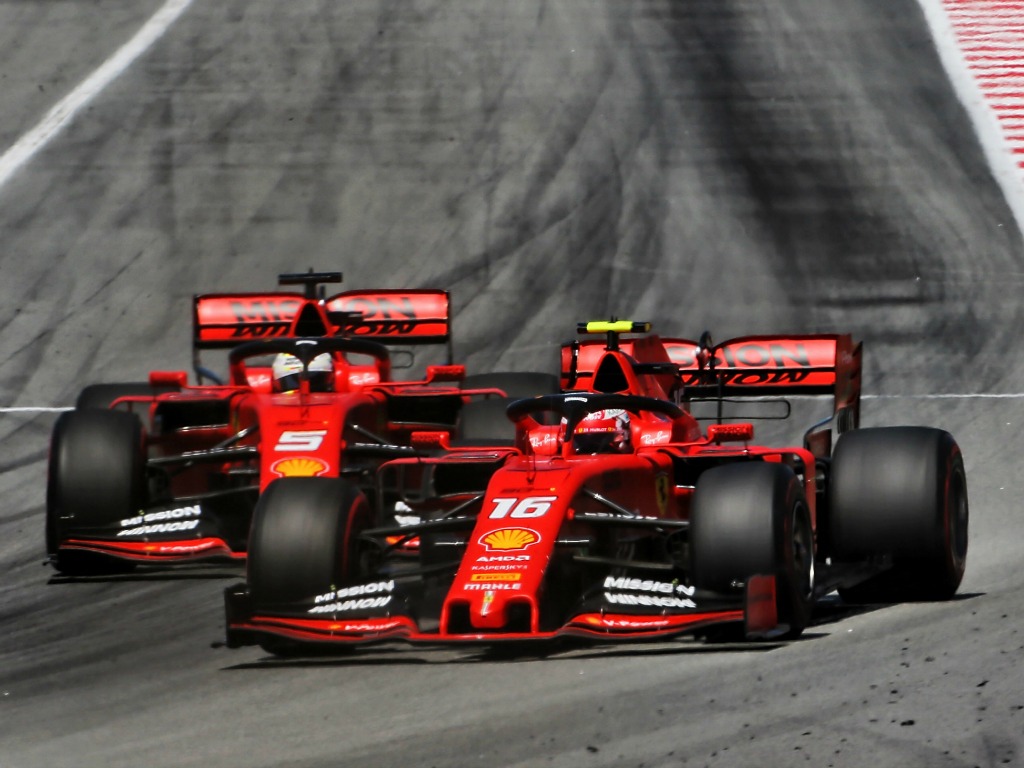 Vettel easily caught his team-mate but, as with Leclerc earlier in the race, had to wait several laps for Ferrari to issue the team order.
The tyre choice meant Vettel was always on a two-stopper while Ferrari opted to change Leclerc from a one-stop to a two given the late Safety Car. They finished P4 and 5.
Pierre Gasly was a distant sixth while Haas' tyres played ball as Kevin Magnussen finished best of the rest.
He took the chequered flag ahead of Carlos Sainz and Daniil Kvyat while Romain Grosjean offered the late race entertainment.
He thrice went off the track and had to return the long way around the bollard, first in a tussle with Magnussen and then in one with Sainz. He lost both.
LAP 57/66

More drama involving the two Haas drivers 👀

This time Grosjean is forced wide by Magnussen #F1 #SpanishGP 🇪🇸 pic.twitter.com/By45F4lPa2

— Formula 1 (@F1) May 12, 2019
Williams were last with George Russell ahead of Robert Kubica. Both drivers were a lap down.
Result
1 Lewis Hamilton Mercedes
2 Valtteri Bottas Mercedes 4.074s
3 Max Verstappen Red Bull 7.679s 2
4 Sebastian Vettel Ferrari 9.167s
5 Charles Leclerc Ferrari 13.580s
6 Pierre Gasly Red Bull 19.562s
7 Kevin Magnussen Haas 28.159s
8 Carlos Sainz McLaren 32.342s
9 Daniil Kvyat Toro Rosso 33.056s
10 Romain GrosjeanHaas 34.641s
11 Alex Albon Toro Rosso 35.445s
12 Daniel Ricciardo Renault 36.758s
13 Nico Hulkenberg Renault 39.241s
14 Kimi Raikkonen Alfa Romeo Racing 41.803s
15 Sergio Perez Racing Point 46.877s 2
16 Antonio Giovinazzi Alfa Romeo Racing 47.691s
17 George Russell Williams 1 LAP
18 Robert Kubica Williams 1 LAP
Did not finish
Lando Norris McLaren crash
Lance Stroll Racing Point crash
Follow us on Twitter @Planet_F1 and like our Facebook page.