Who played their best hand in Texas? Which drivers need improvement in Mexico? Check out the United States Grand Prix driver ratings – courtesy of Late Braking.
Kimi Raikkonen:It finally happened. Opportunity after opportunity has slipped through Kimi Raikkonen's fingers over the years but, with just a few races left of his Ferrari career, Kimi pulled it out the bag in Austin to break a record of 113 races without a win.
Before he did that, he snapped another streak of 37 races without picking up a position on the first lap of the race. An overtake on the inside of turn 1 gave him a lead which proved to be pivotal.
From there it was a defensive masterclass, which included a fine hold-up job on Lewis Hamilton and then keeping Max Verstappen at bay to claim a famous victory. 10
Read more: 12 things that happened between Raikkonen's last F1 wins
Max Verstappen: Staring ahead at 17 cars off the start gave Verstappen a daunting challenge, but he proved to be more than up to it as his alternative strategy came through.
A perfect first lap paved the way, before dumping the soft tyres early was a masterstroke in disguise. He found himself just one second from the lead towards the end, but ultimately settled for 2nd.
Regardless, a quality drive from Verstappen as he claims driver of the day and a first podium in Austin after seeing it taken away from him in 2017. That's a third podium finish in four races for the Dutchman, whose rock-solid form continues ahead of what promises to be an excellent opportunity to win in Mexico. 10
Watch: Max Verstappen raced out of his boots in Austin
Lewis Hamilton: There were many points in this race that a fifth world championship seemed probable, but ultimately pitting under the VSC didn't work out for him and the wait continues.
By Hamilton standards, it was far from his best race (3rd is his worst result since Austria) but outscoring Vettel means the title will almost definitely be decided next time out. 7.5
More: Conclusions from the United States Grand Prix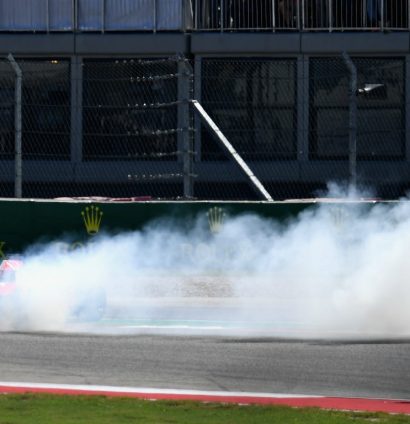 Sebastian Vettel: It is becoming a repetitive story, but once again Vettel costs himself points due to errors made over a race weekend. After suffering a three place grid penalty, Vettel must have been hoping for a seamless race but that isn't what he got.
As early as lap 1, Vettel was in a spin again as he made contact with Ricciardo. From the back he recovered to P4 but it's not enough considering the situation he is in.
In many ways this race was a reflection of his season. Quick enough, but not consistent enough. 5.5
Watch: Bad start for Hamilton, even worse for Vettel
Valtteri Bottas: Results have been hard to come by for Bottas this year. Sometimes due to bad luck, sometimes due to team orders and sometimes due to not being quick enough. The U.S. GP falls into the final category.
One of his rivals spun to the back of the field, another started P18, but they both ended up beating him on a day to forget. Whilst his fellow Finn thrived, Bottas was a non-factor and had to move over twice to let Hamilton through. Next season can't come quickly enough for him. 5
Nico Hulkenberg:After a run of just one point in his last six, Hulkenberg needed a big result in Austin as the race for P7 in the championship heats up. Fortunately for him, he got it after a faultless drive to sixth place, ending a run of four consecutive retirements in the US.
The eight points gives him a great chance of securing best of the rest and it has helped Renault extend their advantage to Haas, who had a disastrous home race. 9
Carlos Sainz: Sainz's impressive record of always scoring points at the Circuit of the Americas continued as he came home P7 behind his team-mate. Overcoming a five second time penalty for first corner antics, Sainz looked comfortable as he gained his best finish since Azerbaijan. 8
Sergio Perez:Track position is king in F1, as Perez became its latest victim. Stuck behind Ocon for the first stint, pitting later didn't help him as Magnussen was able to get ahead. The two of them stuck to within a few seconds of Ocon, but Perez was forced to settle for P10. The Mexican would get the last laugh though as they were both disqualified, handing him P8. 7
Boom, P20-P9 and 2 more points on the board! Good overtakes, tyre management, communication from the pits, strategy and pit stop. With the pace our car had in the race this was the maximum we could do. Very happy with my race. I'm fighting 👊 pic.twitter.com/sECPGtrSha

— Brendon Hartley (@BrendonHartley) October 22, 2018
Brendon Hartley:After starting last, Hartley's chances of a good race were always slim, but he put in a solid race to gain a point following Ocon's disqualification. Others around him decided to pit under the virtual safety car, but Hartley stayed out which was to his benefit. In a fight to keep his seat though, he might need better still. 7
Marcus Ericsson: Watching your teammate make Q3 whilst you suffer a Q1 elimination cannot be easy, but that's exactly what Ericsson was faced with. His poor starting position contributed to just P12 on track but two disqualifications ahead of him gave him a point by the end of the race. 6
Stoffel Vandoorne: It's been a busy week for Vandoorne. Just a few days before the race he was testing a Formula E car in Valencia, but it was back to normal in F1 as he faced a seventh consecutive Q1 elimination before going scoreless in the race yet again. It's just a case of crossing off the races now for the departing Belgian. 5.5
Pierre Gasly: Gasly can be safe in the knowledge that he won't have to be fighting this far back for too much longer. Starting on the back row limited his chances, as did picking the wrong strategy when the VSC came out early on. This all led to a frustrating P12. Don't expect this one to appear on his season's highlight reel. 5
Sergey Sirotkin: The struggles of the 2018 Williams car are well documented. It's led to a position where the drivers cannot compete with anyone other than each other, so a win in qualifying and the race over his teammate can give Sirotkin some comfort. His position in the team is still uncertain heading forward so everything counts at this point. 5.5
Lance Stroll: Q1 exit. Check. Opening lap collision. Check. Drive through penalty. Check. Last on circuit. Check. It's hard to envision how this weekend could have gone any worse for Stroll. Now it's just a case of waiting for 2019 and seeing what he can do at Force India. On this evidence, not much. 4.5
Disqualified
Pushing the whole race, getting good points, and getting disqualified in the end for a stupid reason is probably the worst feeling ever. Our mistake…
Anyway not giving up for sure!! #USGP #EO31 pic.twitter.com/u8vVd2D9sb

— Esteban Ocon (@OconEsteban) October 21, 2018
Esteban Ocon: After qualifying best of the rest, Ocon might have been slightly disappointed with P8. He would later become even more disappointed when he was disqualified for a fuel flow issue.
The most important part of Ocon's race came on the first corner as both Renaults found their way past. From there, it was just a case of keeping others behind him as he continues to push for a 2019 seat. He might have picked up 0 points instead of 4, but it was a solid performance nonetheless.  7
Kevin Magnussen: As we've seen on multiple occasions this year, starting races just outside the top 10 is far from disastrous as the free choice of tyre often works out. This happened in the case of Kevin Magnussen as he seemingly scored points in Haas' home race but, just like Ocon ahead of him, he was disqualified from the result after being 0.1kg of fuel over the limit. 8
Did not finish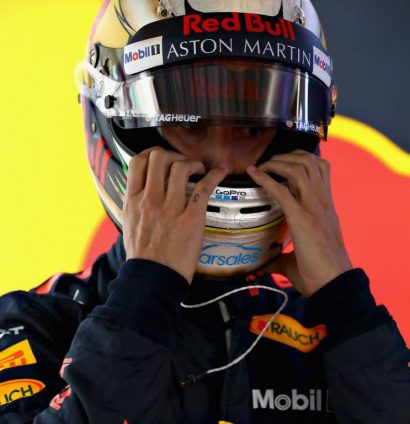 Daniel Ricciardo:Ricciardo's race was ended prematurely by an energy store shut down on lap 9 and means that he equals his previous Red Bull career record of 12 races without a podium.
After a terrible run of luck in qualifying sessions of late, Ricciardo had a good Saturday, lining his car up in 4th after Vettel's penalty. The Australian kept out of trouble, unlike his teammate, and delivered a good lap in Q3.
Verstappen showed on Sunday that the Red Bull had great pace, and there's no doubt that Ricciardo would've been in the mix at the end of the race, too. He'll be hoping for some more luck next weekend in Mexico, where the Red Bull could be strong. N/A
Fernando Alonso:Another Q1 exit summed up another wretched weekend for the Spaniard. The McLaren seemed slightly more competitive in the wet weather, and Alonso must have been hoping for some more rain throughout qualifying and the race. He has been very vocal on how Formula 1 needs to level the playing field to make the sport interesting again.
The McLaren driver was in the mix with the Haas of Kevin Magnussen at the start of the race, before he was brutally torpedoed by Williams driver, Lance Stroll, as the field flew through the esses. The damage on Alonso's car was terminal and once again it was what Alonso said off track, rather than what he did on it, that will be the most memorable contribution. N/A
Romain Grosjean: The Circuit of The Americas was the scene of Romain Grosjean's best finish in Formula 1, with a P2 result in 2013. Grosjean clearly likes the circuit, sticking his Haas into to P8 on the grid, and notching up his 11th consecutive Q3 appearance.
But, his hard-work was undone before the end of lap 1, after a clumsy collision with Charles Leclerc proved terminal. Another wasted weekend for the Haas driver who is now just two points away from a race ban. Best behaviour in Mexico please. N/A
Charles Leclerc:Future Ferrari driver caused the red flag in FP1 which led to Sebastian Vettel's grid penalty. Irony alert. But then another impressive qualifying performance saw the Monegasque driver start P9.
Leclerc got the jump on Grosjean at the beginning of the race, and was challenging Esteban Ocon into turn 12, before the Haas driver then suddenly clattered into him. The Sauber driver would later retire his car on lap 33. N/A
The United States Grand Prix driver ratings are courtesy of the good folks at Late Braking. You can check them out in the following places:
Subscribe to Late Braking on YouTube
Follow Late Braking on Twitter