10 big F1 records that could be broken in 2023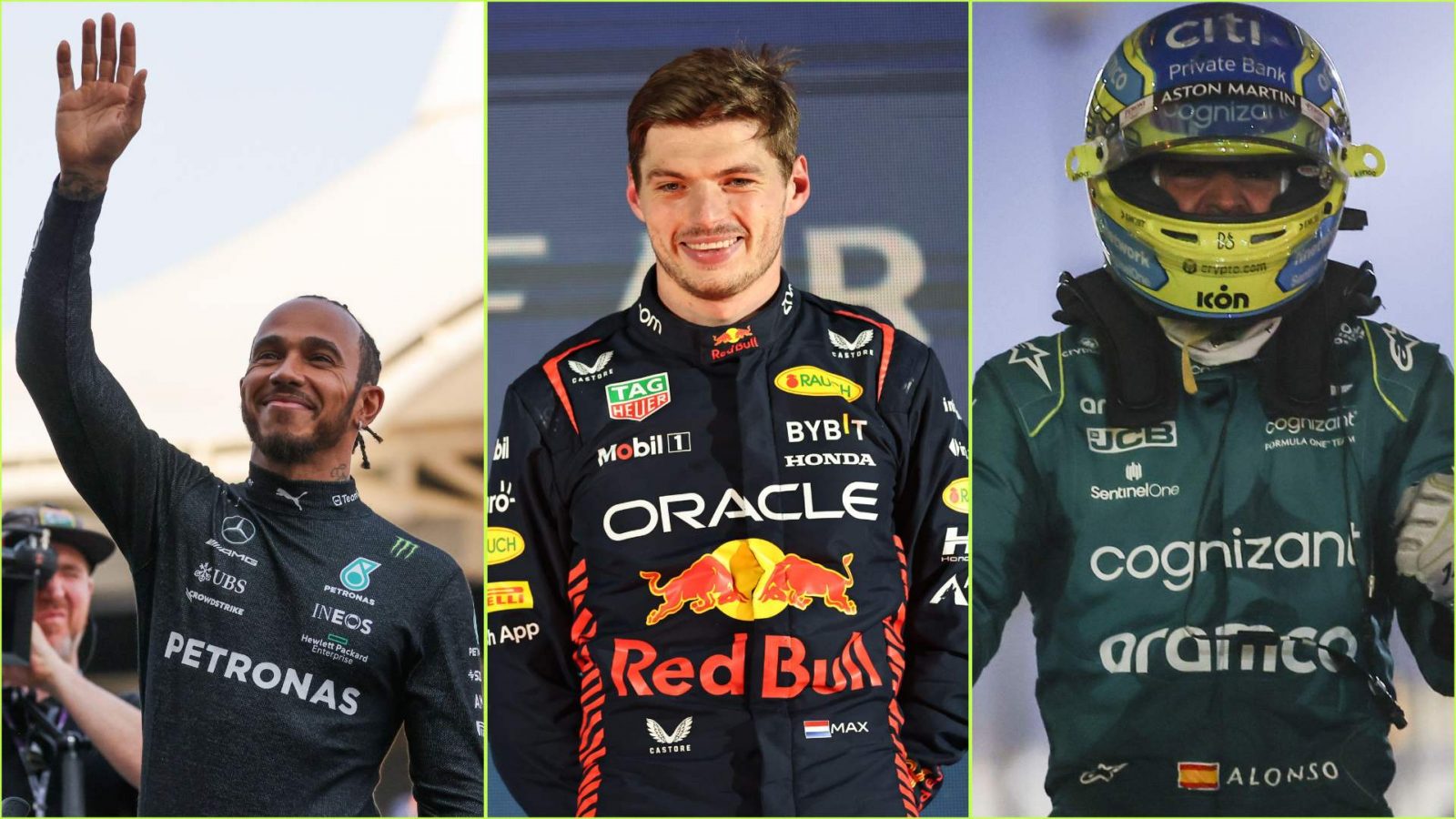 From most races without a win to the most laps raced, here are 10 Formula 1 records that could be broken in the 2023 season.
While every Formula 1 driver will no doubt say they are more concerned with winning races than they are with breaking records, we are sure that when they look back on their career, it will bring them fond memories to remember any records that they did break.
And for a sport so technical as Formula 1, there are plenty of records to go around and while some are more wanted than others, there are plenty of universally good metrics with which drivers can measure themselves against.
So with that in mind, join us as we explore 10 Formula 1 records that could be broken in 2023:
Most World Championships
We will start with an obvious one but perhaps one that for the first time since 2021 does not look like much of a possibility this year.
Lewis Hamilton moved on to seven world titles in 2020, equalling the record of Michael Schumacher, but has since gone two years without a championship which, in a sign of how dominant he has been, is the first time he has done so since 2013.
In 2022, his record of a win in every season he has competed in also came to an end and with the W14 currently looking well off the pace, it seems Hamilton does not have much of a hope of surpassing Schumacher this year.
This is through no fault of his own though as, despite being at the age of 38, his performances have not dipped in quality.
Biggest gap between wins
Another man who has plenty of years behind him without losing any of his talent is Fernando Alonso and the Spaniard could set a remarkable record for the biggest gap between Formula 1 wins.
The current holder of that record is Italian Riccardo Patrese who made 256 starts in a 16-year career from 1977 to 1993.
During that time, Patrese went six years, six months and 28 days between wins having won in South Africa for Brabham in 1983 and then for Williams in San Marino in 1990.
But Alonso could blow that record out of the water with the current time since his last win stretching to almost a decade.
The Spaniard's last victory came in Spain in 2013 but given the performance of his Aston Martin car in Bahrain, 2023 represents his best chance yet to end the drought.
Most consecutive wins
When Sebastian Vettel retired, he left Formula 1 in possession of a record that has gone unbeaten for almost a decade.
The 2013 season was the most dominant of Vettel's four title-winning campaigns and one record to come out of that was the most consecutive races won.
Having won four of the opening 10 races, the German proceeded to win all nine of the remaining grands prix to solidify not only his fourth title but also his place in the F1 history books.
But considering the form that another Red Bull driver, Max Verstappen, is in and how dominant the RB19 looks over its competitors, we could well see that record broken this year.
Following the Bahrain Grand Prix, Verstappen has two consecutive wins to his name having also been successful in the 2022 season finale, but could easily continue that form this weekend in Saudi Arabia.
Last season, he twice recorded three wins on the trot, as well as a run of five consecutive victories, proving he knows how to keep up the winning momentum.
Most consecutive podiums
If Verstappen is unsuccessful in his attempt at the last record, another possibility could be the more consecutive podiums – but to break this requires an even more heroic feat.
Between USA 2001 and Japan 2002, Michael Schumahcer put together an astonishing run of 19 races on the podium. In fact, Schumacher was in the top three for every single race of the 2002 season and his streak came to an end in the opening race of 2003 where he finished P4.
Not even during the Mercedes dominance could the figure be matched with Lewis Hamilton recording a maximum of 16 consecutive podium finishes, so it will take both skill and reliability from Verstappen and Red Bull to achieve this record.
As is the case with his current number of wins, Verstappen is on two podiums but given there are a further 22 races to go this year, he could break the record by end of the United States Grand Prix.
Most laps raced
This record should come with a small asterisk as Fernando Alonso currently possesses it, but he is in line to reach a substantial landmark.
In 2022, Alonso overtook Kimi Raikkonen to take top spot in the list of most F1 laps completed and ahead of the 2023 Saudi Arabian Grand Prix, he is on 19,210 laps completed. With 22 races left to go in the season, there are a total of 1,334 laps left to be run, meaning the Aston Martin man could afford a few retirements and still reach the 20,000 mark.
Lewis Hamilton also looks likely to overtake Raikkonen and move into second spot this year.
PlanetF1 recommends
The problems facing Ferrari and Mercedes that will be music to Red Bull's ears
Is Max Verstappen the modern day equivalent of Ayrton Senna?
F1 rumours: Laurent Mekies part of Ferrari mass exodus? Leclerc meets Ferrari president
Most one-twos in a year
As dominant as Verstappen looks at the moment, his team Red Bull are just the same. Securing a one-two in Bahrain qualifying before following it up with the same result in the race itself suggests that their cost cap penalty has so far failed to dent their title aspirations.
So in terms of what records they could break as a constructor, well the most one-twos in a single year is certainly on.
The current holders are Mercedes who, with Hamilton and Nico Rosberg in the garage, managed 12 one-twos in 2015, one more than they had done in the previous year.
You would then have to go back to 1988 and McLaren who secured 10 one-twos that season.
With more chances than ever to do that in a single year it is certainly possible, but Red Bull will need performances from Sergio Perez just as much as they will from Verstappen.
Most races for first podium
This is a record we suspect many of you will already be familiar with but given the driver it is associated with is back in the paddock this year, it seemed apt to bring it up.
While the record for the most races without a win is not Nico Hülkenberg's (yet), he does lead the way in terms of most races without a podium.
The German has completed 182 grands prix without finishing on the the podium and it would take a shock for Haas to break that this season but, should he do so, he will overtake Carlos Sainz at the top of the table, who needed 101 grands prix before making it into the top three.
Most races finished
While Alonso has started 46 more races than Hamilton, he has not enjoyed the same level of reliability as his former McLaren team-mate meaning the number of races finished is actually a lot closer.
Alonso does currently hold the record but his figure of 282 is just one more than Hamilton's, so if the Aston Martin driver was to suffer a DNF this season, Hamilton would have a chance to equal the record.
Of course, the reverse is just as true but while the Mercedes cars of 2022 and 2023 have not proven themselves quick, they have not lost any of that reliability that allowed the Silver Arrows to enjoy an unprecedented period of dominance.
Most wins at one grand prix
If winning a world title seems a bit of a stretch for Hamilton this year then perhaps becoming the driver with the most wins at one grand prix is more realistic.
Just like the number of titles, the 38-year-old shares this record with Michael Schumacher with the German having won the French Grand Prix eight times while Hamilton has won the Hungarian and the British Grand Prix the same amount.
This means that Hamilton has two chances to surpass Schumacher this year and considering the race around Silverstone is the 11th round of the championship while the Hungaroring is the 12th, that may give Mercedes time to overcome their early season pace deficit.
Most sprint wins
Considering sprint races were only introduced in 2021, this record is still very much in its infancy but as the number of sprints has been doubled to six for 2023, someone on a hot streak could set a new record for the most wins.
Such are the standings that indeed any of the 20 drivers on the 2023 grid could lead the way come the end of the season.
The current holder is Verstappen who has won a remarkable 50% of the six sprints he has competed in while Valtteri Bottas won two during his Mercedes days. The final driver to have won a sprint race is another Mercedes man, George Russell, but with six races this year, any driver on the 2023 grid has the potential to set the all-time record for most sprint victories.
Should Verstappen win all six then not only would he improve his own record, he would move his success rate up to a staggering 75%.