Road to Formula 1: 10 rising stars that you should keep an eye on in 2023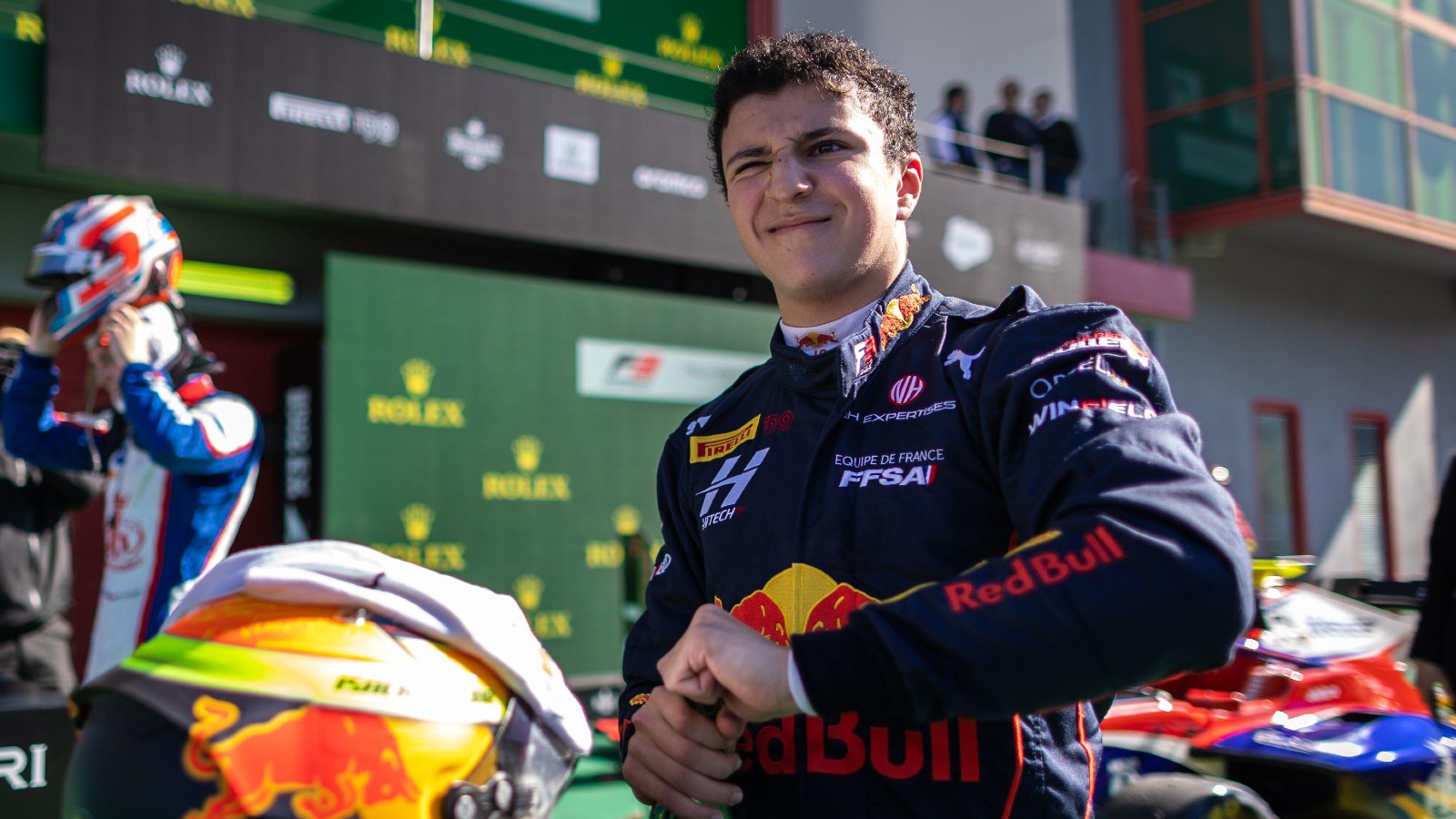 As excitement builds for F1 2023, the same is true for the series below as a stacked line-up of young talent prepares to battle it out.
For all the youngsters who start out on the daunting and very, very expensive ladder to Formula 1, only a small minority actually make it all the way to the point of calling themselves a Formula 1 driver.
As is to be expected, the quality of junior drivers ebbs and flows with time, but looking at the pool ahead of 2023 competition, it is hard to remember a time when so many star prospects are in action, all with the very real chance of emerging as a Formula 1-worthy racer.
So, if you were questioning whether or not the junior series will be worth watching in 2023, yes, they will be! And as you tune in, here are 10 talents who we recommend you keep a very watchful eye on.
Nikola Tsolov
While two-time F1 World Champion Fernando Alonso remains very much focused on racing, he has now cast a wandering eye to his future beyond competing in the series in the form of driver management.
And he has one of the brightest prospects anywhere in junior racing on his books in the form of Tsolov.
Aged only 16, the Bulgarian racer and Alpine junior will take to the Formula 3 grid in 2023 with ART Grand Prix, the team co-founded by Ferrari boss Frédéric Vasseur, and if 2022 was anything to go by, then Tsolov goes into the season as one of the title favourites.
Tsolov stormed to the 2022 Formula 4 Spanish title as a 15-year-old. 21 races made up what was his rookie season, and he won 13 of them with Campos, including a streak of eight wins in a row. He finished outside of the podium places only three times.
If he maintains form anywhere near as impressive as that, then he could be ready for Formula 1 before he is even old enough for a Super Licence!
Oliver Bearman
Only one year older than Tsolov, Ferrari-backed racer Bearman graduates to Formula 2 for 2023 after a very impressive rookie campaign in F3.
Although he did not win the title in his first year like a certain Ferrari driver called Charles Leclerc once did, his trio of P2s and four P3s, combined with a sole victory at Spa, helped him claim P3 in the final standings.
The Brit's consistent points scoring was impressive, and now he will look to continue that trend in F2 as he remains a part of the Prema line-up, where Mercedes junior Frederik Vesti will be his team-mate.
Bearman has every chance of challenging for the title in Formula 1's highest junior series, and if he does so, then his name could be in the mix for a potential F1 2024 seat.
Isack Hadjar
Another driver graduating from F3 to F2 with F1-team backing, this time from Red Bull, Hadjar comes into the 2023 season with plenty of hype.
A lot of that is being provided by the boss of Red Bull's driver programme Helmut Marko, who describes him as their "little Prost". Granted, that is more due to his resemblance to the four-time World Champion in Marko eye's, but ability wise, there is plenty to get excited about.
The teenager picked up three wins in his rookie F3 campaign, scoring five podiums across the 2022 season, while also scoring a P3 finish in the Formula Regional Asian Championship standings.
Yuki Tsunoda is heading into a pivotal third season with Red Bull's F1 sister team AlphaTauri, while Nyck de Vries needs to prove that he can turn his one-off heroics into a full season of performance, so Hadjar will look to be right there to come knocking on the door if an opportunity arises.
Zane Maloney
The competition is fierce though, and one of 2022's surprise packages Maloney will look to provide it now that he is a newly-minted member of the Red Bull Junior Team.
Competing without any F1 team affiliation, the Barbadian racer shone at Trident, finishing runner-up to eventual champion Victor Martins, only five points adrift of that top spot as he registered three wins from his final six races of the 2022 F3 campaign.
Having received his first experience of F2 at the final 2022 round in Abu Dhabi, and now backed by Red Bull, Maloney will be looking to continue this career explosion by graduating to Formula 1, with a full season in F2 likely to be his next step on that path.
Dennis Hauger
But let's not forget the Red Bull academy elders, so to speak (even only aged 19), as Hauger's switch of teams in F2 brings with it the potential of getting his career back on track.
When the Norwegian impressively claimed the 2021 F3 title, it looked like he could do a Leclerc and George Russell by following that up with the 2022 F2 crown, but that did not come to pass as Hauger struggled for consistency and despite two wins, finished P10 in the standings.
For 2023 though he moves to MP Motorsport, the team which Felipe Drugovich represented as he romped to the 2022 F2 title, so this feels like a pivotal year for Hauger if he is to convince Red Bull that he can still be the future star which it looked like they had not long ago.
Jack Doohan
After a Formula 2 campaign where the Aussie found good luck to be lacking, he returns in 2023 with Alpine sending their protégé out to win the title.
Having won three races in 2022, Doohan showed exactly what he is capable of and will fancy his chances among a very competitive 2023 grid.
While a spot at Alpine in 2024 is unlikely, that is not to say that an opening will not come up somewhere else on the grid, as Oscar Piastri found out. Then again, if the past tensions of Esteban Ocon and Pierre Gasly re-emerge, Alpine may come calling for Doohan.
Arthur Leclerc
Yes, this is Charles' younger brother. Arthur has not had the kind of rapid ascent up the junior categories that his older brother had, but he did demonstrate his ability in 2022 by winning the Formula Regional Asian Championship title, while he also claimed a win in F3.
Backed by the Ferrari Driver Academy, Arthur now graduates to Formula 2 with DAMS for 2023, and he needs to make a swift impact if he wants to be in the mix for any potential F1 openings, perhaps with one of Ferrari's customer teams, those being Alfa Romeo and Haas.
Victor Martins
The reigning Formula 3 champ and Alpine junior Martins is another driver worth paying attention to in 2023. He is expected to be found in F2, though Alpine are yet to confirm their prospect's 2023 plans.
A driver who enjoyed a stellar karting career and has been consistently strong in the junior categories, a bad season is something which Martins is yet to experience, so there is no obvious reason why that trend will change. Consistently impressive results is the perfect way to open the door to Formula 1.
Andrea Kimi Antonelli
Remember Tsolov? That Alpine youngster who we told you earlier looks pretty damn good? Well, Mercedes have a hot prospect of their own climbing the ranks.
16-year-old Antonelli dominated in his rookie Italian F4 season with 13 wins from 20 races entered, plus 14 pole positions.
He won the ADAC Formula 4 title as well with nine wins from 15 races, finishing outside of the top two on only three occasions. He also dominated the 2022 FIA Motorsport Games Formula 4 Cup, and finished on the podium in all four appearances at the first round of the F4 UAE Championship, including two wins.
The Italian racer will switch to Formula Regional competition in 2023 where he will look to continue this mighty form.
Jonny Edgar
This is a driver who has had it rough in recent times, with Edgar forced to take a break from competing after he was diagnosed with Crohn's Disease.
But the British racer fought back and retained his Red Bull Junior Team backing as he delivered much improved performances in the closing stages of the 2022 F3 season with Trident, finishing no lower than P9 in his final six races.
Remaining in F3 for 2023 with MP Motorsport, and still only 19 by the time that the season gets underway, it will be intriguing to see what Edgar is capable of now that he is seemingly in a much better place with his health.
Read next – F1 points system explained: How can drivers score points in F1 2023?