20 years of 'Virtual Statman': How Sean Kelly turned a hobby into powering Sky F1 and many more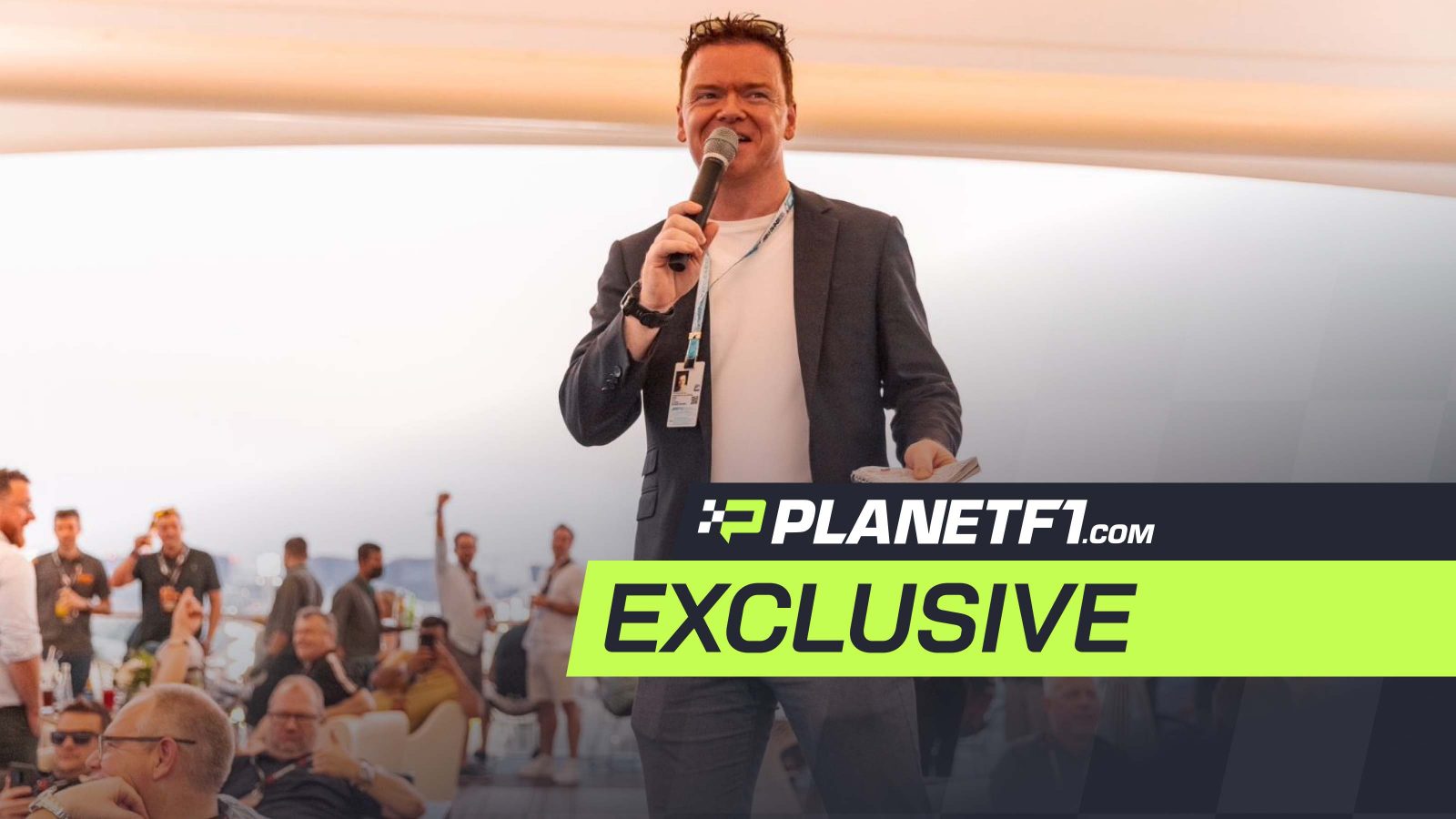 Sean Kelly, otherwise known as 'Virtual Statman', managed to turn an interest in Formula 1 statistics into a full-time career. How did he manage it?
Sean Kelly is a behind-the-scenes behemoth of Formula 1 broadcasting, having climbed from nothing but a kid with an interest in F1 into one of the most respected and sought-after services for broadcasters and agencies.
Born in England to Irish parents, Kelly has settled in the United States where he lives in San Diego, and is celebrating the 20th anniversary, to the GP weekend, of his first paid F1 gig when he sits down with PlanetF1.com for an interview during the Bahrain Grand Prix.
Kelly joins me in the hospitality tent just beside the start-finish straight during Saturday's Formula 3 action, our chat occasionally interrupted by the roar of the seemingly endless restarts from the chaos unfolding mere metres away. Kelly, as usual, is his jovial and friendly self, but is noticeably wincing in pain from a back injury – he would end up staying on in Bahrain for back surgery just days after our conversation.
He's a vociferous user of Twitter, vocal in his opinions and completely unafraid to wind up those who disagree with him – it's this strong self-belief and confidence that played a key role in how Kelly managed to carve out a unique niche in F1 broadcasting for himself. In 2023, Kelly's 'Statman' service will be used by over 20 broadcasters, including Sky Sports F1 in the United Kingdom.
Kelly's niche is that of statistics, with his knowledge served up to enable commentators like David Croft to reel off information related to what's unfolding on track in near real-time. But how did Kelly manage to re-align himself from being a knowledgeable fan to being F1's go-to guy for statistics?
Sean Kelly makes initial contact with the Speed Channel
"I was never consciously interested in statistics," Kelly responds, when I ask where his enjoyment of the numbers side of F1 began.
"But I found Formula 1 interesting. I'm not from a racing family and I only started watching F1 because my older brother was watching it. Literally, he had the TV remote control, so that's what we were watching.
"I naturally gravitated to it, there was no conscious thought involved. But I did think that everybody else was taking it in at the same rate I was.
"I thought, 'well, everybody knows that that's the Lotus Honda 99T with active suspension'. Whereas everybody else in my primary school thought 'that's the Camel car', you know, that's as much depth of thought as they put into it.
"As I became a teenager, it was still like that – I knew intricate detail, the next person didn't. I wasn't trying to learn it, it just went in.
"My mum started to push me and say I should try getting a job in F1, saying 'the people doing it now will need to retire one day, they'll need someone like you'.
"I used to scoff and say, 'Yeah, right, like anybody makes a career doing that – you must be joking!'
"At the end of 2002, I had worked at a succession of menial jobs, I thought 'well, what's the worst that can happen if we give this a try? I haven't got any money now!' I hadn't really any great prospects anywhere else, I didn't have any other talents.
"I was commuting back and forth to the US, to Arizona, because I was dating a girl in the US and I lived in the UK. I sort of needed a job that meant I wasn't in a nine-to-five.
"I was sitting there watching the 2002 Japanese Grand Prix. I thought I'd call the US broadcaster. I reckoned there was less demand there and fewer phone calls of this type. This was just before the internet revolution, no social media, still using fax machines. I didn't know how to contact them, so I contacted the local Fox affiliate in Phoenix. They gave me the Fox network number in Los Angeles, which is the national network. Then I asked to speak to the producer for F1. They said 'Oh, that's Speed Channel, I'll give you their number'.
"I called them and asked the same question, they said 'you need production in Charlotte', I called them and they said 'Certainly! Who should I say is calling?' I said 'tell them it's Sean Kelly!' F*ck knows who Sean Kelly is… it was complete bluster!
"I got the voicemail message 'Hello, this is Frank Wilson, Speed Channel, leave a message, beep'. I wasn't expecting to leave a message! But I had learned telemarketing in one of my other jobs, selling windows. Selling a product on the phone that the person isn't looking for and doesn't want. So now I was doing exactly the same thing that I'd been trained to do. The difference was the product, it wasn't windows, it was me. So I used that same training to get into F1, basically.
"I assumed I'd never hear from them again but, to my shock, about two days later, he called back. I was taken aback that I got a call back in the first place because, if I hadn't got a callback, I would have left it at that and this career would never have happened. I wasn't thinking I'll give it another go elsewhere. It was kind of like a shot in the dark. He asked what kind of thing can you do? Can you get something to me by tomorrow?'
"'Certainly!' I said, but had no idea what he wanted! The knowledge was in my head, it wasn't tabulated anywhere. For the next 18 hours, I had horror thoughts. How do I present this, organise it? What standard are they expecting? I had no concept of anything.
"What's funny is that some of the formatting I came up with on that 'Day of Reckoning' is still in the formatting that we use today, across all the networks, from that one day of brainstorming, because a lot of it actually turned out really well."
Kelly isn't quite able to remember what he put together for his initial pitch to the Speed Channel, but says he has kept his first prepared deck that Speed used for the Australian Grand Prix – and remembers exactly what the response and pay was!
"I've definitely still got the first one I prepared for broadcast," he said.
"So I sent that to them and requested they sent me what they were using already. They faxed it to me, and that's where I really started to earn my money, so to speak, because I went to work with my Sharpie, and started putting corrections, contexts, arrows – all sorts of stuff – and faxed it straight back within an hour.
"That winter of '02 into '03, I was calling Frank periodically asking him what he thought and telling him hiring me would be a really good idea!
"On February 10th 2003, we had another phone call and he said 'we can hire you but we couldn't pay very much – we're gonna pay you like $200.'
"He didn't say per what but I said 'No problem!' I'm not going to argue the toss with the guy when he's offering me an F1 job. I was basically signing on unemployed at this point. I put the phone down and thought 'Yes! I'm gonna get paid to watch an F1 race'.
"So it was $200 a race weekend, 16 race weekends that year – it was $3200. As it turned out, I was given F3000 and a few other projects that got my income up to $8000 dollars – my first year's income in F1."
I presumed that Kelly had kept up a type of day job alongside such a small wage, but he quickly corrects me on that.
"As soon as F1 came along, I ditched everything because, as far as I was concerned, this is it," he said.
"This is the chance you've been waiting for, all your life, to get out of here and go and do this thing you've always wanted to do. Don't mess it up. Don't let other stuff get in the way. It didn't matter that I was going to be poverty-stricken for the next 18 months because when will this opportunity re-emerge?
"So then there's real pressure, like, do I actually know what I'm talking about or is it all a sham and I've been deluding myself all these years? I was a nervous wreck that first race, Australia '03. When I hit submit on the email, it was Judgement Day. Frank emailed me back, and I still remember, verbatim, what he said in the email. He said 'Sean, this stuff is AWESOME!' That was a huge sigh of relief."
PlanetF1.com recommends
Damon Hill predicts Ferrari will be 'all over the back of Red Bull' in Jeddah
Villeneuve Pironi: An unrelenting tragedy through the eyes of their families
Does the F1 calendar really need a London Grand Prix anyway?
Having managed to stick his foot through an opening door, Kelly explains how the unique circumstances of 2003, a year in which Michael Schumacher had to fend off a younger generation of drivers, allowed him to showcase his knowledge in a ways the far more dull 2002 season would not.
"The second race, Malaysia '03, was quite significant," he said.
"Fernando Alonso took pole position, his first ever pole. And he was the youngest man ever to take pole position in F1 and it was a shock. All of a sudden out of nowhere, after the hegemony of Ferrari and McLaren, this Alonso kid who'd been racing for Minardi 18 months earlier suddenly was on pole. And Kimi Raikkonen won the race – it was a watershed weekend as he was the second-youngest race winner at the time.
"So, in my second race, there were several youngest records and the youngest average podium, a record that had stood since Belgium '74. We had all that in the broadcast before the chequered flag and, with a whole new load of records being set after Schumacher's dominance, it made me look better than I was at a time when I didn't really know what I was doing."
How does Sean Kelly 'see' statistics?
Given that there are plenty of fans around the world who can boast incredible levels of knowledge, it's Kelly's ability to absorb that knowledge and interpolate that into a statistical form that has made him completely unique. Put simply, he's able to look at a piece of information and 'see' the statistic that it generates.
Of course, to Kelly, it's completely normal – it's simply how his brain works.
"You know how a chess grandmaster will play like 20 games of chess at once, and they'll always know the best move," he said.
"That's how I feel like that's how I look at it with F1. Like I can look at the results and think 'oh, that's interesting'. I was thinking about it the other day when I was researching Zeltweg '64 and how Bob Anderson was on the podium in a Brabham-Climax. I knew it was Bob Anderson's only career podium, because he wasn't on the podium at any other race – that was his first and last one.
"That stuff, it happens naturally, it just happens in my head. When Alonso was on pole, I could see that it was the youngest pole ever, younger than Barrichello in '94. When Raikkonen won, I knew he was younger than Jackie Ickx – only Bruce McLaren was younger. So when I looked at the podium of Malaysia '03, I was able to work out by process of elimination that it was the youngest ever average age of a podium."
I put to him that, while it's normal to him, the majority of fans aren't able to contextualise evolving information into statistical form – at least quite as rapidly as he can. Is it a completely unique ability?
"It must be because they keep hiring me to do all this stuff!" he laughed.
"But that's what lends itself to why I work on the TV side. Because, in TV, you don't really have time to elaborate. It's gotta be bang bang bang, we're live, you don't have time to think or to put context. When you're on TV, you've got five seconds – what is it? Go!"
How the 'snowball' of momentum picked up for 2004
Having impressed Speed Channel immediately, it was clear an income of $8000 was never going to be enough to build a future with. To that end, Kelly began thinking of ways to increase the revenue he could generate.
"Through that first year, I was thinking this might be the one year I ever work in F1," he explained.
"A healthy lesson is never to assume you're part of the furniture in F1. Because there's plenty of people to do your job for you. Every piece of work has to be the highest standard you can put out, you can't just phone it in, so to speak. So all through that first year, I always thought I'm fighting for a job in 2004.
"But then came an epiphany, halfway through that first season. I thought, 'well, if Speed Channel are doing this and they need the stats, what about all the other broadcasters?'
"That was the Archimedes Eureka moment. What if I worked for all the other broadcasters too because they're not competing for the same audience? Speed won't care if I work for French TV or German TV. So, in '04, I started to offer things in syndication – I started cold calling all of these networks all around Europe. Which was quite entertaining and amusing because, at a lot of them, the receptionist wouldn't speak English."
Having holidayed in Ireland as a child, and boasting an Irish passport due to his parents, Kelly was thrilled when Ireland's state broadcaster RTE became the first network to pick up his syndication offering.
"Peter Collins, who was the commentator at RTE, quite liked what he saw and had RTE sign me up," he said.
"So the first network syndication deal was with RTE. That was proof to me that the concept worked. I could work for more than one here. So what if I keep going with that? And then it grew from there. It took a long time. For several years, I was scraping by but the snowball picked up.
"Then you come down the other side of the pyramid, it goes from trying to get in, to them trying to hire you – they're the ones emailing asking me! But that took a long time, more than a decade. In the second decade, it started to properly take off."
Separately to the statistics work, Kelly, whose extroverted bonhomie lends itself well to public speaking, has also become a regular entertainer in F1's corporate hospitality – primarily working with F1 Experiences.
The moment when Sean Kelly realised he had an F1 career
"There never comes this one particular moment, more a succession of moments," he answers, when I ask for his first 'pinch-me' moment where he realised he'd generated a career out of 'nothing'.
"The first one I had was Italy '03 because, in that race, Michael Schumacher won it as the fastest Grand Prix in history. That's a record that still stands 20 years later. The record at the time had stood from 1971 and, before the race, I calculated the exact time necessary to break the record. Schumacher comes around, crosses the line, stops the clock – it's a new record and he's beaten it by 48 seconds. 'OK, go, put it on the air!' We had it before Schumacher got back to parc ferme: you've just watched the fastest Grand Prix in the history of the world championship.
"No other broadcaster ran it, we were the only ones who had it. It wasn't until the next day that it was reported by the rest of the F1 media. So there were these harrowing 18 hours of thinking 'I've just made us all look like idiots because maybe I'm the person who's wrong'. Maybe no one's reporting it because I've done my sums wrong. I even emailed everybody in the broadcast group and said, 'Look, I'm sure this is right. I've done the calculations 10 times. I've done it forwards and backward, the same answer. But no one else has reported it. I might be wrong. I might have made us all look like idiots.' I was already thinking it's been nice knowing everybody, and I really enjoy working in F1! The next morning, everybody else runs with it. And we were a day ahead of everybody. We had it before anybody else.
"Then, at the next race, we were on site for the next race, at Indianapolis. We were dining in a very famous steakhouse in Indianapolis called St. Elmo's and Ross Brawn and Jean Todt were at the next table. That was my first race on-site ever in F1. I thought, 'two weeks ago, I wasn't sure I'm still gonna have a job. And now here I am, next to the brain power of the dominant team in F1 at the very next table!' That was the first pinch-me moment of many, but they never really stopped."
How does 'Virtual Statman' Sean Kelly deal with inevitable errors?
Given the fast-paced nature of his chosen career, and with 20 years of racing now behind him, I broach the topic of what happens when a statistic is wrong. While the ability to 'see' statistics is hugely impressive, he's surely not infallible, so is Kelly kept awake at night by moments when he makes a mistake?
"In every broadcast, there's a mistake," he admits.
"You've got to accept human error. The only way you won't make a mistake is by not doing anything, then you'll be perfect. You'll never make a mistake if you've never done anything. You've got to accept there is a risk of getting it wrong, the same for everybody – there's a risk of Max Verstappen getting it wrong! There's been plenty of mistakes that have gone on the air. Fortunately, nothing too egregious.
"It always keeps me awake at night. You always say 'Goddammit, why did we say that? That was so stupid. I should have double-checked that' and it will be something. But the thing is, it'll be something that everyone else has forgotten. You'll lay awake in a cold sweat saying 'I can't believe I said it was only six times that this happened when it was actually seven!' What I call finger trouble!"
With the chaos of the F3 race beside us finally concluded, my time with Kelly also draws to a close as he must make his way back up to the F1 Experiences hospitality for his next commitment.
But, before he goes, surely I can catch him out with something he can't possibly know off the top of his head? Thanking him for his time, I say goodbye and ask, 'who came sixth at the 1985 Spanish Grand Prix?'
"There was no Spanish Grand Prix in 1985," Kelly answers immediately. "Between '82 and '85, there was no Spanish Grand Prix!" I quickly google to check – he's correct. Goddamnit.