While the Abu Dhabi Grand Prix didn't provide the best finish to the season, there were still plenty who enjoyed happy endings.
Here's how we think every driver performed in the 2020 season finale…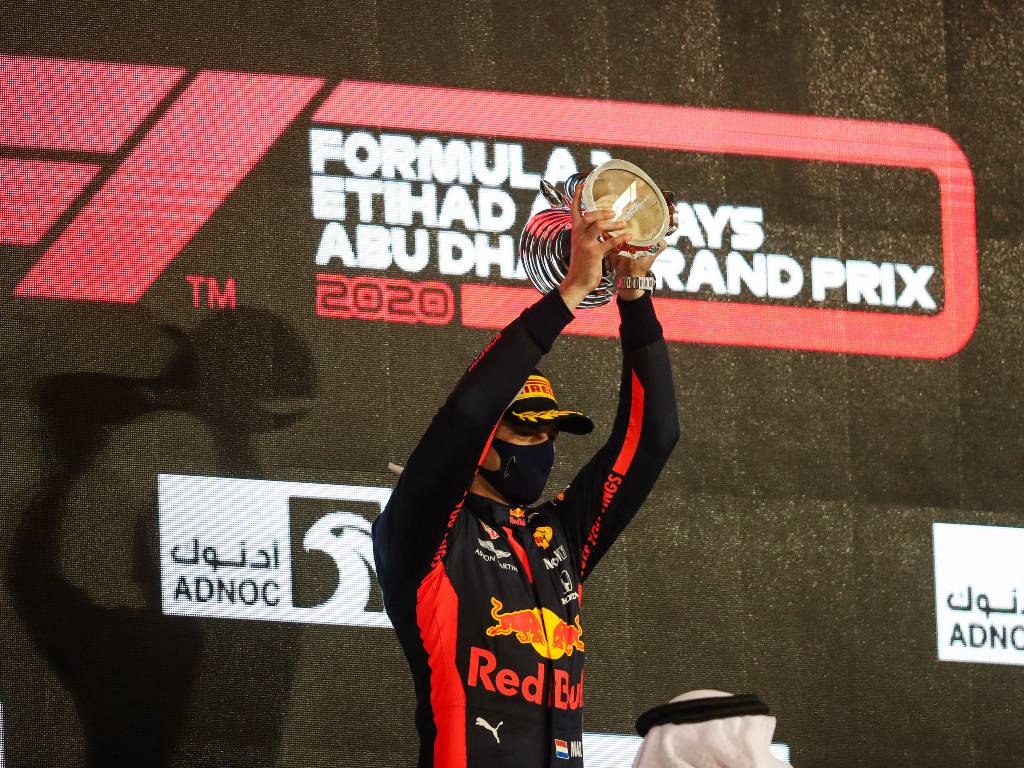 Max Verstappen: Despite arguably driving better than ever in 2020, Verstappen hasn't been able to take the fight to Mercedes. In the final race though, he showed them what a threat he can be when given capable machinery with a flawless drive.
On the back of his first pole position of the season, he nailed his start and quickly began to build a gap between himself and Valtteri Bottas. When that gap disappeared as a result of the Safety Car, he did the exact same thing again at the restart and cruised off into the distance.
He balanced pace and tyre management perfectly for the remainder of the race, managing to put a hefty margin between himself and the Finn by the time he crossed the line. Sure, he may have had a better car for once, but he also beat the other Red Bull by 20 seconds.
It may not have been as memorable or as exciting as some of the Dutchman's previous wins, but given that's only because of how dominant he was, it was as impressive as any of them. 10
Valtteri Bottas: After being bested by George Russell in Bahrain, Bottas knew that he had to do better in Abu Dhabi, and do better he did, even if he didn't have an answer to Verstappen.
Beating Hamilton in qualifying would have felt good, and staying ahead of his team-mate at the start, unlike in the last race, would have felt even better. After that, he had enough pace to remain in front of the Brit comfortably but struggled to keep up with the leader.
He could have managed his tyres better as he had the worst pace of the front four in the closing stages, and given Hamilton was far from his best having just recovered from COVID-19, he would have hoped for a bigger advantage over his team-mate.
Even so, all that matters for him is that, with their engine modes turned down, he and Hamilton were effectively in their own mini race, and it was one that he won. Now he needs to do that on a more regular basis. 7.5
Lewis Hamilton: Hamilton ended one of his most dominant seasons with one of his most lacklustre performances as he never posed a threat to his team-mate, let alone the race-winner.
It was clear in qualifying that he wasn't his usual rapid self, and became all the clearer in the race as, after almost passing Bottas at the start, he then dropped back and didn't come close to finishing any higher than P3 again.
He did at least stay ahead of Albon, and given he already had the title wrapped up and wasn't in the best shape after falling ill, he won't be too fussed or worried about having an off-day. 6
Alex Albon: Albon received lots of praise for his drive in Abu Dhabi, which perhaps says more about the low standards he has previously set this season rather than the quality of his performance in the season finale.
He was admittedly much better than he has been as he had enough pace to help Verstappen in the fight against Mercedes. In the closing stages, in particular, he was impressive as he displayed some serious pace and rapidly caught Hamilton. If he'd shown such pace earlier in the race and beaten him, I'd be more agreeing with those saying he had an excellent race.
However, the fact of the matter is that he finished 20 seconds behind a driver in the same car as him, and was also beaten by two in slower cars in that particular race. Sure, it was a step in the right direction, but not a big enough one for him to prove he deserves that Red Bull seat ahead of Sergio Perez. 6
💪🧡#AbuDhabiGP pic.twitter.com/0bTyeQQg2j

— McLaren (@McLarenF1) December 13, 2020
Lando Norris: 2020 has been a largely excellent season for Norris, and he ended it with one of his best drives yet in a race where his team needed him more than ever.
Starting in P4 thanks to a stunning qualifying lap, he was wise not to waste time defending against Albon, and instead settled into his own rhythm, one that saw him lead the midfield fight comfortably.
The timing of the Safety Car saw him lose a place to Ricciardo, but rather than taking any unnecessary risks, he waited for the Aussie to pit and again had enough pace in clean air to remain ahead of everyone other than the front four, all but securing his team P3 in the Constructors' Championship.
It was a mature and measured performance, and one that showed how much he has developed in his second season. An intra-team battle with Ricciardo next year will be a huge challenge for him, but it's one he's ready for. 9
Carlos Sainz: Sainz has enjoyed two hugely successful seasons at McLaren, and realistically, couldn't have hoped for a much better ending to his time in orange.
The Spaniard made a decent start to hold onto P6 and had little trouble staying ahead of those behind him in the opening stages. When the Safety Car did drop him back behind the Ferraris, he made easy work of passing them both.
Perhaps the only criticism of his race is that he didn't have the pace to catch and fight his team-mate, but given what was at stake, it's probably best that he didn't. 8
Daniel Ricciardo: With poor qualifying pace, it looked like Ricciardo faced an uphill battle to score points in his final race for Renault, but he produced a masterclass in tyre management to ultimately score seven.
The hopes of such a result looked bleak early on as he failed to move up from his starting position in P11. However, that all changed when he opted to stay out under the Safety Car.
That moved him up to P5, and he maintained remarkably strong pace, while also looking after his tyres, throughout his first stint to rejoin in P7 after finally pitting.
He may have been a little disappointed that, with fresher tyres, he couldn't catch the McLarens in his second stint, but finishing four places up on where he started is an excellent achievement nonetheless. 9
Pierre Gasly: Gasly has been one of the sport's most exciting and impressive drivers throughout 2020, and that was the case again in Abu Dhabi.
After losing a place at the start, he re-took P9 with an excellent move on Esteban Ocon before using DRS to pass his team-mate. Such overtakes would prove to be a recurring theme in his race.
After pitting under the Safety Car and rejoining in P11, he quickly cruised past Leclerc before barging his way past Lance Stroll with an aggressive but clean lunge. He then did the same again on Vettel two laps later.
He could have had a shot at P7 if he climbed the order quicker, but making so many overtakes on a track where it's so hard to do so, in a car far from dominant, is seriously impressive, and made a dull race that bit more entertaining. Thanks for livening thing up, Pierre. 8
Esteban Ocon: Finishing two places behind a team-mate after starting ahead of them is never good, but this was actually one of the better races of Ocon's season.
It didn't get off to a good start as, after getting off the line well, it quickly became apparent that Ricciardo was faster than him and, not for the first time this year, he was forced to let the Aussie through. After that though, things got better.
The timing of the Safety Car dropped him down to P13, but he passed Antonio Giovinazzi almost immediately. Seven laps later, he cleared Leclerc, moving him back into the points. The highlight of his race undoubtedly came on the final lap as he took P9 from Stroll with a last gasp move.
Once again, he was no match for his team-mate, but Ocon is certainly starting to show glimpses of the driver who was so highly rated back in 2018. 7.5
Getting it done on the FINAL lap of the season 🤩@OconEsteban doubled his points haul with this move on Stroll#AbuDhabiGP 🇦🇪 #F1 pic.twitter.com/Nz6Ilj45We

— Formula 1 (@F1) December 13, 2020
Lance Stroll: With Perez starting from the back of the grid and retiring soon after the start, all hopes of Racing Point securing P3 in the championship fell on Stroll's shoulders, and he failed to deliver.
Starting in P8, the Canadian made a strong start, passing Daniil Kvyat, but that was about as good as it got. After losing places under the Safety Car, he struggled to recover and, rather than pass cars, was passed himself by Gasly.
He looked set to cross the line in P9, but couldn't even hold on to that, with Ocon overtaking him on the final lap. Given the other Racing Point retired early on, it's hard to say how well he drove and how good his car was, but ultimately, he didn't do what was needed of him. 5
Daniil Kvyat: This may have well been Kvyat's last ever race in F1, with Yuki Tsunoda set to replace him for 2021, and it wasn't the way he would have wanted to bow out.
The Russian lost a place to Stroll early on and was then passed by Gasly, who was considerably quicker than him. As a result of that, he lost time in the pits behind his team-mate and therefore rejoined down in P14, with traffic ahead of him.
While he got past Giovinzzi, he ultimately got stuck in a DRS train behind Vettel and couldn't fight his way back into the top 10. Given how good he looked in qualifying, he would have been hoping for and expecting more. 6
Kimi Raikkonen: As has so often been the case this season, the bottom three teams were in a race of their own, and it was a race that Kimi won fairly comfortably.
This is partly because he didn't pit under the Safety Car, but after ending up in P12 as a result, he still had a huge amount of work to do to stay there. He rose to the challenge, maintaining consistently decent pace and defending perfectly, allowing him to finish ahead of both Ferraris as well as his usual rivals. 8
Charles Leclerc: Leclerc has often produced heroics in 2020 to finish in far higher places than he has the car for, but he couldn't do so in Abu Dhabi.
His race was largely ruined early on when, despite having softer, quicker tyres, he couldn't find a way past his team-mate when he really should have been able to. It was an uphill battle from that point onwards.
He didn't have the pace nor the tyre management to stay out under the Safety Car and make it work as Ricciardo did and never came close to the top 10. 5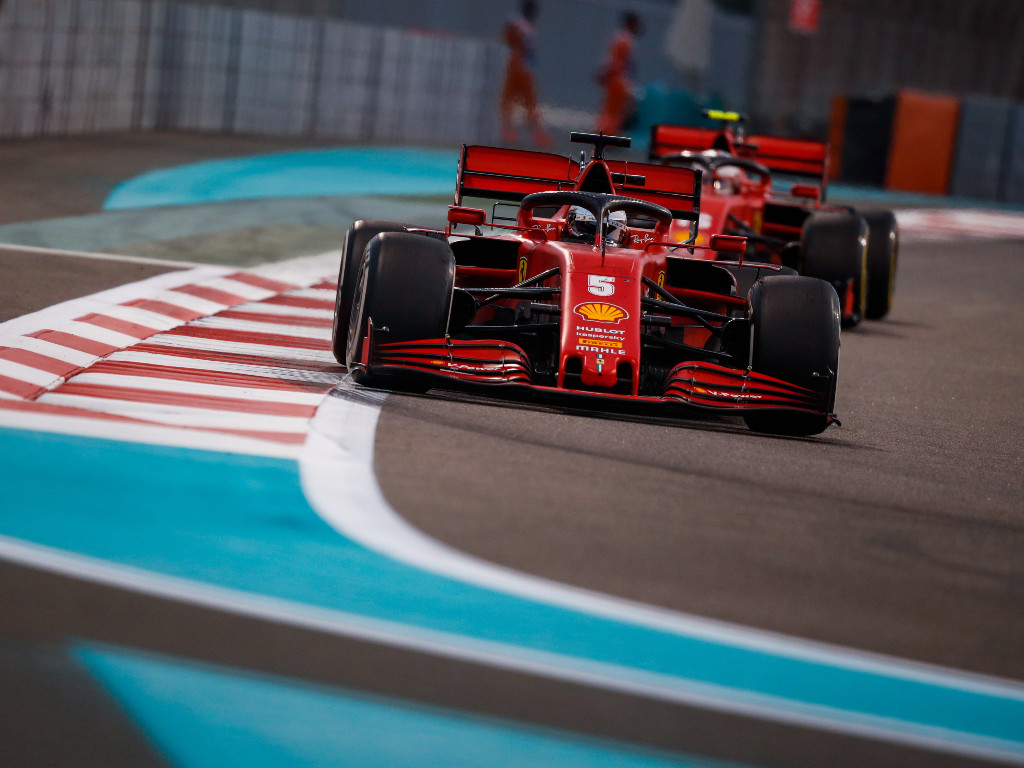 Sebastian Vettel: Few expected Vettel's final race in red to be particularly good considering the pace of the car, and there were few surprises.
He made a strong start to get ahead of Leclerc and would have no doubt enjoyed holding his team-mate off on slower tyres, even if it did hurt his team's race.
He made his first set last a good while but Ferrari kept him out for too long in the hope that he'd hold drivers up and Leclerc could catch them. This is why he finished behind his team-mate. In terms of driving alone, he was actually the better of the two.
It was a sad end to his Ferrari career, but given how the final year of it has gone, he probably won't be too gutted about leaving.  6
George Russell: After being firmly under the spotlight in Bahrain, Russell returned to the back of the grid in Abu Dhabi and was thus barely seen for the entirety of the race.
As always at Williams, he comfortably had the better of his team-mate but didn't have the car to trouble anyone else ahead of him. A harsh return to reality for him. 6
Antonio Giovinazzi: Stuck in a bad car and handed a bad strategy by his team, he did about as well as would be expected. Being so comprehensively beaten by his team-mate didn't reflect well on him, though. 5
Nicholas Latifi: After being the lead Williams man for a weekend, order was quickly restored as he was unable to match Russell on either Saturday or Sunday. It hasn't been a bad rookie year for him, but it hasn't been a great one, either. 5
Kevin Magnussen: The highlights of Magnussen's race came at the start when he made a typically quick and punchy getaway and at the end when he did some donuts.  For the rest, of it, he was stuck in a bad car at the back of the field. On the bright side, it probably makes him feel better about leaving F1.  6
Pietro Fittipaldi: In the worst car, with next to no experience in F1, he unsurprisingly finished in a distant last place. However, given said lack of experience and preparation, he does deserve some credit for making it to the finish line in both races. 6 
Did not finish
❤️#GraciasCheco#AbuDhabiGP #F1 pic.twitter.com/XOn3cQkRTI

— BWT Racing Point F1 Team (@RacingPointF1) December 13, 2020
Sergio Perez: After making a steady if somewhat unspectacular start, his final race at Racing Point was brought to an early end by an engine failure. Let's just hope it wasn't his final race in F1 altogether. N/A
Finley Crebolder 
Follow us on Twitter @Planet_F1, like our Facebook page and join us on Instagram!