The end of the 2020 season marked the probable end of five driver careers, so we've picked out the best moment from each of them.
As we wait for the sport's new faces to appear on the grid in March, now is as good as time as any to take a look back at the good times for those being replaced.
Oh, and just to clarify, yes, we know that Nico Hulkenberg *technically* lost his place on the grid at the end of 2019, but he drove in 2020 and doesn't have a seat for next season, so we're counting him as well.
Alex Albon
👀 @alex_albon takes P3 from Daniel Ricciardo

A decisive move that resulted in his first ever F1 podium! 🥉#TuscanGP 🇮🇹 #F1 pic.twitter.com/bLKciSXY6n

— Formula 1 (@F1) September 13, 2020
Of the five in this list, Albon has comfortably spent the least amount of time on the grid – just two years – so unsurprisingly has fewer highlights. That being said, there were some, and none bigger than his first podium.
Prior to the Tuscan Grand Prix, he had been cruelly denied a top-three finish twice, being taken out by Sir Lewis Hamilton both times. Another opportunity presented itself in Mugello when Max Verstappen retired at the start and, struggling at Red Bull, Albon needed to take it.
At various points throughout the race, it looked like he wouldn't as he made life harder for himself with some poor getaways. Ultimately though, he did the job thanks to some excellent overtaking late on.
First, he swooped around the outside of Sergio Perez, and he then did the same to take P3 from Daniel Ricciardo. He may have done it the hard way, but he did it in style.
Daniil Kvyat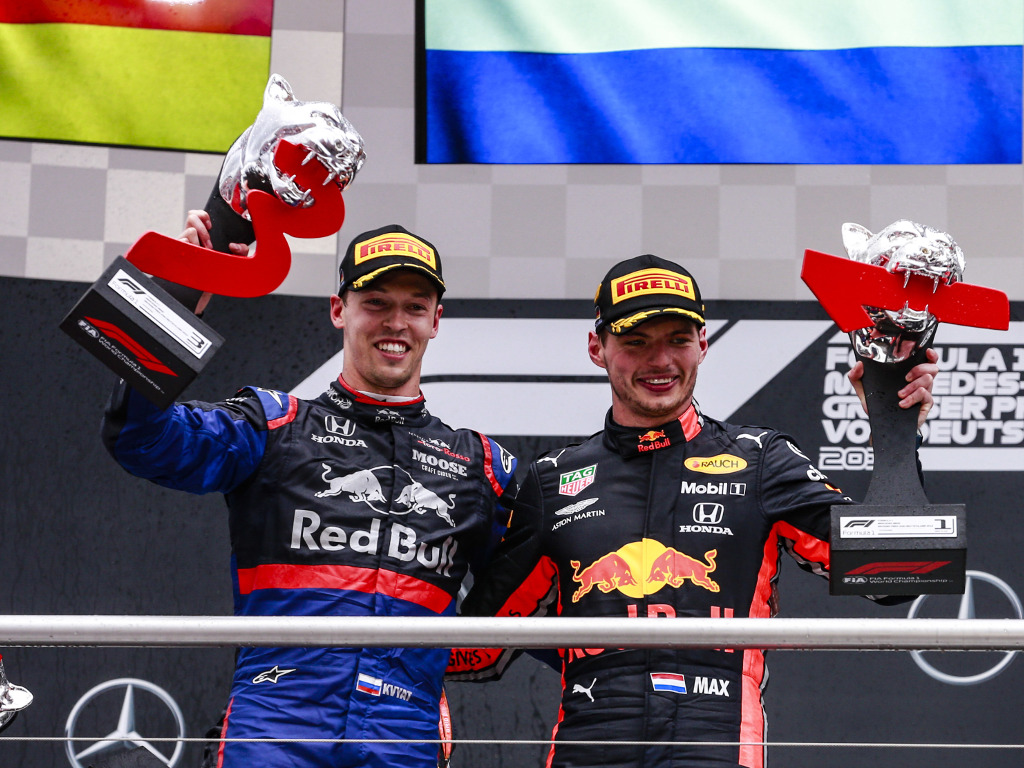 After being dumped by Red Bull in early 2016 and Toro Rosso at the end of 2017, Kvyat's F1 career had featured more disappointments than high points by 2019. However, such lows made his podium that season all the sweeter.
Starting the German Grand Prix down in P14, he wouldn't have dreamed of finishing it in P3, especially after dropping down to P19 early on. However, as chaos ensued around him in wet conditions, he didn't make any mistakes and pulled off some overtakes to steadily climb up the order.
Helped by his team getting his strategy spot on, he eventually ended up in P2 after the final Safety Car came in and passed Lance Stroll to secure their second-ever podium finish.
With his son being born a day earlier, it was undoubtedly the best weekend of the Russian's career, and probably his life. He said himself that the result was his "biggest achievement", and it's hard to disagree.
Nico Hulkenberg
🔟 years ago, a young rookie by the name of @HulkHulkenberg took a shock pole position at Interlagos… 🔥#OnThisDay #F1 pic.twitter.com/xCug7TvZqY

— Formula 1 (@F1) November 6, 2020
As you're probably well aware of by now, Hulkenberg failed to score a podium in his 182 races. However, he did claim a pole position in his rookie season, driving a Williams, so it's not all bad.
He had already impressed that year with strong results in Hungary and Monza, but he made it clear just how talented he was with his stunning qualifying performance in Brazil.
As a dry line emerged on a damp Interlagos track, various drivers switched to dry tyres, and while many struggled to stay on track, the German mastered the changing conditions to put in the perfect lap and take pole position, half a tenth quicker than the second fastest man, Sebastian Vettel, and almost two seconds up on team-mate Rubens Barrichello.
It was the first time since 2005 that Williams had taken pole, and he became, at the time, the sixth youngest driver to do in the history of the sport. Mark Webber put it best: "He made all of us look pretty average today."
Romain Grosjean
With 10 podiums and some memorable races at Haas, there were plenty of highlights to choose from for Grosjean, but, while we'd have to ask him to know for sure, we reckon his joint best-ever result at the 2013 Austin Grand Prix comes out on top.
The Frenchman was in the form of his life heading into it, with his previous four races consisting of three P3 finishes and one P4. He had become the only man on the grid capable of challenging the dominant Red Bulls, and that was the case more than ever in Austin.
He made a strong start to get ahead of Webber, and then had enough pace to not only hold off the Aussie and Lewis Hamilton but also stay within touching distance of Vettel ahead. However, while he briefly led when the German pitted, fighting him for the win was too big an ask.
He was the fastest man on track asides from Vettel though and was comfortably ahead of everyone else except Webber, who he managed to keep at bay until the end of the race to split the Red Bulls and cross the line in P2. Given he was up against a dominant team at the peak of their powers, that's no mean feat.
Kevin Magnussen
Really proud. To be on the podium made me realize how fortunate I am. Thank you to my family, my manager and all my friends back home.

— Kevin Magnussen (@KevinMagnussen) March 16, 2014
Having the first race of your F1 career also turn out to be the best isn't ideal, but that takes nothing away from the brilliance of Magnussen's debut.
He'd already impressed in his first qualifying session as he managed to take P4, and he passed Hamilton to move into the top three at the start on race day.
He didn't put a foot wrong from that moment onwards, staying close behind Daniel Ricciardo and comfortably ahead of the rest of the field. There wasn't a moment where it looked like he'd let the chance of a podium slip away.
He crossed the line in P3, just over three seconds ahead of team-mate Jenson Button, and ended up being classified P2 after Ricciardo was disqualified. As far as first races go, it doesn't get much better than that.
Finley Crebolder 
Follow us on Twitter @Planet_F1 and like our Facebook page