It may not have given us much in terms of a title fight, but the 2020 season still featured plenty of memorable moments.
From shock results to broken records, here's what we think are the top 10…
Lando's late, podium clinching, charge
FINAL LAP: Onboard with @LandoNorris as he closes the gap to Lewis Hamilton by 0.7s

Enough to secure his first ever F1 podium finish and the DHL Fastest Lap Award in Austria 🚀 🏆#AustrianGP 🇦🇹 #F1 @DHL_Motorsports pic.twitter.com/PqkKmXed5R

— Formula 1 (@F1) July 5, 2020
Lando Norris was one of Formula 1's most entertaining figures during the hiatus with his live streaming, and as soon as the sport returned, it was the same case on-track.
He impressed in qualifying for the season opener in Austria, taking P4, and made a strong start on race-day to stay ahead of everyone but the Mercedes and Red Bull drivers.
Late on, a podium became a possibility as Lewis Hamilton and Alex Albon came together, with the former getting a penalty and the latter dropping back. If Norris could get within five seconds of Hamilton, he'd take P3.
He did so in stunning fashion, setting the fastest lap of the race at the very end to secure his first-ever top-three finish and send his team wild. His late charge a week later was equally as heroic, but given this one resulted in a podium, we think it was that bit better.
The Return of the Hulk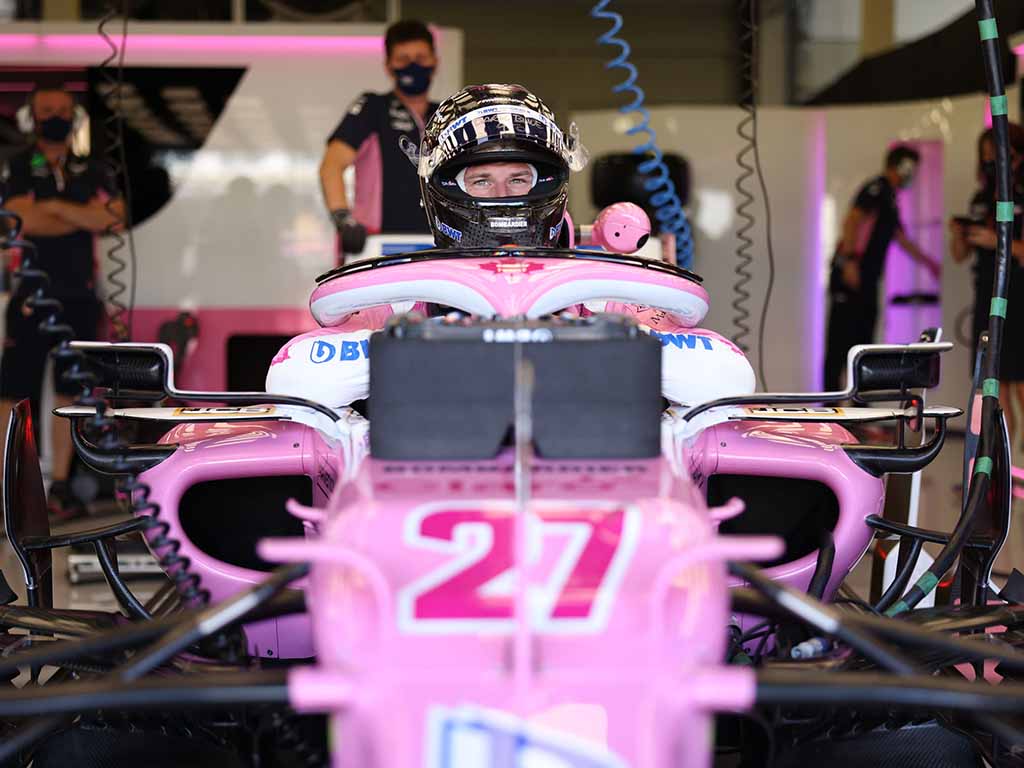 Seeing Nico Hulkenberg fail to find a seat and thus lose his place on the F1 grid for the 2020 season felt like a huge injustice. Thankfully, it didn't take long for him to return.
When rumours began to swirl that he'd be replacing Sergio Perez, who tested positive for COVID-19, for the British Grand Prix, many thought it was too good to be true, but it soon became apparent that it was *really* happening.
The highlight of his return wasn't that weekend though, but the one after when, with little preparation or experience of his car, he somehow qualified in P3 with a monster of a lap.
He sadly couldn't stay there on race-day and end his long wait for a podium but, finishing in P7, it was an immensely impressive and exciting comeback nonetheless.
Gasly conquers the madness of Monza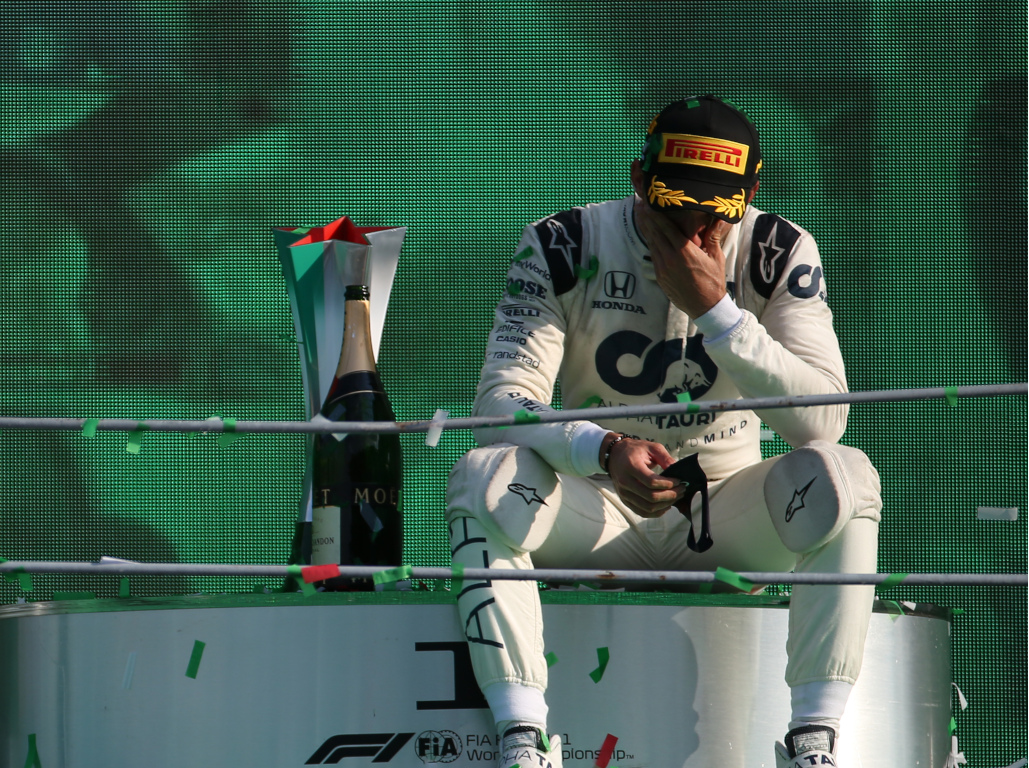 2020 threw up some thrilling races, but arguably the best of them was the Italian Grand Prix, made all the better by the fact that Pierre Gasly won it, completing a fairytale story.
Heading into the race, it had been a whopping 2730 days since a car other than a Mercedes, Ferrari or Red Bull won an F1 race. With Hamilton cruising, it initially looked hard to see that changing, but a Safety Car, a red flag and a penalty for the Brit changed everything.
In the aftermath of all the chaos, Gasly ended up leading the race with 20 laps to go. Carlos Sainz chased him down and got to within a second to set up a thrilling final few laps, but the Frenchman held on to take victory ahead of the Spaniard and Lance Stroll.
With Gasly being demoted by Red Bull and losing his close friend Anthoine Hubert in quick succession the previous year, nobody on the grid had gone through more, and nobody deserved a win more. Quite simply, he had become one of the sport's greatest stories in one of its most memorable races.
Hamilton rewrites the record books
Mick Schumacher, son of Michael, presents Lewis Hamilton with a helmet from his father to mark his 91-win record 😭 👏 pic.twitter.com/bFX76hSwoD

— SportsJOE (@SportsJOEdotie) October 11, 2020
Heading into the season, Hamilton had a number of Michael Schumacher's records in his sights, and it soon became a clear it as a matter of when rather than if he'd break them.
Of the two major ones, most wins and most titles, the former was the first that the Mercedes driver matched Schumacher on, rather poignantly taking his 91st win on the German's home turf.
A big moment in the sport's history became a touching one when, after the race, Mick Schumacher gave Hamilton one of his dad's helmets in honour of the achievement.
Hamilton was genuinely touched by the gesture, as was everyone watching. It was the perfect way to honour a historic achievement and two of F1's biggest legends.
The Return of the Shooey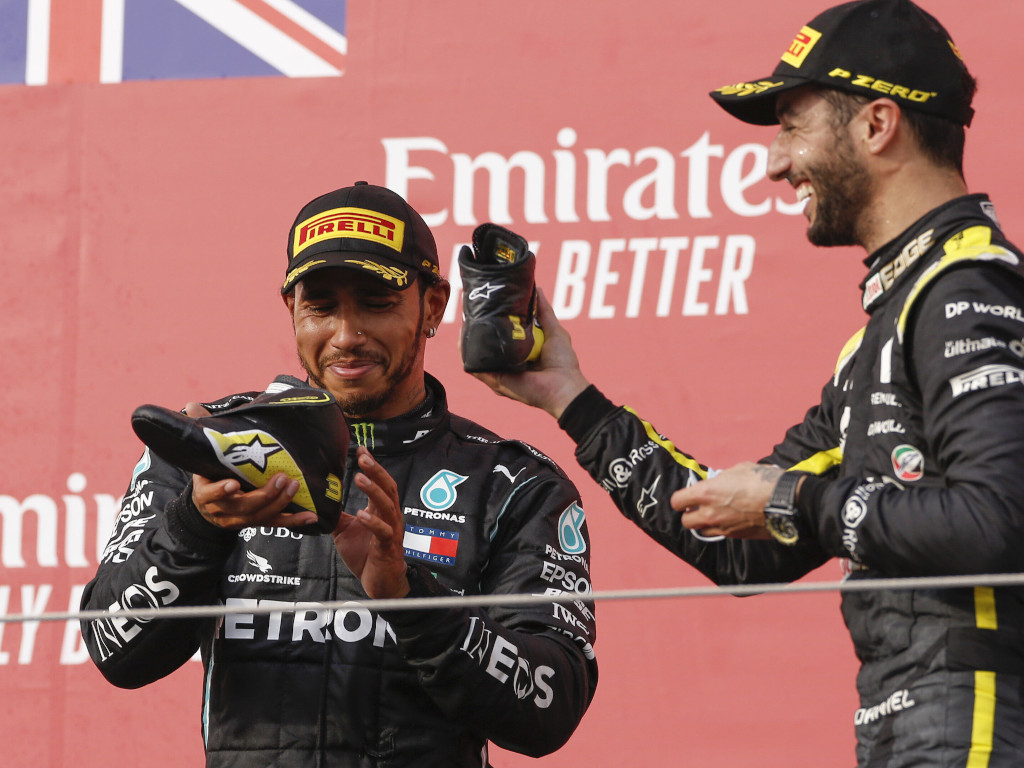 From the heart-warming to the hilarious. No, watching Hamilton and Ricciardo drink champagne out of a sweaty boot wasn't historic or particularly important at all, but it made us all as smiley as the Aussie.
After leaving Red Bull for Renault, Ricciardo went over two years without finishing in the top three, meaning the world went over two years without seeing one of the sports recent, much-loved traditions. The Shooey.
He was gutted when he realised that he'd forgot to bring it back when he ended his podium drought in Germany, but more than made up for it when he finished P3 again in Imola. Not only did he take a swig, but Hamilton, who refused to do so for years, finally joined him.
It was a light-hearted moment that, in a year with precious few of them, everybody needed. What's more, with two podiums in three races, it marked the Honey Badger's return to the pinnacle of the sport. Long may he stay there. Long live the Shooey.
Stroll on pole
Jump onboard for the lap that gave @lance_stroll and @RacingPointF1 their first pole position in Turkey 🚀#TurkishGP 🇹🇷 #F1 @pirellisport pic.twitter.com/olg9fiFxKg

— Formula 1 (@F1) November 14, 2020
Stroll had already proved to the world that he was rather handy in the wet when, in his first season on the grid, he put his Force India on the front row in Monza. However, nobody knew he was THIS good.
In a chaotic qualifying session at Istanbul Park, every driver out there was struggling with the track conditions nothing short of treacherous. By the time Q3 started though, things started to dry up ever so slightly.
After his team-mate did a strong time on inters, Stroll took the risk and put them on too. His first run was decent, but his final lap was nothing short of stunning as he went well over a second quicker than Perez and two tenths quicker than Verstappen to take his first-ever pole position.
He sadly couldn't convert it into a win, although he did lead for the first half of the race, but that takes nothing away from what was one of the best laps of the season.
Hamilton rewrites the record books… again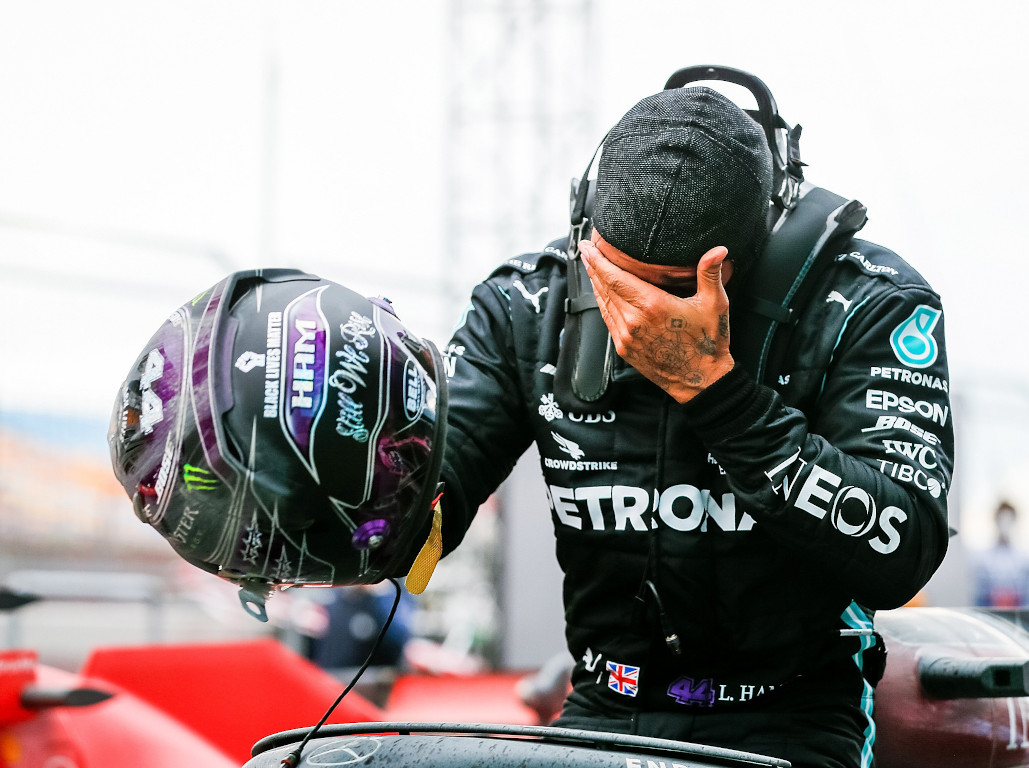 The race in Turkey was every bit as difficult as qualifying. However, while plenty failed to rise to it, Hamilton delivered a masterclass to join Schumacher on seven World Championship.
He was having a hard time himself early on as he went off on multiple occasions. However, he was one of the few drivers not to make any major mistakes in the second half of the race and, as a result, he took the lead on lap 37 as other spun all around him.
The Mercedes man was in the zone after that and stormed away from the Racing Point to cruise to victory and get his hands on title number seven, becoming the joint-most successful driver ever, statistically at least.
He didn't win it in the most dramatic or exciting fashion, but it was one of the most significant moments in the history of Formula 1 nonetheless.
Romain's reunion
I'm not crying, you are 🥺

Amazing scenes as @RGrosjean meets those who got him to safety 🙏#HaasF1 pic.twitter.com/XehGe3HGsT

— Haas F1 Team (@HaasF1Team) December 3, 2020
Formula 1 saw its most terrifying incident in a long, long time when, at the start of the Bahrain Grand Prix, Romain Grosjean went through the barriers in half a car and somehow climbed out of the inferno that followed.
The fact that he walked away largely unharmed was in part due to the bravery of Dr Ian Roberts, F1's chief medical officer, and Alan van der Merwe, the medical car driver who, along with track marshals, were the first people to arrive at the scene of the accident.
Remarkably, just a week later, he was able to return to the track and reunite with them, as well as his team. It was a lovely moment seeing him hug them and be applauded by his colleagues, and provided an ultimately happy ending to a horrifying event.
A Star is Born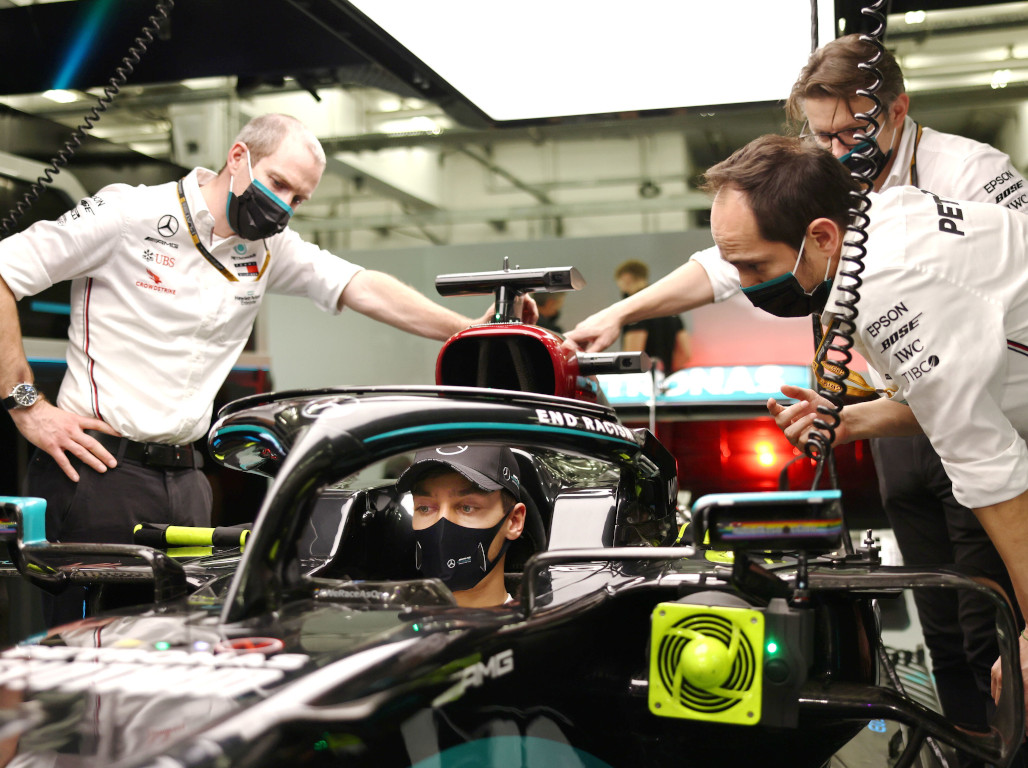 Grosjean didn't return for the second of the two races in Bahrain, and he wasn't the only driver absent as Hamilton tested positive for COVID-19. George Russell took his place and put in a performance that, in years to come, will surely be seen as the start of a generational talent's rise to the top.
After pushing Bottas extremely close in qualifying, the Brit made an excellent start to take the lead and then, even more impressively, began to storm away from Bottas. By the time they'd both pitted, he had an eight-second lead over the Finn.
Even after being forced to pit twice in two laps due to a tyre mix up, he still looked set to take a richly deserved victory after fighting his way back to P2 with some excellent overtakes. Ultimately though, it wasn't to be as a puncture cruelly ended his chance of taking a win on his debut in a top car.
Nevertheless, Russell had shown the world just what a huge talent he is with thrilling and near-flawless driving throughout the weekend, and it may well have all but earned himself a Mercedes seat for 2022 at the latest. Besides, agony for him led to ecstasy for another…
Checo becomes a race winner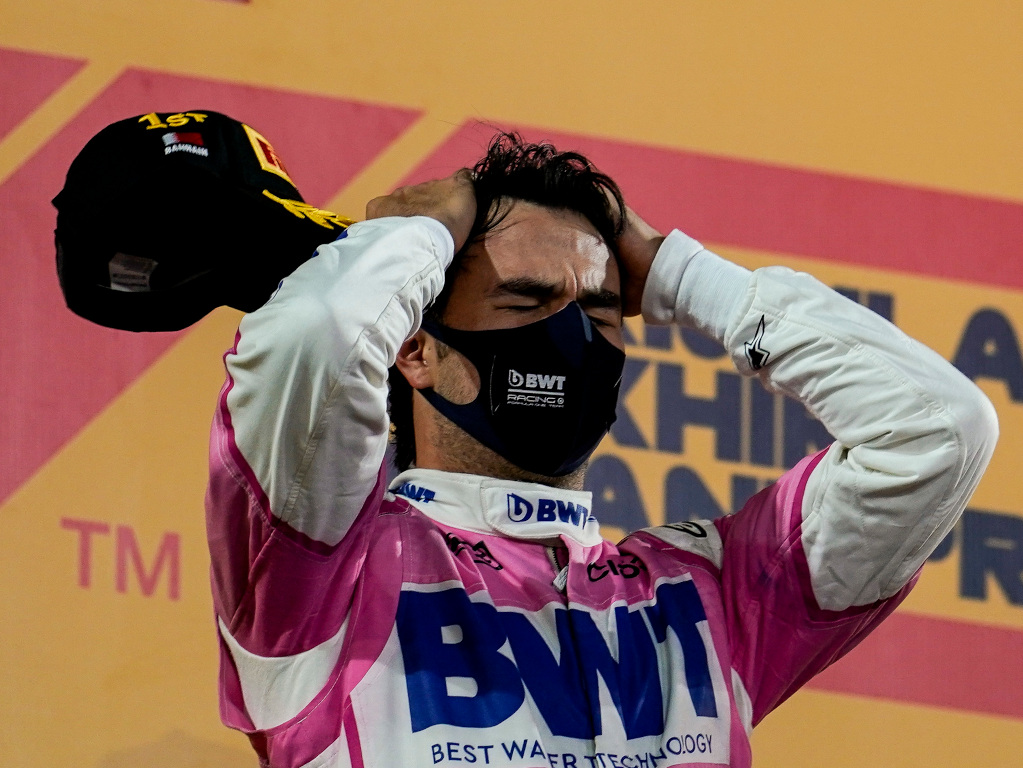 Sergio Perez is one of the most popular figures in Formula 1, and one that many feel has often been somewhat unlucky and under-appreciated, especially after he was given the boot by Racing Point. Given this, it was one of the season's most joyous occasion when he took victory for the first time in his decade-long F1 career.
Points, let alone a win, looked a distant dream at the end of lap 1 in Bahrain when, after being taken out by Charles Leclerc, he rejoined in last place. However, he quickly got his head down a down was back in the top 10 by lap 21 thanks to excellent pace and some flawless overtaking.
By Lap 57, he was up to P3, and when he decided to stay out under the VSC and chaos ensued at Mercedes, he ended up leading with just over 20 laps to go. George Russell was the only man who could catch him and he picked up a puncture in his efforts to do so. That allowed Checo to take victory comfortably.
Given that he was last after the first lap and wasn't in a dominant car, it was quite simply a remarkable achievement and long-awaited victory that he richly deserved. Has there ever been a more universally popular winner in the sport? Maybe, but we can't think of one.
Finley Crebolder 
Follow us on Twitter @Planet_F1 and like our Facebook page