How team-mates stack up with three races left
With just three races to go, some inter-team battles are already settled – but others look set to go down to the wire. 
In the world of Formula 1, there's no better measure of performance for a driver than how they compare to their team-mate.
Whether they prevail can determine how much of a success they can consider their season. Bearing that in mind, the number one priority for much of the grid in the final rounds of the 2020 campaign will be doing just that.
So let's take a look at how the all-important battles stand. Oh, and just to clarify: for the head-to-head records, we used pre-penalty qualifying results and did not include races where neither driver finished, nor the weekends in which one did not take part.
Mercedes
Qualifying: Hamilton 10-4 Bottas
Race: Hamilton 11-3 Bottas
Points: Hamilton 307-197
Before the start of the season, Valtteri Bottas said he had a "secret plan" to beat Lewis Hamilton for the first time. Either he forgot about it or it didn't work, because he hasn't done so and it hasn't really been close.
The Saturday fight between himself and Lewis Hamilton has admittedly been closer. While the Brit has qualified ahead 10 times, he has often only done so by the smallest of margins. Bottas won't be happy with his losing record in qualifying but it's progress nonetheless.
The same can't be said for race days, when Hamilton has been vastly superior to his team-mate. Bottas has beaten him just three times and in each of those races, the 35-year-old Briton picked up a penalty. When the seven-time World Champion has been at his best, Bottas simply hasn't had an answer.
This is what has led to the sizeable gap between the two in the standings and all in all, it's a gap that accurately reflects the gulf in quality between the two across the course of the season. If Bottas wants to stay at Mercedes beyond 2021, he'll have to get closer next year, and gathering some momentum at the end of this one would help that cause.
Red Bull
Qualifying: Verstappen 14-0 Albon
Race: Verstappen 10-3 Albon
Points: Verstappen 170-70 Albon
However badly Bottas stacks up to his team-mate, he can at least take some comfort in the fact that he's not doing as badly as Alex Albon, whom Max Verstappen has quite frankly wiped the floor with.
Not only has the Thai driver failed to beat the Dutchman on a Saturday, but he has also rarely been even remotely close to him, instead fighting tight battles with the upper midfield drivers.
Things haven't been much better on Sundays, either. Albon has technically beaten Verstappen three times, but that has only been because the latter failed to finish those races. When he has crossed the line, he has yet to be the second of the Red Bulls to do so.
Going up against Verstappen in a team built around him is admittedly an almighty challenge, but it's one that Albon hasn't risen to nearly enough. If he's dropped at the end of the season, that will largely be why. Luckily for him, he has three more races to prove he can do so.
Racing Point
Qualifying: Perez 8-3 Stroll
Race: Perez 7-4 Stroll
Points: Perez 100-59 Stroll
How Lance Stroll has compared to his team-mates hasn't reflected well on him since he joined the grid in 2017, and that's the same again this season with Sergio Perez the better of the two Racing Points across the board.
Qualifying, in particular, has again been a weakness for the Canadian. His stunning pole position at Istanbul Park was mightily impressive but aside from it, Perez has comfortably had the upper hand more often than not.
The same can be said for Sundays, when the Mexican has scored points in every race he's taken part in. Stroll has been strong himself, finishing in the top four three times, but hasn't had the consistency of his team-mate.
He could still even up the race-day head-to-head record if he beats Perez in the last three Grands Prix but it's a tall order, made all the taller by the fact that Checo is arguably driving better than ever and will be determined to go out on a high should this be his F1 swansong, proving a point to the people that dropped him in the process.
McLaren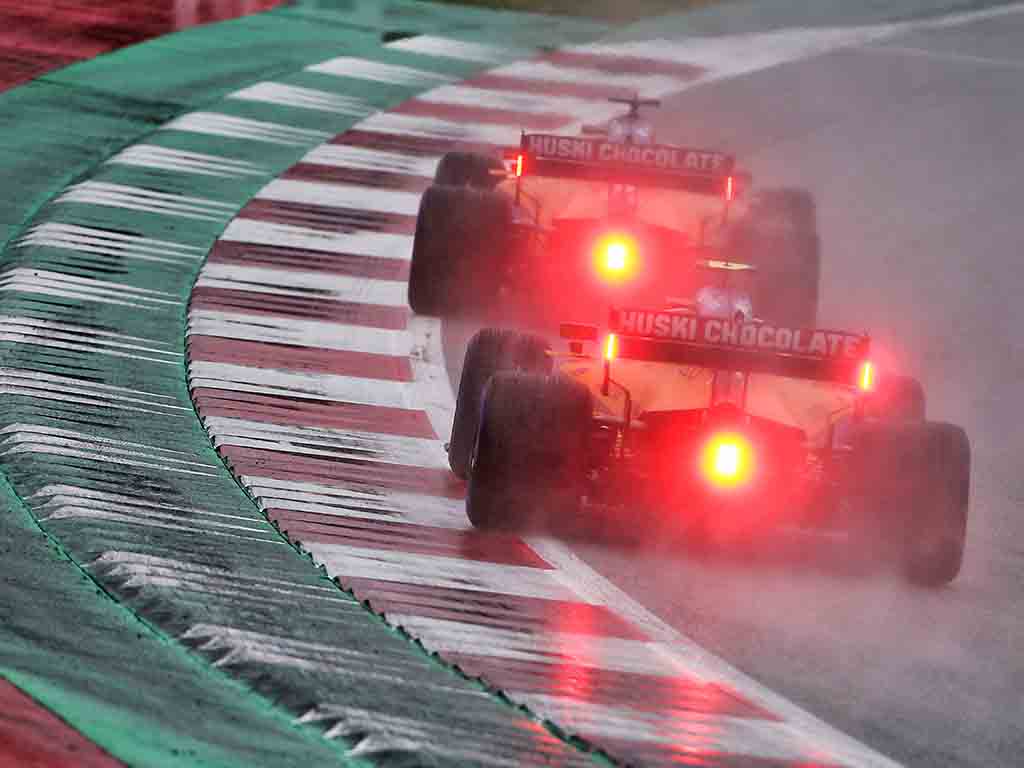 Qualifying: Sainz 7-7 Norris
Race: Sainz 7-7 Norris
Points: Sainz 75-74 Norris
It's fair to say this one is too close to call no matter how you look at it. Carlos Sainz and Lando Norris may be good pals away from the track, but don't expect too much friendliness on it in the final rounds given what a close battle this is.
There was little to choose between the McLaren pair on Saturdays in 2019, with Norris prevailing 11-10. It has been the same story this season. Not only have they beaten each other seven times apiece, but they've also made it into Q3 the same amount of times.
Sundays have also been tight, although it could be argued that Sainz has the edge there. While it's 7-7, that's somewhat unfair on the Spaniard as he wasn't able to start the Belgian Grand Prix and he's also achieved the team's best result of the year, P2.
In terms of points, Norris has led for the vast majority of the year thanks to his excellent opening races, but Sainz has closed the gap and taken the lead in recent weeks. He'll want to leave McLaren with a 100% record over his team-mate, while the Briton will want to win an inter-team battle for the first time in F1. Game on.
Renault
Qualifying: Ricciardo 13-1 Ocon
Race: Ricciardo 11-3 Ocon
Points: Ricciardo 96-40 Ocon
The man who will replace Sainz, Daniel Ricciardo, has had no such troubles getting the better of his younger team-mate. In fact, the Renault inter-team fight has been one of the most one-sided of the year.
The Aussie has always had excellent one-lap pace, as Esteban Ocon has found out all too well. The only time the Frenchman has gone quicker on a Saturday was in a wet session in Austria.
Ricciardo has also been far stronger in the races. He has finished ahead of Ocon 11 times, scored points four more times and has two podiums to his team-mate's zero.
Unsurprisingly, this has led to a rather whopping points gap between the two. Ocon won't have any hope of catching Ricciardo, but will at least want to gather some momentum and improve his reputation a bit ahead of Fernando Alonso's arrival at the team.
Ferrari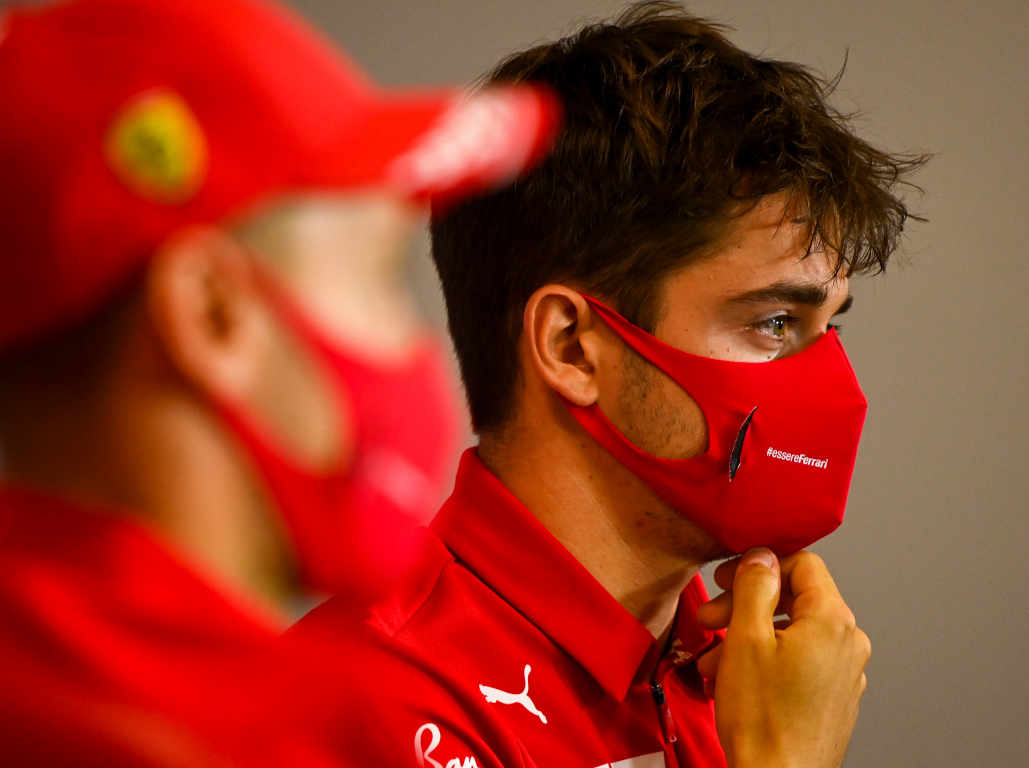 Qualifying: Leclerc 11-3 Vettel
Race: Leclerc 8-4 Vettel
Points: Leclerc 97-33 Vettel
Given the poor car Ferrari has built, Sebastian Vettel may have been able to get away with struggling so much this season if it wasn't for his team-mate doing so much better than him.
Charles Leclerc has remarkably dragged his car into Q3 on 11 occasions this year and has even managed to make it into the top five in the final session multiple times, beating those with better machinery. Vettel, meanwhile, has become all too used to dropping out in Q2 surrounded by the likes of George Russell and Daniil Kvyat.
This has meant the German has started the vast majority of races on the back foot and has rarely been able to make his way up the order given the lack of power the 2020 Ferrari has. Leclerc too has struggled to finish higher than where he starts, but being further up on the starting grid he has hardly had to worry about his team-mate.
The last race weekend in Turkey was the only one this season when Vettel was the stronger Ferrari throughout. Doing the same in at least one of the final three rounds will do him the world of good, even if it won't be enough for him to swing the head-to-head record in his favour.
AlphaTauri
Qualifying: Gasly 12-2 Kvyat
Race: Gasly 7-7 Kvyat
Points: Gasly 63-26 Kvyat
Pierre Gasly is widely considered to be one of the drivers of the season and comparing him to the other AlphaTauri of Daniil Kvyat, it's easy to see why.
In terms of raw pace, Gasly has been the quicker of the two and it hasn't been particularly close. He's made it to Q3 eight times in a car that isn't really capable of doing so, while Kvyat has done so on just one occasion.
The Russian has performed much better on Sundays, as shown by the even record, but Gasly has also been the unluckier of the two. Of the 10 races they've both finished, the Frenchman has crossed the line ahead in six of them. Even so, securing victory in the Sunday head-to-head battle is undoubtedly one of Kvyat's main goals heading to the Middle East.
The large difference in points is largely due to Gasly's win in Monza but even without it, he'd still have more to his name. Would Kvyat be keeping his seat for next year if he'd stayed closer to his team-mate across the course of the year? It certainly would have helped his cause.
Alfa Romeo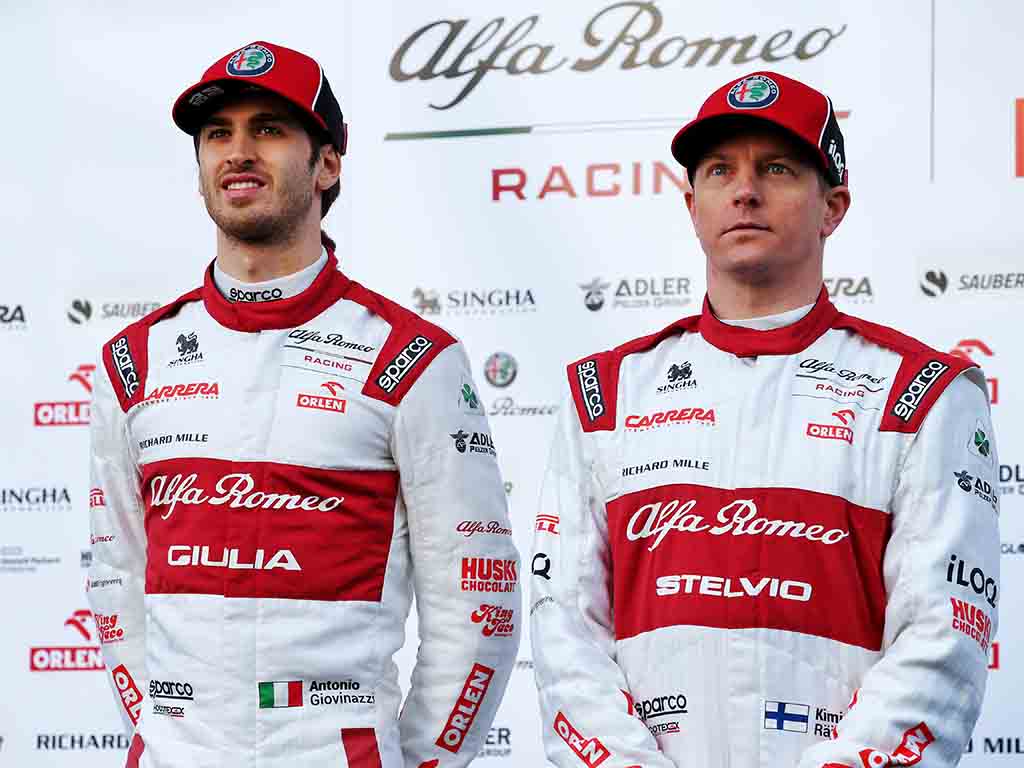 Qualifying: Raikkonen 8-6 Giovinazzi
Race: Raikkonen 10-4 Giovinazzi
Points: Raikkonen 4-4 Giovinazzi
At the start of the season it looked as if Kimi Raikkonen was past it and Antonio Giovinazzi was the new leader at Alfa Romeo, but the Finn quickly proved that isn't the case.
With both stuck in what is often the slowest car on the grid on Saturdays, there's been little between them. Raikkonen narrowly leads the head-to-head and has the momentum after prevailing in the last three qualifying sessions. Given how close it often is though, Giovinazzi will still harbour hopes of turning it around.
The same can't be said when it comes to races as Raikkonen already has that battle wrapped up. However, crucially, when an opportunity for points has presented itself, the Italian has come to life, meaning they have four points apiece. Given that's ultimately the only stat that *really matters* in the grand scheme of things, it's all to play for.
Haas
Qualifying: Grosjean 7-7 Magnussen
Race: Grosjean 7-5 Magnussen
Points: Grosjean 2-1 Magnussen
The battle between Romain Grosjean and Kevin Magnussen has been an interesting one in their four seasons together as team-mates. The former has the upper hand when the car performs well, while the latter seems to handle it better when it's not. This has been the case again in 2020 and has led to a razor-thin margin between them.
Of the two, Grosjean is stronger when it comes to raw pace, so when he stays mistake-free on Saturdays, he usually qualifies ahead. However, he also tends to be the one more prone to making errors on flying laps, which has allowed Magnussen to keep the fight even.
On Sundays too, the Frenchman has generally been quicker, and if he could stay within track limits he'd be leading the Dane 9-3. However, penalties for failing to do so have twice led to him falling behind Magnussen. Nevertheless, he'll still win this battle as long as he comes home ahead of his team-mate once more in their time together.
Given the car they're in, both deserve credit for finishing in the top 10 at all this season. Grosjean has more points due to managing a P9 finish, and considering how rare opportunities have been for them to pick any up, it will most likely stay that way.
Williams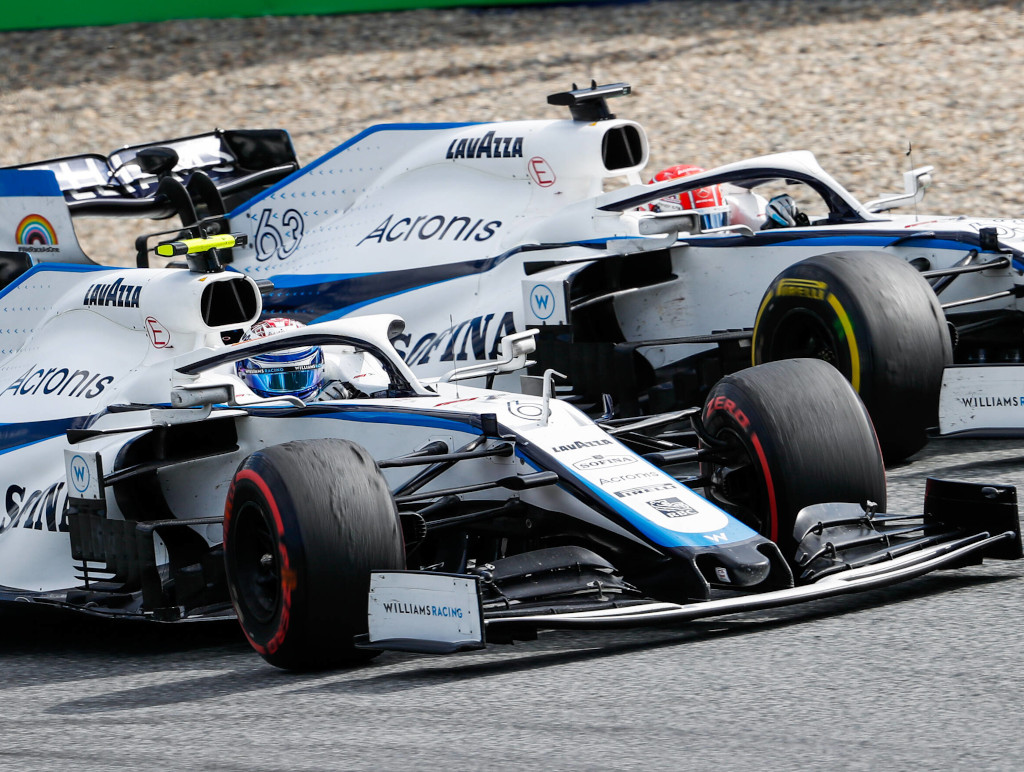 Qualifying: Russell 14-0 Latifi
Race: Russell 8-6 Latifi
Points: Russell 0-0 Latifi
George Russell was expected to comfortably overcome rookie Nicholas Latifi in their inter-team fight and has largely lived up to such expectations.
There's a reason the Brit is nicknamed Mr Saturday. He looks set to score a perfect qualifying record for the second season in a row, which is hugely impressive…it's also somewhat embarrassing for Latifi, who will be hoping to at least beat him once.
Russell hasn't, however, been Mr Sunday and has faced a much sterner test from the Canadian in races. In fact, Latifi leads him in the standings thanks to three solid P11 finishes.
If Russell doesn't finally score his first points in the final three races, he'll most likely finish behind his team-mate in the championship for the second year in a row which, given he wants to prove to Mercedes he's good enough for a seat there, isn't really good enough.
Follow us on Twitter @Planet_F1, like our Facebook page and join us on Instagram!