Driver ratings from the Abu Dhabi Grand Prix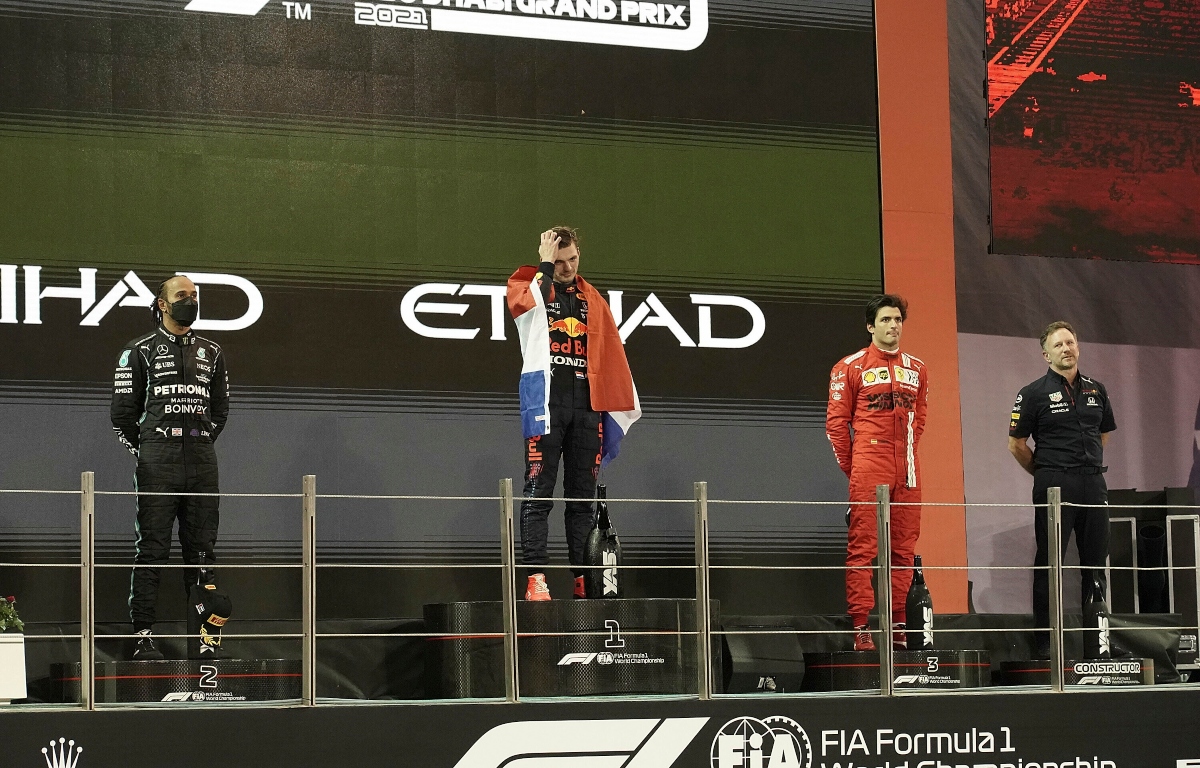 Lewis Hamilton and Max Verstappen gave the 2021 season the ending it deserved at a remarkable Abu Dhabi Grand Prix.
Here's how we think every driver performed in the season finale…
Max Verstappen: Verstappen was under absolutely enormous pressure all weekend but did not let it get to him, with the Dutchman driving as well as ever in Abu Dhabi to seal his first ever title.
He headed into qualifying on the back foot but took pole position with an absolutely stunning lap, although his day was tarnished by a Q2 lock-up that forced him to start the race on soft tyres. His  start was not a good one either for he got off the line poorly and lost the lead to Hamilton.
From that point onwards though he was flawless, getting absolutely everything out of his car lap after lap to stay within touch of his rival and way ahead of the rest of the pack. His reward for that was one chance on the final lap to claim the crown and he took it in remarkably cool fashion, pulling off the perfect pass.
Whether he should have got such a chance at all is very much debatable, but the fact he deserved the World Championship is not – for his driving in the last race and the season as a whole. 9.5
That extraordinary final lap of the 2021 title race in full 😮#AbuDhabiGP 🇦🇪 #F1 pic.twitter.com/kknTMDfpAF

— Formula 1 (@F1) December 12, 2021
Lewis Hamilton: The seven-time World Champion suffered perhaps the biggest heartbreak of his career, but there is absolutely nothing more he could have done on the day to try and take his eighth.
He perhaps could have done a little more the previous day, with his qualifying lap maybe not completely perfect, but he more than made up for that immediately on race day with an excellent start, although he was a little lucky to keep hold of the lead after going wide later in the lap and giving Verstappen a chance to overtake him, only staying ahead by cutting the corner.
That and his failure to get past Sergio Perez quickly, despite the Mexican on being much older tyres, were his only relatively bad moments on race day, with both his pace and tyre management being very impressive, particularly in his final stint.
Thanks to that, Hamilton would have become World Champion for an eighth time if not for Nicholas Latifi crashing and the FIA making a controversial, somewhat abnormal decision. While Verstappen the title, so too did the Mercedes man…if only there could be two winners. 9.5
Carlos Sainz: Yes, there were actually other drivers in this race and Sainz was the first of them to cross the line after an excellent drive to end an excellent year.
He was one of the stand-out drivers in qualifying, taking P5 ahead of Valtteri Bottas and his own team-mate, then got ahead of Lando Norris at the start of the race thanks to an excellent first few corners.
Things were relatively quiet for him after that, staying ahead of everyone except Hamilton and the Red Bulls comfortably. When the Safety Car then got rid of the gap he had built up, he stayed cool and made the perfect restart.
The result earned Sainz P5 in the standings and won him his intra-team battle with Charles Leclerc, which is a massive achievement. If he is equally comfortably in next year's car, there is no limit to what he can do. 10
Let's gooooo P4!!!!!

— 角田裕毅/Yuki Tsunoda (@yukitsunoda07) December 12, 2021
Yuki Tsunoda: It has been a difficult rookie year for Tsunoda but he ended it with a flourish, enjoying his best race weekend of the season by some distance.
For probably the first time in 2021 he was the faster of the two AlphaTauris all weekend, comfortably out-qualifying Pierre Gasly and staying ahead of him for the entirety of the race. While the Frenchman battled to get into the top 10, the 21-year-old held off Bottas and fought with Leclerc.
He ultimately finished ahead of both as well as his team-mate, keeping his cool at the final restart to secure his best result in F1. More of the same next year and we could have a very exciting driver on our hands. 10
Pierre Gasly: Often in the latter part of this season, Gasly has been excellent on Saturdays and struggled on Sundays, but it was the other way around entirely in Abu Dhabi.
He was nowhere in qualifying, failing to join Tsunoda in Q3, but excellent tyre management as well as a conveniently-timed VSC saw him climb up to P9 after going long on his first set of tyres.
The Frenchman then made the most of a fresh set of rubber to get past Fernando Alonso with a great move before issues for Norris and Perez gained him a few more places.
Luck was certainly on his side and his outright pace was not great, but it was still a good Sunday drive from one of the drivers of the season. 8
Valtteri Bottas: The same cannot be said for Bottas who, in his final round as a Mercedes driver, was unable to join his team-mate in the fight at the front at any point of the weekend.
In his defence, he had to switch to an old engine for qualifying but still should have done better than P6 given the car he had at his disposal, and the same can be said for how he performed the next day.
The Finn made a poor start, dropping down to P8, then seriously struggled to get past the midfield runners ahead of him in his first stint, failing to pull off any overtakes.
His second stint was at least better as he got past Leclerc, but it was too little too late. His main job had been to help his team-mate win the title and he failed to do so. While on the whole he has been an excellent number two to Hamilton, drives like that are largely why he has lost his seat. 4
Lando Norris: As has been the case at the vast majority of rounds this season, Norris was one of the best performers throughout the weekend in Abu Dhabi.
He was perhaps THE stand-out driver in qualifying, putting his McLaren in P3 ahead of a Red Bull and a Mercedes thanks to a brilliant final flying lap, but things did not go so well at the start of the race with Perez and Sainz getting past him.
The Briton did not do much wrong after that, staying ahead of the rest of the field despite some mechanical issues, and he would have finished P5 if not for a slow puncture in the closing stages.
His start was poor and he perhaps could have managed his tyres better, but all in all it was another strong weekend for the McLaren man. 8
Fernando Alonso: Alonso ended what has been an excellent first season back in F1 for him with a somewhat mixed final race weekend.
He struggled with pace on all three days, failing to make it into Q3 and being out-qualified by his team-mate on Saturday and looking set to finish well outside the points early in the race.
His ability to make his tyres last earned him a stroke of fortune though in the form of a VSC and he battled hard to stay in the top 10 after that, holding off Esteban Ocon and Leclerc.
It was not his best weekend by any means, but even when he is not at his best he still ain't half bad. 7
Esteban Ocon: Not for the first time this year, Ocon looked to be the stronger Alpine driver for much of the weekend in Abu Dhabi and maybe deserved to finish ahead of his team-mate.
He did so in qualifying with some impressive laps and made a solid start to the race, staying in P9 where he looked set to finish until the VSC lost him a place to Alonso.
After that, he did well to stay in P10 under pressure from drivers behind him who were in faster cars. All in all, a good end to a very good season. 8
Charles Leclerc: It was not such a happy ending to 2021 for the Ferrari of Leclerc, who was very much second best to his team-mate throughout the season finale.
He qualified two places behind Sainz and like the Spaniard gained a place at the start, passing Bottas. He could not challenge the other Ferrari though, instead battling Tsunoda after making a mistake.
The Monegasque would have most likely prevailed in that battle and scored some good points at least, but he lost a number of places when he pitted under the VSC and was unable to pass the Alpines and get back into the top 10.
On the whole, while he had some bad luck, it was not the best weekend from him before that either. 6
Sebastian Vettel #AbuDhabiGP pic.twitter.com/aXULXY9BGR

— Bruno HQ (@iPicsHQ) December 12, 2021
Sebastian Vettel: In a car that was the slowest in the midfield all weekend, Vettel could never get himself into the mix for a top-10 finish but was at least the better Aston Martin.
That was not the case in qualifying, with the German only able to go P15, two places behind Lance Stroll, but he got ahead of the Canadian on race day with an excellent dive down the inside.
He then stayed ahead for the rest of the race but did not have the pace to really challenge anyone else. In terms of driving alone though it was a decent day, and he secured some silverware for his overtakes this year. 7
Daniel Ricciardo: Unfortunately for him, it was yet another weekend to forget for the Honey Badger as he was a long way off his team-mate throughout it.
The Australian only just made it into Q3 and then could not go faster than anyone else in it whereas Norris took P3, and he had similar race pace, never able to get ahead of a few drivers in slower cars than his.
Simply put, it was not a good weekend, with the only consolation being he did not make any big mistakes. 5
Lance Stroll: Like Vettel, Stroll's hands were tied by the machinery he was in, only able to run ahead of backmarkers throughout the weekend because of it.
His German colleague was his closest competitor and Stroll came off second best in their battle, being passed early by him and unable to get back ahead afterwards. There is not really much else to say about his finale. 6
Mick Schumacher: On a weekend when his father was probably mentioned more than him, Schumacher did a perfectly good job, out-qualifying his team-mate before making it to the finish line unscathed as the lone Haas on race day. Hopefully, next year we can see what he can do in a better car. 7
Did not finish:
Max Verstappen 🗣️ "Checo is a legend."

Sergio Perez does a great job to hold off Lewis Hamilton and narrow the gap for his Red Bull team-mate…

📺 Sky Sports F1
📲 https://t.co/TJHGarBsm4
#️⃣ #SkyF1 | #F1 | #AbuDhabiGP pic.twitter.com/u9f7ps4osb

— Sky Sports F1 (@SkySportsF1) December 12, 2021
Sergio Perez: Like Bottas, Perez's main job in Abu Dhabi was to help his team-mate and he performed that role much better than the Finn, being the perfect wingman.
Qualifying was decent but not great, with the Mexican starting on the second row ahead of Bottas but behind Norris, although he quickly made up for that by passing the McLaren at the start of the race.
After that, he made his soft tyres last a remarkably long time – far longer than anyone else – so he could slow down Hamilton, and the way in which he did so was even more remarkable as he went wheel to wheel with the Briton for two laps, allowing Verstappen to gain eight seconds. Once that job was done he was finally pitted and looked set to take P3 before a mechanical issue ended his race.
While his outright pace could have been better, it was still an excellent effort from Checo and one that helped his team-mate and team hugely. 9
Nicholas Latifi: Latifi had a good Saturday, out-qualifying George Russell, and a pretty bad Sunday, being the one to crash and cause the late carnage. On the bright side, he was running ahead of his team-mate before the Briton retired, and probably got a fair few Heinekens from Red Bull on Sunday night. 6
Antonio Giovinazzi: Giovinazzi also had the edge over his team-mate in his last F1 race for Alfa Romeo, being the faster of the two all weekend before a hydraulics issue ended it. He can be proud of how he has ended the season. 7
George Russell: Russell's impressive spell with Williams did not have an impressive ending for he struggled with pace all weekend before his gearbox gave up on him. Given he is off to Mercedes now though, he will not be too down. 5
Kimi Raikkonen: Neither will Kimi, who did not have the dream final weekend, struggling in qualifying and retiring from the race with a brakes issue after hitting the wall. He probably will not care though, and it of course takes nothing away from his wonderful career. We will miss him. 5