Conclusions from the 'Belgian Grand Prix'
Max Verstappen was declared the winner on a Spa afternoon most F1 fans would want to forget, and yet probably never will.
Here are our conclusions from a soggy 'Belgian Grand Prix' that had a podium ceremony but not a single racing lap.
The grand prix that wasn't
Opinions split after farcical Belgian GP - PF1
Lewis Hamilton feels fans are due a refund after the Belgian GP was rained off.
Obviously we are not going to draw any conclusions from a grand total of four laps driven behind the Safety Car.
But there was plenty else to get stuck into from a weekend that had been so eagerly awaited after the summer break, yet which left all observers coming away with an empty feeling.
Spa is a fantastic circuit and having its own micro-climate, with rain never a surprise, only increases its appeal.
Talk about having too much of a good thing, though.
Formula 1 never seems to have just the right amount of rain these days. You either get a quick pre-race shower which rapidly dries up, or a deluge that wreaks havoc like it did this weekend.
Some of us are old enough to remember grands prix throughout past decades when it rained steadily throughout, but it appears such a scenario will not be tolerated by the FIA these days.
"Safety is paramount," said race director Michael Masi when he had emerged from his office to explain his decisions to the media.
He is absolutely 100% right, of course, and very few people would argue with his decision not to start this race, on this circuit, in earnest, especially after the frightening crash Lando Norris had suffered in qualifying at Eau Rouge the previous day.
But was it right to rubber-stamp a result, essentially based on qualifying positions, that could have implications for the World Championship at the end of the season?
Several drivers thought not, even some who benefited from it, and in the end it appeared the final, abortive attempt to get the race going was no more than a desperate measure to appease the drenched fans – with the "weather window" Masi referred to barely seeming ajar at any point.
It was clear for a good hour or two before the race was finally called off that conditions were unlikely to improve and plenty of hanging around – with Daniel Ricciardo even trying to start a Mexican wave in the grandstand – could have been averted by an earlier decision.
Then there was the farce of the three-hour race clock being stopped two hours in as the stewards applied a force majeure ruling to do so.
Nothing could have smacked of "making it up as they go along" more than that.
There was more nonsense afterwards regarding the classification and which lap it was based on, requiring an explanation of how it all worked.
It's things like that, and such days in general, when Formula 1 does itself no favours by tying itself up in knots, with recourse to lengthy sets of regulations to work out what the heck happens next when something unusual occurs.
Even the teams don't seem to know half of the time.
There was no chequered flag, but there was a winner, a podium ceremony and (half) points awarded.
Just not an actual race…and like the rules themselves which created the ensuing scenario, that is difficult to get your head around.
Red Bull merchandise is available to purchase now via the official Formula 1 store
Did McLaren let Lando down?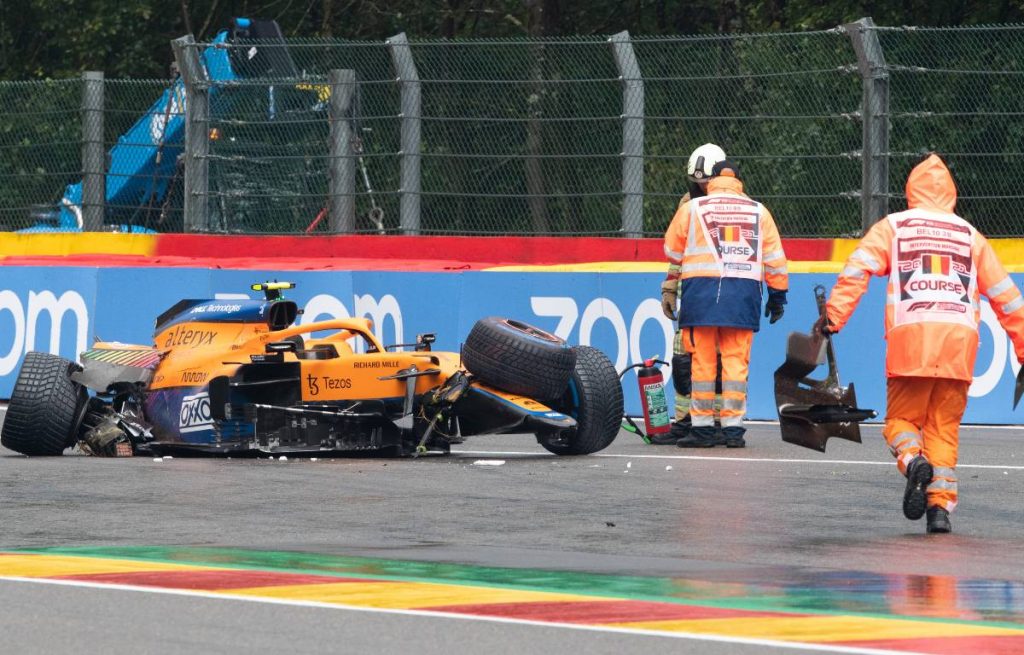 Going back to Norris' crash, at the time when he reported aquaplaning on his 'out' lap at the start of Q3, could McLaren not have called him back into the pits?
It was clearly dangerously slippery at that point and Sebastian Vettel, running a little way behind, had already called for the session to be red-flagged.
Norris was of the same opinion and yet clearly felt obliged to continue and go for a shot at pole position, having been fastest in both Q1 and Q2.
There was time between the Briton's radio message and starting his flying lap for the team to bring him back in, and staying out could have had much nastier consequences had the accident unfolded differently.
Fortunately, for everyone's sake, it didn't.
It may be a harsh judgement and we're happy to be corrected, but a simple "okay, Lando, box, box" would have seemed a sensible call.
Williams worthy of front-row seat
That concludes a dramatic day 😮‍💨

Time to go and dry out a bit 😅 pic.twitter.com/TidrDLmMVN

— Williams Racing (@WilliamsRacing) August 29, 2021
Williams played things smart in qualifying – and what a boost for them when, after Sergio Perez crashed on the way to the grid, they were the only team due to start the race with two cars in top-10 berths.
And it ended up being like the 'buses' scenario – after going three years without a double points finish, now two have come along one after another.
Remarkably, Williams are up to 20 points and that should be more than enough to secure P8 in the Constructors' Championship, barring a strange sequence of events.
But let's be honest, in this remarkable season, anything is possible. Perhaps Antonio Giovinazzi will win the Dutch Grand Prix for Alfa Romeo!
Nicholas Latifi is clearly improving along with the car, but this latest points haul was mostly down to George Russell and his brilliant qualifying display in the wet that secured P2.
He and Williams got everything right on Saturday afternoon and we are now at a point where if Valtteri Bottas finds himself still at Mercedes next season instead of the fast-progressing Briton, it would be a genuine shock.
Better 'Checo' the small print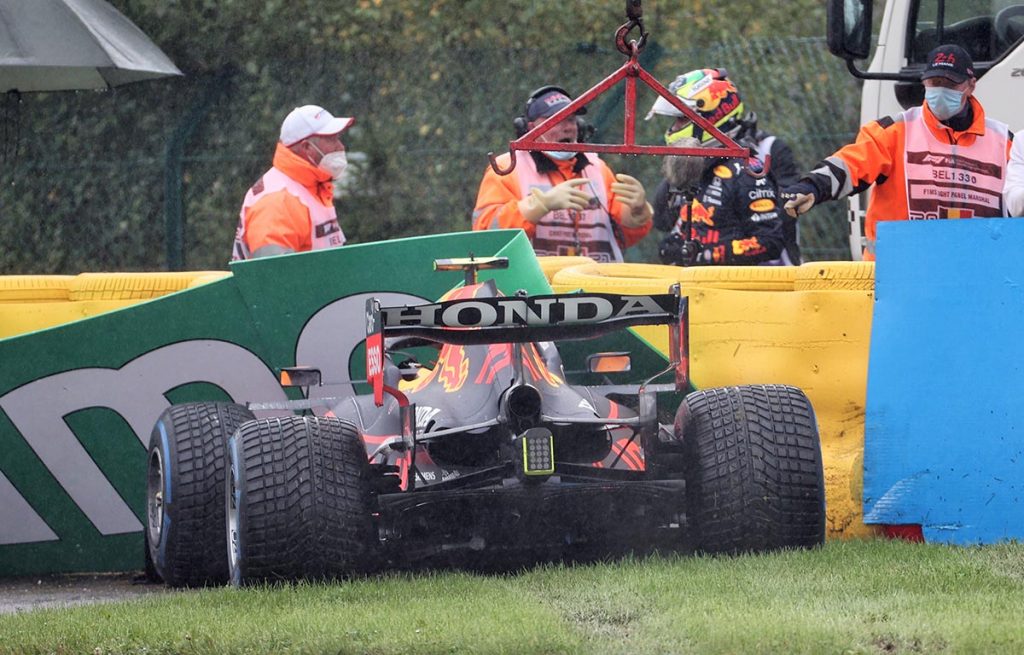 Talking of contracts, do Formula 1 drivers' deals have cooling-off periods, like if you or I decided to switch our energy supplier?
Because if there is such a thing in the small print of Perez's 2022 agreement with Red Bull, he could be on shaky ground.
We are only being flippant there, of course, but how embarrassing for the Mexican that two days after it was confirmed he was staying as Verstappen's team-mate for a second season, he hit the wall on the way to the grid – the only driver to do so.
Helmut Marko was understandably not impressed and it was certainly not the way Perez would have intended to repay Red Bull for the faith they had shown in him.
He will be hoping he can show himself in a much better light next week – ideally by following home Verstappen for a priceless one-two finish in his colleague's home race.