Conclusions from the Dutch Grand Prix
Max Verstappen emulated Lewis Hamilton by giving his home crowd the victory they craved as Formula 1 returned to the Netherlands after 36 years.
Here are our conclusions from a Dutch Grand Prix that provided a welcome tonic after the previous weekend's Spa washout.
Red Bull back on title track
ɴᴏ ᴡᴏʀᴅs 🔥 I'm so happy to win my home Grand Prix and the Orange Army, just incredible 🙌 🧡 It was an amazing team performance, thanks a lot, @redbullracing and @HondaRacingF1 🤘 A day to remember #KeepPushing 🇳🇱 #DutchGP pic.twitter.com/WI1gDEkVUI

— Max Verstappen (@Max33Verstappen) September 5, 2021
What a difference seven days makes. The distance from Spa to Zandvoort is slightly longer than an F1 grand prix, but judging by the weather it was hard to believe the last two races took place in neighbouring countries.
Verstappen did not mind though because having been declared the 'winner' in the land of his birth, he followed up with an authentic victory in what he regards as his true home nation.
Although not as serene as his back-to-back triumphs on Red Bull territory in Austria, this was a success that confirmed Verstappen and his team have undoubtedly emerged from the trough of those two disastrous races at Silverstone and Budapest just before the summer break.
Mercedes' pace was never a huge threat this time. Hamilton never got into a challenging position with DRS and the biggest fear for Verstappen's orange-clad army of fans would have been that pesky AWS graphic suggesting his hard tyres looked done with 12 laps to go.
There was certainly no panic from the team in that regard, though.
So, heading to Monza and Sochi, two circuits that traditionally favour Mercedes, how is the World Championship situation poised?
Are the two cars genuinely as closely matched as the standings suggest, with Verstappen now three points ahead of Hamilton? Or is the Dutchman, with seven wins – including Belgium – to the Briton's four, value for what could be a much bigger lead had it not been for that misfortune just before the holidays?
It's tempting to think the latter, but the points totals are what they are and bad luck is just tough.
The most important thing for Verstappen and Red Bull, however, is that they are firmly back on track – and with potentially nine more races to go, that could be ominous for Hamilton.
Red Bull merchandise is available to purchase now via the official Formula 1 store
A thought on Zandvoort
So what did we make of Zandvoort as a Formula 1 venue? There will always be naysayers, of course, comparing it to Monaco for the sparsity of overtaking, but it certainly offered more than enough to show it deserves its place back on the calendar.
Described as being little, if any, bigger than a UK club circuit, the banked turns provided opportunities for passing with different lines being available – although, in truth, we did not see too much of that.
It was a remarkably clean race too, with only one brief yellow-flag period when Sebastian Vettel spun and quickly recovered. Lap one saw plenty of action but few positions change, and ultimately the top five all ended up in the placings where they had started on the grid.
Not the most thrilling race then, but lots of identity and certainly a unique party-like atmosphere created by a big crowd, so all in all Zandvoort is likely to go down as a big success with Formula 1 and can be expected to feature on the schedule for the next few years at least.
Gas keeps powering on
another super-strong day on track for @PierregGASLY 👊 check out his debrief of the #DutchGP after finishing P4 🔥 pic.twitter.com/Xjj3f25rKI

— Scuderia AlphaTauri (@AlphaTauriF1) September 5, 2021
Is Pierre Gasly out-performing the AlphaTauri or Yuki Tsunoda under-performing in it?
Probably a combination of the two, but take away Verstappen and Hamilton and you have to say the Frenchman was the class of the field over the weekend.
George Russell has been given the 'Mr Saturday' nickname but Gasly has every right to rival him for it, for his qualifying displays have been superb all year and he produced another in the Netherlands.
Race days have not necessarily been the 25-year-old's strength this season but there was no disputing this performance, maintaining his P4 grid spot all the way despite finishing a lap down on the leading trio.
You would say the AlphaTauri is at best the fifth most competitive car, but Gasly beat Ferrari and McLaren on merit at Zandvoort. Tsunoda, however, was trailing down the field when he had to retire.
Apart from Verstappen, you have to wonder whether Red Bull have got the balance of their other three drivers right.
Should Sergio Perez be in the senior team ahead of Gasly? Contractually, that looks how it will remain for 2022, and we should remember Gasly has had his chance alongside Verstappen already.
And Tsunoda? There is no escaping he has been disappointing given the reputation he arrived with into F1 and having admitted himself at the start of the weekend his chances of staying at AlphaTauri are only 50-50, it's natural to start fearing for his future.
Rosberg has all the right questions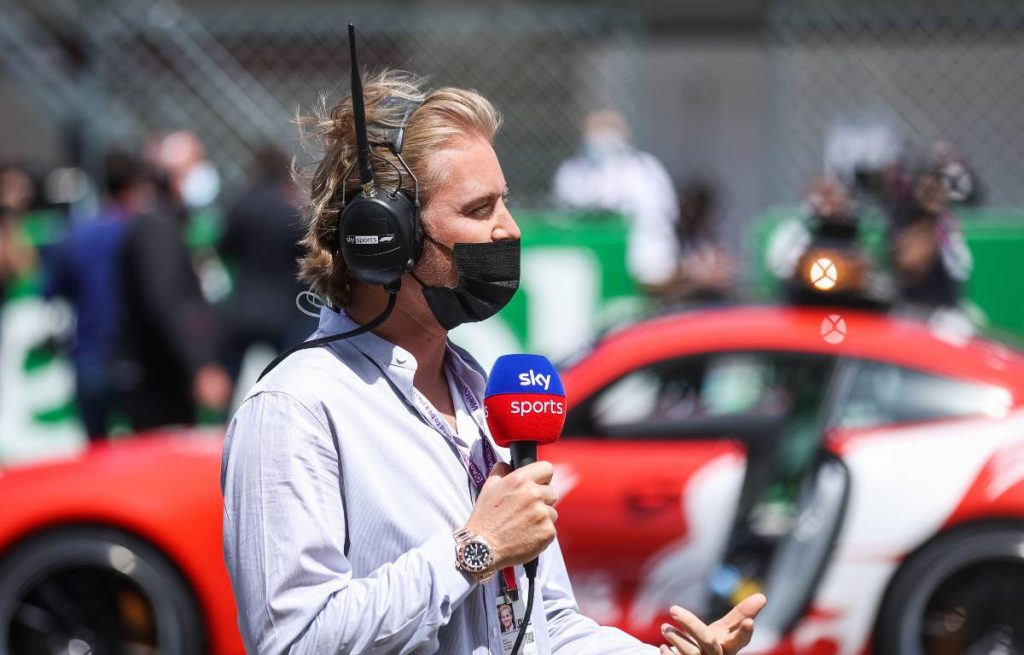 Nico Rosberg clearly missed his vocation in life. Why did he waste his time up to the age of 31 being a racing driver?
We're joking, of course. Nico wouldn't swap that 2016 World Championship or, we are sure, all of his other experiences with Williams and Mercedes. Or the various rewards that came along.
But Rosberg would have made a brilliant journalist, that much is clear. He asks the questions we want answers to. It doesn't matter who he's talking with, he will get the job done.
Want Toto Wolff put on the spot about Mercedes' driver line-up? Rosberg's right in there for Sky F1. Wondering what the team boss made of Valtteri Bottas seemingly defying team orders? Nico's your man for that.
It's no longer a surprise either. We know it's on the way whenever the versatile German appears with a microphone in hand.
He clearly enjoys stirring the pot and getting straight to the nitty gritty, so we have one question ourselves to put to Formula 1.
Can Rosberg conduct all of the post-race interviews from now on, please?
Mazepin back to his old ways
Grab the popcorn, this one is getting good…

Nikita Mazepin won't "tolerate" team-mate Mick Schumacher's "cheeky" anticshttps://t.co/u3bKzsB7yX #F1 pic.twitter.com/02AcOPsMIy

— PlanetF1 (@Planet_F1) September 5, 2021
Just when you thought Nikita Mazepin might be starting to resemble a Formula 1 driver, Zandvoort shot that theory down in flames.
Having kept a cleaner record of late, this was another weekend to forget for the controversial 22-year-old from Moscow, who ticked all three boxes that regularly appear next to his name – rookie spin (check), getting in a rival's way in qualifying (check), clash with team-mate Mick Schumacher (check).
It takes a lot to wind up the mild-mannered Schumacher but he has clearly had his fill of his team-mate, saying "it seems like he has this thing in his head where he wants to, by any costs, be in front of me" and that he suspects the situation cannot be resolved.
With Guenther Steiner their boss, and a fourth series of 'Drive to Survive' confirmed as being in the making, we can look forward to some more TV gold from the Haas team next spring.