Driver ratings from the Emilia Romagna Grand Prix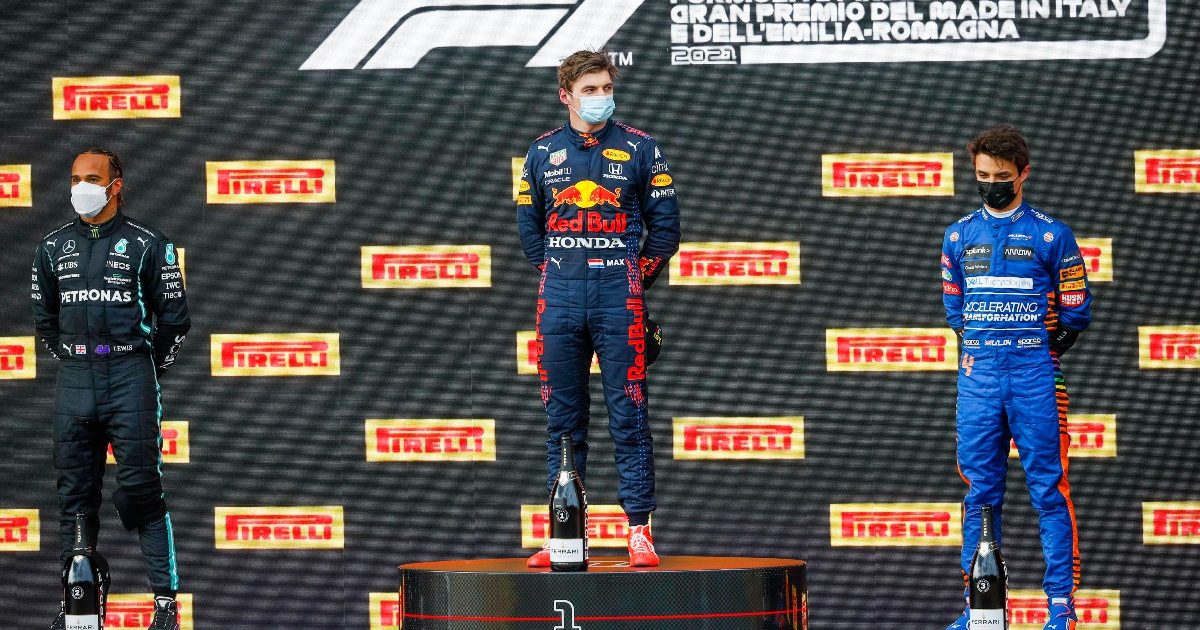 As is so often the case in wet and tricky conditions, Max Verstappen and Lewis Hamilton excelled in Imola, and they weren't the only ones.
Here's how we think every driver performed at the Emilia Romagna Grand Prix…
HAM 4️⃣4️⃣
VER 4️⃣3️⃣

Game. On.#ImolaGP 🇮🇹 #F1 pic.twitter.com/oDqg5KmweA

— Formula 1 (@F1) April 18, 2021
Max Verstappen: Despite having the best car on the grid, Verstappen failed to win the first race of the season and was beaten by both Hamilton and his team-mate, Sergio Perez, in qualifying in Imola. Questions were beginning to be asked of him, and he answered them emphatically with one of his best ever drives.
As per usual, he was on another level to most drivers when the track was wet, flying off the line to take the lead before quickly pulling away from the rest of the field. From that point onwards, he never looked back.
The Dutchman was just as impressive in dry conditions. Hamilton did occasionally close the gap to him but never really looked like challenging him. Once the Mercedes man crashed, all Verstappen had to do was keep things clean, and he didn't put a foot wrong.
With him finally in a car good enough to challenge for a title, he needed to make a statement early on this season to show Hamilton he has what it takes to threaten him, and in Imola, he did just that. 10
Lewis Hamilton: Heading into the second race of the year, Hamilton had driven perfectly in 2021 up to that point, winning in Bahrain and taking pole position in round two despite not having the best car. That was almost the case again on race day in Imola, but one mistake cost him.
He lost out to Verstappen at the start but, given he had a damaged front wing, did an admirable job to stay in P2 and stay within touch of the leader throughout the first stint.
The 36-year-old remained in contention for the win even after losing time to his rival in the pits, but his chances of victory ended with a sloppy mistake that he was lucky didn't end his race.
Nevertheless, the Red Flag that followed gave him a chance to get back into P2 and he took it with a thrilling late charge, displaying excellent pace and overtaking skills. With the exception of one error, it was another impressive weekend from the Brit. 8.5
Lando Norris: Norris showed in Bahrain that he wasn't going to be second fiddle at McLaren now that Daniel Ricciardo was there, and that became even clearer in Imola.
He headed into the race disappointed that he was starting down in P6 after he had a qualifying lap that would have got him P3 deleted for exceeding track limits, and that disappointment looked set to continue when he made a poor start and dropped down to P9. However, he got his head down and quickly fought his way back up to P6.
His pace was so strong in fact that his team ordered Ricciardo to let him pass, and after the Aussie did so, the Brit was absolutely rapid, quickly closing the gap to Perez and Leclerc ahead of him.
He maintained that form after the Red Flag, nailing his restart to take P2 and briefly even challenge Verstappen. Ultimately, Hamilton proved to be too quick for him, but by keeping the Ferraris behind, he secured a stunning result nonetheless, and it was no less than what his driving deserved. 10
Charles Leclerc: Leclerc may feel a little disappointed that he didn't finish on the podium, which speaks volumes about how well he drove throughout the race.
He made the perfect start to pass Perez and, even more impressively, managed to stay in P3 comfortably for the entirety of his first stint, staying well ahead of those behind him.
The Ferrari man was one of those to be hurt most by the Red Flag as it allowed Norris to close the gap to him and pass him at the restart. That cost him a top-three finish as he couldn't hold off Hamilton or get back past the McLaren.
He'll be wishing he made a better getaway behind the Safety Car, but even so, it was a great drive and a great result from the Monegasque as he continues to show he's one of the best around. 9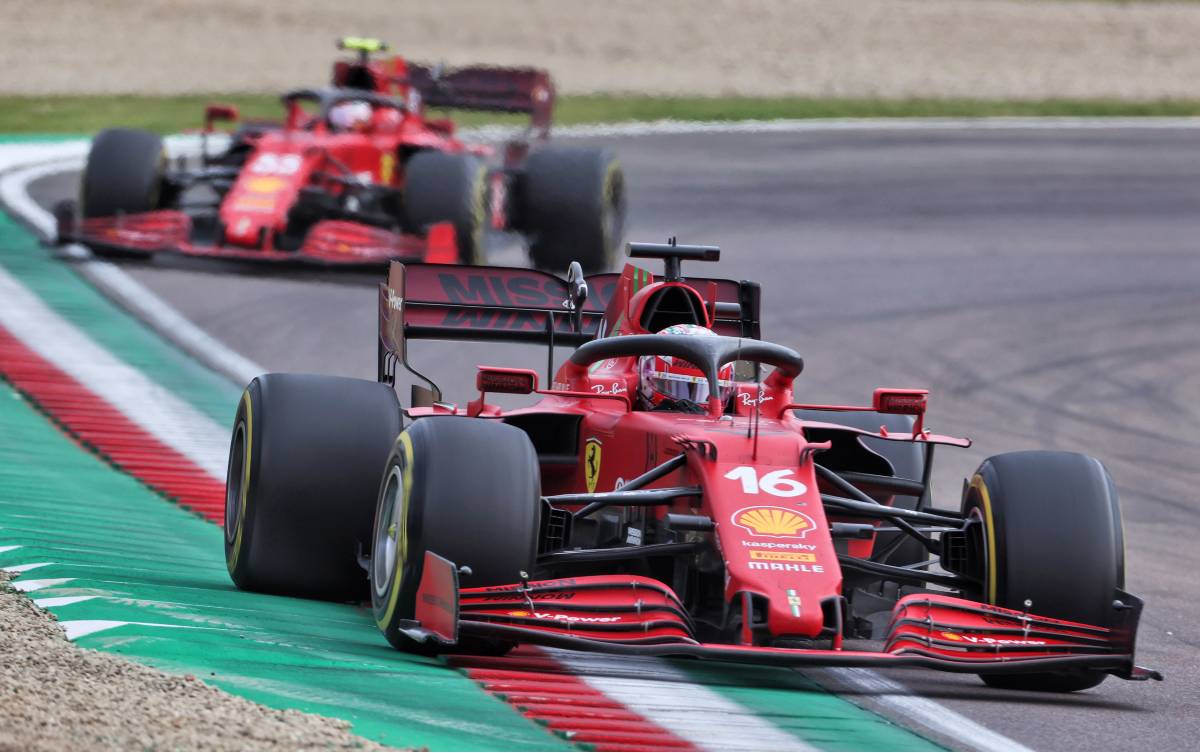 Carlos Sainz: After a strong first weekend in a Ferrari, Sainz made a poor start to the second, failing to make Q3, but he more than made up for that with a top-five finish on Sunday.
Early on the race, such a strong result looked unlikely as after gaining places at the start, he ended up in the gravel on multiple occasions and seemed unable to control his car. The only reason he didn't lose more places is because Gasly was holding everyone up behind him.
As conditions improved though, he found his feet and was every bit as quick as his team-mate in the final stint, looking capable of passing him at one point.
On paper, finishing in P5 after starting in P11 should earn him one of the best ratings on the grid, but his various mistakes in the opening stages bring it down a bit. Still, it eventually turned into a fine day's work indeed. 7.5
Daniel Ricciardo: After beating his team-mate in qualifying in Bahrain, Ricciardo was outclassed by his team-mate in the race as he struggled to get to grips with the car, and that was exactly the same case again in round two.
He looked to be doing a decent job initially as he settled down in P5, but as Norris caught him, it became clear that was comfortably the slower of the two McLarens.
He deserves some credit for accepting this and letting the Brit through as it was a bit of team-play that led to the team picking up a podium, but that probably won't bring him too much joy.
Two races in, he has put in two solid drives and picked up a decent amount of points in both, but as he gets more experience in the car, he really need to start being much closer to the man across the garage. 6
Pierre Gasly: Considering he started in P5 and had a quick car, P7 isn't a good result for Gasly, but it's not due to his driving that he finished so low.
AlphaTauri gambled by starting him on full wets and it was one that didn't pay off as the track dried up, causing him to have poor pace and helplessly plummet down the order from P6 to P15.
The Red Flag opened the door to a points-finish ever so slightly for him though and he smashed it open, fighting his way back up the order with some clean racing. 8
Lance Stroll: After playing second fiddle to Sergio Perez, Stroll is quickly becoming his team's new lead driver with some really solid driving.
He did well to make it to Q3 ahead of drivers with better cars and continued to get the most of his machinery as he gained three positions at the start of the race.
Most would have expected him to drop back down after that but he didn't, defending his position perfectly and even challenging Ricciardo at the end, all while having some technical issues.
P8 is still a good result despite a late penalty , even if he did benefit from those in faster cars crashing or being on the wrong tyres. If he keeps driving like this, he'll start to silence many of his critics who see him as a pay driver. 8
Esteban Ocon: After looking like the slower of the two Alpines in Bahrain, Ocon turned the tables on Alonso in Italy with a much improved performance.
His team left him with a lot to do when, after making the wrong call by putting him on wets at the start, they pitted him on the first lap, sending him to the back of the field. However, he recovered well.
He did enough to be up in P12 by the time the race restarted but the chances of points looked gone when he lost a place. To his credit though, he managed to fight his way back up to P10, passing Alonso in the process, which would have no doubt felt good.
The major downside is that he wasn't able to get past Raikkonen and double his points tally before the Finn got his penalty when he really should have, but it was still a decent drive given he was rock-bottom at the end of the first lap. 8
Fernando Alonso: Returning to the track where he put in one of his greatest ever performances, Alonso couldn't do the same again.
He was off the pace all weekend, unable to drag an average car into higher places than it should be like he has done so often before and slower than his team-mate on both Saturday and Sunday for the first time in a long time.
For his sake, hopefully it was just a bad few days and not a sign of things to come. Otherwise, his return won't end up being a happy one. 6
LAP 38/63

Perez spins off and drops to P14 💔#ImolaGP 🇮🇹 #F1 pic.twitter.com/lYYinqkN6F

— Formula 1 (@F1) April 18, 2021
Sergio Perez: Things were looking so good for Perez after he out-qualified Verstappen on Saturday, but everything went wrong on Sunday.
After dropping down to P4, he was out-paced by Leclerc and the front two and picked up a penalty with a silly mistake, overtaking cars while behind the Safety Car after going wide and being passed by them.
Even after serving the penalty, he still looked like he'd finish on the podium, but made a costly mistake that ensured he wouldn't even score points. A day to forget. 5
Yuki Tsunoda: On the bright side for Perez, the man most likely to be next in line for a Red Bull seat didn't have a great weekend himself.
After crashing in qualifying, Tsunoda drove excellently to get back up into the points before the Red Flag was waved. And then at the restart, he crashed again.
All in all, it was a mixed bag. The first half of the race was massively impressive, but crashing twice in one race weekend isn't good, even for a rookie in tough conditions. 5.5
Kimi Raikkonen: After both cars were knocked out in Q1, Alfa Romeo wouldn't have been expecting to score points on home soil, but Kimi had other ideas.
As many others around him made mistakes, the Finn stayed out of trouble and kept things clean to steadily work his way up the order.
This saw him all the way up in P10 when the race got underway again after the stoppage and he put on an absolute masterclass to hold off those behind. A post-race penalty took the two points he earned away from him but he showed that age is, indeed, just a number. 8
Antonio Giovinazzi: There's not too much to say about Giovinazzi. He didn't make any mistakes and did finish three places up on where he started, but was out-performed by his team-mate. Not for the first time with him, the word "average" springs to mind. 6
Sebastian Vettel: If poor old Seb didn't have bad luck in Imola he wouldn't have had any luck at all.
Mechanical problems forced him to start from the pit-lane and mechanical problems forced him to retire. Between those two events, he also picked up a 10-second stop/go penalty.
Even if he put in the drive of his life, he wouldn't have scored points, but he didn't do that either. When in clean air without issues, he was the slower of the two Aston Martins all weekend.
That being said, he did display some decent wheel to wheel racing, and it's hard to be too harsh when so many things out of his control went wrong with his car. 6
Mick Schumacher: On the downside, Schumacher made his first major mistake in F1 at Imola, crashing under the Safety Car. On a brighter note, he recovered well, still beating his team-mate despite the crash, and in the car he's in, that's all he can do. 6
Nikita Mazepin: As said above, all the Haas drivers can do is try to beat each other, and Mazepin failed to do so even though Schumacher got up close and personal with the wall. Still, at least he finished the race this time around. Progress. 5
Did not finish
That certainly wasn't a friendly "are you ok, mate?" 👀 #ImolaGP #F1pic.twitter.com/6s0GTXbcHN

— Planet F1 (@Planet_F1) April 18, 2021
Valtteri Bottas: The award for disappointment of the day goes to Bottas who had a quite simply terrible weekend.
Qualifying in P8 was bad, but failing to make any significant progress whatsoever throughout the first half of the race was even worse as he remained in the lower half of the points-scoring positions.
Russell ended his race and may well end his Mercedes career to0 if the Finn puts in some more performances like that. 4
George Russell: Like at the same place in 2020, Russell was driving well and on track to score his first points for Williams before he crashed out of the race.
He was arguably too aggressive trying to overtake Bottas and was undoubtedly too aggressive afterwards.
Slapping the Finn's helmet was silly, disrespectful and uncalled for, and behaviour like that won't do his chances of replacing him any good whatsoever. 5
Nicholas Latifi: Crashing out at the start, Latifi didn't stick around long enough to get a rating. A big shame after such a strong qualifying performance. N/A
Finley Crebolder
Follow us on Twitter @Planet_F1 and like our Facebook page.