Driver ratings from the Hungarian Grand Prix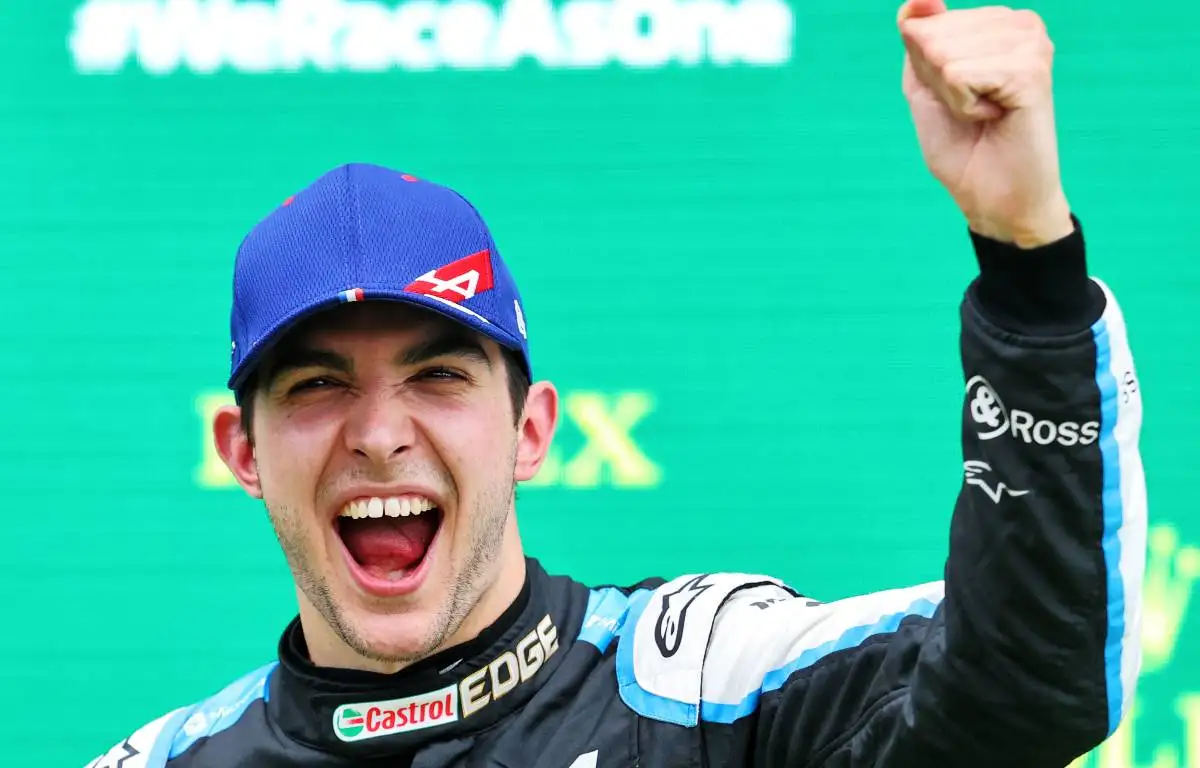 The Hungarian Grand Prix was full of chaos and carnage, and a number of the drivers delivered dazzling displays in it.
Here's how well we think every driver performed in Budapest…
Esteban Ocon: Esteban Ocon is a Formula 1 race-winner, and with how he drove, it's a victory that is fully deserved.
Following a strong qualifying session, the Frenchman did well to stay out of trouble at the start and ended up in P2 as big reward. From that point onwards, he didn't put a foot wrong.
In Vettel, he had a driver who knows how to win races, in a slightly faster car, all over him throughout, and he handled that immense pressure incredibly well, not making any mistakes and maintaining decent pace.
There were a few questions marks over his talent following a dip in form recently, but he's made it abundantly clear that he's one of the best young drivers around with a simply perfect performance. 10
Sebastian Vettel: He may be facing a very realistic prospect of having his P2 stripped away from him in Hungary due to not finishing with enough fuel, but looking at his performance alone, this race was arguably the clearest proof in a long time that Vettel's still got it.
The German actually made a terrible start, but doing so happened to be ideal as he avoided all the chaos ahead of him and found himself in P3, just behind Ocon. The back of that Alpine is all he'd see for the rest of the race.
Like the Frenchman, he didn't make any errors whatsoever and was, for the most part, faster than the leader. Despite that though, he just couldn't quite pull off a pass to secure his first victory since 2019.
That failure and what he thought was a bit of a disappointing Q3 performance were the only real downsides in what was an excellent weekend for the Aston Martin man. 9.5
Lewis Hamilton: He may not have his 100th win, but he does have the lead of the championship, and it's fair to say it didn't come easy.
It looked like it would at the start as, after his team-mate took out both Red Bulls and himself, all Hamilton had to do was make no mistakes and victory would be his. He failed in that department though as he was the only man to decide not to pit for slick at the end of the post-Red Flag out lap, causing him to go from first to last.
To his credit though, his recovery drive after that error of judgement was very, very good. He had blistering pace for the most part and, on a track where it's extremely difficult to overtake, got past a number of cars nonetheless.
The time he took to clear Alonso may have cost him the win, as did the poor decision not to pit before the restart, but it was still a very good drive on the whole and one that could prove crucial in the title fight. 8.5
Carlos Sainz: Finishing 11 places up on where you started and only just missing out a podium on track while in a midfield car, is, to put it rather tamely, not half bad.
It was admittedly his own fault that he started the day down in P15 as he crashed in qualifying, but he more than made up for that error on race day.
The Spaniard made a stunning start to move all the way up to P4, and at that point, a podium looked likely, let alone possible. Unfortunately for him though, he then got stuck behind Latifi and Tsunoda after the restart, which made him lose touch with Ocon and Vettel and, in hindsight, cost him a top-three finish.
Once he had clean air though, he had very strong pace and enough to secure an excellent haul of points, a haul which could still become even larger if Vettel does end up being disqualified pending appeal.
Given he had a faster car than the winner, he'll be wondering what might have been if he wasn't stuck in traffic, but all things considered, he can be very pleased with his race performance. 9
This battle was everything.

Old rivals @alo_oficial and @LewisHamilton put on an incredible show on Sunday ⚔️#HungarianGP 🇭🇺 #F1 pic.twitter.com/LGqPXTU1VR

— Formula 1 (@F1) August 1, 2021
Fernando Alonso: Alonso is considered by many to be one of the best wheel-to-wheel racers of all time, and he showed exactly why in Hungary with an absolute masterclass.
Running in P6 early on, he decided to look after his tyres and run long in the hopes that he could use fresher rubber to gain some ground towards the end, and he executed that strategy perfectly, rapidly catching Sainz after finally pitting.
The highlight of his race though was undoubtedly his defending rather than his attacking. When Hamilton caught him with a much faster car and fresher tyres, it was assumed the Brit would easily get past, but Alonso defended incredibly lap after lap to somehow keep him behind, earning his team victory in the process.
Logically, we should probably take half a point off his rating for the fact that he was out-qualified and beaten by Ocon, but to be honest, after treating us to some of the best driving you'll ever see, he serves a perfect score. 10
Pierre Gasly: Gasly was rather disappointed with his result given he started ahead of all the midfield rivals that beat him, but there's little more he could have done.
His race got off to a terrible start as he got caught up in the Turn 1 tangles and thus dropped down to the back of the field. After that though, he got his head down and quickly got back into the points. He then made his way deep into the top 10 by pulling off the undercut on those ahead thanks to some good pace.
He maintained such pace in his second stint, fighting his way all the way up to P6 and building enough of a gap to pit for soft tyres and take the extra point for fastest lap.
All in all, it was a very strong recovery drive, as well as an excellent Saturday showing, from the Frenchman to end what has been a brilliant first half of the season on a relatively high note. 9
Yuki Tsunoda: Tsunoda needed to head into the summer break on the back of a good result more than anyone after a difficult first half of the year, and while it wasn't a perfect weekend, he ultimately managed to do so.
His weekend wasn't going well before Sunday as he crashed out in FP1 before being knocked out in Q1 of qualifying, but he finally performed to the best of his abilities on race day.
The good result was in large part due to his start, with him sneaking his way into P4. At that point, a podium looked possible, but he just couldn't find a way past Latifi, and ended up behind Sainz and Gasly, who were both quicker than him.
He was fairly quick himself once he was in clean air though and was able to build a huge gap to those behind which proved to be crucial as it meant he didn't lose any places after spinning late on. Those sorts of errors are what he needs to cut out going forward, but this was a step in the right direction for sure. 8
Nicholas Latifi: There were a lot of crazy sights in this race, but Latifi running in the top three for a good while was maybe the craziest. And while he couldn't stay there, it was still the best drive of his F1 career.
He was quite simply flawless early on, avoiding trouble to move up to P3 and then defending expertly to hold onto the position for a number of laps. Due to having a far slower car than most, he inevitably lost places once he pitted, but still did enough to score some vital points, his first in F1.
Most of his time since joining the grid has been spent in his team-mate's shadow as Russell has dazzled on Saturdays, but the Canadian stepped firmly out of it in Hungary, going less than a tenth slower in qualifying and being the lead man on Sunday with a top-notch drive. 9.5
We're all with you, @GeorgeRussell63! 🥺

🎥 x Duna TV#HungarianGP 🇭🇺 #F1 pic.twitter.com/GK8jKArzYG

— Formula 1 (@F1) August 1, 2021
George Russell: After over two years of waiting, Russell finally finished inside the top-10 for Williams, and funnily enough, it wasn't even one of his very best performances.
His start wasn't quite as sensational as Latifi's but it was still very good, with the Brit running in P7 after the restart and doing a very good job of holding off faster cars.
Like the Canadian, he lost a few positions in the pit window but got back into P9 with a lovely move on Schumacher, and spent the rest of the race successfully defending that spot from Ricciardo and Verstappen, which is quite the achievement.
Things could have been better if not for a poor Saturday by his lofty standards and being beaten by his team-mate isn't ideal, but still, he has his first points for Williams, and that's all he'll care about. Quite right too. 8
Max Verstappen: Scoring just two points and losing the lead of the championship is a bit of a disaster for the Dutchman, but how things went for him is hardly his fault.
For the second race in a row, his hopes of scoring some big points were over after the first lap, with Bottas sending Norris into him. Not only did Finn's mistake send him plummeting down the order, but it also caused damage that would be with Verstappen for the rest of the race.
Given how serious said damage was – he was missing an entire bargeboard on his right-hand side – managing to finish the race and also score a point was actually a pretty good effort from the Red Bull man. 8
Kimi Raikkonen: A race with such chaos presented backmarkers with a golden opportunity to score some big points, but Kimi couldn't quite take it.
That wasn't really his fault though as, after making a good start, moving into the top 10, all his hard work was undone due to the fact that his team related him from his pit-box at an unsafe time, causing him to get a penalty and lose a number of places.
The Iceman did a credible job after that, getting himself back up to the verge of the points. 7.5
Daniel Ricciardo: Ricciardo's race in Hungary was a lot like most of his in the first half of 2021: disappointing.
He was one of the many drivers who was massively unlucky to be caught up in the carnage at the start, and it cost him a lot of positions and some car parts.
Much like Verstappen, the Aussie faced an uphill battle to score any points after that with the damage he had, and he couldn't do so, falling to get past Russell before being passed first by the Dutchman and then Kimi.
It, of course, wasn't really his fault that he finished outside the top 10, but in terms of his driving, he still looked a long way from his best all weekend. Here's hoping he turns it around after the summer break. 6
Mick Schumacher: For a brief moment, it looked like Schumacher could score his first points in F1. It ultimately wasn't to be, but he can still be pleased with how he drove.
His defending in the early stages of the race was excellent with the German more than holding his own with Verstappen all over the back of him, and he didn't do much wrong after that too, still being quick enough to finish in front of an Alfa Romeo.
For maybe the first time, we got to see Schumacher go wheel to wheel with top drivers in F1, and he did so very well. 8
Antonio Giovinazzi: Last of those that finished was Giovinazzi who got a penalty for speeding in the pit-lane, ending any hopes of getting involved in the fight for points.
It was a sloppy, costly rookie error that ensured it was a day to forget for him. 5
Did not finish
You've done us so proud, Seb. 💚 #HungarianGP #F1 pic.twitter.com/PPVBFLNaOJ

— Aston Martin Cognizant F1 Team (@AstonMartinF1) August 1, 2021
Nikita Mazepin: The race had barely started when Mazepin was forced to retire, so there's nothing to rate. The can be said for the rest of the drivers below. N/A
Lando Norris: Lando's brilliant points-scoring streak is over thanks to Valtteri Bottas. Can't help but imagine he would have been bang in contention for a race win had he managed to avoid the trouble. N/A
Valtteri Bottas: Valtteri can consider himself very lucky we don't give ratings out to early retirees. An absolutely dreadful, amateurish start. N/A
Sergio Perez: Also caught up in Valtteri's wrecking ball. Onto the next one for Sergio. N/A
Lance Stroll: Lance was another driving causing chaos on that ridiculous first lap, taking out the very unfortunate Charles Leclerc in the process. N/A
Charles Leclerc: Leclerc likened his 'race' to more like a bowling game after being skilled out by Stroll. He will be determined to strike back in Spa. N/A
Finley Crebolder