Driver ratings from the Italian Grand Prix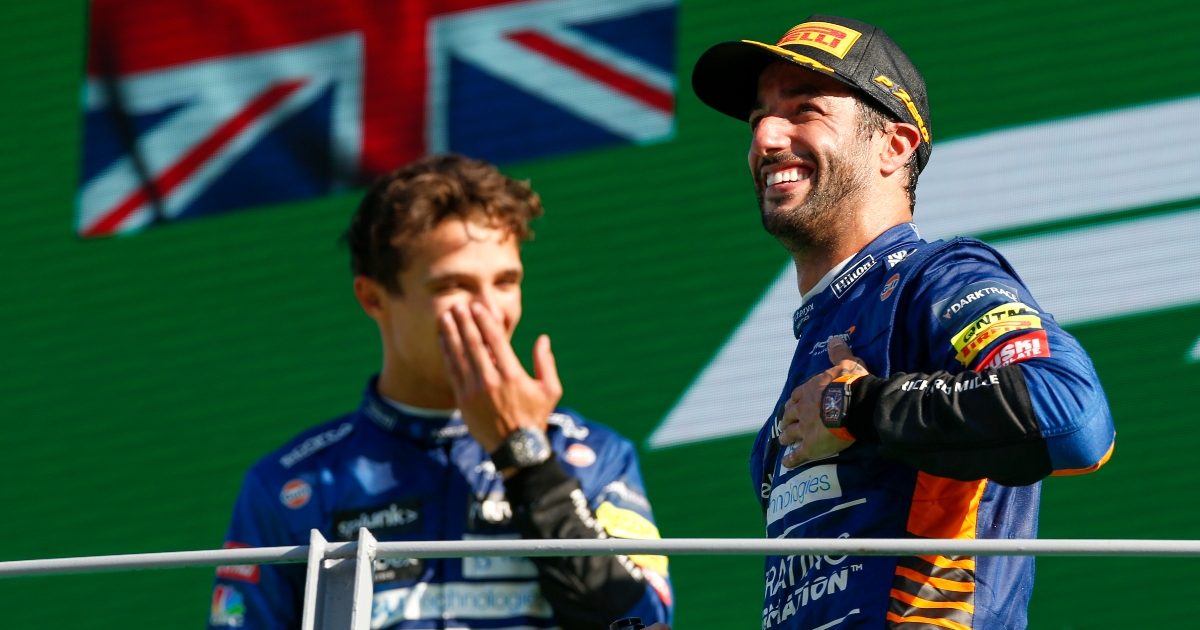 The drama of the 2021 season reached a new level at Monza with a race that saw some drivers thrive and others fail to survive.
Here's how we think every driver performed at the Italian Grand Prix…
Daniel Ricciardo: At the halfway point of the season, you couldn't help but worry that Ricciardo was past his best. In Italy, he made it abundantly clear that he isn't it.
It was evident on Friday that he was in good form as he so nearly took P3 in qualifying, and that became the case even more so in the sprint when he made an excellent start to get ahead of his team-mate and Hamilton before going on to secure a front-row start with relative ease.
Not only did he win for the first time since 2018 the following day, but he did so on merit too. Even before chaos ensued in the form of slow pit-stops and crashes, the Aussie was leading thanks to another stunning getaway and looking pretty comfortable – even after a Safety Car eradicated his lead, he didn't put a foot wrong and never really looked like losing the win.
In both sprint qualifying and the race, he was quite simply perfect, making no mistakes and having very strong pace throughout, looking consistently quicker than Norris for perhaps the first time this season. The Honey Badger is well and truly back, and let's hope he sticks around. 10
Lando Norris: He may have been a bit overshadowed by his triumphant team-mate at Monza, but once again, Norris was very, very good all weekend.
After out-qualifying Ricciardo, his start to the sprint wasn't quite as spectacular as the Aussie's but was still good enough for him to get ahead of Hamilton. He then did a stellar job of keeping the Mercedes man behind him for the next 18 laps.
The McLaren driver continued to do so on Sunday, not cracking under the pressure from his compatriot early on or the Red Bull of Perez in the closing stages of the race.
Ricciardo may have been the slightly faster of the two on the whole, although there wasn't much in it, but Norris showed that even when his team-mate is at his best, he's still more than a match for him. 9.5
From P20. To the Podium. 🏆💙 What a day for VB! pic.twitter.com/R0ScYXYTty

— Mercedes-AMG PETRONAS F1 Team (@MercedesAMGF1) September 12, 2021
Valtteri Bottas: Pole position. Sprint qualifying winner. The back of the field to a podium on race day. This was Bottas's best race weekend in a long, long time.
With the two having the best car on the grid, Hamilton was his main rival in both qualifying sessions and he was comfortably the stronger of the two in both, going just under four tenths faster on Friday before cruising to victory on Saturday.
Despite that though, a grid penalty for a new engine forced him to start the race from the back of the field, and his charge up the order was immensely impressive, with the Finn possessing strong pace throughout and pulling off a number of good moves.
In the week that it was confirmed Mercedes are replacing him with George Russell for next season, he may have felt like he had a point to prove, and prove it he did. There's life in him yet. 9.5
Charles Leclerc: With the Tifosi back in attendance, Leclerc would have been desperate to give them something to cheer, and he certainly did so.
After being narrowly beaten by his team-mate on Friday, he made amends in the sprint, moving up from P8 to P6, and then continued to move forward in the main race.
Luck was admittedly on his side with the Safety Car allowing him to pit and rejoin in P2, and he'll be disappointed that he couldn't hold on to a podium place, but he couldn't have really done much more, with the Monegasque racing hard but fair up against faster cars than his own.
On the whole, after a bit of a disappointing qualifying by his standards, he got everything out of his machinery and achieved the best possible result that Ferrari could have realistically hoped for. 9
Sergio Perez: It was an all too familiar tale for Checo in Italy, with him starting on the back foot after qualifying fairly poorly and having to do a recovery job.
Admittedly his poor Q3 result – P9 – on Friday was in part due to the fact that he made gave his team-mate a tow, but he still had the chance to secure a good grid position in the sprint and failed to do so, not gaining a single place.
Things went a little better for the Mexican on race day with him moving up to P6 thanks to a great move on Sainz. The crash between the title contenders then opened up the chance for him to claim a podium at the least, but his move to take P3 from Leclerc was scruffy and, with him going off-track, earned him a penalty, albeit a harsh one that cost him a top-three spot.
All in all, it wasn't a great weekend. He did make a few nice moves in the race and was maybe unlucky to lose his P3 finishing position, but he didn't have great pace consistently and ultimately finished behind Mercedes rival Bottas, who started 11 places lower than him. 5.5
Carlos Sainz: Sainz had a more mixed few days than most, but in terms of results, can be quite happy with how things turned out.
As he has often done this season, he impressed in qualifying, managing to go faster than Leclerc, but things started to go downhill after that. First, he crashed in FP2 and was then very much second-best to his team-mate when it came to race pace on both Saturday and Sunday.
Nevertheless, he still drove a solid race and managed to score some good points. Going forward though, he needs to cut out the mistakes if he wants to stay near Leclerc. 7
Lance Stroll: With McLaren and Ferrari possessing stronger pace than the rest of the midfield, finishing as the first car behind them and the top teams is a result Stroll can be proud of.
His race weekend didn't get off to the best start with him failing to make Q3 and being beaten by his team-mate, but he got into the top 10 and ahead of Vettel in the sprint.
His start to the main race wasn't good, with him first skipping the chicane and then forcing his team-mate off-track – in hindsight, he was a little lucky not to be penalised – but after that, he drove a very clean race to secure a strong result. 7.5
Fernando Alonso: At a circuit that wasn't at all suited to his car, Alonso did a very credible job to ultimately get some points on the board.
The Spaniard got steadily better and better as the weekend went, qualifying for the sprint in P13 and finishing it in P11 before consolidating himself inside the top 10 on race day. Things were fairly quiet for him after that as he tried and failed to put serious pressure on Stroll, but did comfortably hold off his team-mate and everyone else behind him. 7.5
After 50 races without a single point, George Russell has now earned three top-10 finishes in the last four races 👏 #F1 pic.twitter.com/82ItnSKBNc

— PlanetF1 (@Planet_F1) September 12, 2021
George Russell: With so much going on in front of him, Russell's top-10 finish went somewhat under the radar, but that takes nothing away from what was an excellent race for the Williams man.
Things hadn't been going so well for him prior to Sunday as he qualified in P15 and then finished the sprint there, being beaten by his team-mate but he managed to find some form when it really mattered.
Sure, it was mainly luck that pushed him into the top 10, with the Safety Car coming out at the perfect time for him, but he deserves a lot of credit for how he handled things after that, with the Brit holding off Ocon until the end and even challenging Alonso occasionally.
The gap between him and his team-mate in terms of pace wasn't as big as it usually is, and in truth he was a little fortunate to beat Latifi, but it was still a top effort. 8
Esteban Ocon: He may have finished in the points, but Ocon's finest driving was rarely on display in round 14 of the season.
The Frenchman was very much second best to Alonso in both forms of qualifying but was in much better form at the start of the race, gaining a few places immediately. After that though, things got messy, with him first having to give a place back to Latifi after overtaking illegally and then receiving a five-second penalty for hitting Vettel.
He did manage to secure a point and decent result by getting back ahead of Latifi after the Safety Car, but it could have been even better if he kept things a little cleaner. 6
Nicholas Latifi: There are few, if any, whose driving deserved a better result than the one they ultimately got more than Latifi.
After pushing Russell close in qualifying, he got and stayed ahead of the Brit in the sprint and carried that form into Sunday, battling his way up to P11 early on with some really good racing.
If the Safety Car had come a lap or two sooner, he probably would have found himself in P9 at worst, but unfortunately for him the timing of it caused him to lose a spot to Russell and allowed Ocon to catch and pass him.
He'll be gutted that he wasn't rewarded for his efforts, but it was a top drive regardless; the Canadian is starting to show real signs of progress. 8
Sebastian Vettel: Few drivers will want to forget the past few days more than Vettel, with the German a largely helpless victim in various incidents.
He made a decent start to the race before being pushed onto the gravel by his team-mate and losing some places, also picking up damage. After that, Ocon and Schumacher also made contact with him, making a fight back all but impossible.
Given those incidents, while he out-qualified Stroll, it's hard to tell how strong his race pace was and thus rate his drive. To be honest, making it to the finish line was an achievement in itself given it felt like he was a magnet for other cars. 6
Antonio Giovinazzi: For the second weekend running, Giovinazzi was arguably the best performer on the grid before the race, and things then went very wrong very quickly.
Qualifying in P10 was seriously impressive given his machinery, as was finishing two places higher in the sprint. Watching those drives, you couldn't help but wonder why on earth Alfa Romeo would drop him.
The same wasn't true on race day though, with his chances of scoring point ending almost immediately as he cut across Leclerc while rejoining the track after going off and spun into the wall on the first lap. That earned him a penalty and ruined his race, with him only able to fight his way back up to P13.
For his pre-Sunday performances, he deserves a 10, and that saves him from getting a massively low rating, but the race is ultimately what matters most, and it wasn't a good one. 5
Robert Kubica: Much like at Zandvoort, just finishing the race and beating the Haas drivers would be considered a success for Kubica, and he did both.
While he was still worlds away from his team-mate when it came to outright pace, he did manage to stay in touch after the Safety Car restart.
This was almost definitely his last race in Formula 1, and he can be fairly pleased with how he did. 6
Mick Schumacher: On the bright side, Schumacher was, as usual, the faster of the two Haas drivers, and didn't do too much wrong. On the downside, he hit his best buddy Seb and had a poor Saturday. All in all, a pretty average few days. 6
Did not finish:
Nikita Mazepin: It was yet another fairly poor weekend for Mazepin, with him beating beaten by both Schumacher and Kubica in qualifying and hitting his team-mate on race day. He did enjoy a good sprint between those two non-events though, gaining three places in it. 5
Another hugely dramatic moment in the Verstappen/Hamilton title battle 💥😮#ItalianGP 🇮🇹 #F1 pic.twitter.com/P4J4bN6wX2

— Formula 1 (@F1) September 12, 2021
Max Verstappen: For obvious reason, the 2021 Italian Grand Prix is one that Verstappen will be keen to put behind him.
Before the crash with Hamilton, he'd had a fairly mixed time of things. The sprint couldn't have gone much better for him as he moved ahead of his title rival to claim P2 and pole for the main race, but he then lost that lead immediately on Sunday, making an inferior start to Ricciardo and failing to get ahead of him.
All of the above was somewhat forgotten when he and his title rival came together, the Dutchman undoubtedly the guiltier of the two parties, going for a near non-existent gap and hoping that Hamilton would move aside for him.
Saying that going for those kinds of moves is what racing is about and he was well within his rights to do is a valid argument, but it's fair to say he could benefit from being a little more cautious going forward, and it feels like we've said that before. Sooner or later, such aggression could cost him.
So, on the whole, his Saturday showing was very strong, as was his overall pace in general, with him getting everything out of his car, but the Sunday start and incident bring his rating down. 5
Lewis Hamilton: Hamilton would have headed to Italy aiming for at least one win, but he never really found his best form before crashing out with his rival.
The Brit was very much second best to Bottas in qualifying and then made a poor start the next day to drop further down the order, giving himself an almighty task for the main event. Like in the sprint, he couldn't find a way past Norris, not that it mattered in the end.
In terms of the collision that followed, it can be debated as to whether it was a racing incident or Verstappen's fault, but either way, Hamilton himself didn't do much if anything wrong.
Before that though, things hadn't been going very well for him as, with the fastest car on the grid, he couldn't take pole or run inside the top three in either the sprint or full race.
In short, it was an off weekend for the Brit, but most importantly, one that he walked away from. In scary incidents like that, with a whole car just above his head, that's all that really matters. 5
Pierre Gasly: After crashing out in sprint qualifying, last year's winner retired with a problem after a handful of laps, so there's nothing to rate. N/A
Yuki Tsunoda: Again, nothing to rate. Yuki didn't even make the start. N/A