The top 10 drivers of the F1 2021 season so far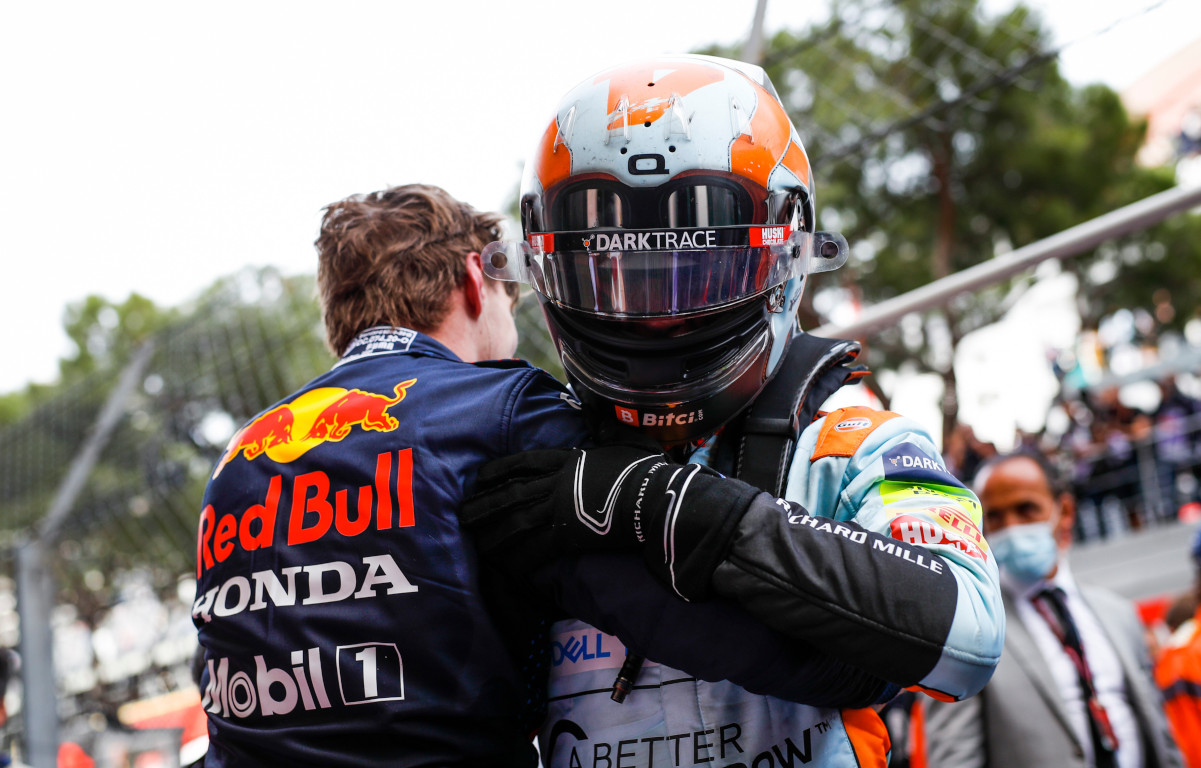 With the first half of the 2021 campaign done and dusted, we've ranked how we feel each driver has performed in 2021 to date.
We've already revealed positions 11-20, and here are who we think are the top 10 drivers of the season so far…
10: Sebastian Vettel
Heading into the 2021 season, very few drivers needed a good year more than Vettel, and at the halfway point, he's had one.
Early on, fears from 2020 that he was well past his best only grew as he struggled to get to grips with his new machinery, but he's since done so and hasn't looked back.
His resurgence really kickstarted in Monaco as he finished in P5 after looking good all weekend, and he then did even better a round later in Baku, conquering the chaos to cross the line in P2. He also did the same in Hungary, and while he may have been disqualified, it takes nothing away from what was an excellent drive.
He did have a poor start to the year and arguably hasn't quite yet made the team his own like Sergio Perez did before him, but if it keeps improving at the same rate, it won't be long before he does.
9. George Russell
It looks all but certain that Russell will be a Mercedes driver by the start of next season, which says a lot about how he's performed in this one.
Mr Saturday has been as good as ever in qualifying, not only constantly making it out of Q1 before getting himself into Q3 a few times, which is an enormous achievement. At this point, you could make a case for being the best qualifier on the grid; after all, few if any have dominated their team-mate as much as he has.
What's most important though, is how a driver does on Sundays, and he's made good progress in that department. Not only has he finally scored points for Williams, finishing P8 in Hungary thanks to some excellent defensive driving, but he's also crossed the line just outside the top 10 twice, which are strong results considering his machinery.
It hasn't quite been the perfect half-season, with his crash with Valtteri Bottas a low point, but it has certainly been good enough to earn him a dream move to Mercedes and consolidate his reputation as one of the biggest talents around.
8. Esteban Ocon
Esteban Ocon: #F1 race winner 😍 pic.twitter.com/9mF6SFhr7q

— PlanetF1 (@Planet_F1) August 1, 2021
Ocon lost his own reputation as one of F1's bright young talents after being beaten soundly by Daniel Ricciardo in 2020, but he has very much reclaimed it this year.
That is, of course, in large part thanks to his stunning victory in Hungary. Sure, he got a bit of luck to end up at the front, but he still had a huge amount to do to win and did it all perfectly, not putting a foot wrong despite being under enormous pressure from start to finish. Quite simply, it was one of the drives of the season and the best of his career.
It wasn't the only strong weekend he had either, with the Frenchman constantly and sometimes comfortably getting the better of team-mate Fernando Alonso in the early stages of the year, which is no mean feat. So impressive was he that he was handed a new long-term contract.
His level did drop a bit between then and his heroics in Budapest, but on the whole, it's been a very, very good opening 11 rounds for Ocon.
7. Fernando Alonso
At the start of the year, many wondered whether Alonso was making a mistake returning to F1 and whether he was too old to battle with the best. Eight months later, there are absolutely no doubts about his abilities.
Like many joining new teams, he struggled to hit the ground running initially, being second-best to Ocon, but was by no means terrible either, still scoring four points in the opening three rounds. He then failed to finish inside the top 10 in the next two, but since then, he has looked as good as ever.
From Baku to Budapest, he's scored points in every race and has finished inside the top six twice. The highlight was undoubtedly his stunning defending when being chased by Lewis Hamilton in Hungary, with him displaying arguably the best wheel-to-wheel racing the sport has seen so far this season.
With that phenomenal drive and plenty of other impressive ones, the 40-year-old is emphatically proving that age is just a number.
6. Charles Leclerc
Very few drivers, if any, were more impressive in 2020 than Leclerc as he performed miracles in a poor car, and he's picked up where he left off this year.
He has admittedly had much better machinery at his disposal, but his Ferrari is still very much a midfield car, so the fact that he has two pole positions and was a few laps away from winning in Silverstone is enormously impressive, as were his P4 finishes in Spain, Baku and Imola.
There have been a few downsides, such as his crash in Monaco which, while ironically handing him pole position, cost him a huge chance of victory, and he hasn't dominated new team-mate Carlos Sainz as much as he would have hoped – but the positives very comfortably outweigh the negatives.
Without a top car in the last few years, he could have easily lost his reputation as one of the best drivers on the grid, but instead, he's constantly securing and enhancing it.
5. Carlos Sainz
Sainz's first half of the year would have been good if he had been with Ferrari for years. The fact that it's his first season with them makes it a spectacular one.
While so many drivers struggled to adjust to their new cars, the Spaniard found his feet in no time at all, immediately taking the fight to Leclerc on both Saturdays and Sundays, something which Vettel couldn't come close to doing when he was there.
He's continued to improve as the season has progressed, finishing on the podium in Monaco and Hungary and inside the top six twice in Austria and at Silverstone too. In fact, he's only failed to score points twice; only Lando Norris and Lewis Hamilton have a better record than that.
Because of that, he heads into the summer break with two points more than his team-mate, which is a big achievement. He may lack the overall pace of Leclerc, but he more than makes up for it with consistency, and he's not exactly a slouch either.
4. Pierre Gasly
Gasly was the feel-good story of the 2020 campaign as he recovered from the difficulties of 2019 to have an excellent year, and he's now shown that it wasn't a one-off.
In a car that has usually been sixth or seventh in the pecking order, he has made it to Q3 regularly, has scored points in eight of the 10 races that he has finished, has made very few mistakes and has claimed a podium, crossing the line in P3 in Baku after somehow fighting off Leclerc.
How good he has been is perhaps illustrated best by how dominant he has been over his team-mate, Yuki Tsunoda. Thus far, he hasn't been out-qualified by the Japanese driver once and has 32 points more. Given their car, that's an enormous gap.
A few expected the highly-rated rookie to come in and get the better of Gasly this year, but the Frenchman has made it abundantly clear that, should Red Bull need another driver, he's their best bet.
3. Lewis Hamilton
This season, Hamilton has faced arguably his biggest outside threat since joining Mercedes, and all in all, he has risen to the challenge.
He has at times looked as good if not better than ever before, with his three wins from the first four races all very impressive. In Barcelona in particular, he looked like an eight-time World Champion in the making.
Things have gotten a bit messy since then, with errors costing him likely wins in Baku and Budapest and him being perhaps a little too aggressive in his battle with Max Verstappen at Silverstone. In both Hungary and Great Britain though, he was immense aside from those moments.
Sure, things could be even better, but they could have been a lot worse too if not for his performances. Ultimately, he's leading the standings by eight points despite often having a slower car than his title rival, which – while partly due to some bad luck for Verstappen – says a lot.
2. Max Verstappen
He may be trailing the Brit, but in terms of driving alone, there's very little Verstappen could have done better in the opening half of the season.
The Dutchman has been as rapid over one lap and as enthralling as ever when wheel to wheel, but what's more, he's been remarkably consistent too, making very few, if any, mistakes at all. Watching him now, it's clear just how much he has developed and matured in the last few seasons.
He has been imperious in each of the five races that he has won and was in Baku too, where he would have comfortably tasted victory if not for a tyre failure. In fact, he has yet to finish lower than P2 in a race where his car hasn't been damaged in any major way.
That failure in Baku and two incidents in which he didn't do much wrong in the last two races are the only reasons he's not leading the standings right now, but looking at how he has driven, it may well not be long before he's doing so again.
1. Lando Norris
Although his point-scoring streak was broken at the Hungarian GP, Lando Norris is still P3 in the Championship👀…

He is definitely in contention for driver of the season🧡 #F1 pic.twitter.com/32zq04jCmg

— PlanetF1 (@Planet_F1) August 4, 2021
The two title contenders have both been very good this year, but our driver of the season so far is, without much doubt, Lando Norris.
To see how he's been this year, you need only look at the numbers: P3 in the standings, 113 points, 10 top-10 finishes, nine top-five finishes, three podiums, and all in a midfield car.
The only race that he didn't score at least a decent result in was the last one and that's only because he was taken out by Bottas at the start. Every time his car has stayed in good nick, he has done very impressive things with it.
Most, including us at PlanetF1, expected him to struggle against Ricciardo, but the Aussie hasn't been able to get anywhere near his level, and we doubt many could at the moment.
Finley Crebolder