Driver ratings from the Russian Grand Prix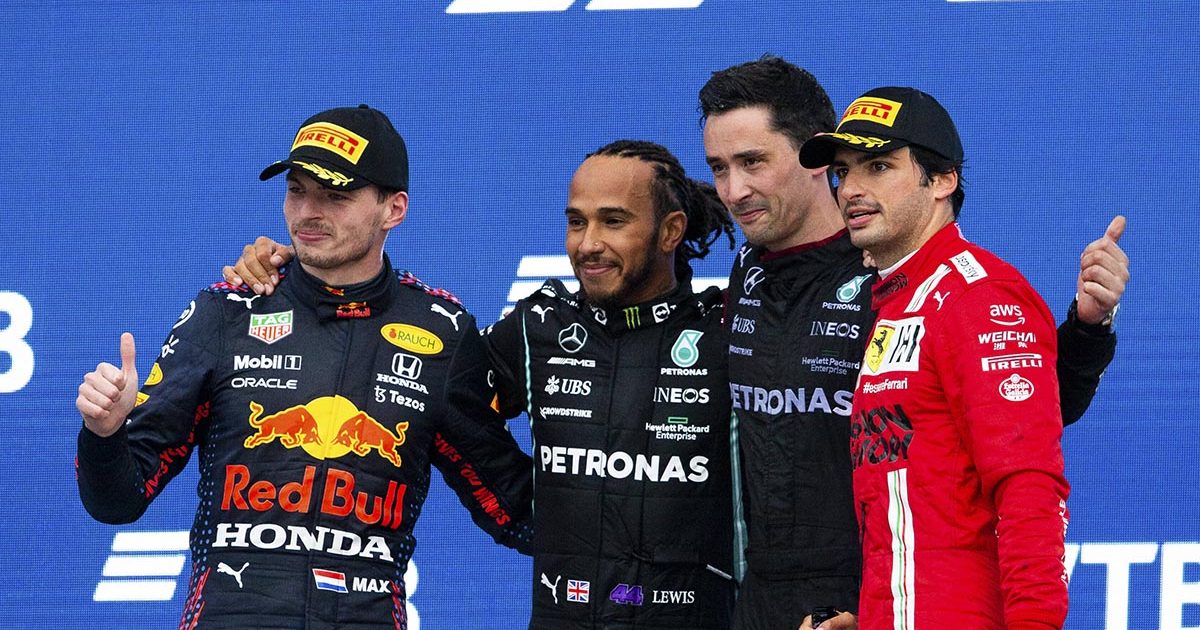 With rain in Russia causing chaos, the usual suspects reigned supreme, but the result doesn't tell half the story…
Here's how we think every driver performed at the Russian Grand Prix…
Lewis Hamilton: Win number 100 is in the bag, and very few of the previous were as much of a rollercoaster as this one.
It was a weekend of two halves for the Brit. Before making his first pit-stop on Sunday, he had made a costly mistake in qualifying and lost places in the race. At that point, it looked like he'd stay on 99 victories for a while longer. And then he found his form.
From the moment he came out of the pits on Lap 27, he was simply faultless, charging through the field and catching Norris with ease. That gap then stabilised, but he eventually chose to listen to his team and put on inters when the rain started to fall, and it was a decision that ultimately earned him top spot on the day and in the championship.
It wasn't the perfect weekend, and he probably wouldn't have won if not for the rain, but how he performed in the second half of the race reminded us all why he's the most successful driver of all time. 8
P20 👉 P2

That was impressive, even for Max#RussianGP #F1 pic.twitter.com/B9jEXQAJlp

— Formula 1 (@F1) September 26, 2021
Max Verstappen: He has the weather gods to thank for him somehow crossing the line in P2, but even before that, it was a very good drive from the Dutchman.
Starting from the back, he quickly set about making his way up the order, passing Bottas and a number of others with ease to put himself within touching distance of Hamilton before he first pitted. He had to change his hards earlier than most on that compound though as he hadn't worried much about preserving them, and that looked like it would cost him as his mediums started to go off, causing him to drop down to P7.
Had it not rained, he probably would have finished there which, given where he started, would have been a very decent result, especially compared to how Bottas fared. When the opportunity came for him to better that, he didn't hesitate, diving into the pits at the perfect time to leapfrog those ahead of him.
He could have looked after his tyres better and was helped by a huge dose of good fortune, but even so, he drove really well on the whole. 8.5
Carlos Sainz: At one point, it looked like Sainz could win. At another, it looked like he'd barely score points. In the end, he left Russia with 15, and can be happy with his driving as well as his result.
After an excellent qualifying performance, the Ferrari driver actually made a poor start, but positioned himself well straight after to get a tow and head through Turn 1 in the lead. He then stayed there for a while, but couldn't make his tyres last as well as Norris and was thus passed by the Brit as a result.
Chances of a podium, let alone a win, looked slim during his second stint, but the stars aligned to get him one. First, a poor pit-stop for Perez kept him in P3, and then the rain caused Norris to go off. The Spaniard meanwhile didn't put a foot wrong as chaos ensued, pitting at the right time and staying on track to cross the line ahead of Ricciardo.
He himself was disappointed with how his first stint panned out, but he more than made up for it in the end to get his third podium of the year, which is a very impressive feat. 8.5
Daniel Ricciardo: He may not have been as impressive as his team-mate, but Ricciardo proved in Russia that his resurgence in Monza wasn't a one-off.
The Aussie made a strong start to get ahead of Hamilton and then did a stellar job for his team, holding off the Brit and Perez to allow Norris to pull away. What's more, he was quick enough to be well in the mix for a podium himself.
A poor pit-stop then changed that, causing him to drop down the order, but he put his head down and did well to fight his way back up to P5 before gaining another spot in the chaos that followed.
Norris was undoubtedly the stronger of the two McLarens all weekend, but unlike when that was the case in the past, Ricciardo wasn't worlds away by any means and was there to pick up the paces when the Brit went off. He's getting back to his best. 8
Valtteri Bottas: With him starting in P17 and finishing in P5, the result alone would suggest Bottas drove a good race, but that wasn't the case.
Mercedes changed his engine largely so that he could be a nuisance for Verstappen, yet he proved to be anything but, putting up zero defence when the Dutchman passed him early on. After that, he then got stuck behind Gasly and looked set to finish well outside the points.
That all changed as the rain came falling, with his team calling him in at the perfect time to send him flying up the order. To his credit, he then drove well on the inters to get into the top five. To be frank, that was really the only good spell he had all weekend though
All's well that ends well as the saying goes, but things only ended well for the Finn because of the wet weather. Without it, he probably wouldn't have scored a single point. 5
Fernando Alonso: The fact that Alonso felt a little disappointed with P6 at the end of the race says it all. It went under the radar, but this was one of his best drives.
The Alpine driver made a strong start but then dropped down to P8, seemingly struggling to find pace on his hards. However, he more than made up for that with tyre management, making them last a whopping 37 laps. That meant he had fresher tyres than most in the latter stages and he made the most of them to pass Verstappen and take P6.
Where he really thrived though was in the changing conditions. As the track started to get wet, he was stunning, getting ahead of Ricciardo, Sainz and Perez to move into the podium positions.
He ultimately stayed out one lap too long and lost a few places, but that takes nothing away from what was a vintage performance form the Spaniard. 9
Lewis Hamilton: "Lando did such an amazing job, he had incredible pace. He is doing such a great job for McLaren."

Your time will come, Lando, no doubt about it 🧡 #F1 pic.twitter.com/WfVFq4YJgJ

— PlanetF1 (@Planet_F1) September 26, 2021
Lando Norris: It was so nearly the perfect drive, the perfect result and the perfect weekend for Norris. What a cruel sport Formula 1 can be.
After securing his first-ever pole position with a stunning lap, he lost out to Sainz at the start but then put his head down and regained the lead soon afterwards. Once there, he didn't put a foot wrong, managing his tyres, maintaining strong pace and looking right at home at the front of an F1 race.
The only thing he did wrong all weekend was decide to stay out when the rain started to come down hard, but while it's easy to criticise him with the benefit of hindsight, it was a very tough call to make at the time.
There's little doubt that he deserved to get his first-ever victory in the sport and, if he keeps driving like this, his time will definitely come soon.  9.5
Kimi Raikkonen: After two races away, Raikkonen returned to the grid in Russia, and he did so in style.
The Iceman made an excellent start to find himself up in P8 after the first 14 laps and he remained well in the battle for points from that point onwards, holding his own against those in faster cars.
Living up to his nickname, he then kept his cool as did his team in the closing stages to secure a much needed three points. He may be retiring at the end of the year, but make no mistake: the Finn can still drive. 9
Sergio Perez: Checo ended up finishing the race a place down on where he started it, but his drive was deserving of a far better result.
He's renowned for his ability to make tyres last, and that ability was on display in Sochi with him doing 37 laps on the hard compound. What's more, throughout that stint, he was able to keep up with Hamilton despite the fact that the Brit was on the faster mediums.
So strong was that opening stint that, if not for a really poor pit-stop from his team, he would have been well in contention for the win. Even with it, he managed to get himself back into the fight for a podium before the rain came.
Like Norris, he made the call to stay out on slicks when it did which cost him a lot of places and points. All in all, he can be pretty happy with how he drove though. 8
George Russell: Getting P3 in qualifying and scoring a point on Sunday, it was yet another really impressive weekend from the future Mercedes driver.
His lap in qualy was simply stunning, and he somehow managed to hold onto the position it earned him at the start of the race before his car's lack of pace left him powerless to avoid dropping down the field during the pit window.
He kept his head down though and was ultimately rewarded for it, managing to secure a point right at the end. Given his machinery, that's a good effort. 8.5
Lance Stroll: Few drivers had as mixed a time of things in Russia as Stroll did, with both the best and the worst of him being on display.
He made as good a start as anyone, going from P7 to P4, and while he couldn't stay in the top five, he did manage to remain firmly inside the points, running in P8 with 15 laps to go.
Things then went wrong though as the Canadian made contact with team-mate Vettel and Gasly, with the latter incident earning him a 10-second penalty. Those two pieces of driving undid all of the really good work from earlier in the race. 6
AGAIN???? pic.twitter.com/2cpBBBSAmH

— Marty✨| SebLando & Victor credente (@sebikylly) September 26, 2021
Sebastian Vettel: Not for the first time this season, Vettel treated us to some great racing but ultimately wasn't rewarded for it.
After qualifying left him hugely disappointed, he cleared his head and held position in P10 at the start before doing an excellent job holding off former team-mate Leclerc for a good while.
After pitting, the German then rejoined in P16 and made his way up into the top-10, despite his team-mate's best effort to stop him. Then the carnage came, and sent him back down a few positions. Without it, he almost definitely would have scored points and been the higher finishing Aston Martin. 7
Pierre Gasly: He didn't drive badly, but for the first time in a long time, Gasly wasn't one of the stand-out drivers on neither Saturday nor Sunday in Sochi.
Throughout the weekend, the top 10 proved elusive to him, with him being knocked out in Q3 and never really looking like scoring points in the race.
He did at least do a very good job of holding off Bottas for a number of laps, and was comfortably better than his team-mate again, but just couldn't match the high standards he has set for himself this year – mainly because of his team's decision-making throughout the weekend. 6
Esteban Ocon: Like his compatriot, Ocon is another driver who will be keen to swiftly forget about his time in Russia this year.
Unlike at most circuits this year, he was firmly second best to team-mate Alonso throughout the weekend, fighting for the final points-scoring position while the Spaniard went for a podium.
He couldn't gain any positions towards the end either and finished in a position that is fairly reflective of his performance all weekend. 5.5
Charles Leclerc: Scoring points when starting so far back was always going to be a tall order for Leclerc, but if not for the rain, he may well have done it.
The Monegasque gained seven places in the opening laps before turning his attention to making his tyres last and going long. He did just that and, with fresh rubber, fought his way into the top 10.
However, he then opted not to pit when the rain first came and went off, dropping back down the field. Before that, it had been a top drive. 7.5
Antonio Giovinazzi: Giovinazzi very much looked like the team leader in the past two rounds before Russia, but with Kimi returning, was comfortably the slower Alfa Romeo again.
Things went wrong almost immediately as he made a poor start to stay in P18 and also lost his team radio due to contact with another car. After that, he remained well outside the points and well behind Kimi throughout.
Navigating the madness of the race with no radio is a huge task to be fair, but even so, it wasn't the sort of drive that will save his seat. 5
Yuki Tsunoda: Given he raced at the track before and did well, it looked like Tsunoda could find some form in Sochi, but he failed to do so.
Qualifying was decent, but the rookie's pace was really poor throughout the race and he made a few errors too, dropping down to last at the start and struggling more than most in the wet conditions later on. 4
Nikita Mazepin: In his first home race, Mazepin made a stormer of a start, climbing up to P12 and defended well for the rest of his first stint, but that's as good as things got.
After pitting, he was caught and passed by his team-mate before the German retired and he finished last of those running. 5.5
Did not finish
Nicholas Latifi: Before retiring with a mechanical issue, Latifi had a decent qualifying session but, starting from the back due an engine change, couldn't make much progress in the race before crashing out in the wet. 5
Mick Schumacher: Schumacher had a poor first stint, being the slowest man on track, but was much faster than Mazepin after pitting and before retiring, as he was in qualifying. 6