New TD threatens Red Bull, Ferrari dominance as F1 resumes at Spa
After months of speculation, the Belgian Grand Prix marks the first race for the enforcement of the new Technical Directive 039.

This weekend's action at Spa-Francorchamps has the potential for quite a bit of upset if the technical directive that comes into effect actually has any impact on the top teams.
After months of veiled finger-pointing from some quarters, aimed at Ferrari and Red Bull Racing, the veil came off over the Hungarian Grand Prix weekend as Mercedes' George Russell pointedly said his team believe the two leading teams have been bending the rules.
The grey area in the regulations relates to the skid block/plank of the car, and has come about as a result of the FIA's investigations into how to reduce the effects of porpoising after the aerodynamic phenomenon plagued the field during the bumpy Azerbaijan Grand Prix.
While porpoising, as an issue, is no longer as prevalent as it was, the governing body announced the introduction of a 'vertical oscillation metric' which, put simply, measures how much a car bounces. Based on safe calculations, cars will be subjected to a maximum amount of oscillation and if the car is outside that figure, will have to go through a set-up change in order to bring the figure into range.
This investigation resulted in the alleged 'tricks' being used by Red Bull and Ferrari that allow the plank under the car to flex more than the rules intended, and also protect the skid blocks that measure plank wear.
"There's no doubt Ferrari and Red Bull have pushed the regulations in that regard, and we've sort of respected it as the regulation was intended," Russell told Sky F1 after Hungary.
"But there are no guarantees it would bring them closer to us. We know if it was on our car it would make us slower. There are no guarantees, every car is different. But it won't help them, that's for sure."
Technical Directive 039 will thus come into effect from this weekend at Spa, with the impact of that yet to be seen.
Red Bull's Christian Horner dismissed questions about the directive over the Hungary weekend, saying "For us, it's not an issue."
Ferrari's Sporting Director Laurent Mekies also downplayed the importance of the change, with the F1-75's visible bouncing no longer as obvious as it had been earlier in the season.
"The TD is effectively putting more pressure on the teams to operate their car far away from the porpoising," he said.
"It's also putting more emphasis on checking legality for plank wear. As far as we are concerned, it's an issue that pretty much has disappeared, we are now dealing with it as a completely normal set of items. If you have the issue, you raise your car. If you don't have it, you could bring the car lower as we have done for quite a few decades now."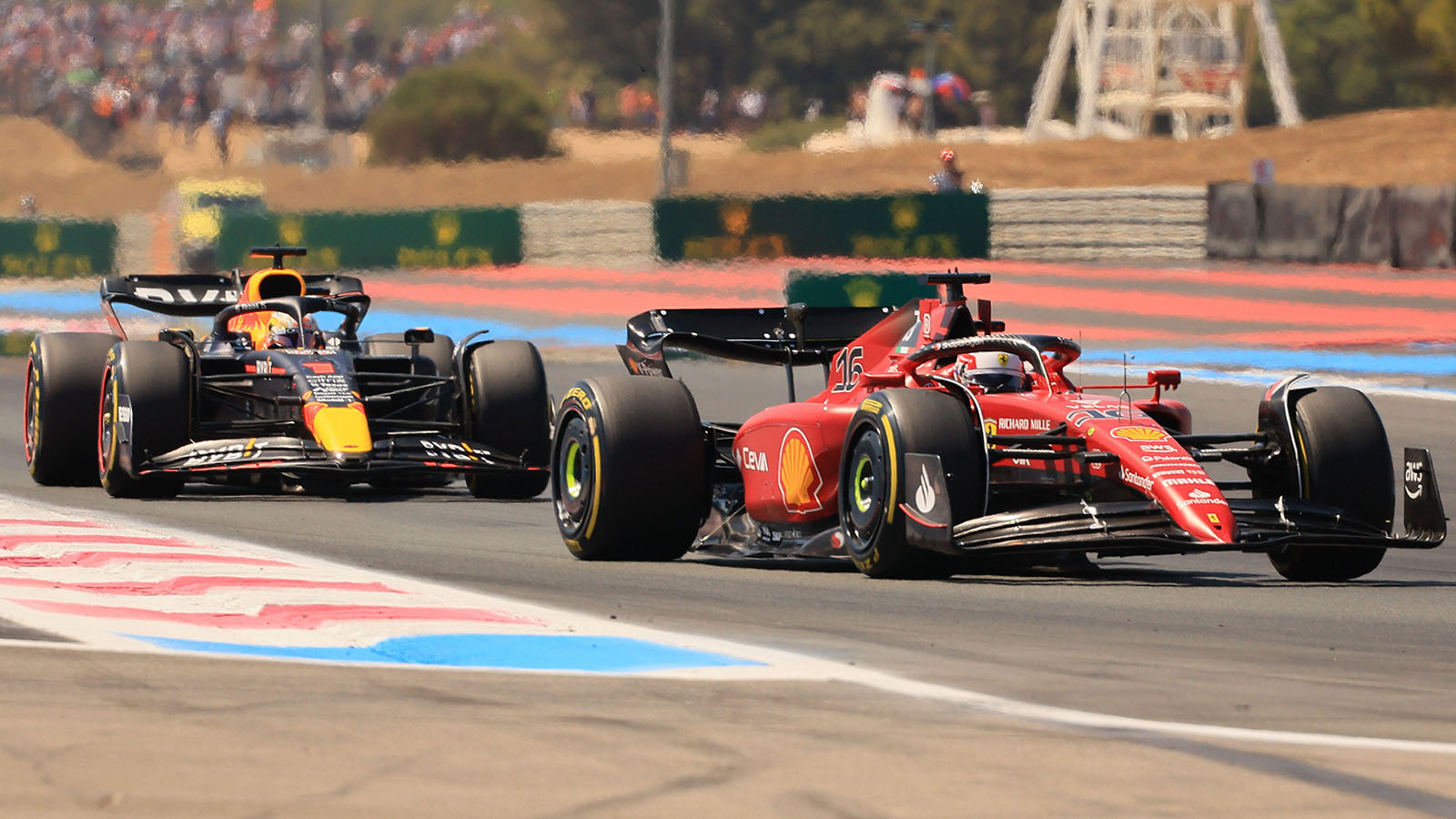 This weekend will put to rest months of speculation over who is correct. Will the introduction of the technical directive have any visible impact on the pace of Red Bull or Ferrari over a race distance?
The biggest indicator of the TD having an effect would probably be a Mercedes victory on pure pace. After all, the Brackley-based team have closed the gap considerably to the front-running pair, particularly over a single lap.
However, as seen in Hungary and despite their strong second and third-placed finishes, Max Verstappen showed the Red Bull still had plenty of race pace in hand over the W13 as he came through to win from 10th place on the grid.
Directive aside, Mercedes' uptick in form suggests they could be a threat for the race victory even without the added bonus of a potential spanner in the works for the two leading teams.
Having taken a sensational pole position last time out in Hungary, Russell returns to the scene of his qualifying stormer last year, while Lewis Hamilton's record of four victories at Spa-Francorchamps shows the seven-time former World Champion knows his way around the fearsome circuit.
Another change to be aware of heading into this weekend is that the iconic Eau Rouge and Raidillon complex has been tweaked in the name of safety for this year. Following on from several high-profile crashes across various series, as well as Anthoine Hubert's tragic accident in 2019, Spa made the decision to undertake significant construction work after last year's race.
As a result, Eau Rouge and Raidillon have both been slowed slightly, while a large chunk of the hillside has been bitten out in order to move the dangerous inside barrier further back away from the circuit. This means a crashing car will no longer come back onto the racing line, as was the cause of most of the frightening accidents.
Following on from last year's washout, the drivers will be eager to get out on track and re-familiarise themselves with one of F1's best tracks. A track which is, unfathomably, without a contract for next season despite the universal love for the venue as a special challenge.
Last year, the unusual race circumstances gave Max Verstappen some vital points in the tight championship battle as his Saturday pole position proved the deciding factor when the race was called off after two laps behind the Safety Car.
This season, the Dutch driver heads to his 'home' race (Verstappen was born in Belgium and holds dual citizenship) with an 80-point lead over Ferrari's Charles Leclerc. With nine races remaining in the championship, Verstappen is at the point where his lead is big enough to be able to afford to come home second to Leclerc at every remaining race – not that he will be aiming to go down that route.
While Verstappen is in a very comfortable position, Leclerc has reached the point where he must simply throw caution to the wind. With little left to lose, Ferrari and Leclerc must come out of the blocks strongly and get their heads back into a winning state of mind in order to even try putting some pressure on Red Bull.
The problem with that is the possibility of Mercedes now being able to get in the mix, and potentially cost Ferrari even more points if they are not operationally and strategically firing on all cylinders. Indeed, Mercedes' involvement has been welcomed by Verstappen, who seemed less than worried about the chance of Mercedes costing him dearly in the battle with Ferrari.
Behind the top three teams, Alpine will also be hoping for a strong on-track result after a tumultuous summer break in which two-time former World Champion Fernando Alonso opted to cut and run, while his replacement Oscar Piastri also denied he was ever their driver.
It has been a bizarre and chaotic few weeks for the French manufacturer, who will be aiming to increase their four-point lead over McLaren into something more substantial. Even if winning the off-track battle with Woking over Piastri is not possible, winning on track would restore some pride for Enstone.
After a few short weeks away from racing, the second half of F1 2022 has arrived and with it, plenty more questions that need answering. On Sunday, perhaps some of those answers will be known.