Driver ratings for the British Grand Prix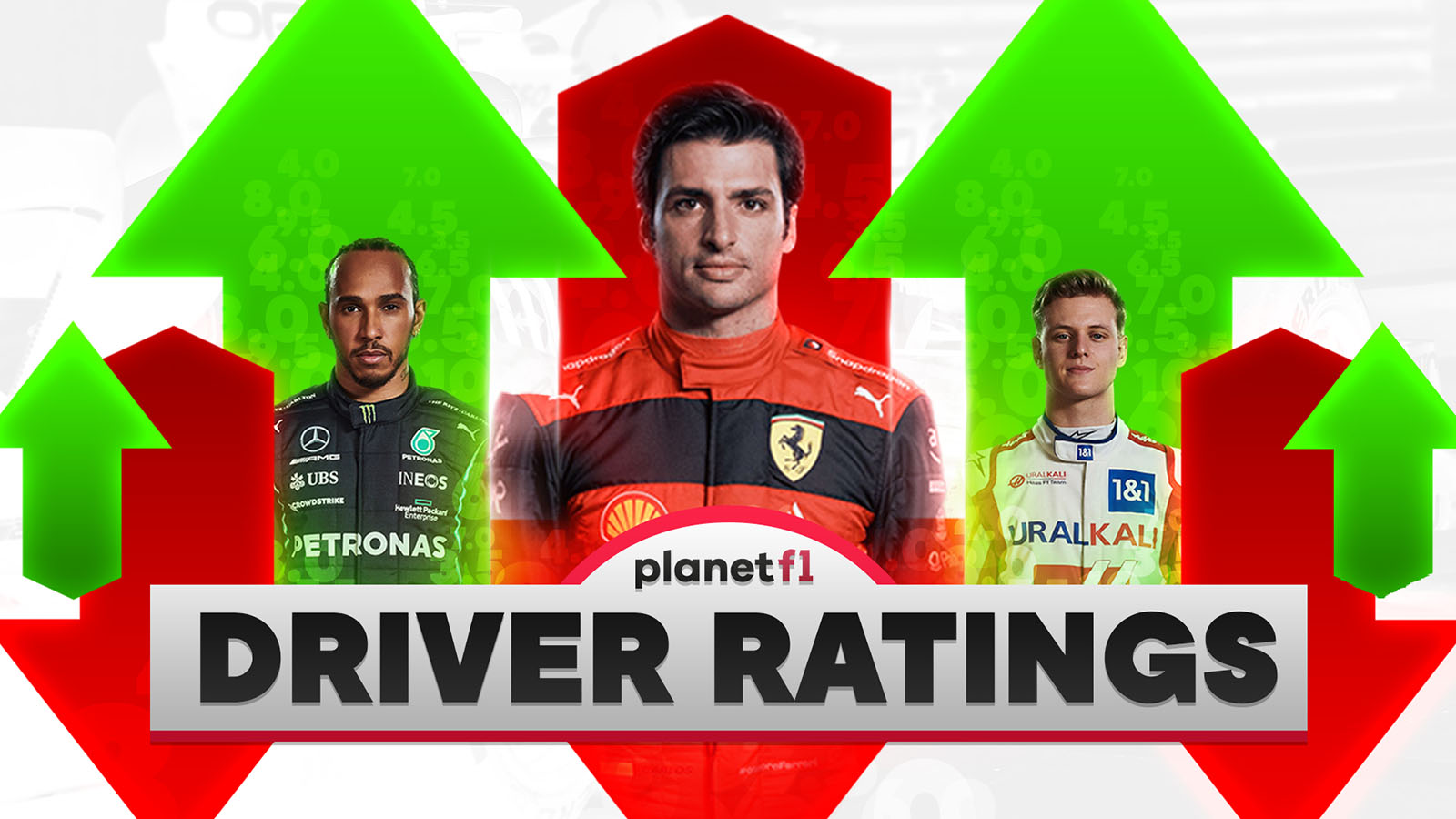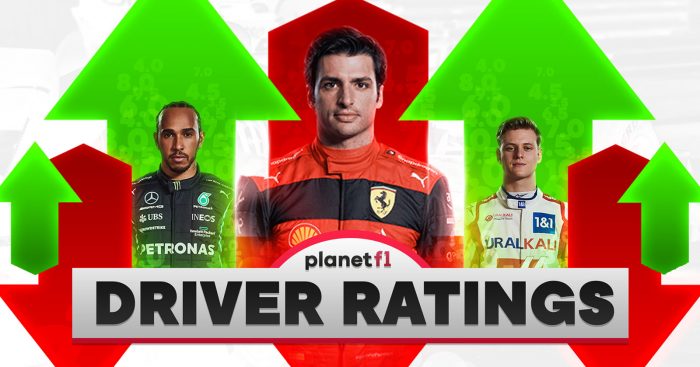 A crazy British Grand Prix that produced some unforgettable incidents and action ended with Carlos Sainz taking his maiden Formula 1 success.
It was a race where the identity of the winner was in doubt until the Spaniard pulled out a gap after the Safety Car restart, having got past his Ferrari team-mate Charles Leclerc whose F1-75 on hard tyres acted as something as a barrier to those on the soft rubber in behind.
But of course, the biggest triumph of the day was that Zhou Guanyu emerged pretty much unscathed from the scariest grand prix crash since Romain Grosjean's horrific Bahrain fireball in 2020.
Only 14 of the 20 drivers reached the chequered flag – here's our ratings for those whose performance could be assessed, plus news of what happened to the others.
Carlos Sainz: After taking his first F1 pole position in the wet on Saturday, the Spaniard converted it into a race triumph in the dry – but it was anything but straightforward.
For much of the race, Sainz looked only the third most likely driver to reach the top step of the podium as both Leclerc and Lewis Hamilton appeared to have the greater pace.
But ultimately, when it mattered, and unlike in Canada a fortnight earlier, the 27-year-old was able to make the decisive move stick – albeit he had a big advantage with the soft tyres against Leclerc's hards, having been called into the pits under the Safety Car.
It was overdue on his 150th start but nicely executed in the end, and this is a win that should give Sainz a big boost of morale – especially as he is now only 11 points behind his team-mate in the World Championship. 9.
Sergio Perez: At one stage, it was easy to forget Perez was even still in the race after his early contact with Leclerc that meant he had to stop for a new front wing and dropped to the back of the field.
But largely unnoticed, he worked his way back up to fourth and the Safety Car was exactly what he needed to give him a chance of improving on that position.
It says much for the Mexican's progress with Red Bull that he suddenly looked a contender for victory, but that would have needed him to clear Leclerc faster than he was able to.
Nevertheless, another strong display in a reverse of the 1-2 finish from Monaco. 9.5.
Lewis Hamilton: No record-breaking ninth success on home soil, but it did look on the cards at various points – and there was lots from their hero for the Silverstone crowd to cheer.
It could not be said too often so far this season but the Mercedes W13 was the quickest car out there for a large portion of the race as Hamilton threw down the gauntlet to the Ferraris.
Ending with the fastest lap, the 37-year-old has now recorded back-to-back podium finishes and has closed to within 18 points of his team-mate George Russell. 9.
Charles Leclerc: If Leclerc did not have bad luck he would have none at all, for the time being anyway, and this was another race when he was entitled to feel aggrieved with the hand he had been dealt by Ferrari.
Unhappy that a slower Sainz had not been asked to move aside earlier than lap 31, what cost the Monegasque most was being left out in front as a sitting duck with hard tyres after the Safety Car period.
It was to Leclerc's credit that he battled so hard against Perez and Hamilton and held on for fourth, although the early contact with the Red Bull that left him short of a front wing endplate could only be attributed to his own touch of impetuosity. 9.
Fernando Alonso: A largely quiet race for the Spaniard came alive towards the end when, in typical style, he got himself firmly into the tussle with the cars immediately ahead.
The Alpine did not have the pace to truly challenge the Red Bull or Mercedes for long, but Alonso will have been happy to finish best of the midfield runners. 8.
P5 and fighting close to the podium, @alo_oficial enjoyed that. #BritishGP pic.twitter.com/jOJckxJBnL

— BWT Alpine F1 Team (@AlpineF1Team) July 3, 2022
Lando Norris: The Briton's main target from the outset was to beat Alonso and he looked like doing so until McLaren called him in for his pit-stop under the Safety Car a touch on the late side, which enabled the Alpine to get past.
Hanging on to the back of the fight for P2-6 in that breathtaking late action, Norris could not improve his placing but is sure to have enjoyed being involved with a potential sniff of a home podium at one point. 7.5.
Max Verstappen: It is natural to think Verstappen would probably have won quite comfortably but for running over some debris on lap 12, after which he immediately knew his car would not be the same again even though initial fears of a puncture were allayed. However, Verstappen deserves a lot of credit for still managing to keep a badly damaged car in the points.
A setback for the World Champion in his title defence, but probably just a blip and he still holds a 34-point lead heading to Austria – a venue that holds happy memories for him. 8.5.
Mick Schumacher: At last! It took him 32 attempts but the German finally has his first F1 points. And very well deserved they were too.
And also, little could the Haas driver have believed he would be challenging Verstappen for position on the final lap, narrowly missing out on improving his P8 to P7. A tremendous effort from 19th on the grid. 9.5.
Sebastian Vettel: Unfortunately, heading to the first corner at the initial start Vettel hit Alex Albon from behind and sent him spearing into the wall, as part of the drama that caused the red flag.
An early pit-stop was needed after the German started on soft tyres when the race began in earnest, but he kept it clean from then on and bagged a couple of valuable points as a 35th birthday present. 7.5.
Kevin Magnussen: The Dane did well to avoid the chaos at the first start, taking up several positions on track to tiptoe his way through the carnage.
After that, it was a low-key race for Magnussen but he will be pleased to have made it a double points finish for Haas. 7.5.
Lance Stroll: Aston Martin's poor qualifying session left Stroll starting right at the back, but both he and the team enjoyed a much better Sunday on their doorstep.
No points for the Canadian but still a creditable performance in the circumstances. 7.
Nicholas Latifi: On a weekend when a couple of drivers fighting for their futures gave themselves a fillip, Latifi did as well as could have been expected from a flattering 10th place on the grid secured in the rain.
Running as high as eighth at one stage after starting on soft tyres, he gradually slipped back but gave a timely reminder of what talent he has. 8.
Daniel Ricciardo: Two days after his 33rd birthday, Ricciardo was one of two drivers allowed to unlap themselves under the Safety Car – certainly not the look he would have wanted.
This was, sadly, another of those occasions when the Australian was put well and truly in his place by his younger team-mate. 5.
Yuki Tsunoda: A really poor weekend all round for AlphaTauri and the nadir was when Tsunoda and Gasly looked more like a couple of figure skaters as they spun in unison after colliding.
That was the Japanese driver's fault as he received a five-second penalty and eventually fell to the rear of the field. 4.
a tough day on track after a promising start

time to regroup and come back stronger in Austria 👊

— Scuderia AlphaTauri (@AlphaTauriF1) July 3, 2022
Did not finish
Esteban Ocon: A couple of laps after he had passed Max Verstappen and was looking set for a comfortable points finish, Ocon slowed and came to a standstill on the track due to a fuel pump failure.
Caught up in the melee at the original start, despite taking avoiding action, the Frenchman had been going along quite nicely until his retirement. 7.
Pierre Gasly: The Frenchman had every right to be fuming with Tsunoda for their collision, which essentially ruined both of their races.
Gasly sustained damage which resulted in the black and orange flag being shown to him, and on entering the pits his car was immediately retired. 6.
Valtteri Bottas: Little was seen of the Finn, apart from when he was being updated about what had happened to his team-mate Zhou.
On lap 21, he came into the pits to be retired as Alfa Romeo's gremlins stuck again. 5.5
George Russell: As he, Gasly and Zhou battled for the same piece of tarmac at the first start, Russell veered left into the Alfa Romeo and both cars ended up off the circuit.
An ignominious end to the Briton's run of top-five finishes, and at the venue where he would have least wanted it to occur. N/A.
Alex Albon: Struck from behind by Vettel, that was the end of Albon's afternoon from a racing perspective and a trip to hospital for precautionary checks followed.
Thankfully, like Zhou, there was no lasting damage. N/A.
Zhou Guanyu: As the minutes ticked on following the Chinese racer's crash, the worries mounted as no news on his condition had been announced following his terrifying upside-down crash up and over the tyre barrier into the fencing.
Even Sainz would surely concur that the Halo on the Alfa Romeo, which saved Zhou from severe injury, deserved the day's highest marks. N/A.
Highlights from the British Grand Prix
Put simply, it was a quite remarkable British Grand Prix on Sunday.