Conclusions from F1 2022's season-ending Abu Dhabi Grand Prix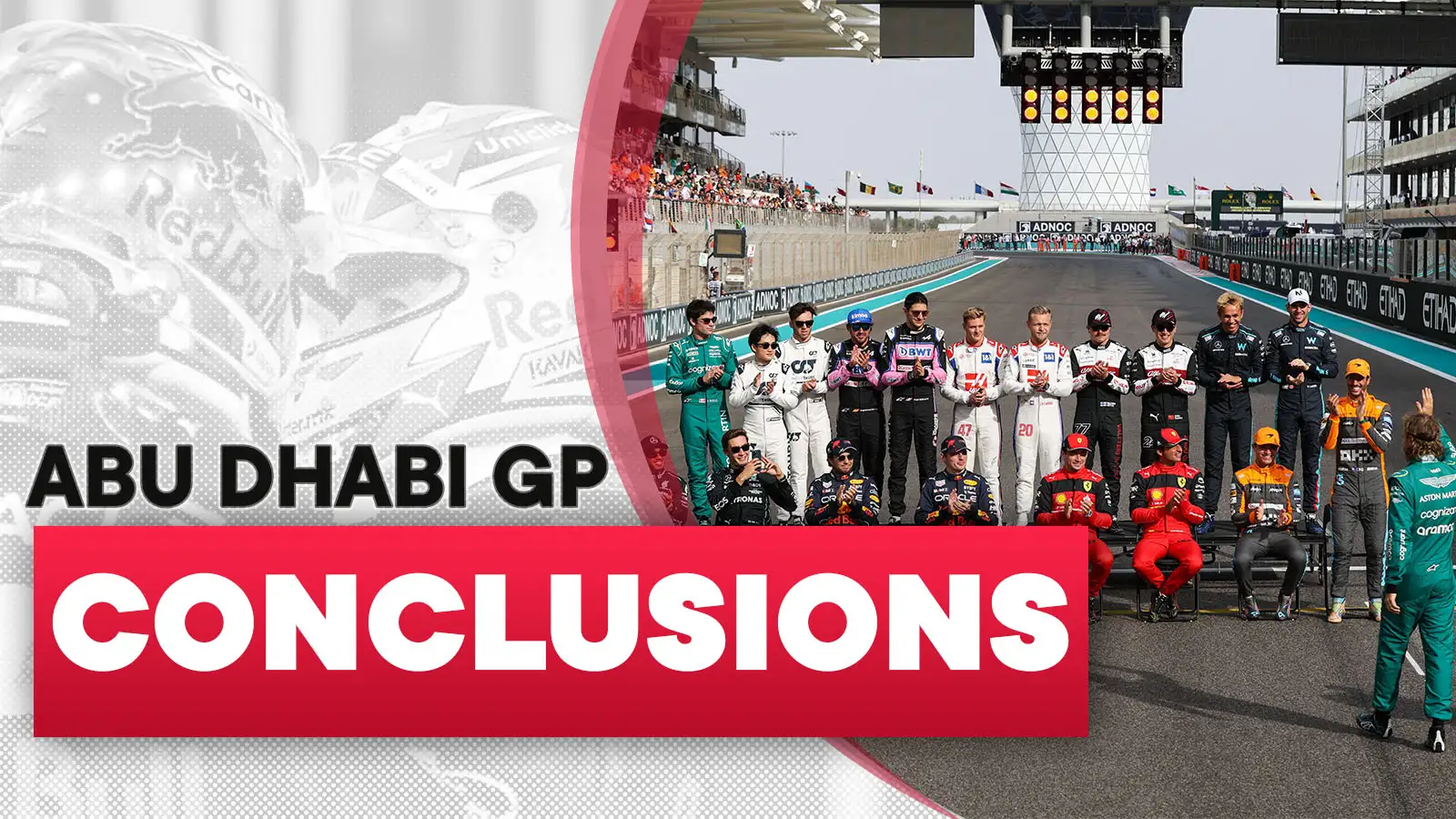 Max Verstappen enjoyed a perfect end to the 2022 Formula 1 season by winning the Abu Dhabi Grand Prix as Ferrari's Charles Leclerc pipped Sergio Perez to P2 in the World Championship.
Here are our conclusions from Yas Marina…
Verstappen's record-breaking season ends on the right note
For a driver who has won 15 out of a possible 22 races in 2022, the gloss has come dangerously close to coming off Verstappen's season over recent weeks.
The death of Red Bull founder Dietrich Mateschitz over the United States GP weekend last month added a distinctly emotional edge to the team's success and came at a time when the noise surrounding their breach of the 2021 cost cap was at its loudest.
After the Spa technical directive failed to destabilise Red Bull's season, their competitors needed no invitation to throw around accusations of cheating when the breach was confirmed – happily ignoring the fact the additional funds had found their way into the catering and not the car.
With that issue resolved, then came the team orders controversy in Brazil as Verstappen refused to swap places with team-mate Perez.
The enduring image of 2022, though, will be of Verstappen disappearing into the distance, which he did one last time under the setting sun at Yas Marina.
Upon alighting from the car at Interlagos, Verstappen – despite his firm rebuke of the team moments earlier – insisted he would have no problem helping Perez in his fight for the runner-up spot in Abu Dhabi, though it was uncertain what form this would take in reality.
A tow in qualifying and a helping of DRS in the early laps of the race was about as good as it was going to get for Perez as Verstappen had a race – yet another one – to win.
Any thought of helping him further from there would only interfere with the business of winning.
Were it not for the team's fuel misjudgement in Singapore qualifying and their struggles in finding a suitable setup in the limited practice time for the Brazil sprint, Verstappen could quite feasibly have won each of the final 11 races and taken another record for the most consecutive grand prix wins.
His performances, ever since the team overcame their early-season reliability issues, have scaled heights only a select number of drivers in F1 history have reached.
As The Year After The Year comes to an end, Red Bull have created a monster.
Charles Leclerc: Runner-up or first loser?
How to explain the fascination surrounding the fight for second spot in the 2022 World Championship?
Is this another bizarre product of the Liberty administration, pushing the idea that there must always be something, anything worth fighting for even when the main prizes have long been allocated?
Whatever it may be, Perez's enthusiasm – at times bordering on desperation – to finish second in the standings was revealing of a driver who is not, and surely never will be, World Champion material.
No driver with serious aspirations of winning the title ever gets this excited about finishing second.
In the heat of the moment, Perez had been critical of Verstappen for refusing to swap places at Interlagos – leaving him level on points with Leclerc ahead of the season finale – but the runner-up position was not lost in Brazil or Abu Dhabi.
It was lost instead during that mid-season slumber following his victory in Monaco, when just as Verstappen was beginning to explore the full potential of the RB18 Perez crashed out of qualifying in Canada and failed to even reach Q3 in Hungary in the midst of a timid run of races.
In a year in which Leclerc suffered two mechanical retirements from promising positions, Perez has no excuse.
After ending their nine-year title drought by winning both Championships, having their drivers finish first and second in the standings for the first time in their history was little more than an optional extra for Red Bull, the very last box without a tick on their 2022 to-do list.
For Leclerc and Ferrari, making an unexpected if overdue return to competitiveness in Abu Dhabi, it is a welcome reflection of their progress from 2021 but also reminder of what could have been.
Although 2022 will ultimately be remembered for Red Bull's dominance, for the first few weeks – as Verstappen and Leclerc went wheel to wheel in Bahrain and Jeddah – F1 was treated to a glorious glimpse of the rivalry set to define its medium/long-term future.
If there was one driver who could consistently keep Verstappen honest in 2022 it was he, Leclerc, with his nine pole positions (two more than Max) and three victories.
For what it's worth (not a lot), he is the worthy winner of the runner-up spot.
Lewis Hamilton will be glad to see the back of the W13
As he returned to the scene of the crime in Abu Dhabi, Lewis Hamilton's view from within the Mercedes machine looked rather different to 12 months ago.
Gone for 2022 was Valtteri Bottas, his trusty old wingman replaced by a clear and increasingly dangerous threat in the shape of George Russell. And rather than having Championship-challenging car at his disposal, this season he has had to cope with the least competitive of his career.
Considering everything – the way 2021 ended, the new team-mate, the underperforming car and even a public back and forth with F1's authorities over jewellery – he has conducted himself with great dignity in 2022.
With Russell beating him to Mercedes' only victory in Brazil as the campaign concluded, Hamilton – losing a record unique to him as the only driver to win a race in every season he has competed – began to sound like Fernando Alonso in the final days of McLaren-Honda.
After discovering bouncing was back en route to qualifying a distant fifth, Hamilton admitted he was looking forward to the end of his test appearance at Yas Marina on Tuesday as "the last time I have to drive this thing," referring to the recalcitrant W13.
Being launched over the kerb during his opening-lap battle with Carlos Sainz was the latest in a series of uncharacteristically untidy moments to have peppered the second half of his season and costly in an era when the car's floor contributes so much to performance.
His first mechanical retirement since mid-2018, possibly related to that early hit, was the final insult to end a forgettable season.
Hamilton, of course, is among the drivers who pride themselves on swerving the track walk undertaken on the Thursday of a grand prix weekend and may not even have been aware the kerb was there prior to that first lap.
Take that incident as a sign that, in the face of new and vibrant opposition, no stone can be left unturned if he is to return to his former glories.
Even if he is presented with a car worthy of his talent in 2023, he must take care of Russell before he can even consider taking on Verstappen.
A fitting farewell for Sebastian Vettel
It is clear by now that Sebastian Vettel does things differently. So it was on Saturday night at Yas Marina as he invited the F1 community to join him for a run around the track.
As if often the case with Vettel it was a remarkably simple gesture but an enormously powerful one, a reminder that while sport can be many things – from divisive and disturbing to joyous and inspiring – it runs on flesh and blood.
In its rawest form, sport is sharing – the need, as the former Times chief sportswriter Simon Barnes put it, "to have some kind of meaningful but largely non-verbal exchange with another."
Is that, perhaps, Seb's true legacy?
Vettel's fun run came just a few hours after his final qualifying session, with Aston Martin's erratic form making it difficult to call whether or not his final grand prix would be an enjoyable one.
Each qualifying lap could have been his last – so Vettel drove all of them as if they were, ultimately earning ninth on the grid.
After the drivers met for a farewell dinner on the eve of the race weekend, Vettel's popularity among his peers was set in stone with two – his apprentice Mick Schumacher and his 2023 replacement Alonso – running tribute helmet designs in Abu Dhabi.
With Vettel having an awkward relationship with Alonso over the years, never quite sure his respect for Fernando is reciprocated, his former title rival's tribute would likely have been very touching.
With his family present and his father Norbert the unexpected star of the show, Vettel finished as he started – scoring a single point, just as he had at Indianapolis back in 2007 – with Aston Martin just missing out on beating Alfa Romeo to sixth in the Championship.
Yet with Aston set to have significantly more wind tunnel time over the winter than the teams they are targeting as their direct rivals, Alpine and McLaren, what felt like one last disappointment may prove to be a final gift.
F1 has made a habit of getting the big moments badly wrong in the Liberty era, as recently as last month when Verstappen was informed he was World Champion by Johnny Herbert with everyone in a state of confusion and frantically tapping away at calculators.
With Vettel delivering some donuts on the grid before being beckoned over for a goodbye interview with Jenson Button, however, Seb's last act as an F1 driver was handled with the class and restrained emotion the retirement of a four-time World Champion deserved.
A fitting farewell.
A possible route back for Daniel Ricciardo?
If there was a finality to Vettel's farewell, the nature of Daniel Ricciardo's final race for the foreseeable future was so long, but not goodbye.
He really should be back, but there's also a possibility that he might not.
Having turned up his nose up at a potential Haas seat for 2023, Ricciardo has been open about his determination to remain in F1 in some capacity next season with a view to returning to a competitive race seat in 2024.
At the time of writing, a return to Red Bull as the team's reserve driver seems imminent.
That will allow Red Bull to capitalise on Ricciardo's immense popularity – expect the inevitable AlphaTauri x RIC3 collection to be coming to a store near you – but with the team stopping short of directly assisting his comeback campaign, what exactly will it do for Daniel?
If we are to assume Verstappen and Perez will patch up their differences over the winter, perhaps Red Bull's sister team can have a role to play.
With Nyck de Vries partnering Yuki Tsunoda, AlphaTauri will have one of the most inexperienced driver lineups in 2023, the team renowned for producing young talent also rehabilitating drivers who have lost their way in recent times.
In the absence of Pierre Gasly, might there be an opportunity for Ricciardo to play the Robert Kubica role for AlphaTauri next season as a wise old head marrying up the simulator data with on-track experience by participating in a number of test and FP1 sessions?
In sitting out next season completely, there is a danger that the paddock's current reservations surrounding his McLaren tenure will still exist 12 months from now, except he'll be another year older.
But if he can win even a little track time in 2023 and use it to clearly demonstrate that his struggles over the last couple of years were McLaren-specific, Ricciardo's return will quickly gather pace.
Read more: Farewell Sebastian Vettel: From F1 villain to much-loved inspiration