Ranked: The top 10 overtakes from the F1 2022 season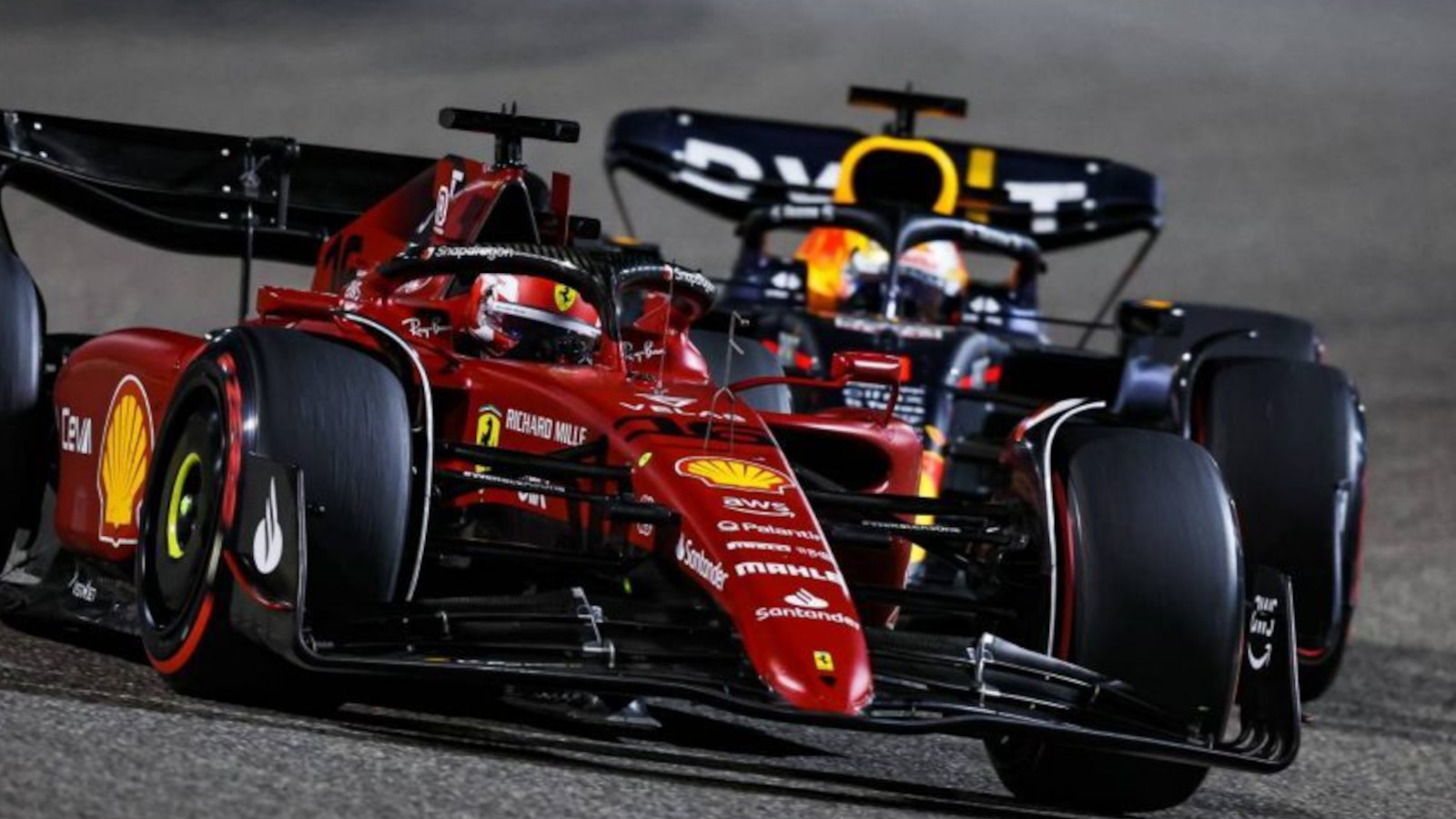 Formula 1 introduced new regulations for the 2022 season with the specific aim of improving the racing spectacle. So it follows that the on-track action was the most compelling in recent memory, right?
Not according to outgoing Aston Martin driver Sebastian Vettel, who recently suggested the rule changes were not really worth the hassle.
Nevertheless, there were plenty of courageous and finely crafted overtakes over the course of the season, so here's our ranking of we feel are the very best…
10: Ocon on Vettel and Gasly (Lap 35, Spa)
It was like Mika Hakkinen and Michael Schumacher in 2000 – except it wasn't. It was Esteban Ocon in an Alpine with more straight-line speed than he knew what to do with, but it was fun nonetheless.
Vettel thought he'd taken seventh from Pierre Gasly with the ol' switcheroo – as one commentator puts it – at La Source, but at the back of a three-car queue ahead of the long blast up the hill lurked Ocon.
Pierre picked one side of Vettel as they entered the Kemmel straight so Esteban chose the other, both zooming past the Aston but – with both DRS-assisted – Gasly still ahead as they approached the braking zone.
With the outside line, however, Ocon had a cleaner entry into Les Combes and completed his second double overtake of the day.
9: Hamilton on Norris and Gasly (Lap 36, Monza)
At the end of the most challenging season of his F1 career, Through Goes Hamilton – the moment he snuck past two cars at Silverstone – was the clear highlight of 2022 for the seven-time World Champion.
But – and we make no apologies for being pedantic – it was a great moment rather than a great overtake as Charles Leclerc and Sergio Perez took each other wide and held the door open for Hamilton to slip through.
A far more compelling example of his racing instincts came six rounds later at Monza, where he took advantage of the complication of a car – in this case Lando Norris – leaving the pits.
As Norris and Gasly went side by side into the first chicane – just as Hamilton did with Verstappen in 2021 – Lewis almost seemed to hold back to watch what unfolded in front, taking a tighter line through the left hander.
As Gasly and Norris accelerated from the corner nose to tail, focused only on fighting each other, through went Hamilton around the outside of both.
8: Russell on Perez (Lap 50, France)
George catches Checo sleeping and snatches P3! 😅#FrenchGP #F1 pic.twitter.com/5U0j5ER7Vo

— Formula 1 (@F1) July 24, 2022
Listen closely to the way people describe racing – all the talk of battles, wheel-to-wheel combat and one driver muscling past another – and it becomes clear that the best-loved overtakes are all about brawn rather than brains.
Yet Slideshow George has always been the cerebral type and that was where the beauty of his opportunistic pass on Perez at Paul Ricard was to be found.
Under a Virtual Safety Car, Russell – having already failed to force his way through at the chicane and struggling to overcome Red Bull's straight-line speed – dramatically eased his pace, sensing his best opportunity would come as the race resumed.
So as the race was restarting and Perez had to slow to meet his delta time George – way below his – was already accelerating, the speed difference making it impossible for Checo to put up any sort of resistance.
Perez would later complain he was "screwed" by the VSC, almost unable to comprehend that he was undone by a simple game of genius.
7: Vettel on Magnussen (Lap 56, Austin)
When Vettel entered the final sector of the last lap in Austin still behind Kevin Magnussen, he knew exactly what to do.
Why?
He'd done the same thing exactly 12 months earlier on Russell in a move good enough for eighth place on our 2021 ranking.
So what made this one better, then? For one thing it came after Vettel had already announced his retirement, when the thought of racing as though one's life depends on it might not come naturally to a 35-year-old father of three with just a few races left to run.
For another, it came against Magnussen – renowned for his tough and uncompromising approach and a driver to whom combat means combat.
Just as in 2021, Vettel took a tight line through the ultra-slow left and then held his green Aston around the outside of the quadruple-apex right hander – almost losing it with a snap of oversteer halfway through the corner – until the outside of Turns 16, 17 and 18 finally became the inside for Turn 19.
Talk about rolling back the years…
6: Ricciardo on Alpine (Lap 24, Hungary)
"If Alonso wasn't happy at the start…he's going to be pretty furious now!" 😬

Ricciardo overtakes BOTH Alpine's! 🔀 #HungarianGP pic.twitter.com/5xiwnGca8v

— Sky Sports F1 (@SkySportsF1) July 31, 2022
It is said that an angry racing driver goes one of two ways – sideways or backwards – and sometimes both in quick succession. Let the battle of Budapest between Ocon and Fernando Alonso be a lesson of what happens when a car is driven in fury.
After 18 months of playing nice, the start of the Hungarian Grand Prix heralded the outbreak of civil war at Alpine as Ocon edged Alonso against the pit wall. Following the latter's complaints over the radio, the team-mates were reunited when Ocon rejoined ahead of Alonso and Daniel Ricciardo.
With pride – an F1 driver's prized possession – on the line, neither Alpine was prepared to give an inch under braking for Turn 2 and did not seem to notice, or care much about, the orange McLaren lurking behind.
As Ocon and Alonso fought like lions and took each other wide, Ricciardo held the tighter line to edge ahead before completing the move with a flourish around the outside of Turn 3.
In a year in which he would have little respite, here was a fleeting glimpse of the Daniel of old.
5: Russell on Tsunoda (Lap 15, Suzuka)
The right camera angle can mean everything when it comes to separating the best overtakes from the rest.
So it was on that sodden day at Suzuka, where Russell's second contender was viewed from the perspective of Yuki Tsunoda's rear wing.
The silver Mercedes remains just about distinguishable in the gloom and mist of race day as the cars negotiate the esses, Russell taking an offset line where he can to feed his front wing some clean air and shield his visor from the spray.
As they enter the final right hander of the sequence before Dunlop, without warning Russell lunges forth to the point where the Mercedes feels close enough – for us, never mind Yuki – to touch, his disappearing from view confirmation that the move is complete.
"That was a nice move," he commented over the radio, making the extraordinary sound simple in the way only an F1 driver can.
4: Sainz on Perez (Lap 41, France)
Sainz passes Perez into 3rd! 😮 pic.twitter.com/Y0P9j7HQXK

— Sky Sports F1 (@SkySportsF1) July 24, 2022
Carlos Sainz may have his limitations but what cannot be questioned is his resilience, persistence and intelligence.
There were hints of all three as he attacked, and was subjected to some questionable defensive driving by, Perez at Paul Ricard.
Having been squeezed during an attempted move around the outside of Signes, Sainz tried again on the exit of Turn 12, only to be forced to back out again when Checo moved late to cover.
So – much like Russell also would later on an afternoon Perez's car had to be treated like the rear end of a horse – Sainz had to take the situation out of the Red Bull driver's hands – and did so emphatically with a brave move around the outside of the penultimate turn, holding on for just long enough to claim the inside of the final corner.
But – hang on – what's that?
"Box, Carlos, box. Pit confirm."
In the words of Sainz himself: not now, Ferrari. Not now.
3: Leclerc on Russell (Lap 31, Hungary)
"A BRILLIANT move from Leclerc!" 👏

Leclerc OVERTAKES Russell! 🥇 #HungarianGP pic.twitter.com/FmCcHDh5i0

— Sky Sports F1 (@SkySportsF1) July 31, 2022
Before the Hungarian GP turned to mud in Ferrari's hands came one of the last true highlights of the Scuderia's season.
If the perfect camera angle had embellished Russell's pass in Japan, the same was true as he was passed for the lead by Leclerc in Budapest, the shot from the spectactor bank reducing the cars to arrows – one silver, one red – as they darted into Turn 1.
In truth, DRS had a large part to play in this move after Russell's surprise pole position had promoted the W13 to an unnatural position, with the Mercedes moving sharply to defend the inside.
That left Leclerc free to take the outside, but it was the judgement of both drivers under braking and in avoiding a collision that stood out here as Charles edged the Ferrari towards the apex to cramp George's style.
Mere words cannot do it justice when that breathtaking shot exists.
2: Verstappen on Leclerc (Lap 1, Suzuka)
Who wants it more?
That's the question often used to gauge who will triumph in sporting duels, but instead it should be a matter of who can best conceal that they want it more.
Who can play the game and not the occasion? Quite often, the wanting gets in the way of the doing and the having. The mind obsessed with the end product tends to not give enough due thought to the process.
It is through that prism through which Verstappen's pass on Leclerc on the opening lap at Suzuka should be viewed.
After a medicore start from pole position, there was a convincing argument that Verstappen – on the day he could be crowned World Champion for the second time at Honda's home race – should have played it safe and accepted the lead was lost to Leclerc.
But even in woeful conditions and the title close enough to touch, Max could not think like that, instead choosing to hang on Leclerc's outside and using the extra momentum to seize back the lead as Turn 1 bled into Turn 2.
He did the doing and, 28 laps later, had the having.
1: Leclerc on Hamilton (Lap 48, Silverstone)
An intense battle between Hamilton and Leclerc at Silverstone 💪

See where it features in our countdown of the best wheel-to-wheel action of the year #F1

— Formula 1 (@F1) December 13, 2022
Wronged by another strategy misjudgement, Leclerc was rapidly running out people he could trust at Ferrari. In fact, the only thing he could really, totally trust ahead of a short dash to the finish at Silverstone was himself, his own talent and his own character.
What else could he do, as he prepared for the restart on old hard tyres as all around him sat on softs, but fight?
They managed to get him in the end of course, but both Perez and Hamilton had to earn it as Leclerc – carrying front wing damage from an earlier collision – tried his damnedest to delay the inevitable.
The pinnacle of that passage of racing – potentially the entire season – came as Leclerc and Hamilton ran side by side on the old pit straight towards Copse, scene of the latter's collision with Verstappen last year.
Hamilton, on the inside, was marginally ahead at the turn-in point – yet still, somehow, Leclerc said no.
That move, that whole series of laps, contained all the qualities – skill and spirit, determination and defiance – you could ever wish to have in a Ferrari driver. Should Mattia Binotto have stopped to consider that before he marched over to wave his finger in Charles' face?
The Old Man would have approved even if the current boss did not.
Read more: Ferrari Driver Academy: What has happened to every former Scuderia prospect?