Unknowns aplenty as Miami makes F1 debut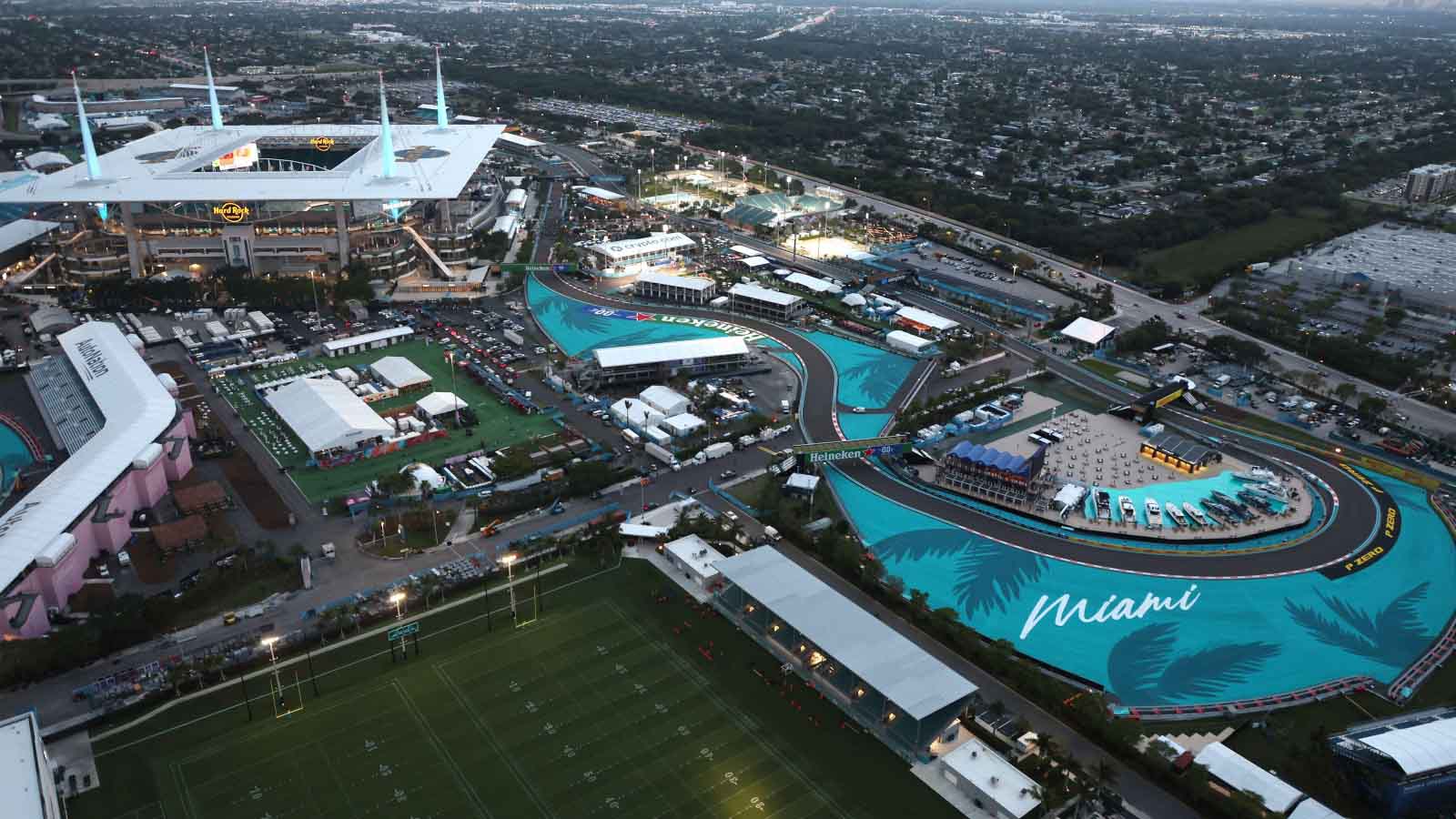 Formula 1 is gearing up for the first Miami Grand Prix, and the new circuit isn't the only unknown quantity ahead of the race…
Usually, heading into the fifth race of an F1 season, you have a fairly good idea about how things are most likely going to pan out.
This year though, it would take a brave, brave person to put big money on the outcome of it.
Welcome to Miami! 🌴 #MiamiGP #F1 pic.twitter.com/XS3UhC3I1Z

— PlanetF1 (@Planet_F1) May 4, 2022
That's partly because we're heading to a brand spanking new track in the form of the Miami International Autodrome, a temporary venue constructed around the Hard Rock Stadium.
While it has elements of one, it's not a street circuit and is much faster, with cars able to go just under 200mph and averaging a speed of 135mph over the course of a lap.
Whether it proves to be a popular addition to the sport hinges on whether drivers will be able to overtake one another, and with two long straights and three DRS zones, there's reason to be optimistic in that regard.
Which teams the layout will favour most is very much unclear though, with there also being some extremely tight and twisty sections to negotiate.
That being said, even if this race was held at a more familiar circuit, predicting its outcome would still be hugely difficult because, after four rounds, a clear pecking order has yet to form.
Heading for the Sunshine State 😎 🇺🇸#essereFerrari 🔴 #MiamiGP pic.twitter.com/crv8T6tIDB

— Scuderia Ferrari (@ScuderiaFerrari) May 4, 2022
Ferrari and Red Bull have been comfortably ahead of the rest of the field and will likely be again, but which of those will be fastest in Florida is far from obvious.
The Italian team headed to the last race weekend at Imola as favourites but left home turf with just 20 points more to their name after Carlos Sainz was forced to retire at the start of the main race and Charles Leclerc span at the end of it.
Even without those incidents though, the Scuderia still would have been beaten by Red Bull with Max Verstappen claiming victory in both the sprint and the main event, leading the latter comfortably from start to finish, and Sergio Perez taking P2 on the Sunday after a tight battle with Leclerc that he was winning even before the Monegasque made his error.
That result made Ferrari's leads at the top of both championships far smaller, and they need to get back on track across the pond to allay any fears of a 2018-style capitulation.
Doing so won't be easy though, with Red Bull possessing strong straight-line speed, Perez in excellent form and Verstappen driving as well as ever. What's more, it could well rain, and the Dutchman ain't half bad in those conditions.
If the Italian team are to prevail, they'll need Sainz to join the fight at the front for the first time since Saudi Arabia. A combination of misfortune and mistakes has seen the Spaniard fail to complete more than one lap in each of the past two rounds, so he needs a good result more than anyone.
💬 "We have found several directions for improving the car, and we will be conducting experiments in Miami to correlate those simulations, and hopefully confirm the development path for the coming races."

Toto's #MiamiGP preview is here! 👇

— Mercedes-AMG PETRONAS F1 Team (@MercedesAMGF1) May 3, 2022
Speaking of those in need of good results, perhaps the team to watch in Miami is Mercedes, who will be bringing various updates with them.
Porpoising problems have forced to team to run with a raised ride height so far this season, which has cost them a lot of pace. George Russell was able to bounce his way to P4 last time out but Lewis Hamilton struggled, failing to score points.
Since then, according to Toto Wolff, the reigning World Champions "have found several directions for improving the car" and will begin doing so this weekend.
That will be music to the ears of Hamilton, who has started to look second best to his team-mate, struggling to get to grips with the W13 as well as Russell. Should the machinery improve, he'll have no more excuses and will need to show his young compatriot who's boss if he wants to silence the growing number of critics.
Even with significant changes, it's unlikely that the two will be able to challenge the frontrunners, but they'll at least be hoping they can assert themselves as the best of the rest, as will many of their rivals.
Themselves, McLaren, Alpine, Haas and Alfa Romeo have all staked a claim for said title at some point thus far this year, and scoring big points again will be the goal for all of them.
I love this team @McLarenF1 pic.twitter.com/VlxW4lktWx

— Lando Norris (@LandoNorris) April 25, 2022
McLaren were the ones to do so in Imola, taking their first podium of the season courtesy of Lando Norris, and they look to have put their struggles behind them already.
The same can't be said for one of their drivers though, with Daniel Ricciardo continuing to be beaten by his ever-impressive team-mate.
The Aussie has always loved racing in the States and has more often than not performed well there; if that trend doesn't continue, some serious questions will begin to be asked.
He's not the only big name to make a disappointing start to the season, with Fernando Alonso also doing so. That's been far more down to luck than his driving though, with matters outside of his control hindering him every weekend, causing him to score only two points.
Whether he'll have the machinery to add to that tally significantly is anybody's guess. Two rounds ago in Australia, his Alpine had enough pace for him to challenge for pole, but the French team were far less impressive in Imola, scoring no points in either race after an encouraging qualifying session.
We're going to Miami 😎🇺🇸#HaasF1 #MiamiGP pic.twitter.com/ZsbYiQnboY

— Haas F1 Team (@HaasF1Team) May 2, 2022
Kevin Magnussen was the man to stop Alonso from doing so on the Saturday, taking the final point before scoring two in the main race. In terms of driving alone, few have made a stronger start to the season than the Haas driver who has dominated a somewhat disappointing Mick Schumacher.
Another strong performance from him in the Sunshine State would do his team the world of good. They've had a miserable time of things on home turf since joining the grid, scoring only one point. Putting an end to that run could boost their profile there considerably, and couldn't come at a better time with them looking for a new title sponsor.
One of those few to have been equally as impressive as Magnussen is fellow Scandinavian Valtteri Bottas. The Alfa Romeo man was rapid in Italy, chasing down the Mercedes of Russell and only just failing to take P4 from him.
That result put him four points behind former team-mate Lewis Hamilton in the standings, and overtaking the Brit would no doubt feel oh so sweet. Can he do it? Well, with his team expecting to be stronger than in Imola and aiming to fight McLaren, never say never…
One of the reasons he's so close to the seven-time World Champion is Pierre Gasly, who held up Hamilton for the vast majority of the last race.
While he didn't get any points for his troubles, the other AlphaTauri of Yuki Tsunoda picked up six, and looks to be getting closer and closer to the Frenchman. They may not have the pace to fight too far up the field in round five, but their own intra-team battle is one to watch regardless.
Out and about in the city. Anyone spot us? 👀

📸 @ConorMcDPhoto | #IAMMIAMI pic.twitter.com/hEDQFeTznp

— Aston Martin Aramco Cognizant F1 Team (@AstonMartinF1) May 4, 2022
Tsunoda had the Aston Martin of Sebastian Vettel in his mirrors for much of his race in Italy and Aston Martin will be hoping that can be the case again.
After spending the first three rounds as a backmarker, behind even Williams, they spent the entire weekend fighting in the midfield and leapfrogged their British rivals in the standings.
Wet weather played a big part in that, but they could well get such conditions again, with the forecast promising a chance of rain and maybe even a storm.
Whether some help from the weather gods will be needed for a good race remains to be seen, but it'll be a good weekend off it regardless.
There's an enormous buzz throughout the city already, with Zak Brown comparing it to the Super Bowl, and huge crowds are expected at the venue throughout the weekend.
If the action unfolding in front of them is as good as hoped, we may well look back at the first Miami Grand Prix in years to come as the moment that F1 finally started living their long-held American Dream.