Abu Dhabi Grand Prix tickets: Book your end-of-season adventure with SportsBreaks!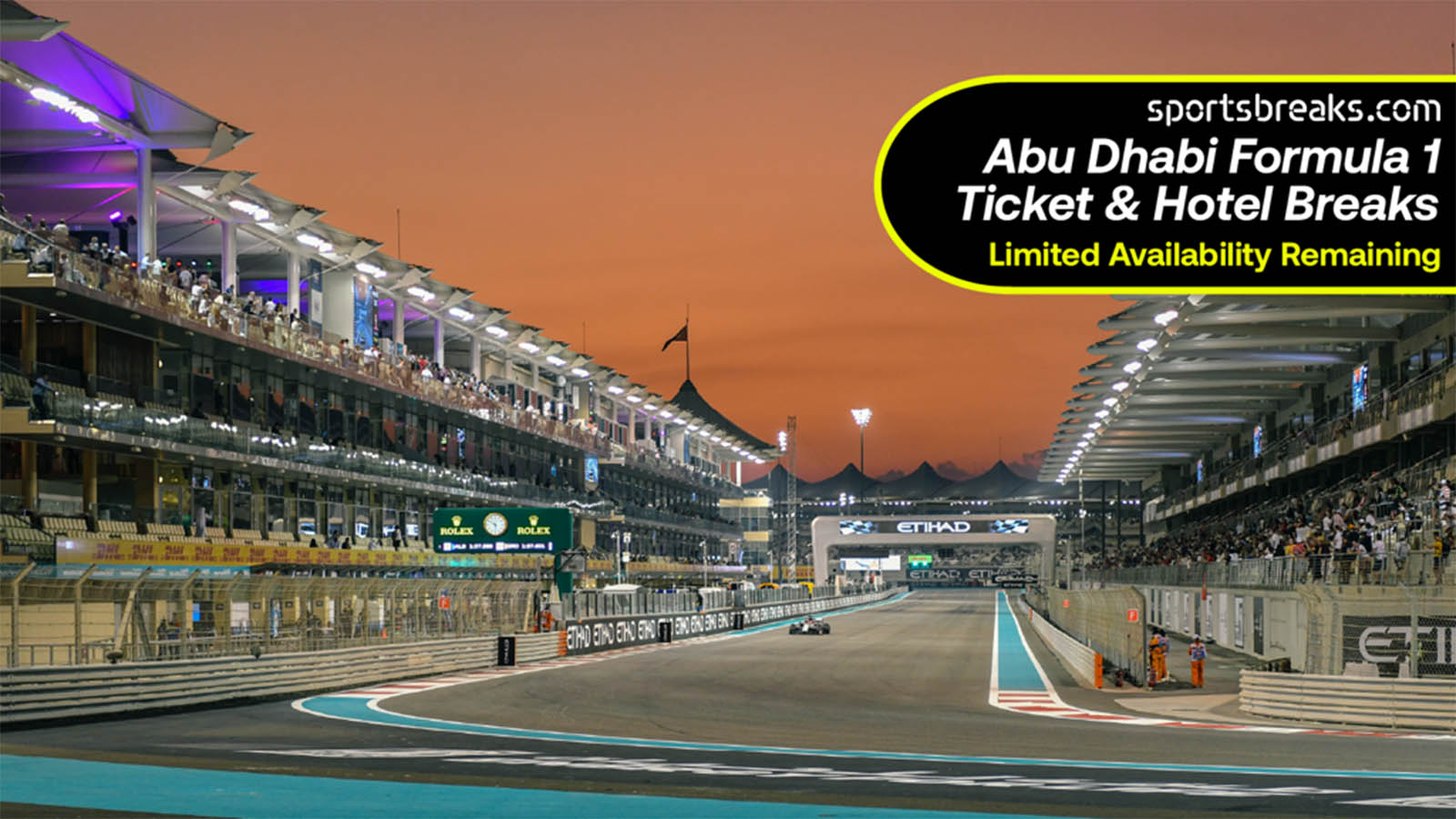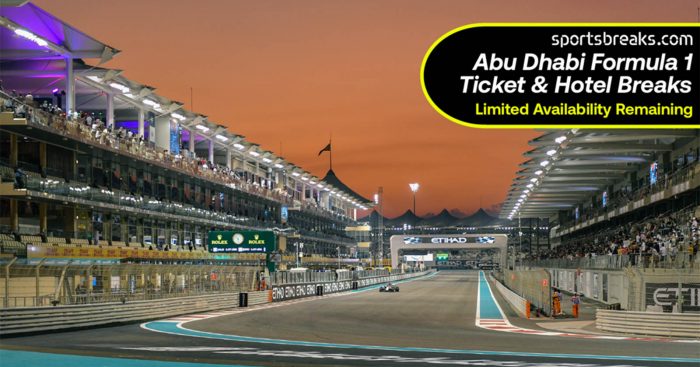 The Abu Dhabi Grand Prix will bring the curtain down on another unforgettable Formula 1 season, and you can be there to soak up all the action with SportsBreaks.
SportsBreaks are offering a four-day stay at one of their handpicked hotels with Abu Dhabi Grand Prix tickets in November from just £669, but you'll need to be quick!
Tickets are selling fast so don't delay and order now
What does the Abu Dhabi Grand Prix package include?
Your experience will include:
Four nights at one of SportsBreaks' hotels, with breakfast included
A two-day General Admission ticket to the Abu Dhabi Grand Prix (upgrades to Grandstand tickets available for a small fee)
A two-day after-race concert ticket
Coach transfers to and from the circuit on race day
SportsBreaks.com reps there to help you
A safe, risk-free booking protected from any unforeseen circumstances
And for a small extra fee, upgrades to Grandstand tickets are available, as is a return coach transfer for qualifying day on Saturday November 19.
What will be your itinerary for the Abu Dhabi Grand Prix?
Thursday
You will arrive in Dubai for the start of your trip. You'll find a SportsBreaks.com noticeboard in your hotel reception. This will display all important information and transfer times for the weekend, and your SportsBreaks reps will also be around if you have any questions.
Friday
You will be able to enjoy a day at your leisure.
Saturday
Grab some breakfast and meet in reception for your early morning transfer to Yas Island, if you have added a qualifying ticket and coach transfer to your package. You'll be a short walk from the entrance and ready for an amazing day as the battle for pole position commences. If you're not heading to the circuit, the day is yours to enjoy.
Sunday
Race day! Enjoy breakfast at the hotel and then meet in reception for your circuit transfer. When you arrive at Yas Island, your SportsBreaks rep will let you know what time to be back at the coach after the race. Then, it's over to you to enjoy all the action from the Abu Dhabi Grand Prix.
Places to explore in Abu Dhabi
When you're not seeing the Formula 1 action, there is plenty to see and do in your time in Abu Dhabi.
You can reach speeds of up to 240km/h in just 4.9 seconds on the world's fastest rollercoaster at Ferrari World Abu Dhabi, you can cool off using one of more than 40 water rides at Yas Waterworld, or take in the wondrous surroundings of Warner Bros. World™ Abu Dhabi – which spreads across six different 'lands' in an immersive, fully air-conditioned experience which takes you inside some of your favourite movies.
Alternatively, the Yas Mall is home to 370 shops, cafés and restaurants to browse, from department stores to high-end designer brands and everything in between.
Why visit the Abu Dhabi Grand Prix?
The race around Yas Marina is Formula 1's only day-night event. Starting at sunset, the drivers experience changing light conditions as the circuit's floodlights take over as the race progresses, making the most of golden hour in Abu Dhabi.
It is also the last chance to see Formula 1 in 2022, and with it being a longer winter break this year, going to Yas Marina will be the time to get your final fill of adrenaline-fuelled action before the season ends.
You will also see the 2022 World Champion officially crowned at Yas Marina, and if last year is anything to go by, this year's title race may still be in the balance heading into the weekend.
Abu Dhabi has been home to many farewells over the years as the sport's season-closer, and this year's race will be the final chance you will get to see legendary four-time World Champion Sebastian Vettel drive, bringing down the curtain on one of the most successful careers in Formula 1 history.
But you will also get the chance to see the stars of tomorrow take to the track, as the Formula 2 season comes to a close on the Abu Dhabi Grand Prix weekend – where future Formula 1 talent will almost certainly be on show.
The fun doesn't end on track though, with the after-race concerts taking place in the evenings – and some of the biggest artists in the world having headlined the event in previous years.
This year, already confirmed on Friday, November 18 is DJ supergroup Swedish House Mafia, and after qualifying on Saturday, global rap superstar Kendrick Lamar will be taking to the stage.
The best viewing spots at the Abu Dhabi Grand Prix
The West Grandstand offers a great view over Turns 8 and 9, which is the prime area for overtaking on the circuit. Alternatively, the Abu Dhabi Hill is situated in the very centre of the track and has a relaxed family atmosphere.
Also, the Main Grandstand has an excellent view over the start/finish straight and you will be a prime spot to witness the amazing firework display as the chequered flag waves for one final time in 2022.