Abu Dhabi GP driver ratings: Leclerc ruins Red Bull's hopes of a perfect season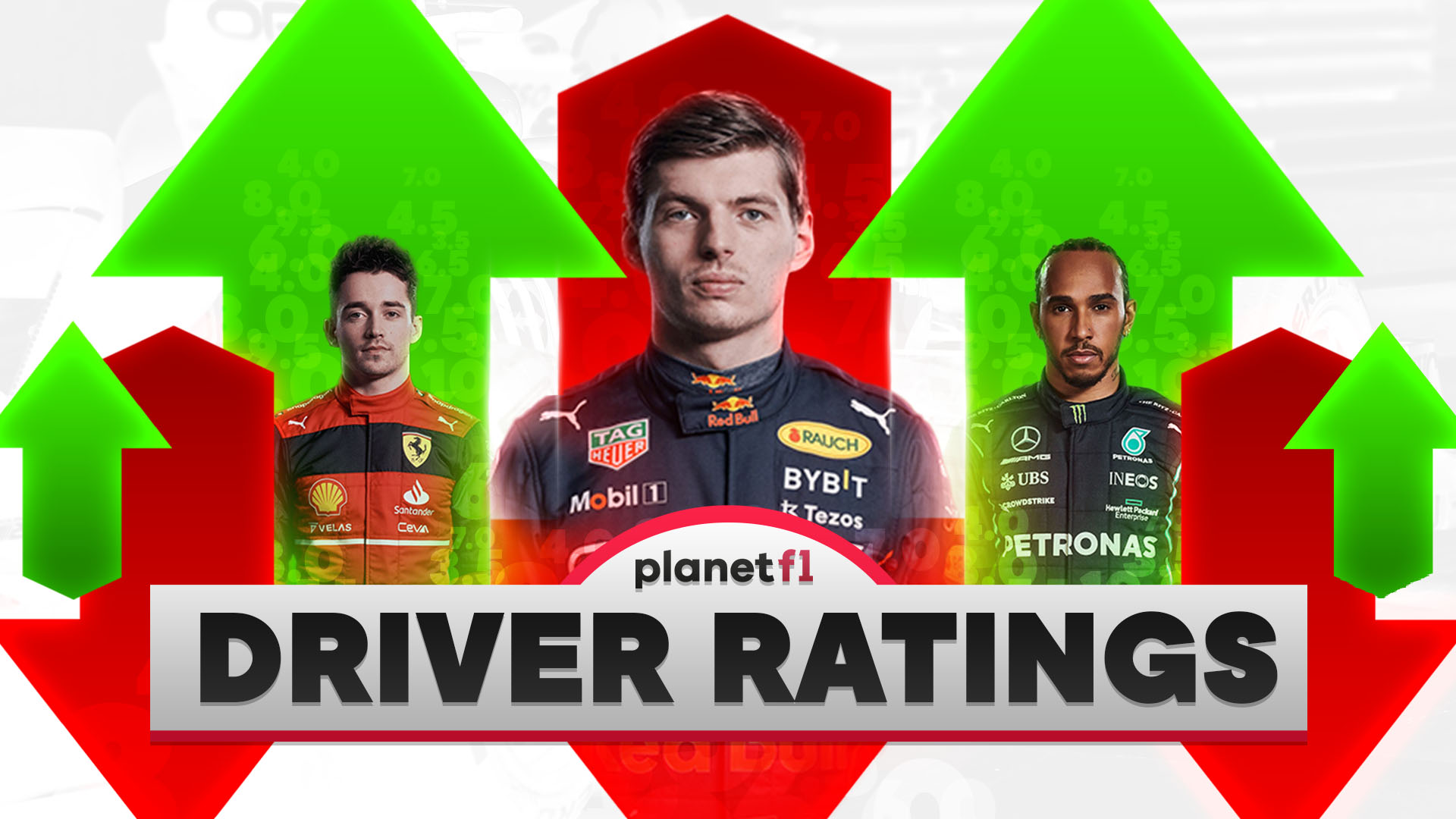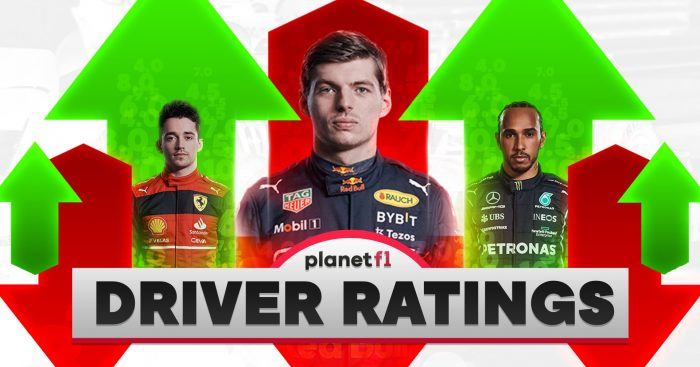 A summary of the 2022 season seemed to be the consensus regarding the Abu Dhabi Grand Prix, the championship's top three drivers standing on the podium in the same order.
Lewis Hamilton was of similar mind as the Yas Marina race summed up Mercedes' difficult campaign, while there was no departure from what Fernando Alonso has considered to be the norm in terms of Alpine's lack of reliability.
For the drivers we may not see racing again in F1, at least not for some time, there were mixed fortunes – although the duo at the more experienced end of that spectrum took away one last positive memory.
Here are our final driver ratings of the 2022 campaign.
Max Verstappen: Would the World Champion be required to help his team-mate finish second in the standings? In the end, due to Red Bull's chosen strategy, that prospect never entered the equation.
Not that Verstappen would have been too concerned, especially as he never had an anxious moment out in front as he set a formidable new record of 15 victories in a season.
It completed an Abu Dhabi hat-trick for the Dutchman – three straight wins from pole position. And inevitably a much less contentious one than 49 weeks earlier. 10.
Charles Leclerc: Nobody could begrudge Leclerc ending a turbulent season on a high note, doing exactly what was necessary to pip Sergio Perez for the runner-up's spot in both the race and the championship.
For once, Ferrari won the strategy battle against both Red Bull and Mercedes as the Monegasque's one-stopper and 36-lap stint on the hard tyres enabled him to leapfrog the two-stopping Mexican.
It could have been a long winter with much to ponder for Leclerc, but at least this result will give him optimism of launching a more sustained title challenge in 2023. 9.5.
Sergio Perez: Race engineer Hugh Bird was convinced Perez could catch and pass Leclerc after his second stop, but his man came up just short.
There was a brief reversal of the 2021 Abu Dhabi scenario as Hamilton briefly held up Perez, and having to find his way past lapped backmarkers at a crucial point also played a part in the vain pursuit.
Ultimately, the championship margin between Leclerc and Perez was three points, so at least this was the key result rather than Verstappen's refusal to hand the place back to Perez in Brazil – not that it will be any consolation for this year's Monaco and Singapore winner. 7.
Carlos Sainz: After an early dice with Hamilton which led to him passing the Mercedes on lap eight, Sainz was about to repeat that manoeuvre when the Briton suffered a terminal problem with his W13 in the closing stages.
Fourth was the best position the Spaniard could have hoped for as it turned out – and meant he also finished ahead of Hamilton in the championship. 7.
George Russell: Never any prospect of a second win just seven days after his first, and a problem with the rear right tyre at his pit-stop led to an unsafe release that triggered a five-second time penalty.
Mercedes were nowhere near as competitive at Yas Marina than in other recent races, but a solid end to a solid first season with the Silver Arrows for Russell. 7.
Lando Norris: With Esteban Ocon both starting and finishing just behind Norris, there was no real chance of McLaren bridging their 19-point deficit to Alpine.
The Briton did as much as he could in this race, 'best of the rest' again – a phrase he says he dislikes – and also over the season as a whole. Worthy of a rating upgrade for setting the fastest lap. 8.
Esteban Ocon: A pass on Daniel Ricciardo by Ocon with 14 laps to go would have been satisfying for everyone at Alpine, and he was only a second behind Norris at the chequered flag.
The proximity between the duo is also reflected by the fact that between them, Norris and Ocon have finished P7 in exactly half of this season's races. 7.5
Lance Stroll: It would have done Stroll's popularity no good at all when he passed his team-mate Sebastian Vettel for the final points-paying position with nine laps remaining, but by the finish line everything made sense.
With the forward momentum from a different, two-stop strategy to his colleague, the Canadian also got past Ricciardo and having started 14th, this has to go down as one of his stronger performances. 7.5.
Daniel Ricciardo: Seemingly struggling for pace in the first half of the race, Ricciardo joined Leclerc in improving his fortunes by way of a one-stop strategy.
He was under threat from his former Red Bull team-mate Vettel at the end but whether we see him on the grid again or not, this was at least a respectable end to the Australian's McLaren career. 7.
Sebastian Vettel: It was great to see a swashbuckling Seb for his last few races and while it was only a solitary point, at least he bade an emotional farewell with some reward for his final efforts.
Ultra-competitive to the last, he was berating Aston Martin about the strategy over team radio and almost certainly deserved a bit more. 7.5.
Yuki Tsunoda: The AlphaTauri driver looked in danger of spoiling Vettel's swansong when he closed on the Aston Martin after switching to a set of soft tyres on lap 39.
However, 19 laps on that compound looked a big ask and Tsunoda fell away from the Ricciardo-Vettel duel in the closing stages. 6.5.
Zhou Guanyu: Another to go for the soft tyres for his final stint, Zhou had them on for a more manageable 13 laps.
They enabled him to get past Alex Albon and this has to go down as another weekend in the second half of the campaign when he has outperformed his team-mate Valtteri Bottas. 7.
Alex Albon: A strong start from Albon enabled him to make up a few places early on, giving more credence to the theory that his disappointing qualifying display had not been a true reflection based on impressive practice pace.
Points never really looked on the cards, but not a bad evening's work nonetheless. 7.
Pierre Gasly: Starting on the soft tyres did not really work for Gasly and he had not made much headway when he changed for the hard compound on lap 15.
If ever a driver has looked in need of a fresh start it is the Frenchman, and his exploits with Alpine next year are awaited with interest. 6.
Valtteri Bottas: Powerless to do anything about Aston Martin's last-gasp surge towards P6 in the Constructors', Bottas will have been relieved to see his team hang on despite the points scores finishing level.
His P5 at Imola in April proved decisive in that regard, but this weekend he was always struggling and will need to stamp his authority as team leader again in 2023 with Zhou gaining experience and confidence. 6.
Mick Schumacher: A race with a couple of promising passes on his team-mate Kevin Magnussen and Bottas was sadly marred by a lunge on Nicholas Latifi that left them spinning in unison.
An unfortunate end to Schumacher's time with Haas and he now heads into an uncertain future as far as his racing career is concerned. 5.5.
Kevin Magnussen: Pole position in Brazil seemed a long time ago as Magnussen found himself something of a sitting duck for his rivals.
Still finished behind Schumacher despite his team-mate's collision with Latifi, but the year has still produced a great deal more for the Dane than looked likely back in February. 5.
Did not finish
Lewis Hamilton: Nowhere near as painful as 2021 at the same venue, but not a race the seven-time former World Champion will look back upon fondly.
Hamilton was battling a series of issues – "losing power", "something up with the car", a suspected "broken floor" – before becoming stuck in seventh gear and having to return to the pits to retire during the closing laps.
An early joust with Sainz that caused a trip across the kerb and a black-and-white flag for exceeding track limits compounded a disappointing day. 6.5.
Nicholas Latifi: Nothing out of the ordinary for Latifi in what will surely be his goodbye to F1.
As usual, he was some way off the pace but at least was not culpable this time as his duel with Schumacher brought back memories of last year's race – thankfully with no repeat of the circumstances triggered back then. 5.
Fernando Alonso: Saying he felt "so slow" at one point, that turned out to be the least of Alonso's problems as he chalked up yet another retirement due to an engine problem.
The Spaniard will be hoping his switch to Aston Martin for 2023 enables him to shake off the Alpine unreliability woes. 7.
Read more: Lewis Hamilton's brutal assessment as he finishes F1 2022 with zero wins