A season of the likes never seen before in Formula 1 reaches its conclusion with the 2020 Abu Dhabi Grand Prix.
Mercedes well and truly snatched defeat from the jaws of victory at the Sakhir GP with a huge muddle up in the pits costing George Russell and Valtteri Bottas what was set to be a comfortable one-two finish.
The Silver Arrows also took a blow to the pocket with a 20,000 Euros fine handed out for sending Russell onto the track with incorrect tyres.
Thankfully though, Russell held on to his three points, finally getting him off the mark in his Formula 1 career, even if he had looked a safe bet for the race win.
Here's everything you need to know ahead of the Abu Dhabi Grand Prix…
What time does the Abu Dhabi Grand Prix start?
The start times for the Abu Dhabi Grand Prix are as follows:
Practice 1: Friday December 11, 1300 local time (0900 British time)
Practice 2: Friday December 11, 1700 local time (1300 British time)
Practice 3: Saturday December 12, 1400 local time (1000 British time)
Qualifying: Saturday December 12, 1700 local time (1300 British time)
Race: Sunday December 13, 1710 local time (1310 British time)
Where does the Abu Dhabi Grand Prix take place?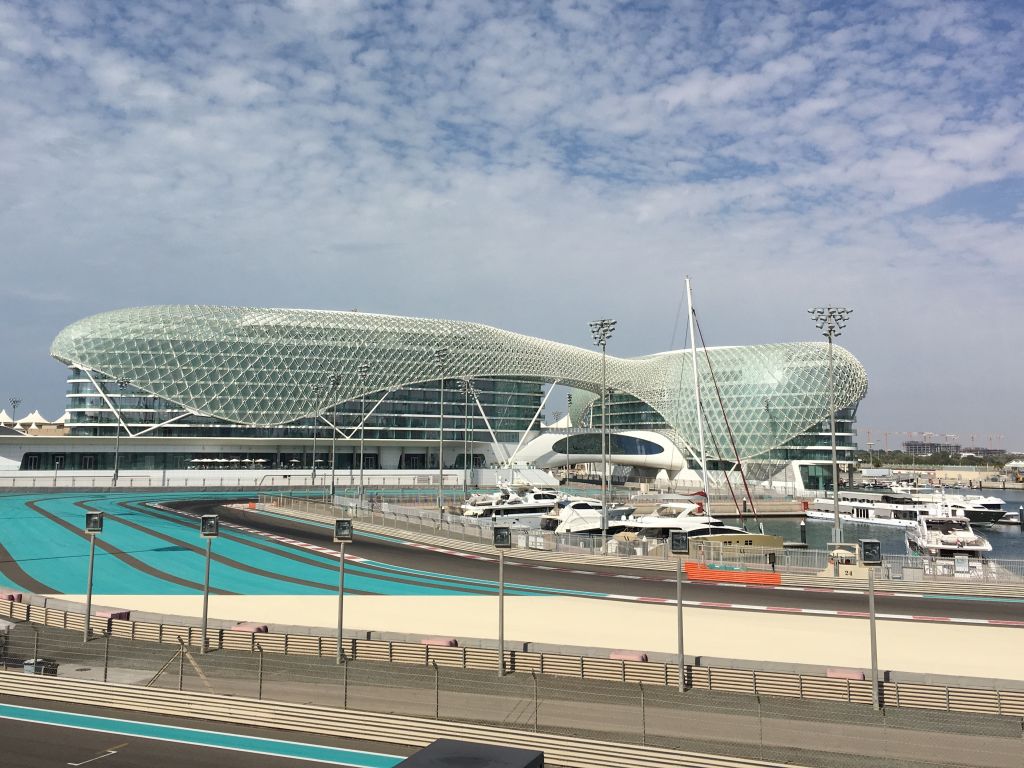 Since the first ever Abu Dhabi Grand Prix in 2009, the Yas Marina Circuit has proudly hosted this annual stop on the Formula 1 calendar.
Yas Marina is a purpose-build track for the event, designed by Hermann Tilke, running for 3.451 miles and consisting of 21 turns. It even boasts an underground pit lane!
This unique circuit is based on Yas Island, a popular leisure island and one of the top tourism projects in Abu Dhabi. The spectacular Ferrari World is just a stone's throw from Yas Marina Circuit and is a popular shot for the TV cameras on aerial footage of the track.
The Abu Dhabi Grand Prix is also like no other event since it's held as a day-night race with floodlights used from the start to ensure a seamless transition from daytime to darkness.
Since 2009 Lewis Hamilton has proven to be the king of Yas Marina, taking victory on a record five occasions, whilst Sebastian Vettel is the only other driver to win more that once at this circuit with three victories.
Who will ever forget the 2010 Abu Dhabi Grand Prix when Fernando Alonso and Mark Webber got stuck behind the Renault of Vitaly Petrov, allowing Vettel to race to victory and his first Drivers' Championship?
Over the years the Abu Dhabi Grand Prix has settled into the position of being Formula 1's season-ending event.
Directions: How can I get to the 2020 Abu Dhabi Grand Prix?
Abu Dhabi International Airport is only 10km from Yas Marina and is the most logical airport to fly to with more than 40 airlines landing in Abu Dhabi.
Dubai International Airport is home to Emirates, a fast growing international airline with a great reputation and a huge fleet of modern aircraft. It's situated 95km away from Yas Marina.
Getting around Abu Dhabi by taxi is easy and pretty cheap, while the A1 bus runs to and from the city every 30-45 minutes, all day and all night, for only 4 Dirhams (84p).
There is a free park and ride shuttle service that runs for people coming into Abu Dhabi for the race, while some hotels have their own shuttle service for guests who are attending the Abu Dhabi Grand Prix.
Where can I watch the 2020 Abu Dhabi Grand Prix?
Pay-TV broadcaster Sky Sports will show the entire race weekend on its dedicated Sky Sports F1 channel. You can also access a live stream of the coverage via Now TV.
Free-to-air broadcaster Channel 4 will show extended highlights from qualifying and the race.
Subscribers to F1's own app can hear radio commentary on the race proper from the BBC and access live data throughout every session.
PlanetF1 will carry live timing and expert commentary on every session of the race weekend, from FP1 on Friday morning to the race on Sunday afternoon.
The Abu Dhabi Grand Prix will be shown live on TV on the following outlets in other key markets:
United States: ESPN
Canada: RDS (French), TSN (English)
Australia: Fox Sports, One (Network Ten)
France: Canal + (pay TV) and TF1 (free-to-air)
Italy: Sky Italia, TV8
Germany: RTL and Sky Deutschland
Spain: Movistar F1
What are the odds for the 2020 Abu Dhabi Grand Prix?
Max Verstappen has been installed as the new favourite after landing pole position.
Here are the most recent odds from bet365:
6/5 Max Verstappen (Red Bull)
11/8 Lewis Hamilton (Mercedes)
10/3 Valtteri Bottas (Mercedes)
33/1 Alex Albon (Red Bull)
50/1 Carlos Sainz (McLaren)
(Last updated Saturday December 12)
What is the weather forecast for the 2020 Abu Dhabi Grand Prix?
Friday, December 11: 26c, sunny then clear skies
Saturday, December 12: 26c, sunny then clear skies
Sunday, December 13: 26c, clear skies
Which drivers have won the Abu Dhabi Grand Prix?
Lewis Hamilton is by far the most successful driver in the history of the Abu Dhabi Grand Prix, winning the event on six occassions. In fact, only he and Sebastian Vettel are repeat winners here.
While some fans aren't fully convinced on the Abu Dhabi Grand Prix as the season-ending race in Formula 1, there is no doubt that over the years it has served up some classics.
Who will forget the 2014 Abu Dhabi GP where Hamilton sealed his second World Championship and first with Mercedes, or 2016 when the Briton desperately tried to back Nico Rosberg into enemy fire in a last-ditch attempt to snatch the title, all to no avail.
Fernando Alonso will want to forget 2010 as the World Championship slipped through his fingers thanks to the rolling road-block known as Vitaly Petrov.
The last 10 winners of the Abu Dhabi Grand Prix are as follows:
2019: Lewis Hamilton (Mercedes)
2018: Lewis Hamilton (Mercedes)
2017: Valtteri Bottas (Mercedes)
2016: Lewis Hamilton (Mercedes)
2015: Nico Rosberg (Mercedes)
2014: Lewis Hamilton (Mercedes)
2013: Sebastian Vettel (Red Bull)
2012: Kimi Raikkonen (Lotus)
2011: Lewis Hamilton (McLaren)
2010: Sebastian Vettel (Red Bull)
What is the starting grid for the Abu Dhabi Grand Prix?
For the first time this season, there is a non-Mercedes car on pole position in the form of Max Verstappen's Red Bull. Elsewhere, Charles Leclerc drops three places from P9 after causing a collision at the Sakhir Grand Prix. Engine penalties relegate Kevin Magnussen and Sergio Perez to the back of the grid.
1 Max Verstappen Red Bull 1:35.246
2 Valtteri Bottas Mercedes 0.025s
3 Lewis Hamilton Mercedes 0.086s
4 Lando Norris McLaren 0.251s
5 Alex Albon Red Bull 0.325s
6 Carlos Sainz McLaren 0.569s
7 Daniil Kvyat AlphaTauri 0.717s
8 Lance Stroll Racing Point 0.800s
9 Pierre Gasly AlphaTauri 0.996s
10 Esteban Ocon Renault 1:36.359
11 Daniel Ricciardo Renault 1:36.406
12 Charles Leclerc Ferrari 0.819s*
13 Sebastian Vettel Ferrari 1:36.631
14 Antonio Giovinazzi Alfa Romeo Racing 1:38.248
15 Kimi Raikkonen Alfa Romeo Racing 1:37.555
16 George Russell Williams 1:38.045
17 Pietro Fittipaldi Haas 1:38.173
18 Nicholas Latifi Williams 1:38.443
19 Sergio Perez Racing Point no time**
20 Kevin Magnussen Haas 1:37.863
* Three place drop for causing a collision
** Back of the grid penalty for engine changes
What are the latest F1 Championship standings?
The Drivers' Championship is already in the bag for Lewis Hamilton, while Mercedes made it seven Drivers' and Constructors' title doubles in a row in 2020.
But, the fight remains on for P4 in the Drivers' Championship, while McLaren, Racing Point and Renault will slug it out in Abu Dhabi for that lucrative P3 spot in the Constructors'.
Valtteri Bottas isn't even safe from Max Verstappen in P2 heading into the season finale.
Lewis Hamilton – 332 points
Valtteri Bottas – 205 points
Max Verstappen – 189 points
Sergio Perez – 125 points
Daniel Ricciardo – 112 points
Constructors' Championship
Mercedes – 540 points
Red Bull – 282 points
Racing Point – 194 points
McLaren – 184 points
Renault – 172 points
Tyre choices for the 2020 Abu Dhabi Grand Prix
Are you ready for the final showdown?
Discover the details of #F1's final 2020 battleground: https://t.co/mMrhNwU59Z#AbuDhabiGP 🇦🇪 #Fit4F1 pic.twitter.com/J4SklVMdPo

— Pirelli Motorsport (@pirellisport) December 7, 2020
Pirelli have delivered an early Christmas present to the teams in the form of their softest tyre compounds for the race weekend.
That means the C3 tyres will be the hard compound, the C4s will be the mediums and the C5 rubber will serve as the softs.
Pirelli's tyres range from C1 to C5 with the rubber getting softer and more grippy as the number increases.
Follow us on Twitter @Planet_F1, like our Facebook page and join us on Instagram!