Alex Albon exclusive: Comeback year means I feel I've now earned my place in F1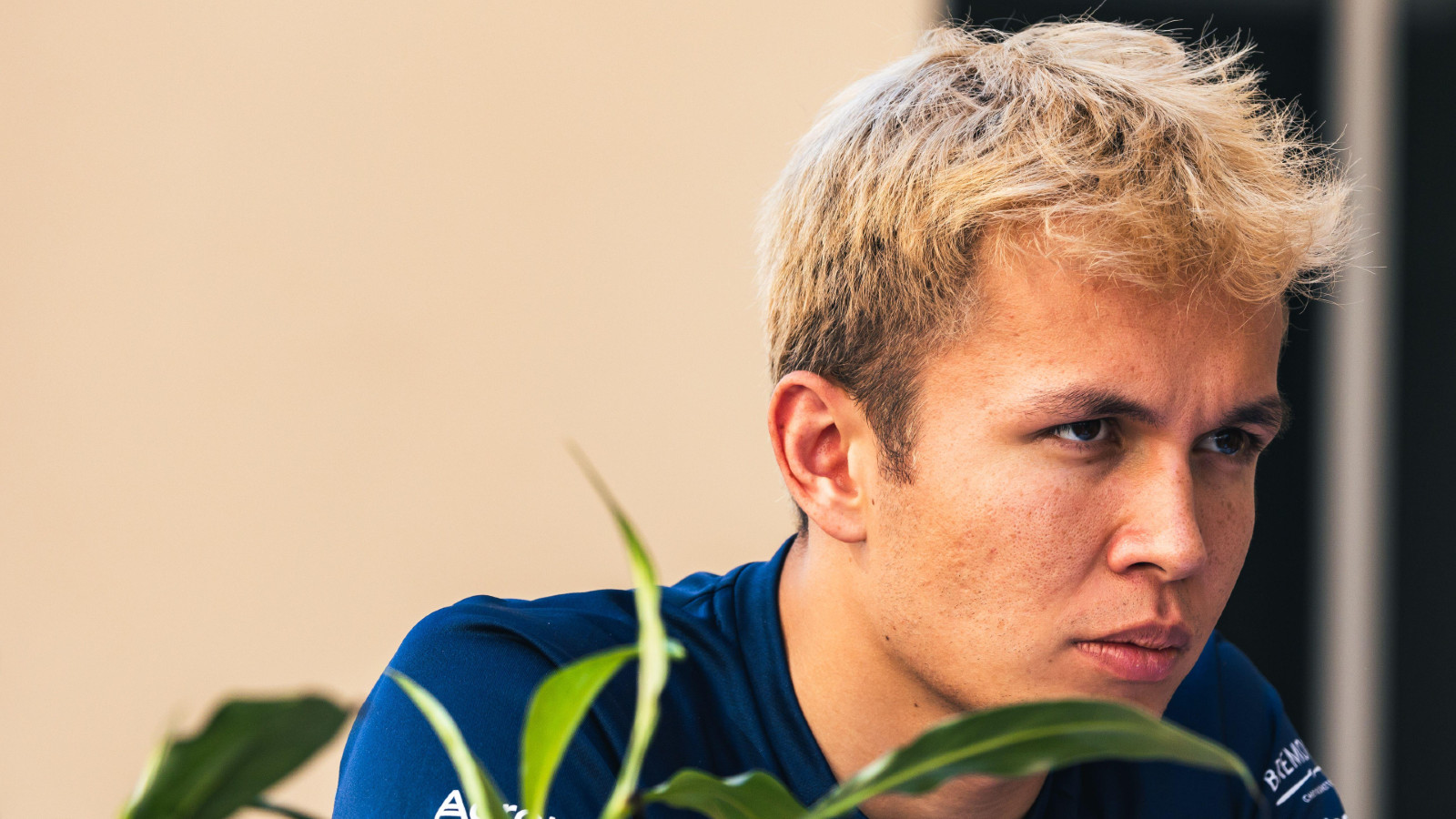 Alex Albon has reflected on a 'positive' season upon his return to Formula 1, saying he believes he's proven he's worthy of a seat in the sport.
Alex Albon has re-established himself in Formula 1 after a solid 2022 season, having sat out the '21 championship after Red Bull sidelined him from race duties.
The British-Thai racer played an invaluable part in Red Bull's championship success in '21, having worked tirelessly with testing and simulator work in order to help ensure Max Verstappen and Sergio Perez showed up at races with optimal preparation and setup work already in the bag.
His work earned him plenty of public praise from Christian Horner and Helmut Marko, with Red Bull going out to bat for Albon on the driver market – helping to convince Jost Capito and Williams to sign Albon as a race driver for 2022 as a replacement for the departing George Russell.
Albon quickly rewarded Williams by scoring a point in Australia after a standout drive, quickly following it up with a ninth place in Miami. While Albon would only get one more point, courtesy of 10th in Belgium, 2022 proved a solid season for the burgeoning partnership and he was rewarded with a new multi-year deal that takes him through to, at least, the end of 2024.
Albon spoke with PlanetF1.com at the end of the 2022 season, reflecting on a season that has allowed him to regain the confidence lost during his troubled years racing with Red Bull.
"I think it's been a really positive season," Albon said to PlanetF1.com, when asked for a summary of the year.
"Obviously, this year was a lot about coming back here and trying to prove to people what I can do.
"I had that year away, which is not always the easiest. But, personally speaking, I feel like I have done a good job. When I look at this whole season, I've got a longer-term contract. I feel like I've earned my place in F1. It feels very good.
"As a team, we're not really where we want to be so, results-wise, I guess you could say in terms of points or positions, it's maybe not been great in that aspect.
"But I feel like we're getting there and, as a team, we're focused on next year so you always have to take things separately. I guess I'm a little bit disappointed in some respects that we're not fighting for points more regularly but, in general, it's been very positive."
Alex Albon welcomed 'reset' of 2022 rules
A key aspect in the success of Albon's comeback was that the technical regulations went through revolutionary changes – wiping out the inherent advantage most of the rest of the field had due to being race-sharp with the previous generation of cars.
Getting stuck in at the start of testing as the other 19 drivers also had to get used to the very different handling of the new ground-effect machines, Albon said he felt the 'reset' meant he wasn't as hampered as he otherwise may have been.
"I had a year to prepare for it. So, in terms of physical fitness, I was actually in a good place," he said.
"In terms of the fact that it was a new car and new regulations, it actually played into my favour a little bit. I believe it was a bit more of a reset for everyone. Obviously, still a bit of catching up to do but less so in some regards.
"I felt like it was always going to be the case that the first few race weekends I would have to shake off the rust a little bit. Driving time is essential. Already in F1 as a sport, in terms of what you do, we only drive… maybe, I don't know how many days it is – 23 times three? Plus you're testing here and there – it is much less than normal sports in that you're not practicing every day.
"But then, on top of that, to miss the whole year, it's tricky because, in other sports as well, you're normally practicing. If it's golf, you'll be on the driving range. If it's football, the same thing. Whereas racing, it really is as if you're taking a whole year away, not touching it. I did a couple of Pirelli tests to be fair last year but, apart from that, it was very small.
"For the first few races, it was a little bit more about getting into that rhythm, getting your eye in, that precision, and that feeling of the car. It just takes a little bit of getting used to really on that fine edge driving. But after the first race of the year in Bahrain, to get through to Q2… I don't want to say emotional, but it was a very rewarding feeling because we weren't really competitive straight out the box. It really started my year off on the right foot and I felt like that was me getting the confidence straightaway."
Was Alex Albon comfortable assuming team leadership role?
Albon became the de facto team leader at Williams remarkably quickly, despite teammate Nicholas Latifi having been with the Grove-based squad for the previous two years before Albon's arrival.
But Albon's rapid readjustment to life as a racing driver meant his early points finishes resulted in him rarely having to look behind him to see where his Canadian teammate was – particularly as Albon was the first recipient of Williams' comprehensive upgrade package midway through the year.
"I felt like… team leader, or however you want to say, I would say I don't really look at it like that," he reflected, when asked by PlanetF1.com if he was comfortable with such a role.
"I look at it more like 'OK, I've got this experience now that I've come to learn over these last few couple of years being involved in F1'. I need to use that for my benefit and really to bring the team forwards and also myself.
"So, inevitably, I guess that leads into kind of a leadership role. But that's all it is really. It's more just about using my experience as much as I can and pushing, pushing forward which, at the end of the day, I think most drivers do."
Alex Albon: I'm more comfortable driving the Williams than the Red Bull
Having struggled to keep pace with Max Verstappen at Red Bull, resulting in a tough run of results as Albon tried to keep his head up in the face of mounting pressure to keep his seat, the comparative lack of pressure at Williams has brought out a more relaxed and instinctive racing driver.
Ending 2022 as a constant contender in the midfield, even if points remained annoyingly out of reach, Albon said that he's found the Williams FW44 to be more in line with the demands he has as a driver, even compared to the race-winning Red Bulls he struggled with.
"I do feel more confident driving than before," he said upon being asked about regaining his confidence at Grove.
"That's not to say the Williams car is easier to drive, but I just feel like I took it easier than the Red Bull car and, at the end of the day, you just need confidence to drive these things.
"There's a very small angle where the cars in the right window and, if you're a little bit too much of a slide, that's you out. They're much, much trickier to drive on the limit than a normal car. When you're talking about that extra final step, that's where the real lap time comes out of it. And you've got to feel in control of the car. You've got to control the car, it can't control you, if that makes sense.
"So that was the kind of difference in feeling between Red Bull and how I was driving the Red Bull and how I'm driving the Williams."
With his confidence rebuilt at Williams under the supportive hand of Jost Capito, does Albon now feel better equipped to handle life at the front of F1, in particular, if he was suddenly thrust back into a Red Bull alongside Verstappen?
"It's a very hypothetical question to ask!" he smiled.
"But I feel like I've gained so much knowledge, so much experience which you can't teach in your first years in F1. I think a lot of the reason why I'm doing a better job now than I was doing before is because I understand the car more.
"I understand what I need to do to extract performance out of the car. Inevitably, yes, you are going to be better with more experience. I don't regret my time at Red Bull or whatever, it's purely experience goes a long way in helping you get there."
Read more: Paddy Lowe exclusive: On life after F1, but hints a return may come in another form