All hail Hamilton, the 2018 World Champion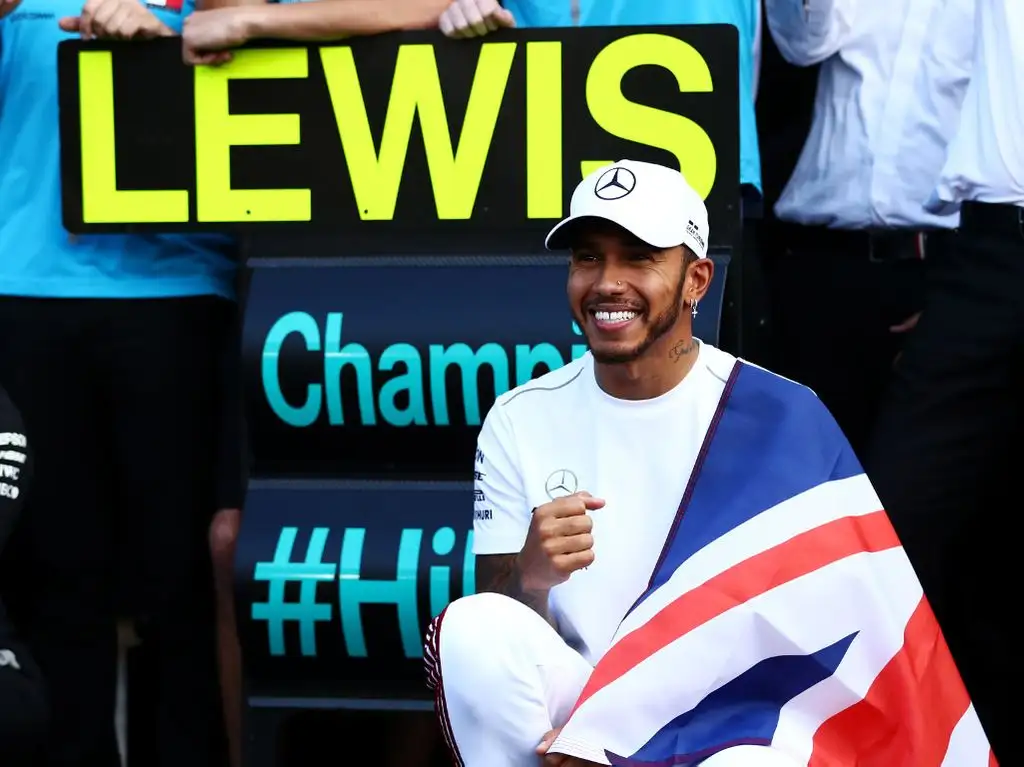 Formula 1 has paid tribute to Lewis Hamilton, the sport's newest five-time World Champion.
The Mercedes driver secured his fifth title, his fourth in five years, with a P4 at Sunday's Mexican Grand Prix.
Valtteri Bottas was one of the first to praise his team-mate for his achievement.
Congratulations Lewis for the 5th World Championship title!

Another strong season – well deserved 👊#LH44 #VB77 #F1 #MexicanGP @LewisHamilton @MercedesAMGF1 pic.twitter.com/9XqKwbWkHX

— Valtteri Bottas (@ValtteriBottas) October 28, 2018
His former Mercedes team-mate Nico Rosberg also chipped in.
congrats to the 5th title, Lewis!! your fangio style is very impressive @LewisHamilton @MercedesAMGF1 👏🏻
🎥 👉🏻 https://t.co/WkVK3ZDrGY

— Nico Rosberg (@nico_rosberg) October 28, 2018
Ferrari may have lost the title to the British racer but were quick to congratulate him.
Congratulations to @LewisHamilton on winning the 2018 Drivers World Championship! However, the Constructors' trophy is still open and we're determined to take the fight to the end #Nevergiveup

— Scuderia Ferrari (@ScuderiaFerrari) October 28, 2018
His rivals past, present and future added their praises.
Congrats @LewisHamilton for the championship!! Well deserved!! 👏🏻👏🏻👏🏻👏🏻👏🏻👏🏻👏🏻👏🏻! @MercedesAMGF1

— Fernando Alonso (@alo_oficial) October 28, 2018
Congrats @LewisHamilton on a class drive all year long. Top job.

— Carlos Sainz (@Carlossainz55) October 29, 2018
Nothing to say about our race, today it's hats off to @lewishamilton and @mercedesamgf1 ! Well done on a truly impressive season 👏 #Legend pic.twitter.com/Esl1y1Fy3W

— Esteban Ocon (@OconEsteban) October 29, 2018
Congrats on the fifth @LewisHamilton 👊🏼👊🏼👊🏼👊🏼👊🏼🇬🇧 pic.twitter.com/cS1qA7gbA1

— Lando Norris (@LandoNorris) October 28, 2018
He was always handy. @LewisHamilton 👏🏼📮 pic.twitter.com/at668EWjRW

— Mark Webber (@AussieGrit) October 28, 2018
Another sunday, another funday! Very happy about the 2nd P6 finish in a row.. great job from the whole @RenaultSportF1 family.. 👊🏼

And Congrats Champ!! Impressive stuff, amazing how you always find another gear.. 😉 @LewisHamilton
_#F1ESTA #MexicoGP pic.twitter.com/UyWJD4yUZd

— Nico Hülkenberg (@HulkHulkenberg) October 29, 2018
A good day for Max, but even better for @LewisHamilton and @MercedesAMGF1! 🏆

Congratulations on a fifth Drivers' World Championship! 👏 #MexicoGP pic.twitter.com/YSEwSd46HD

— Red Bull Racing (@redbullracing) October 28, 2018
On what turned out to be a difficult day for us, let us offer our congratulations to @LewisHamilton – hats off to an incredibly worthy five-times World Champions!@MercedesAMGF1 – we're sure you'll celebrate it as it should! 🎉 #MBFamily pic.twitter.com/IylAnsGJH5

— Racing Point Force India F1 (@ForceIndiaF1) October 28, 2018
Congratulations @LewisHamilton from everyone @McLarenF1. A well-deserved fifth world championship and fantastic sporting achievement #F1

— Zak Brown (@ZBrownCEO) October 28, 2018
The rest…
Many congratulations Mercs and Lewis brilliant job by both.
5th World 🌎 Championship for Lewis brilliant.

— Nigel Mansell CBE (@nigelmansell) October 28, 2018
We should be very proud of our achievements in motorsport and especially proud of what @LewisHamilton has done. He's been a unique pioneer in our sport and shown us all what can be achieved with an undaunted self-belief. He is remarkable by any measure. And he's not done yet. #f1 https://t.co/6fSSsaO0UQ

— Damon Hill (@HillF1) October 28, 2018
5 Time WORLD CHAMPION!!👊🏼🏆 Keep on inspiring @LewisHamilton 🙌🏼 Couldn't have a better idol to look up too!☝🏼 https://t.co/BvALDXnEAI

— billywhizz (@BillyMonger) October 28, 2018
Love how modest and mature @LewisHamilton is reacting after achieving his fifth #F1 World Championship. Deserves all the credit @MercedesAMGF1 is giving him and more…

— Mario Andretti (@MarioAndretti) October 28, 2018
Well done @Max33Verstappen @redbullracing for this victory and all my congratulations @LewisHamilton on joining Juan Manuel Fangio and approaching Michael @schumacher with 5 @FIA @F1 world championship drivers titles !🏆🏆🏆🏆🏆What a great achievement #MexicoGP 🇲🇽 #F1 pic.twitter.com/1hBk3F8wid

— Jean Todt (@JeanTodt) October 28, 2018
Congrats champ!!🥇
Give me five🖐🏽@LewisHamilton pic.twitter.com/reJUir0TG1

— Marc Márquez (@marcmarquez93) October 29, 2018