Gasly setting standards AlphaTauri need to match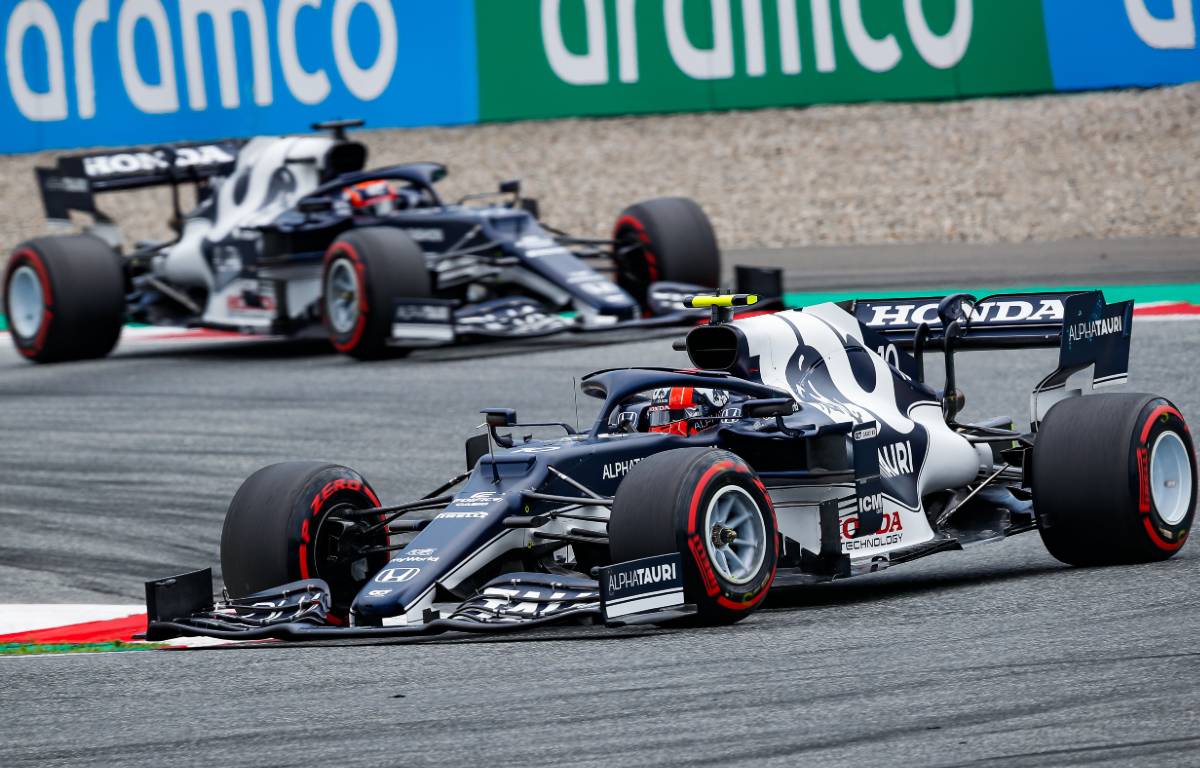 Pierre Gasly can never stand accused of taking a 'glass half-empty' stance about his first half of this Formula 1 season.
But if the AlphaTauri driver had been more negative, nobody could have blamed him for that either.
"I think it was probably the best start to the season I've ever had in F1," said the Frenchman. "It was really successful. We've managed to secure one podium in Baku already this year, which was the highlight.
"We've had great Saturdays, great qualifying, putting the car in Q3 for most races and this is a great achievement.
"I think on Sundays it started not as great, but we've managed to make some progress and managed to fight some pretty fast cars – sometimes the McLaren, sometimes the Ferrari."
It's almost like Gasly was addressing a shareholders' meeting, such was the positive spin he put on the opening 11 races.
But oh, how it could have been so much better – for Gasly, his team-mate Yuki Tsunoda and the AlphaTauri team in general.
Tension and elation in Baku for @AlphaTauriF1 – as @PierreGASLY beats Charles Leclerc to P3, and a place on the podium 👀😮🙌#AzerbaijanGP 🇦🇿 #F1 pic.twitter.com/R9fvAyPjao

— Formula 1 (@F1) June 7, 2021
Nothing ever goes right all the time in F1, of course, even for Mercedes. But wherever AlphaTauri team principal Franz Tost is spending his summer break – we'd wager a fair amount it's not with the party set in Mykonos – he must be thinking plenty of points have been thrown away this year.
The AT02 is a very fast car. It has been ever since pre-season testing in Bahrain where Tsunoda, who arrived there as an exciting F1 rookie, began lighting up the timing screens with one purple sector after another.
It turned out he was activating DRS for longer than he should have done, mind you, but it was an impressive start nonetheless, for both driver and team. "It was only for an extra 200 metres, officer, honest…can't have made more than a couple of tenths' difference, can it?"
The car's speed has been evident whenever single-lap pace has been the performance barometer but, as Gasly said above, Saturdays have been significantly stronger than Sundays for AlphaTauri.
Yes, there was that excellent P3 in Azerbaijan, while Gasly produced an outstanding drive to hold off Lewis Hamilton and take P6 in Monaco. But then we come back to those races where, in golfing parlance, they 'left a few out there'.
There were opening-lap incidents in Bahrain and Styria with Daniel Ricciardo and Charles Leclerc respectively which meant P5 and P6 grid slots went completely unrewarded.
At Imola, the team made the wrong decision to start on full wet tyres rather than intermediates and having finished seventh, the correct choice would surely have yielded more points.
Torquing Point - The battle for fifth
Finley Crebolder and Charlotte Lines from Planet F1's Torquing Point podcast discuss the close battle for fifth between Alpine, AlphaTauri and Aston Martin as we reach the summer break.
A late puncture in Britain dropped Gasly out of the top 10, while in Hungary he nearly had to go via Budapest city centre to avoid the melee at the opening corner and produced a superb recovery drive to bag P5. Without that detour, anything would have been possible.
But if Gasly is worthy of plenty more points than his running total of 50 – the same amount as Daniel Ricciardo, whose season is proving to be anything but stellar – then what of Tsunoda?
It's 18 points and a higher number of bleeps on the team radio feed for the potty-mouthed 21-year-old, the youngest driver on the grid who has been anything but deferential to his elders since arriving on the scene.
"F***ing idiot this guy," was Tsunoda's withering assessment of one rival when impeded during free practice for the Austrian Grand Prix.
But he who is without sin, let him cast the first stone. After being described by Ross Brawn as "F1's best rookie for years" after the Bahrain Grand Prix – Lando Norris, George Russell and Charles Leclerc just entered the chat – it was almost like those words had gone straight to Tsunoda's head.
A crash in Imola Q1 was the first of a host of incidents in which Tsunoda has been off road and in contrast to his team-mate, qualifying has been a particular struggle – in more than half of the races, he has failed to make it through to Q2.
Of course, Tost and Helmut Marko, who are overseeing Tsunoda's career, will say novicey errors are only to be expected. There have just been too many, however, for those of us who, given his lofty reputation, thought he might outshine Gasly.
That prediction aged well.
"that's on the Rugby pitch isn't it?" 😂

a summer break treat for you all, go behind the scenes and join @yukitsunoda07 for a round of golf 👇

— Scuderia AlphaTauri (@AlphaTauriF1) August 13, 2021
Sixth in the Constructors' standings, AlphaTauri must be wondering how they are behind Alpine considering the relative pace of their respective cars. That's very simple, though – everything fell for Alpine in Hungary last time out as they finished first and fourth.
Still, we gave Gasly the opening word and will let him round off this half-season review too.
"We are fighting for fifth position in the championship, which has never happened for the team before.
"It just shows we are having a great year and it is my personal target to bring this position to these guys and this would be a first.
"It's a pretty exciting season so far for us."
If AlphaTauri can deliver on their undoubted potential, Gasly's half-full glass may just be overflowing with the fizzy stuff at the end of the campaign for a job well done.