Oscar Piastri drama and driver tensions fail to derail 'best-of-the-rest' Alpine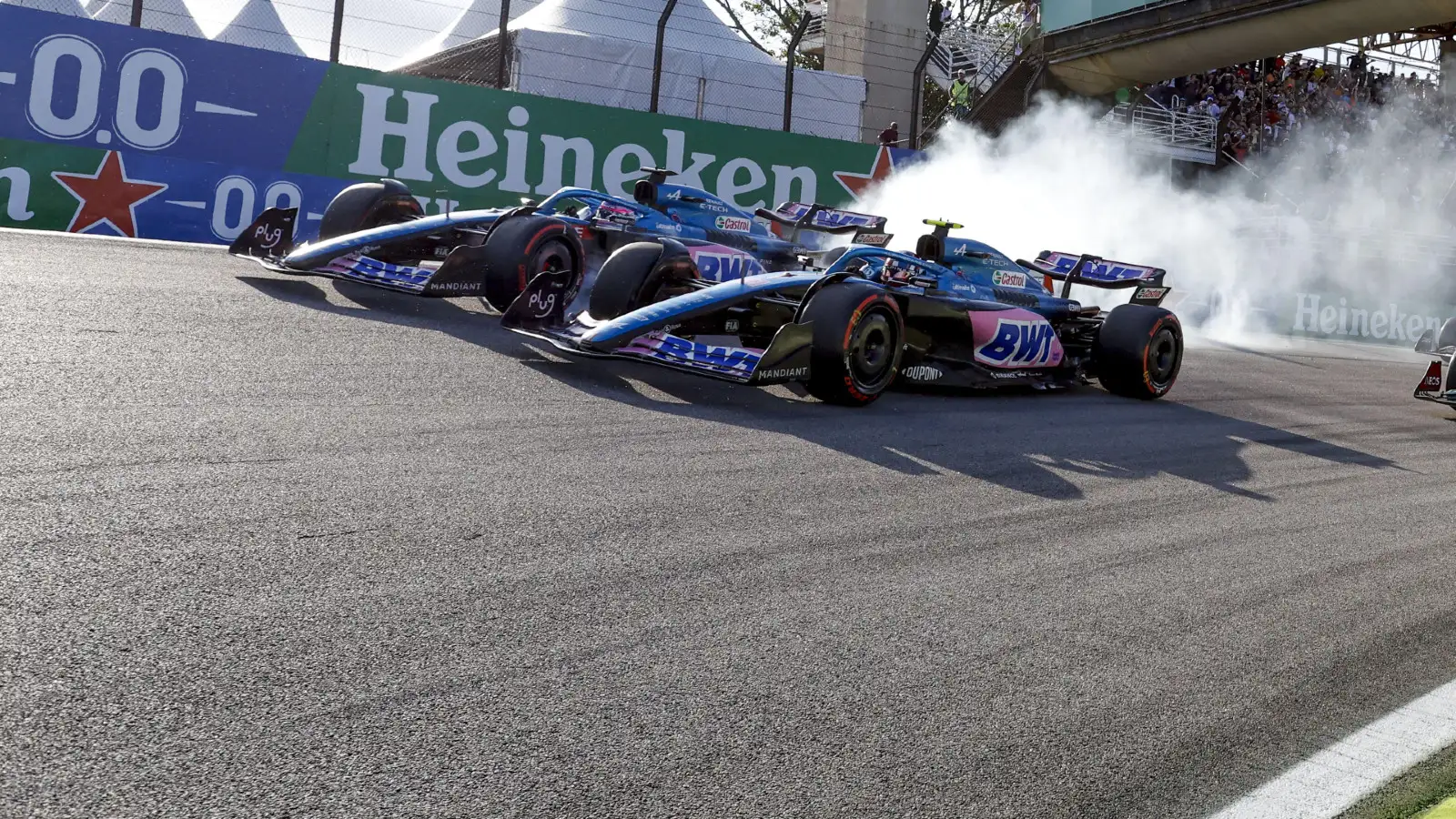 Alpine were impressively able to wrangle P4 away from McLaren in the Constructors' Championship in 2022, despite multiple issues which could have seen their season sent sideways.
Chiefly, the apparent deterioration in the relationship between drivers Fernando Alonso and Esteban Ocon proved to be an unwanted side-story of their season.
And Alonso's role in the driver market also had a significant impact on how things played out for the team, though Alpine say they have ultimately been left pleased with the outcome of the palaver that surrounded them.
But on track, the steady consistency offered by the A522 gave Alonso and Ocon the opportunities they needed to take fourth in the Constructors' standings come season's end – even if the double World Champion suffered the brunt of the problems it faced.
There was underlying potential in the car early on, however. After a ding-dong battle between the two team-mates in Saudi Arabia, Alonso looked like he had pace to contend for pole in Australia, before a hydraulic issue caused him to lock up and hit the wall in Q3.
The Spaniard was on form all year on Saturdays, out-qualifying Ocon 13-9 and performing superbly in the wet in Montreal to put his car on the front row alongside Max Verstappen.
But in races, he felt let down by what was underneath him on multiple occasions, becoming increasingly vocal on the subject to the extent where, after breaking down in Mexico for his fifth retirement of the year, he declared "once more, Car 14 stops before the chequered flag," and that such moments had cost him more than 70 points over the course of the season.
This should not detract from Ocon's own performances, however, who showed solid speed throughout the year and ended the season 13-9 in front in the race head-to-head, and even finished 11 points in front of his illustrious team-mate.
This is a rare position indeed, with only Jenson Button in 2015 having scored more points than Alonso over the course of a full season before, in the infamous 'GP2 engine' powered McLaren Honda.
Nonetheless, there were a couple of hairy moments between the two which led to a breakdown in their on-track relationship as the season progressed.
Ocon's defence against Alonso in Hungary prompted the Spaniard to say over team radio: "Never in my life have I seen a defence like Esteban's today. Never."
Then the two came together in the sprint in Sao Paulo, which damaged not only their chances that weekend, but team principal Otmar Szafnauer had less-than-kind words to say about the pair of them in the aftermath, claiming they had "let the team down" and were not permitted to race again afterwards.
With all of that, it was hardly surprising that Alonso abruptly confirmed his departure from the team prior to the summer break, set for pastures new when he heads to Aston Martin on a multi-year deal from next season.
Alpine are thought to have offered the 41-year-old a single-year contract extension, but the team already had a ready-made replacement in Formula 2 champion and Alpine junior, Oscar Piastri.
They confirmed he would race for them in Alonso's place next season – but then came the social media post which sent Formula 1 fans into confusion and meltdown.
Piastri wrote: "I understand that, without my agreement, Alpine F1 have put out a press release late this afternoon that I am driving for them next year. This is wrong and I have not signed a contract with Alpine for 2023. I will not be driving for Alpine next year."
Then came the meeting with the Contract Recognition Board, which eventually found in McLaren's favour over Piastri's services, leaving Alpine needing to find a driver quickly.
But all the while this was going on, the drivers and team kept putting in sturdy performances and, while Lando Norris was comfortably ahead of both Alonso and Ocon, the comparative struggles of Daniel Ricciardo by comparison helped keep Alpine in the hunt in the Constructors' standings.
They gradually ate into McLaren's advantage, overhauled them and managed to ease away into fourth place to take over their mantle as 'best of the rest' behind Red Bull, Ferrari and Mercedes this season. Not bad going at all when things could very well have gone the other way with the uncertainty and tension surrounding them.
But their driver search has seen them land on Pierre Gasly for next season, which will form not just an all-French line-up at the French manufacturer, but Gasly and Ocon grew up racing each other, extremely close to each other and, latterly, have grown decreasingly fond of each other.
It will represent the chance for Gasly to show what he can do with a factory car underneath him next year, but seeing how the dynamic between them develops as team-mates will be fascinating to see from the outside. There could be fireworks coming at Alpine next season.
Read more: Alfa Romeo's early flame extinguished, but big financial bonus softens blow