Rather than the usual award ceremony, let's get to the categories that really matter the most with PlanetF1's alternative F1 2020 awards.
Starting with…
Young Driver of the Year: Fernando Alonso
Move over Lando and George, there is a new young buck in town. When Sebastian Vettel's confirmed departure at Ferrari created a domino effect of Carlos Sainz to the Scuderia and Daniel Ricciardo to replace him at McLaren, it paved the way for Renault to finally tap into their beloved young driver programme.
In there, they plucked out a fresh-faced kid from Oviedo called Fernando Alonso who has managed to have a remarkable impact on Formula 1 without even being on the actual grid.
Ahead of his eagerly anticipated debut in 2021, Renault have tried to give their young upstart every possible opportunity to get some miles on his clock and were granted special dispensation by the FIA for him to appear in the post-season test at Abu Dhabi.
That also led to some other appearances from drivers who looked suspiciously older than some of the other participants, such as Sebastian Buemi and Robert Kubica.
Alonso, with his lack of experience which is going to put him at a disadvantage in 2021, made an immediate impression by going quickest of anyone in Abu Dhabi…it really felt like men against boys out there.
And what young driver can say they have been given the honour and privilege of running an absolute beauty of a machine in the form of the Renault R25…
The perfect onboard doesn't exi… Oh wow. #RSspirit #AbuDhabiGP @alo_oficial @f1 pic.twitter.com/i6L2eVA9yg

— Renault F1 Team (@RenaultF1Team) December 11, 2020
Alonso has shown a maturity beyond his years as he builds up to his debut outing in Australia and he is a prime example that all other young drivers should follow in future.
Best battle: Zak Brown v Otmar Szafnauer
With tongue now firmly removed from cheek, it's on to one of our most enjoyable battles of the season between McLaren boss Zak Brown and Racing Point's team principal Otmar Szafnauer.
These two, in the wake of the Racing Point copycat saga, would have given Red Bull and Renault a good run for their money with some of the verbal blows they traded with each other.
One of Racing Point's main defences about why their RP20 car looked like a Mercedes W10 painted pink is that they were able to gather a lot of their information through the power of photography.
Brown simply wrote their reasoning off as "BS" and Szafnauer was not prepared to let that comment go.
"So to Zak Brown, it is BS, because he's not an engineer," Szafnauer snapped back. "He's got no idea what he's talking about. Zero.
"And I'm surprised at how little he knows about the rules of F1. It seems to me he knows more about historic racing than he does about F1."
That was the end of it, right? Nope! A week later at the next FIA press conference, Brown came back with a wonderful reply. If we were drinking at the time, we would have spat it out.
"I thought a lot of what Otmar said was accurate," Brown said.
"I'm not an engineer. I don't know the rule book, first page to the last page. But as CEO, you have a racing team, and it's their job to know the rule book and the regulations.
"In my time here leading McLaren, I've never been fined a dollar, let alone 400,000.
"I've never been docked points. I think Otmar thought it was 7.5 points until Sky TV pointed out it was 15 points.
"As far as historic racing [is concerned], I think people that know me know I enjoy historic racing, and I'd invite Otmar to come join me, because he's got a historic car that he's currently racing."
Brown would then go on to get one more dig in against Racing Point when Lance Stroll eventually tested positive for Covid-19 after a doctor initially told him that he did not need to do another one.
"If I look at the Racing Point situation, I would probably test anyone who isn't feeling well daily," Brown said.
"I don't know who the Doctor was. Dr Mallya? Maybe it was Doctor Seuss or Dr Dre."
What an absolute savage.
Meme of the Year: Van versus Ferrari
We feel really bad for laughing at this. #F1pic.twitter.com/5B55i7UEKY

— Planet F1 (@Planet_F1) August 31, 2020
When Ferrari were downplaying their hand in pre-season testing, we honestly thought they were taking a leaf out of the Mercedes playbook by keeping a firm lid on expectations for the season ahead.
No. When they said they were not holding out much hope for 2020, they really, really meant it.
There are lots of specific moments that have contributed to Ferrari's embarrassment this year and resulted in their worst season in 40 years, but arguably none are more damning than seeing that horrible car, 'powered' by an actually legal engine, struggling to overtake other midfield cars, even with the aid of DRS, down the Kemmel Straight at Spa.
But at least some of Ferrari's passionate Tifosi could see the funny side, and that led to the creation of the wonderful (but still cruel) video above. If you didn't laugh, then you would almost certainly be crying instead.
Biggest cock-up: Mercedes' double stack at Sakhir
It's a disastrous double stack for Mercedes! 😱

All manner of tyre mix-ups between the two cars.

They've gone from first and second to fifth and sixth!

📺 Live on Sky Sports F1
📱 Live on the App and Sky Go
💻 Live Blog: https://t.co/CkqLNAZAQx#SkyF1 | #F1 | #SakhirGP 🇧🇭 pic.twitter.com/s1fZOCKsjx

— Sky Sports F1 (@SkySportsF1) December 6, 2020
Ferrari would have no doubt locked down this category as well but Mercedes suddenly turned into a modern-day Ferrari tribute act at the Sakhir Grand Prix.
Usually the Silver Arrows reserve their occasional meltdowns for when they are in fancy dress or when the Netflix cameras are with them, but the atrocious double stacking of George Russell and Valtteri Bottas was done without a curse in sight.
On the one side, we were happy to see Mercedes are a team of humans after all because we were seriously having doubts, but we were also gutted to see it was the start of Russell's downfall on what could (and should) have been a race win on his Silver Arrows debut. What a moment that would have been.
We also enjoyed Mercedes boss Toto Wolff going straight onto Sky Sports F1 after the race and calling it a "colossal f*** up", as well as the following two seconds of blissful silence that followed as the presenters picked their jaws up from the floor. Some say the Brits are still apologising for Wolff's F-bomb to this very day.
The 'did they really just say that?' award: Helmut Marko
We could think of many places to which we would not like to go on holiday in usual circumstances, but even none of those come anywhere near close to Helmut Marko's Coronavirus Camp.
As the world came to terms with the pandemic, Marko's genius idea in March was to send the Red Bull, AlphaTauri and junior drivers all away together and deliberately infect them so they could become immune when Formula 1 racing returned.
In an interview with Austrian outlet ORF, Marko said: "We have four Formula 1 drivers and eight or ten juniors.
"The idea was to organise a camp where we could bridge this – mentally and physically – somewhat dead time.
"And that would be the ideal time for the infection to come.
"These are all strong young men in really good health.
"That way they would be prepared whenever the action starts, and you can be ready for what will probably be a very tough championship once it starts."
Is it any wonder that the Red Bull programme comes in for criticism if this is how some within the organisation are prepared to treat its drivers?
Helmet of the Year: Lando Norris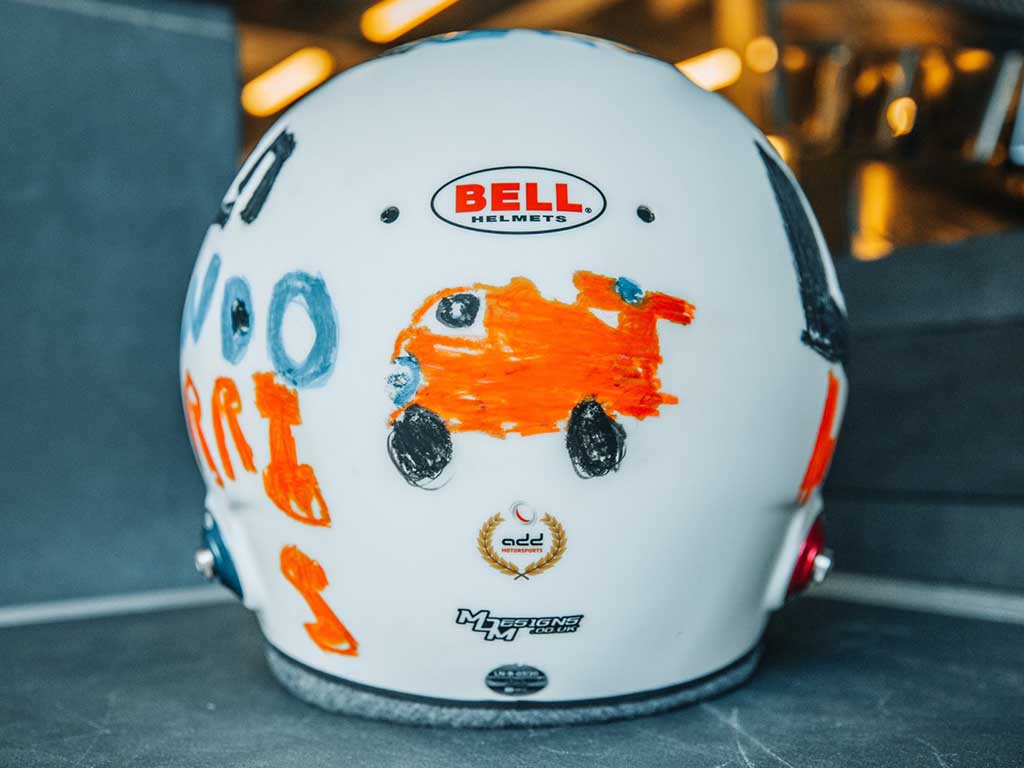 Based on the above, you could argue that Dr Marko deserves to win this award too, but we are actually referring to the driver race lids on this occasion.
One of the best things Formula 1 has done in recent times is relax the silly rule which restricted the drivers from changing their helmet designs.
Giving the drivers some creative freedom to express themselves has led to some absolutely beautiful and unique designs throughout the whole year.
But for us, the best one was designed by a six-year-old girl called Eva, who Lando Norri…s picked as the winner of a competition he ran at his home race at the British Grand Prix.
This selection seriously played at the heartstrings and it must have acted as inspiration for many young fans, none more so than Eva, to see their creation come to life.
And if that wasn't wholesome enough, Lando organised a special gift for Eva after the British Grand Prix, too.
Special delivery for Eva 📦 pic.twitter.com/VzHMohexWy

— #L4NDO (@TeamL4NDO) August 20, 2020
Right, who's chopping onions again?
Mark Scott
Follow us on Twitter @Planet_F1, like our Facebook page and join us on Instagram!