How Giovinazzi can be Ferrari's secret weapon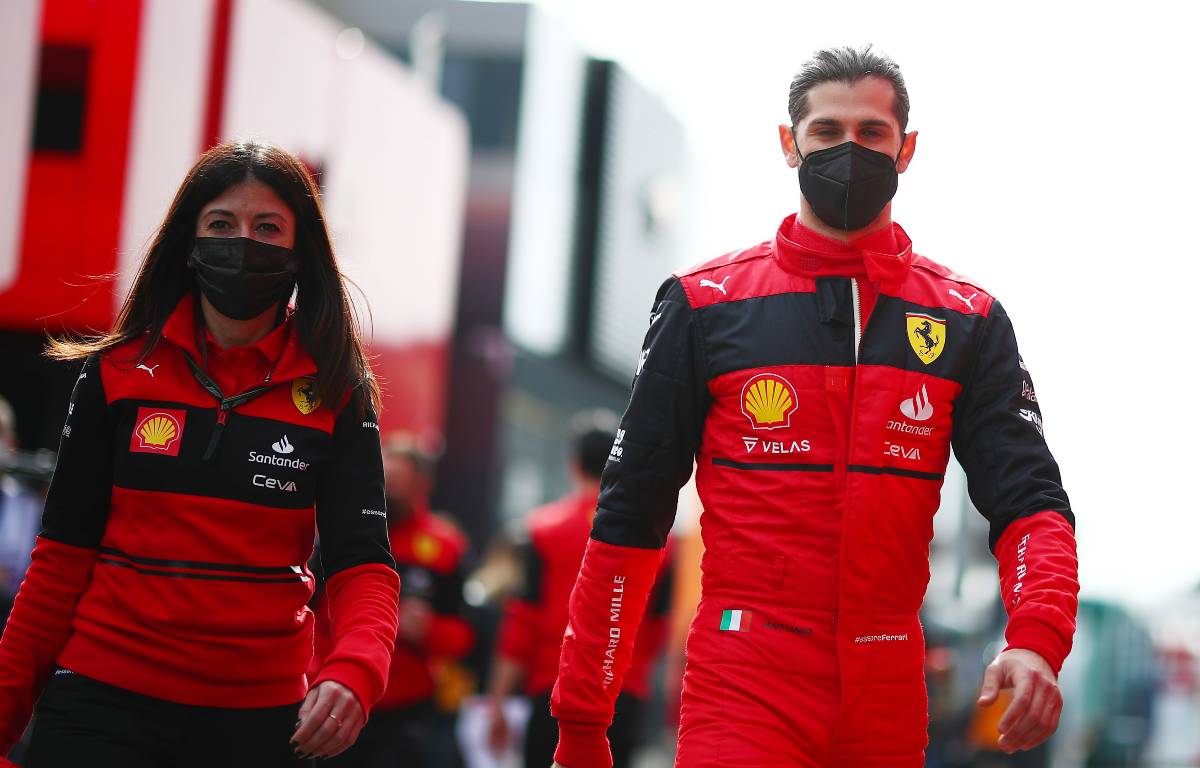 In the end, talk of Antonio Giovinazzi making an instant return to Formula 1 turned out too good to be true.
As the walls closed in on Nikita Mazepin earlier this month, the uncomfortable aftershocks of events in eastern Europe rumbling through the F1 paddock, Giovinazzi was widely regarded as a leading candidate to be the replacement at Haas.
In some respects it made perfect sense, with Giovinazzi the reserve driver of Ferrari – the team to whom Haas have been umbilically linked since their inception – and an ideal plug-and-play option having spent the previous three years competing for fellow Ferrari customers Alfa Romeo.
Ultimately, though, it was not to be. Haas instead turned to the friendly and familiar face of Kevin Magnussen, who had previously raced for the team for four seasons between 2017 and 2020, in their time of need.
A potential clue that Giovinazzi would not be the one to inherit the Haas seat came the day before Mazepin's departure was announced when, with speculation surrounding possible successors snowballing, Ferrari issued a social media post that almost read like a hands-off warning.
"Great to have Antonio with us this year!" they wrote alongside an image of Giovinazzi – stood purposefully in the Barcelona pit lane, wearing the team's 2022 driver overalls and clutching his Ferrari-branded crash helmet – on their official Facebook page. "Plenty of experience to help us develop."
Had Giovinazzi got the call to partner fellow Ferrari reserve Mick Schumacher, you suspect the Scuderia would not have stood in his way. But having only just welcomed back the prodigal son from his underwhelming stint at Alfa, they might have been enormously sad to see him go.
Why? He is simply more useful to Ferrari, and can have a greater influence on the team's success off the track than on it.
Proud to be part of #essereFerrari 🔴 pic.twitter.com/O9d56KoIqa

— Antonio Giovinazzi (@Anto_Giovinazzi) February 17, 2022
During his initial spell as Ferrari's test and reserve driver in 2017 and 2018 Giovinazzi became renowned for his work in the simulator, with his finest moment coming over the 2018 Canadian Grand Prix weekend.
After a disappointing showing for Sebastian Vettel and Kimi Raikkonen in Friday practice in Montreal, Giovinazzi was put to work back in Maranello, experimenting with a series of alternative set-ups in search of a breakthrough in the sim.
The result? Having been no faster than fourth on Friday, Vettel converted pole position into a comfortable victory at a venue where Lewis Hamilton and Mercedes had been undefeated since 2015 and later credited Giovinazzi for the huge swing in performance.
Later that season, Giovinazzi spoke of his reluctance to be typecast as a simulator driver in much the same way a footballer finds it a backhanded compliment to be known as a 'super sub' – the implication being they are not quite gifted enough to make the first team.
Yet as he perfected his invisible man act over his three full seasons on the F1 grid, rarely demonstrating the qualities of a future Ferrari driver, there was an inescapable sense his true talent was being wasted.
His Alfa Romeo career was a lesson that first impressions really do count in F1 for Giovinazzi was always fighting the perception formed across his two stand-in appearances for Sauber in early 2017, culminating in two crashes in 24 hours at the same spot in Shanghai.
Forced to wait a further two years for his full-time grand prix debut, Giovinazzi – despite steadily improving to the point where he regularly outpaced Raikkonen, albeit a rapidly fading force at that stage, last season – was never able to shake off his erratic and error-prone reputation.
And when it was announced last November he would be replaced by Guanyu Zhou for 2022, his accusation that Alfa's decision had been driven by money was frankly a bit rich.
For an indication of Giovinazzi's lack of presence, you only needed to look at his helmet design for his final F1 appearance in Abu Dhabi.
While other drivers tend to run a thank-you-and-goodbye pattern or remaster one of their greatest hits when bidding farewell, Giovinazzi turned up at Yas Marina with a helmet replicating Raikkonen's design from his title-winning 2007 season to mark his team-mate's retirement.
It was a sweet gesture – a measure of his humility and evidence a team-mate other than Vettel had finally broken the ice to Kimi's heart and established a genuine friendship with him – but seemed to sum up Giovinazzi as a driver who cast no shadow.
A life in the shadows was perhaps always his destiny.
And with team principal Mattia Binotto confirming Giovinazzi's 2022 activities will include "a full programme of simulator" to keep him abreast of the new-generation cars – with a hopeful eye on an F1 return next season – maybe his greatest contribution to the Ferrari cause is yet to come.
After a pre-season schedule in which Ferrari flew, experiencing no discernible issues with the innovative F1-75, Charles Leclerc and Carlos Sainz will almost certainly be in contention for wins at the start of the season and may even be in a position to mount a title challenge.
With so much still to learn about the new cars – the three-day tests in Barcelona and Bahrain posing more questions than answers mostly due to the unexpected 'porpoising' phenomenon affecting almost every team – an element of discovery will be a recurring theme of the opening races.
If a tight battle between the leading teams comes down to finding the set-up sweet spot, will Giovinazzi have a key role to play in terms of guiding the Prancing Horse down the right path and even turning race weekends in Ferrari's favour overnight in the fashion of Canada 2018?
Few drivers grow up dreaming of combining a full-time drive in the fluffy fairground that is Formula E with an F1 reserve role.
But undoubtedly there are worse fates and Giovinazzi has an opportunity to carve out a niche career as a simulator driver in the mould of a modern-day Pedro de la Rosa – a small but immensely valuable cog in a team's success.
If he still shudders to think of himself as a mere sim whizz, perhaps he will relish the role of being Ferrari's secret weapon in 2022.
PlanetF1 Verdict
Could Giovinazzi be Ferrari's secret weapon?
Could Antonio Giovinazzi be a secret weapon for Ferrari?