Behind the scenes at Aston Martin as their 'game changer' factory takes shape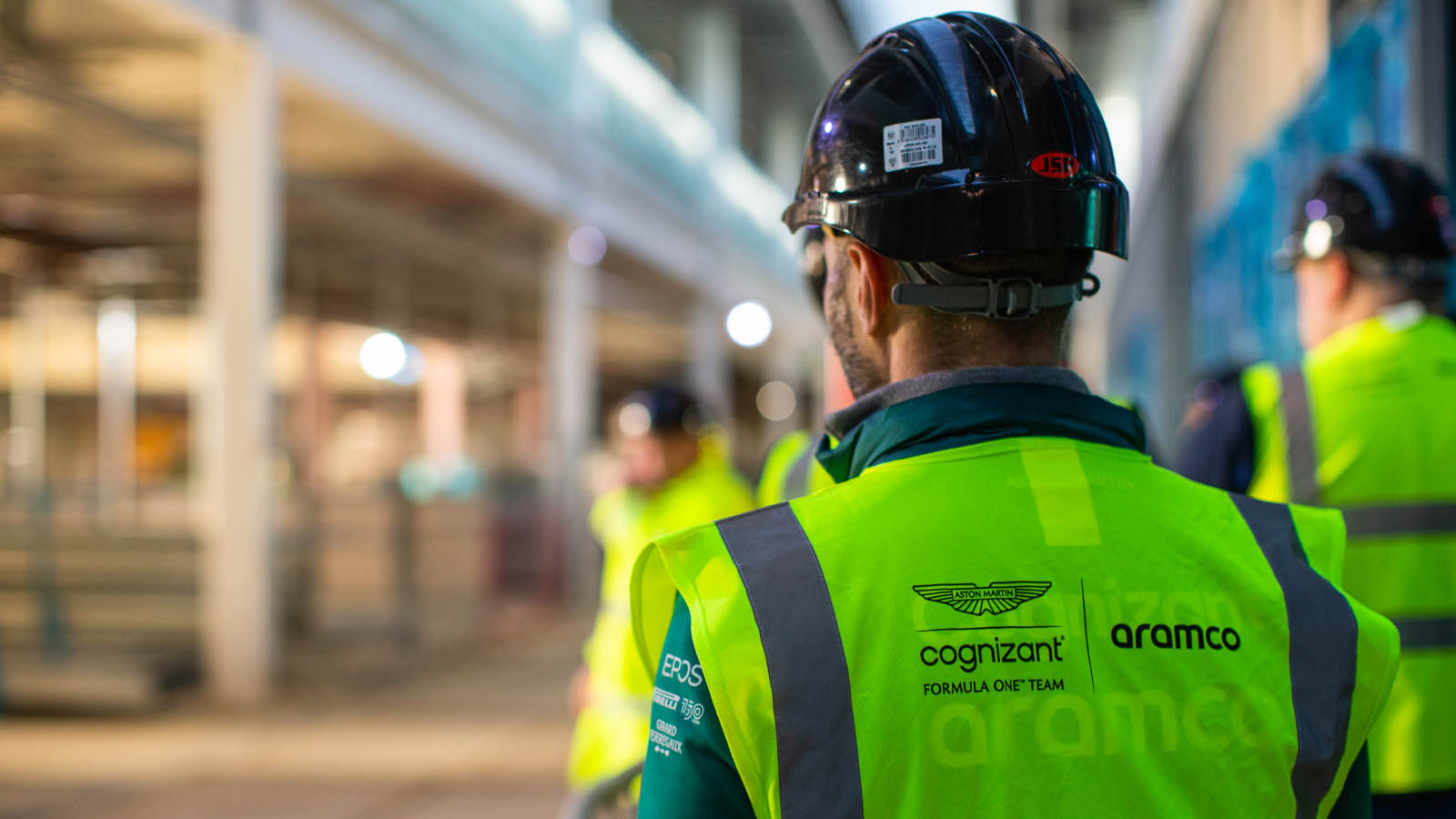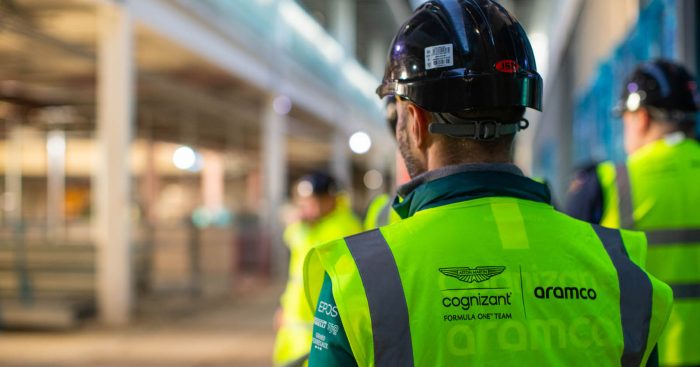 Upon arriving at the building site for the new Aston Martin factory at Silverstone, one thing becomes abundantly clear immediately: This is a team leaving quite literally no stone unturned in their quest to become one of Formula 1's big hitters.
After the season finale in Abu Dhabi, the team opened its doors to selected media, for a tour around what will become the team's home – or homes, as the case may be, with three separate buildings under construction for their new complex – in the future.
Armed with a rather fetching hard hat and hi-vis jacket, it was time to take a look around what will eventually become the team's new factory.
Put quite simply, this is a serious statement of intent.
First impressions at Aston Martin
The first thing to note from the team's new complex is that it completely dwarfs their current operation, with Aston Martin operating from its long-standing 'Team Silverstone' base which was first built to house Jordan in 1990, before several changes of ownership and branding followed in the intervening decades.
Lawrence Stroll made it clear early on after his takeover of the team that he wanted to help put them in a position to become one of Formula 1's heavyweights, rather than continue as the sport's proverbial upward-punchers, and this factory will absolutely play its part in Aston Martin having off-track capabilities to match Formula 1's front-runners – with team principal Mike Krack later telling us he believes it will be the best facility of its kind in the sport, when it opens fully.
Key to Stroll's approach so far has been hiring people he believes will take the team forward, and this is no different with the factory build.
Guy Austin, who has had heavy involvement in building Formula 1 factories in the past, including the original Jordan facility, was in fact tempted out of retirement to take over the running of this project, and he guided us around the site as it begins to take shape.
Such is team owner Stroll's faith in Austin, he has kept a relatively hands-off approach – telling us the only instruction he received from the top is for the factory to "feel like Aston Martin" as a brand when he walks through, with Austin's main point of contact day-to-day being group chief executive Martin Whitmarsh.
Running the numbers behind the new factory
Key to the project are the three different buildings on the site, with 40 acres of land having been purchased for the build and a reported £200million invested in the construction.
Up to 250 people work on the site daily, up to 60 of which on the wind tunnel building specifically, with lots going on as progress continues to be made at Aston Martin.
'Building 1' will be the main hub of the team's operations, with the 160-metre-long factory and office complex being set over two floors – and plans already in place for the main factory building to have the team's staff moved in by May 2023, should the deadlines be met as planned.
The wind tunnel is due for completion in summer 2024, with technical director Dan Fallows confirming his intention for the team to use it to help development of the AMR25 further down the line.
Once the wind tunnel is complete, the final building will be put into motion – which will not only house the team's simulator, it is designed with a significant staff wellbeing element in mind, with an on-site gym in the planning.
The factory's environmental credentials are also a factor, with all three buildings due to have solar panels installed with the combined capacity to generate up to 1.5 megawatts of energy.
The sustainability element of being powered by renewable energy is clear, but this also means the team will be able to use electricity they generate themselves, which will lead to significant savings on running costs – especially handy, with Formula 1 operating under a budget cap where every spare penny could help car performance…
The finer details
What also becomes clear as the tour progresses is just how much thought has gone into the minutiae of how the new Aston Martin base will run, and how much the building will play its part in that.
The race team have been in regular communication with Austin and his team regarding where they would like equipment placing when the time to move in comes around, for example, to ensure as smooth a transition as possible between facilities mid-season next year.
But their way of working is going to change significantly with it, with Aston Martin confident this will be very much for the better.
The top floor will house the technical team, and a key element of its design is that their office will be almost entirely open plan – removing literal and metaphorical barriers to conversation and making it easier for team members to bounce ideas off each other daily.
The windows of the building are even set facing north to reduce solar gain in the building, which will stop extra heat from 'greenhousing' the inside of the factory, which in turn keeps the building cooler, using less air conditioning and, as a result, keeping those all-important energy costs even further down.
Staff members are also being kept in mind with the complex, with every person's workspace set to have access to natural light, with an outdoor running track also a part of the team's plans.
All three buildings are going to be connected by bridges too, not just to make it officially a three-in-one facility, but also to stop staff members getting wet if they have to move between buildings on rainy days.
Marginal gains are everything in Formula 1, and it is clear the team have put a hefty amount of thought into how they can work as well as possible on an everyday basis.
It has not all been plain sailing, however.
With so many people required on site daily, Austin admitted the main hurdle facing the project completing on time has been fluctuating staffing levels when people have fallen unwell – a problem heightened as a lingering consequence of the Covid-19 pandemic.
The team are confident in their timelines as things stand at the moment, however.
What Aston Martin say about the project
Speaking to PlanetF1.com and other selected media after the tour, Krack and Fallows discussed the benefits they feel the new factory will bring the team in the future, and the team principal was comfortable with hearing it described as a potential "game changer" for Aston Martin, even in simple day-to-day work.
"The fact that you can talk to people without having to arrange meetings facilitates the dialogue massively [more] than the remote locations that we have [now], so you either need to pick up the phone or organise something, and sometimes this is a natural barrier of more exchange," Krack elaborated.
"And the other the other thing is obviously also logistics, we should not forget to bring stuff from left to right, or from A to B, it will be massively different and massively easier.
"So from that point of view, I fully agree on using the name 'game changer', for team dynamics and logistics."
For technical director Fallows, one of the team's key hires from Red Bull as they equip themselves for the future, he discussed the bigger picture of what each part of the factory would offer Aston Martin in its own right.
Not just on the track, but for the people off it as well.
"Building this team is a journey, and each of these things are kind of milestones in that journey," Fallows explained.
"They all kind of contribute to our ability to operate at the level we want to operate at. And obviously, the last phases of it, which is building three, which is going to be more the employee experience, the wellness side of things, and the gym things, I think, are almost as important as the initial stages.
"But I think demonstrating that we are going that way, that we are looking at these things is almost part of the solution itself, you know, because that's what engages people: It's knowing that we are thinking about them.
"We want them to operate at a good level, [and] we also want them to feel like they're supported and part of a team that they want to be part of."
There is still a way to go yet before the team are going to be in their new surroundings, but based on the scale of what they are constructing, the factory is certainly going to be befitting of the ambitions Aston Martin have in the sport.
'Team Silverstone' are going to need re-framing in the Formula 1 psyche, because they are well on their way to getting a whole lot bigger.
Read more: PlanetF1's 10 best drivers from the F1 2022 season