Driver ratings from the Austrian Grand Prix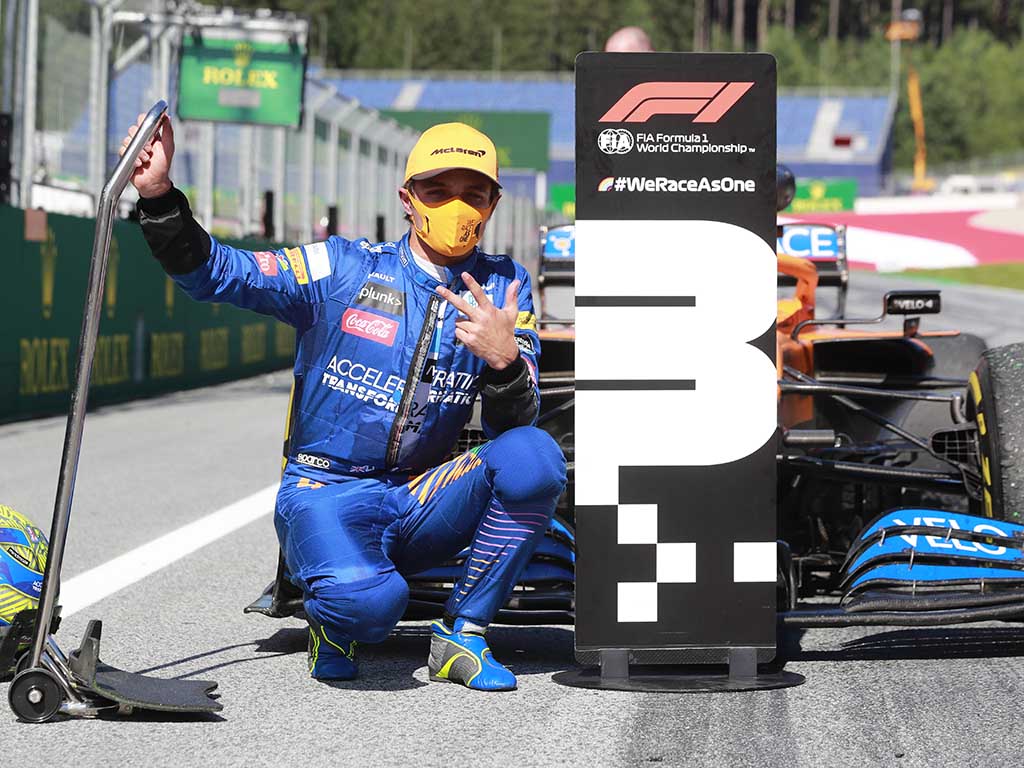 Has everyone caught their breath? After seven months without any Formula 1 action, we were treated to a cracking race with a dramatic finale. Here are the Austrian Grand Prix driver ratings courtesy of Late Braking.
Valtteri Bottas: Judging by the speed at which Hamilton was closing in on his team-mate prior to the appearance of a Safety Car, Bottas might well have been the slower of the two Mercedes. 
Having said this, Bottas managed the race brilliantly despite his team-mate lurking in his mirrors and the pressure of constant sensor issues. Great drivers win when they are quickest but also find ways to win when they are not at their absolute best.
There's a strong case to say Bottas did at the opening GP of the season. 8
Charles Leclerc: For the second year in a row, Leclerc came home to finish P2 at the Austrian Grand Prix although the circumstances surrounding how he got there could not be any different. 
Expectations in the Ferrari camp were not high heading into the weekend and those fears were realised on Saturday with Leclerc the quicker of the Ferraris in P7. Proving to be on a similar pace to the McLaren and Racing Point cars, Leclerc expertly cut his way through the carnage and made some clinical overtakes in getting there. 
A strong result amidst a worrying situation.  9
Starting P3, Norris was powerless to defend against Hamilton and Albon at the start but put together a great race thereafter. Put under pressure by his team-mate late in the race, Norris withstood the onslaught before putting together a clinical move on Perez. He then secured the fastest lap of the race when it counted, the final lap to bridge the gap to Hamilton. 10
Lewis Hamilton: For the first time since 2014, Lewis Hamilton's season has not started with a podium, a five second time penalty forcing him back from his P2 on-track finishing position to P4. 
After dealing with Norris and Albon early in the race, it was clear Hamilton had serious pace. The first Safety Car worked in the reigning champion's favour, eliminating the gap between himself and his team-mate but the second Safety Car restart saw him defend against Alex Albon with fresher, soft tyres.
An uncharacteristically clumsy move from Hamilton saw Albon spinning and Hamilton demoted. 7
Carlos Sainz: Sainz might well be heading to Ferrari at the end of 2020 but he was overshadowed by his team-mate at the Austrian Grand Prix. 
Nonetheless, this was a solid race for Sainz who threatened his team-mate late in the Grand Prix and leaves with solid points. 7
Sergio Perez: If you were to say after practice on Friday that three teams would be on the podium on Sunday, and one of them wouldn't be Red Bull, many would have expected Racing Point to feature.
For a time it looked as if they would before the combination of a five second time penalty and worn tyres conspired against them.
The weekend proved that the pace of the Racing Point is legitimate, which must make it even more frustrating that they only come away with eight points. There's plenty to be encouraged about though.  7
A tough race, but a promising start & points on the board for @SChecoPerez! 💪#AustrianGP #F1 pic.twitter.com/irmLP21l3h

— BWT Racing Point F1 Team (@RacingPointF1) July 5, 2020
Pierre Gasly: Let's pause for a moment and put some respect on Gasly's name. The Frenchman went under the radar throughout the race but navigated the carnage well to leave with six points.
Taking advantage of other's misfortune, Gasly forced the maximum out of the car and did a good job holding off Esteban Ocon towards the end of the race. 8
Esteban Ocon: With no Grand Prix experience inside the last 18 months, it's understandable that Ocon seemed a little off the pace throughout the weekend, despite this he squeezed out some points on his return and should stack up a bit better against his team-mate in races to come. 6
Antonio Giovinazzi: Unfortunately it seems as if the Alfa Romeo has taken a step backwards this season and might find themselves in a battle against Williams and Haas for the worst team in F1. In that respect, Giovinazzi has given them the early lead in that battle with two points here. 
Outqualifying his team-mate, Giovinazzi didn't enjoy a good first half of the race but got stronger throughout.  7
Sebastian Vettel: Unable to escape Q2, Vettel started the race in P11 and perhaps hoping for the race that unfolded. Multiple retirements and chaos was Vettel's best chance to get further up the field and that appeared how it was going until a spin at Turn 3 forced him back. 
With no damage on the car, Vettel did recover to pick up a point but it could, and should, have been more. 5
Nicholas Latifi: First races are rarely easy affairs but Latifi can be proud of his efforts, particularly after a few confidence-dropping moments in practice. 
In reality, Latifi struggled for pace in qualifying and the race but stayed error-free. He was very nearly rewarded for this with a P11 finish. It was far from the best debut in F1 history but it won't go down as one of the worst. 6
History repeats itself for Albon and Hamilton 😭#AustrianGP 🇦🇹 #F1 pic.twitter.com/3FR1oxG2cd

— Formula 1 (@F1) July 5, 2020
Did not finish
Alex Albon: With Verstappen's early retirement, responsibility fell upon Albon to claim points for the team. A maiden podium was certainly on the cards, as was a maiden victory, but a collision with Hamilton over P2 saw both of those dreams crushed. 
Albon was a distant third for much of the race but a Safety Car and brilliant strategic decision massively helped him out.
With 10 laps to go, Albon's move around the outside of Turn 4 was ambitious. Was it his fault? No, but there's little doubt a safer opportunity would have appeared due to the tyre advantage he held. Ask yourself this, would Hamilton have gone for that move if the positions were reversed?  6
Kimi Raikkonen: After only outqualifying Nicholas Latifi, race day for Raikkonen didn't go too much better and ended in spectacular fashion when his front right tyre removed itself from the car. 
There's a long way to go in the season but on this evidence, it's tough to see Raikkonen wanting to stay around after 2020 with this car at his disposal. 6
George Russell: The Williams car might be a long way from the Mercedes at the front but compared to last season's car, it might well feel that it is. Getting stuck in with the Haas and Alfa Romeo cars in both qualifying and the race, Russell had an outside chance of points before an issue ended his afternoon. 
The young Brit came into F1 as a champion at both F2 and F3 level. This Williams won't give him the chance to win a title but at least it looks as if he'll have the chance to show the paddock what he's about.  7
Romain Grosjean: Tough day at the office for Haas. Grosjean's weekend highlights can be condensed down to 1) Scraping into Q2 2) A spin at Turn 4 and 3) A retirement. He needs to start showing the team why he deserves to stick around and in that respect it wasn't a great start to proceedings. 5
Kevin Magnussen: The better of the two Haas drivers, Magnussen did at least get stuck in to some midfield scraps before a brakes issue brought an early end to his afternoon's work. 6
Lance Stroll: Bogged down by power unit problems from the off, Stroll at least did a decent job of managing this for a time and kept cars behind him. The defence was to no avail though as the problem worsened, causing his retirement. There should be better races ahead at least. 6
Daniel Ricciardo:  A frustrating weekend for Ricciardo as he never truly got the opportunity to show what he and the car was capable of. Looking strong through the three practice sessions, Ricciardo worked his way into Q3 but was unable to set a competitive lap time due to the yellow flags brought about by Bottas' off. 
The race was a similar story, early pace indicated a good points finish was on the cards but all hopes were quashed thanks to an early issue with the car. 7
Max Verstappen: Starting on the medium tyres, an alternate strategy was perhaps the best chance of taking down the Mercedes although early action indicated that it wouldn't pay off this time. 
Verstappen featuring late in the race with both Mercedes struggling is an intriguing prospect, it's a shame we didn't get to find out how that would have panned out. 6
The Austrian Grand Prix driver ratings are brought to you by the good folks at Late Braking. You can check them out in the following places:
Subscribe to Late Braking on YouTube
Follow Late Braking on Twitter